(1) IN TRANSLATION. BBC's World Service's "In the Studio" feature "Ann Goldstein: The art of the translator" is available to hear online.
Daniel Hahn and Ann Goldstein are translators, inhabiting a strange world between creation and publication, but with their own literary and linguistic creativity shaping the final form. Goldstein has been translating for decades, turning the words of Elena Ferrante, Primo Levi and Jhumpa Lahiri, amongst others, into English. She works prolifically, and in this episode Daniel, himself a prize-winning author and literary judge, spends time with her over the course of three days in 2018 as she translates an award-winning Italian book.

Daniel Hahn discusses with her how to know where to translate exactly and where to get the sense, how to translate phrases which have no translation, and shares experiences about the politics of translation. He finds out how this literary great came to translating, how she chooses the books she wishes to translate and to what extent she acts – as so many translators do – as an advocate for foreign-language books to English-language publishers. And implicit in all this is what is core to the translator's art – intercession between cultures, sharing ideas and stories which would otherwise go unshared.
(2) WOLLSTONECRAFT STATUE. [Item by Dann.] Today they unveiled a statue in honor of Mary Wollstonecraft for her work as an early feminist. As I understand it, the statue is not of her but is instead a statue representing all women. The woman depicted in the statue is nude. Some folks don't like that. Image in this tweet.
(3) OR E-CON. The schedule of the free virtual OR e-con (November 13-15) has been posted.
… This event will be hosted online via ZOOM, with link being provided to the Orycon mailing list.

TO REGISTER AND RECEIVE THE ACCESS LINK: We will be giving access links for the Zoom rooms to the OR e-Con mailing list. To sign up for our mailing list, please email: [email protected]

While this will be a free event, we will be requesting donations both to cover the costs of the virtual event and for use elsewhere in the organization. Volunteers are also needed for this event, and you can request more information by contacting [email protected]

AUTHOR GUEST OF HONOR: A. Lee Martinez

ARTIST GUESTS OF HONOR: Phil and Kaja Foglio

The programming schedule outlined below are for the 3 main Zoom rooms that will be available, along with the Creation Station events (to be announced).
(4) CROWDFUNDING FOR TWO HUMANS. Mary Anne Mohanraj and Benjamin Rosenbaum have opened a Kickstarter — "SLF Podcast: Mohanraj and Rosenbaum Are Humans" – to raise $1500 to fund the editing costs of the first season of their forthcoming podcast.
Join two old friends as they talk about science fiction, community, the writing life, teaching, parenting, and a whole lot more. Does Ben really think you should let your kids touch the stove, and did he really burn his son's homework? Why did he write a novel with no men or women in it? What exactly did a young Mary Anne do to appall her aunts in college, and how did it lead circuitously to her founding science fiction's longest-running webzine? Mohanraj and Rosenbaum… Are Humans? Yes, yes they are.
They're working on the first season of 12 weekly episodes, to launch January 2021. There's a trailer video at the link.
(5) MEMORY OF EARLY SFWA OFFICER. The Lansing Community College Lookout tells how Joan Hunter Holly is being remembered in "Late LCC professor's legacy lives on".
…She was a member of Science Fiction Writers of America, serving as treasurer from 1976 to 1979, and a member of the Academy of Science Fiction and Fantasy Films.

Her career was put on pause due to a brain tumor. She had it removed in 1970 and resumed writing….

Hunter said his ultimate goal is to work with Holly's family to release some of her unpublished works.

"I have several short stories that a fan of Joan's has compiled into a trilogy that we'd like to publish," Hunter said. "In general, I just want to raise awareness of her work. I may create a website devoted to her work in the future, too."

Vincent Tomanica worked at The Lookout from 1976-1978. He took Holly's LCC Short Story Writing class in 1977. He is a retired teacher and writer.

The pair formed a friendship and Holly confided in Tomanica about her cancer. She told Tomanica he would be a successful author and encouraged him to get published.

"I was encouraged by her confidence in me," Tomanica said. "She was very kind … soft spoken and very thoughtful … she was very contained and self-possessed.

Holly urged Tomanica to get back in touch with her after he got published.

"I got busy … but I still found time to submit manuscripts to publishers anyway," Tomanica said. "A couple years after taking her class I did get published in a national magazine and I eagerly contacted LCC's Communications Department to pass my good news along to Joan. You can imagine how devastated I was to hear that she had passed away because of cancer."
(6) OUT IN FRONT. Essence of Wonder with Gadi Evron's topic on November 14 will be "You're a Geek in a Leadership Role. Now What?" Register at the link for the free virtual event.
A show on leadership, discussed by geeks. On the show will be Steve Kelner, Vincent Docherty, and Imri Goldberg, and of course Karen and Gadi.

On the show, each of the participants will share their own experience with leadership, their exposure to the field, as well as game a rapid-fire exercise with various HBR-like questions on leadership scenarios and challenges.

When:
3 PM US Eastern Time, November 14th.
(7) PANDEMIC DELAYS EUROCON. Next year's Eurocon in Italy has been postponed a few months: "Eurocon 2021 postponed due to COVID-19 emergency"
Because of the COVID-19 (Coronavirus) emergency, the planned Eurocon 2021 had to be reconsidered. In our commitment to ensure the highest level od safety for participants, we have decided to postpone Eurocon 2021, that was scheduled for March 15-18 2021. The new dates are July 15-18 2021.
(8) SHELF LIFE. Atlas Obscura takes readers "Inside the New York Public Library's Last, Secret Apartments".
There used to be parties in the apartments on the top floors of New York City's branch libraries. On other nights, when the libraries were closed, the kids who lived there might sit reading alone among the books or roll around on the wooden library carts—if they weren't dusting the shelves or shoveling coal. Their hopscotch courts were on the roof. A cat might sneak down the stairs to investigate the library patrons.

When these libraries were built, about a century ago, they needed people to take care of them. Andrew Carnegie had given New York $5.2 million, worth well over $100 million today, to create a city-wide system of library branches, and these buildings, the Carnegie libraries, were heated by coal. Each had a custodian, who was tasked with keeping those fires burning and who lived in the library, often with his family. "The family mantra was: Don't let that furnace go out," one woman who grew up in a library told the New York Times.

But since the '70s and '80s, when the coal furnaces started being upgraded and library custodians began retiring, those apartments have been emptying out, and the idyll of living in a library has disappeared. Many of the apartments have vanished, too, absorbed back into the buildings through renovations for more modern uses. Today there are just 13 library apartments left in the New York Public Library system.
(9) MEDIA ANIVERSARY.
November 1990 — Thirty years ago, Geoff Ryman's The Child Garden which bears the variant title of The Child Garden or A Low Comedy would win the Arthur C. Clarke Award for Best SF Novel. It would also win the John W. Campbell Memorial Award for Best SF Novel, and it would be nominated for both a BSFA Best SF Novel award and Locus Award for Best SF Novel as well. Unwin Hyman had published it the previous year though it was originally published in the Summer-Autumn 1987 issue of Interzone as "Love Sickness" before it would be very much expanded as this novel. Cover art is by Dave McKean.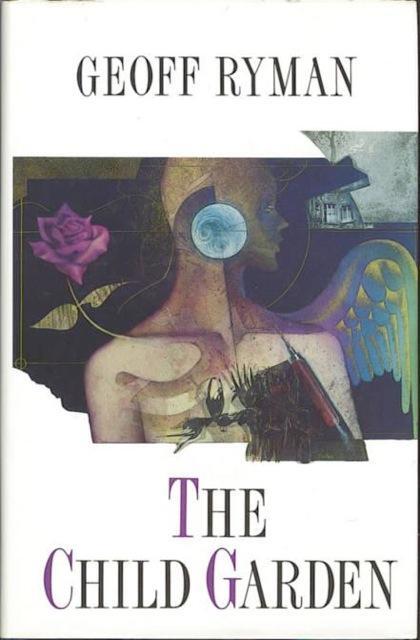 (10) TODAY'S BIRTHDAYS.
[Compiled by Cat Eldridge and John Hertz.]
Born November 10, 1899 – Kate Seredy. Author and illustrator of children's books, some fantastic. Wrote and illustrated The White Stag (legends of Huns settling Hungary), winning the Newbery Medal and Lewis Carroll Shelf Award. Here is an interior for Andre Norton's first novel The Prince Commands. Two Newbery Honors, Caldecott Honor. "For yesterday and for all tomorrows, we dance the best we know." (Died 1975) [JH]
Born November 10, 1927 – Don C. Thompson. FAAn (Fan Activity Achievement) Award for Best Fanwriter. Best known fanzine, Don-O-Saur. Co-chaired Denvention Two the 39th Worldcon. Fan Guest of Honor at Westercon 31 (co-chaired by Our Gracious Host), MileHiCon 20 & 22. (Died 1990) [JH]
November 10, 1935 – Marilyn Duckworth, 85. Novelist, poet, radio & television writer. Her first novel A Gap in the Spectrum is ours, published when MD was 23; a dozen others; memoir Camping on the Faultline. New Zealand Prime Minister's Award for Literary Achievement. [JH]
Born November 10, 1950 – Dean Wesley Smith, 70. Two hundred novels, hundreds of shorter stories. With wife Kristine Kathryn Rusch, best known for Pulphouse. World Fantasy Award to both of them for it. [JH]
Born November 10, 1955 — Roland Emmerich, 65. He's very strong campaigner for the LGBT community, and is openly gay so bravo for him! The Noah's Ark Principle was in '84 by him written and directed by him as his thesis after seeing Star Wars at the Hochschule für Fernsehen und Film München. Moon 44 followed which likely most of you haven't seen but now we get to his Hollywood films, to wit Universal Soldier, The High Crusade (yes, the Poul Anderson novel), Stargate, Independence Day…no, I'm going to stop there. Suffice it to say he's created a lot of genre film. And oh, he directed Stonewall, the 2015 look at that historic event which I know isn't genre or genre adjacent but is worth noting. (CE)
Born November 10, 1955 — Clare Higgins, 65. Her genre film appearances include Hellraiser, Hellbound: Hellraiser II and The Golden Compass. She was Miss Cackle on the Worst Witch series, and had a memorable role on Doctor Who as Ohila, the High Priestess of the Sisterhood of Karn, that started off with the War Doctor story, "The Night of The Doctor" which included the Eighth Doctor and continued through several appearances with the Twelfth Doctor. (CE)
Born November 10, 1960 — Neil Gaiman, 60. Summarizing him is nigh unto impossible so I won't beyond saying that his works that I've immensely enjoyed include Neverwhere, Anansi Boys, the Sandman series, Stardust, American Gods and Coraline. As for film, I think the finest script he did is his "Day of The Dead" one for Babylon 5, not his Doctor Who scripts. The animated Coraline is I think the most faithful work of one of his novels, Neverwhere needs to be remade with decent CGI and the less said about Stardust the better. My first encounter with him was reading the BBC trade paper edition of Neverwhere followed by pretty much everything else he did until the last decade or so. (CE)
Born November 10, 1963 — Hugh Bonneville, 57. He's here because he was Captain Avery in two Eleventh Doctor stories, "The Curse of the Black Spot" and "A Good Man Goes to War". Which is not to say that he hasn't done other genre work as he has as he's got appearances on Da Vinci's Demons, Bonekickers, Bugs and The Memoirs of Sherlock Holmes. And he had a bit part in a Bond film, Tomorrow Never Dies.(CE)
Born November 10, 1969 – Sarah Porter, 51. Half a dozen novels, one shorter story "Ratspeak". "When not writing my own weird stuff…. I might be drawing, or gardening, or wandering wraithlike through the streets. I live in Brooklyn, land of mystery." Gallery here. Note the hands and the womb. [JH]
Born November 10, 1971 — Holly Black, 49. Best known for her Spiderwick Chronicles, which were created with fellow writer & illustrator Tony DiTerlizzi, and for the Modern Faerie Tales YA trilogy. Her first novel was Tithe: A Modern Faerie Tale. (It's very good.) There have been two sequels set in the same universe. The first, Valiant, won the first Andre Norton Award for Young Adult Science Fiction and Fantasy. Doll Bones which is really, really creepy was awarded a Newbery Honor and a Mythopoeic Fantasy Award for Children's Literature. Suffice it to say if you like horror, you'll love her. (CE)
Born November 10, 1982 — Aliette de Bodard, 38. The latest work in her oh so excellent Xuya Universe series, the "Seven of Infinities" novella, was released today. Her Xuya Universe novella "The Tea Master and the Detective" won a Nebula Award for Best Novella and a World Fantasy Award for Best Novella, and was nominated for a Hugo Award for Best Novella as well. "The Shipmaker", also set herein, won a BSFA for Best Short Fiction. Her other major series is The Dominion of the Fallen which is equally lauded. All of her fiction is available from the usual digital suspects. (CE)
Born November 10, 1984 – Yû Kamiya, 36. (Name written Japanese style, personal name last.) Wrote and illustrated light novel series No Game No Life, adapted into animé, and one of ten to receive a Yomiuri Shimbun Sugoi Japan Award. Also Clockwork Planet light novels & manga with Himana Tsubaki. [JH]
(11) INTERNATIONAL COMICS. BBC Radio's Outlook follows "The wild ride of a Tamil comic book pioneer" (44 minute audio.)
This edition of Outlook is devoted to the impact of comic books and three remarkable journeys taken by artists and publishers who fell in love with comics as children.

Indian comic enthusiast Vijayan Soundrapandian has been working to bring his favourite characters to audiences in Tamil Nadu. His company Lion-Muthu Comics translates some of the world's most famous comics into Tamil.

In 2017 Outlook reporter Daniel Gross went to South Africa to meet cartoonist Mogorosi Motshumi. Mogorosi witnessed the worst of apartheid, and in the 1970s and 80s, was one of the only black artists using comics to document township life.

And we stay in the Outlook archive by revisiting an interview Emily did with Chinese-American comic creator Gene Luen Yang, he's the author behind the first Chinese Superman.
(12) HUMBLE BUNDLE. On offer for 90 days is the Humble Book Bundle: Be The Change Supporting The American Library Association – includes books by Delany, Butler and Hopkinson.
We've teamed up with the American Library Association for this spectacular, one-of-a-kind book bundle! Get ebooks and audiobooks that feature and highlight PoC authors, creators, and characters like Falling in Love With Hominids, Neveryona, and This Book is Anti-Racist. Plus, your purchase will support the American Library Association and the Freedom to Read Foundation!
(13) FASTER THAN CRUISING SPEED. Tony Quine says that Russia is going to film a movie at the International Space Station a few weeks before Tom Cruise shows up. "Russia looks for actress to steal Tom Cruise space movie thunder" in The Space Review. Tom Cruise's flight to the ISS is arranged through Axiom Space and SpaceX for October 2021.
Russia's not-too-subtle effort to upstage Tom Cruise's plans to film the first ever feature film in Earth orbit have taken a major step forward, with more details announced jointly by the Russian space agency Roscosmos and Channel One TV, from Moscow.

Vague details released in September have now been fleshed out, with the headline grabbing news being the decision to base the Russian movie plot around a woman, meaning that the filmmakers will need to find an actress willing to fly on a Soyuz rocket in October next year.

The project, which is tentatively called Vyzov, or The Challenge, has the tag line, "Become a star, by flying to the stars!"

… Although it has not been explicitly stated, the woman selected will need to fly on the Soyuz MS-19 mission, replacing one of the three professional cosmonauts currently pencilled in to fly that mission. This in turn, will mean that one of the crew on the preceding mission Soyuz MS-18 will need to remain on the ISS until the spring of 2022. This is because Russia has only six seats to the ISS available in 2021 (Soyuz MS-18 and MS-19) and needs to find a way to accommodate this previously unplanned "project" within those available resources.

The only other crewed Russian flight planned for 2021 is the first wholly commercial Soyuz mission, arranged in conjunction with experienced spaceflight provider Space Adventures. This will be Soyuz MS-20 and will fly in December 2021. Space Adventures is not involved in the "movie" project, and the actress will not occupy one of their seats. While they have not made any official comment about their future clients, the latest unofficial information emanating from Roscosmos and Space Adventures indicates that Soyuz MS-20 will be flown by veteran cosmonaut Alexander Misurkin, and two female spaceflight participants: Austrian aviator Johanna Maislinger and a Japanese showbiz celebrity whose name has yet to be revealed (see "Orbital space tourism set for rebirth in 2021", The Space Review, August 10, 2020).

However, the Russian movie proposal has not met with universal approval, with some Russian spaceflight commentators taking to social media to suggest that utilizing ISS resources for a purpose not obviously connected to scientific research, or Russian national interests, may actually be illegal, and have called for transparency with regard to the underlying financial arrangements….
(14) JEOPARDY! Andrew Porter was dialed into tonight's Jeopardy! and saw this answer elude contestants:
Category: Books by Subtitle.

Answer: 1995: "The Life and Times of" a certain "Wizard of Oz" Character.

Wrong questions: "Who is Dorothy?" "Who is The Wicked Witch?"

Correct question: "What is 'Wicked?'"
Two contestants didn't get this one either –
Final Jeopardy: History in the Movies

Answer: Vehicles in "2001: A Space Odyssey" featured this airline's logo, but the company went bankrupt in 1991.

Wrong Questions: "What is Eastern Airlines?" and "What is Martin?"

Correct question: "What is Pan Am?"
(15) TAKE A WHIFF. "Powell's Books Is Releasing a Fragrance that Smells Like a Bookstore" reports Kottke.org.
Beloved Portland indie bookseller Powell's Books is selling a unisex fragrance that smells like a bookstore.

This scent contains the lives of countless heroes and heroines. Apply to the pulse points when seeking sensory succor or a brush with immortality.

According to KOIN, the company noticed that customers missed the smell when they were closed during the pandemic lockdown in the spring.

Powell's Books is releasing a limited edition unisex fragrance that captures what they said is what customers missed most about Powell's — the aroma.

Store officials said they surveyed customers about what they missed while the store was temporarily closed by the pandemic. It's not the books. It's the smell.

The perfume comes packaged in something that looks like a book, like a hidden bottle of hooch or a gun.
(16) SO ARE THE DAYS OF OUR LIVES. Randall Munroe contemplates "What Makes Sand Soft?" in the New York Times. Tagline: "Understanding how grains flow is vital for everything from landslide prediction to agricultural processing, and scientists aren't very good at it."
… Karen Daniels, a physicist at North Carolina State University who studies sand and other granular materials — a field actually called "soft matter" — told me that sand is challenging in part because the grains have so many different properties, like size, shape, roughness and more: "One reason we don't have a general theory is that all of these properties matter."…
(17) BOOK TRAILER OF THE DAY. Lovely artwork in this new edition of two Lewis Carroll classics.
Alice's adventures in the dreamlike worlds of Wonderland and the Looking Glass Kingdom are some of the most original and best-loved children's stories ever written. These joyous, thrilling and utterly nonsensical tales are filled with vivid, unforgettable images and characters. This new edition contains the texts of both Alice's Adventures in Wonderland and its sequel Through the Looking Glass in a beautiful, clothbound flipped book – illustrated throughout in glorious colour. Floor Rieder's gorgeous drawings are an original and fresh imagining of Alice's topsy-turvy world. Out now from Pushkin Children's, this clothbound edition is a must for any Alice fans, and the perfect Christmas gift for all.
[Thanks to John Hertz, Cat Eldridge, JJ, Mike Kennedy, Bill, Michael Toman, Dann, Martin Morse Wooster, John King Tarpinian, and Andrew Porter for some of these stories. Title credit goes to File 770 contributing editor of the day Jon Meltzer.]