(1) WORKING FOR THE MAN EVERY NIGHT AND DAY. Yesterday's Scroll picked up The Mary Sue's report that "Marvel Fired Joe Bennett After Alleged Anti-Semitic Cartoons". Today Bounding Into Comics reports Bennett is now working for Vox Day's Arkhaven Comics: "After Being Blacklisted By Marvel Comics, Joe Bennett Joins Arkhaven Comics". That obviously wasn't a hard decision for Bennett.
…In a press release, Arkhaven Comics notes they "did not hesitate to take advantage of Bennett's unexpected availability, and promptly signed the former DC and Marvel illustrator as its lead artist on two series being written by legendary comics writer Chuck Dixon."

Not only was Bennett the artist for Immortal Hulk, but his resume also includes Savage Hawkman, Deathstroke, and Arrow Season 2.5 among others at DC Comics. 

…Dixon, who has also been subject to a Marvel Comics blacklist since 2002, welcomed Bennett to Arkhaven Comics stating, "It's a sign of where the American comic industry is at the moment that they would let a powerhouse talent like Joe Bennett go because his personal politics are not in line with their own."

"I'm looking forward to working with Joe on both of the projects we have in motion at Arkhaven," he added….
(2) BARBARIAN AT THE GATES. Funcom has purchased the Cabinet Group, which currently holds the trademarks to Conan and most other Robert E. Howard characters. This mainly affects comics and videogames, since there apparently are no movies, TV shows or new books in the works, although they say a game is in development. "Funcom Acquires Full Control of Conan the Barbarian and Dozens of Other IPs".
…Funcom CEO Rui Casais said he has high ambitions for the IPs and noted at least one unannounced project is already in development. 

"We are currently overseeing the development of an unannounced game which will combine many of the characters in the Robert E. Howard universe," said Casais. "And if you combine Funcom's knowledge of games with Heroic Signatures' knowledge of the TV/entertainment, publishing, and licensing industries, it makes us perfectly placed to take this venture to the next level. It's exciting times ahead for us and for fans of the IPs."… 
(3) BES&ST, Lavie Tidhar and Silvia Moreno-Garcia offer an overview of the best sword and sorcery fiction past and present at the Washington Post: "Let's talk about the best sword and sorcery books".
…Lavie: I love the original "Witcher" stories by Andrzej Sapkowski, collected in English as "The Last Wish" in 2007 and translated by Danusia Stok. They were originally published in the Polish magazine Nowa Fantastyka. I got to read "The Last Wish" in proof before it even came out, but I don't know that anyone then expected it would become as big as it did. For a time, it was nearly titled "The Hexer" but, hexer or witcher, Sapkowski's Geralt of Rivia is a worthy successor to its earlier influences….
(4) HE CALLED IT. Goodman Games has a post on Fritz Leiber and Fafhrd and the Grey Mouser by James Maliszewski: "Fritz Leiber, H.P. Lovecraft, and the Origin of Sword-and-Sorcery Stories".
In the May 1961 issue of the fantasy fanzine Amra, future stalwart of Appendix N, Michael Moorcock, wrote a letter to the editor in which he proposed the term "epic fantasy" for the literary genre pioneered by Robert E. Howard in his stories of Conan the Cimmerian. In the July issue of that same year, however, Fritz Leiber offered another term in reply, writing, "I feel more certain than ever that this field should be called the sword-and-sorcery story." Leiber elaborates a bit on his coinage, adding that this term "accurately describes the points of culture-level and supernatural element," as well as being useful in distinguishing these stories from other popular pulp genres….
(5) WHAT BELONGS IN THAT BOX? Also at Goodman Games, — now that we have a name for these stories, how do we define sword and sorcery? Brian Murphy discusses the problem in "Sifting Through a Sword-and-Sorcery Definition".
…But, in the same essay Moorcock began refining these broad parameters, focusing on a subset of fantasy stories "which could hardly be classified as SF, and they are stories of high adventure, generally featuring a central hero very easy to identify oneself with …. tales told for the tale's sake… rooted in legendry, classic romance, mythology, folklore, and dubious ancient works of "History." These were quest stories, Moorcock added, in which the hero is thwarted by villains but against all odds does what the reader expects of him….
(6) RACISM IN S&S. This isn't new, but Charles R. Saunders' famous essay "Die, Black Dog, Die" about the latent and not so latent racism in sword and sorcery and fantasy in general from the 1970s is available again online here: "Revisiting 'Die, Black Dog!'" at Reindeer Motel. (It's posted as a single image file, so no excerpt here.)
(7) BACKSTAGE TO THE FUTURE. [Item by Martin Morse Wooster, Designated Financial Times Reader.] In the Financial Times, Sarah Hemming reviews Back To The Future: The Musical, which recently opened in London. Roger Bart, who played Frankenstein in Young Frankenstein, plays Doc.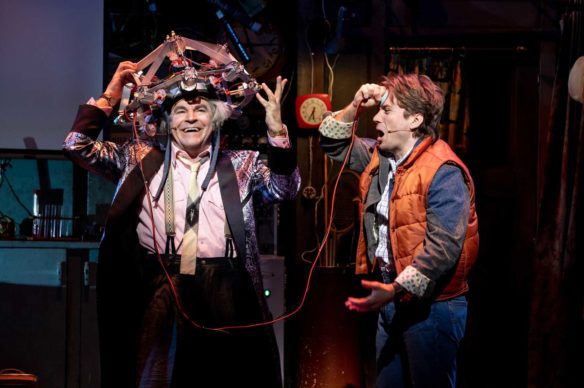 "As in the film, restless teenager Marty McFly escapes his humdrum home life by hanging out with doc and ends up taking the wheel of the DeLorean for an early voyage.  But he gets more than he bargains for when that voyage lands him back in 1955 and in the hugely awkward position of meeting his teenage mum–who promptly develops a crush on him.  Gale's script gleefully replicates the film (with a few wise excisions, such as the Libyan terrorists), while relishing the irony that from 2021, 1985 looks like old hat and that, for many in the audience, the whole show is an exercise in nostalgia–coupled with curiosity to see time travel on stage…

…A mix of pastiche and sincerity characterises the show.  The songs (Alan Silvestri and Glen Ballard) channel the periods–such as a peppy Fifties number in praise of gasoline and DDT–and there's a nice streak of self-mockery."
The website for the show is Back to the Future the Musical.
(8) SUPER-OVERRATED. James Davis Nicoll has decided there are "Five Superpowers That Just Aren't As Fun as They Sound".
Who among us has not dreamed of having superpowers? We are urged thereto by the avalanche of comics, movies, novels, and roleplaying games featuring abilities beyond mortal ken. Yet not all superpowers are created equal. Some superpowers require secondary superpowers to survive.  Other abilities have disquieting consequences for their possessors.

I'm not going to talk about superhumans with powers that would kill them or their friends if exercised. No one dreams of being any of the following:
X-Bomb Betty (can self-detonate, producing a 150 million megaton explosion (once))
Hazmat (lethal radioactive aura)
Absorbing Man (can duplicate the properties of materials he touches; see footnote)
I'm talking, here, about powers that appear on their surface to be useful but later reveal themselves to be harmful to, or at least extremely alienating for, those who wield them. Below are my musings about five such examples…
(9) NOW, THE NEWS. Also, James Davis Nicoll recommends this comedy sketch on Tik-Tok as an interpretation of "the Canadian election seen through the lens of the Matrix".
(10) GIANT PEACH OF A DEAL. Netflix now owns the rights to Roald Dahl's stories. Roundup at Adweek: "Netflix Acquires Roald Dahl Story Company, Plans Extensive Universe".
The U.S. streaming giant announced Wednesday it has bought the Roald Dahl Story Company, which manages the rights to the British novelist's characters and stories. It comes three years after Netflix signed a deal to create a slate of new animated productions based on the works of Dahl. (CNBC)

Under the previous deal, Taika Waititi is working on Roald Dahl animated series projects for Netflix, covering Charlie and the Chocolate Factory and its sequel, Charlie and the Great Glass Elevator. That's in addition to two different versions of Matilda, including a film version of Matilda the Musical and an animated series, plus plans to make a BFG cartoon. (The Verge)…
(11) 1001, A FACE ODYSSEY. "What About the Heroine's Journey?" asks the New York Times in its review of Maria Tatar's The Heroine With 1,001 Faces.
…[Joseph] Campbell's ideas have rippled out in the culture for decades — especially after a popular series hosted by Bill Moyers in 1988 — but he has long demanded a feminist response. It would be hard to conjure up a more suitable person to provide one than Maria Tatar, the Harvard professor who is one of the world's leading scholars on folklore.

Her new book, "The Heroine With 1,001 Faces," out this month from Liveright, is an answer to Campbell, though she is careful not to frame it as an assault. "Even though my title suggests that I'm writing a counternarrative, or maybe an attack on him, I think of it as more of a sequel," Tatar said in a video interview from her home in Cambridge, Mass.

She is stirring what J.R.R. Tolkien once called the "cauldron of story" in search of the girls and women, some silenced and some forgotten, some from the Iliad and some from Netflix, who live in Campbell's blind spot. The reader jumps from Arachne's battle with Athena to the escape of Bluebeard's trickster wife to Pippi Longstocking and Nancy Drew and even to Carrie Bradshaw typing away on her laptop.
(12) LIGHTEN UP. Sarah Gailey is joined by Sophie Lee Mae and Jaxton Kimble to play with this new writing prompt in "Building Beyond: That's Just Super" at Stone Soup:
Exposure to fluorescent lights gives people a 98% chance of developing a superpower under conditions of duress.
(13) J. RANDOLPH COX (1936-2021). Randy Cox died in a nursing home on September 14 reports Mysteryfile.com. Cox edited The Dime Novel Round-Up for over 20 year. He wrote several books including Man of Magic & Mystery: A Guide to the Work of Walter B. Gibson, about the man who created The Shadow; Flashgun Casey: Crime Photographer, co-authored with David S. Siegel, about the character originally created for Black Mask by George Harmon Coxe; Masters of Mystery and Detective Fiction: An Annotated Bibliography; and The Dime Novel Companion: A Source Book. He received the Munsey Award at PulpFest in 2014.
(14) MEMORY LANE.
1964 – Fifty-seven years ago on NBC, The Man from U.N.C.L.E. premiered. It was created by Sam Rolfe who was responsible for Have Gun, Will Travel and Norman Felton who directed All My Children, the first daytime soap which debuted in the Forties. It starred Robert Vaughn, David McCallum and Leo G. Carroll. It would last four seasons of one hundred and five episodes, most in color. Harlan Ellison scripted two episodes, "The Sort of Do-It-Yourself Dreadful Affair" and "The Pieces of Fate Affair." A reunion film, Return of the Man from U.N.C.L.E. with the subtitle of The Fifteen Years Later Affair with Vaughn and McCallum reprising their roles with Patrick Macnee replacing Leo G. Carroll, who had died, as the head of U.N.C.L.E. There was a film reboot recently that was very well received. 
(15) TODAY'S BIRTHDAYS.
[Compiled by Cat Eldridge.]
Born September 22, 1917 — Samuel A. Peeples. Memory Alpha says that he's the person that gave Roddenberry the catch phrase he used to sell Star Trek to the network: "[As] fellow writer Harlan Ellison has credited him with the creation of one of the most famous catch phrases in Star Trek lore, "[Gene Roddenberry] got 'Wagon Train to the stars' from Sam Peeples. That's what Gene said to me. They were at dinner and Sam Peeples, of course, was a fount of ideas, and Gene said something or other about wanting to do a space show and Sam said, 'Yeah? Why don't you do Wagon Train to the stars?'" (Died 1997.)
Born September 22, 1952 — Paul Kincaid, 69. A British science fiction critic. He stepped down as chairman of the Arthur C. Clarke Award in April 2006 after twenty years. He is the co-editor with Andrew M. Butler of The Arthur C. Clarke Award: A Critical Anthology. He's also written A Very British Genre: A Short History of British Fantasy and Science Fiction and What It Is We Do When We Read Science Fiction. His latest publication is The Unstable Realities of Christopher Priest.
Born September 22, 1954 — Shari Belafonte, 67. Daughter of Harry Belafonte, I first spotted her on Beyond Reality, a Canadian series that showed up when I was living in upstate Vermont. You most likely saw her as Elizabeth Trent in Babylon 5: Thirdspace as that's her most well known genre performance. 
Born September 22, 1957 — Jerry Oltion, 64. His Nebula Award winning Abandon in Place novella is the beginning of the Cheap Hyperdrive sequence, a really fun Space Opera undertaking. Abandon in Place was nominated for a Hugo at LoneStarCon 2 (2013). The Astronaut from Wyoming was nominated for a Hugo at Chicon 2000. 
Born September 22, 1971 — Elizabeth Bear, 50. First, let's all wish her a speedy recovery from her cancer surgery which was this week. Her first sff series was a superb trilogy, which might be considered cyberpunk, centered on a character named Jenny Casey. She's a very prolific writer; I'm fond of her Promethean Age, New Amsterdam and Karen Memory series. She won an Astounding Award for Best New Writer, a Hugo Award for Best Short Story for "Tideline", and a Hugo for Best Novelette for "Shoggoths in Bloom". One of only five writers to win multiple Hugo Awards for fiction after winning the Astounding Award! Very impressive indeed! It is worth noting that she was one of the regular panelists on now sadly defunct podcast SF Squeecast, which won the 2012 and 2013 Hugo Awards for "Best Fancast". (CE)
Born September 22, 1981 — Maria Ashley Eckstein, 40. She's voice of Ahsoka Tano on Star Wars: The Clone Wars, Star Wars Rebels, and Star Wars Forces of Destiny. She even has a voice only cameo as Ashoka in Star Wars: The Rise of Skywalker. And she voiced the character in the audiobook of E. K. Johnston's Star Wars: Ahsoka.
Born September 22, 1982 — Billie Piper, 39. Best remembered as the companion of the Ninth and Tenth Doctors, she also played the dual roles Brona Croft and Lily Frankenstein in Penny Dreadful. She played Veronica Beatrice "Sally" Lockhart in the BBC adaptation of Philip Pullman's The Ruby in the Smoke and The Shadow in The North.
Born September 22, 1985 — Tatiana Maslany, 36. Best known for her superb versatility in playing more than a dozen different clones in the Orphan Black which won a Hugo for Dramatic Presentation (Short Form) at the  73rd World Science Fiction Convention for its "By Means Which Have Never Yet Been Tried" episode. She received a Best Actress Emmy and more than two dozen other nominations and awards. She'll be playing Jennifer Walters / She-Hulk in the upcoming Marvel She-Hulk series.
(16) SHARP POINTY TEETH. Of course it's a vampire movie. Was there ever any doubt? Night Teeth coming to Netflix on October 20.
(17) IT CANNOT BE DENIED. From a book review in today's New York Times:
"(Turid is among those names, like Shakespeare's Titus, for which it is crucial, when spelling, not to omit the second vowel.)"
(18) DANGEROUS HISTORY. A genre study titled Dangerous Visions and New Worlds: Radical Science Fiction, 1950 to 1985 edited by Andrew Nette and Iain McIntyre is available for pre-order from PM Press.
…It starts with progressive authors who rose to prominence in the conservative 1950s, challenging the so-called Golden Age of science fiction and its linear narratives of technological breakthroughs and space-conquering male heroes. The book then moves through the 1960s, when writers, including those in what has been termed the New Wave, shattered existing writing conventions and incorporated contemporary themes such as modern mass media culture, corporate control, growing state surveillance, the Vietnam War, and rising currents of counterculture, ecological awareness, feminism, sexual liberation, and Black Power. The 1970s, when the genre reflected the end of various dreams of the long Sixties and the faltering of the postwar boom, is also explored along with the first half of the 1980s, which gave rise to new subgenres, such as cyberpunk.

Dangerous Visions and New Worlds contains over twenty chapters written by contemporary authors and critics, and hundreds of full-color cover images, including thirteen thematically organised cover selections. New perspectives on key novels and authors, such as Octavia Butler, Ursula K. Le Guin, Philip K. Dick, Harlan Ellison, John Wyndham, Samuel Delany, J.G. Ballard, John Brunner, Judith Merril, Barry Malzberg, Joanna Russ, and many others are presented alongside excavations of topics, works, and writers who have been largely forgotten or undeservedly ignored.
Here's a sample page that was posted to the book's Kickstarter site: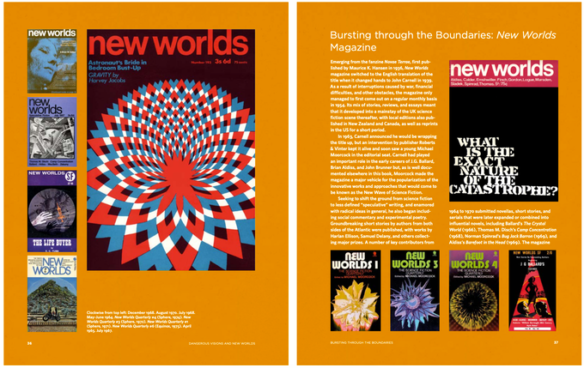 (19) THE QUICK SAND AND THE DEAD. Juliette Kayyem remembers a hazard much on the minds of young TV viewers back in the day:
Her tweet inspired E. Gruberman to round up a zillion YouTube links to relevant scenes from old shows of TV heroes up to their hips in quicksand.
(20) VIDEO OF THE DAY. [Item by Martin Morse Wooster.] In "Transformers: Age of Extinction Pitch Meeting" on Screen Rant, Ryan George says in the fourth Transformers movie, Sam Witwicky disappears without an explanation because Shia LeBouef didn't want to be in Transformer movies anymore. The writer explains that the Transformers are powered by "transformium," "which can change into any product placement we want." but the third act will be "our usual visual mess" but will feature "guns, boobs, America, victory."
[Thanks to John King Tarpinian, Cat Eldridge, Mike Kennedy, Cora Buhlert, Andrew Porter, Martin Morse Wooster, JJ, and Michael Toman for some of these stories. Title credit belongs to contributing editor of the day Jayn.]