(1) HE'S BAAACK. ScienceFiction.com explains how Dr. Okun's been down for the count almost as long as Captain America – "Okun's Razor: New 'Independence Day: Resurgence' Featurette Explains The Return Of Dr. Okum".
Of course, the alien attacked the doctor and took over his mind, using him to communicate with the other people outside the laboratory, and the encounter ended with men having to shoot the alien before it hurt the president, all of which left Dr. Okun comatose on the floor.

According to the new featurette released, Dr. Okun did not actually die that day. Apparently he was just left in a vegetative state, a coma, for the past twenty years, leaving him prime to be woken up by contact with new alien minds as the aliens return in the new film.
(2) FUTURE PUPPIES. Paul Weimer's "Of Dogs and Men: Clifford Simak's City" is the latest installment of Tor.com's "Lost Classics" series.
…A suite of stories that merges Simak's love of dogs, his interest in rural settings and landscapes, use of religion and faith, and his interest in robots all in one package: City.

City is a fixup novel originally consisting of seven stories written between 1944 and 1951, and collected together in 1952. City charts the fall of Humanity's (or the creature called "Man" in the stories) civilization, starting with his urban environment, and finally, of the fall of Humanity itself. As Humanity falls, so rises the successor to Man, the Dogs. As David Brin would later do to chimps and dolphins in his Uplift stories and novels, the story of the engineered rise of Dogs, and their supplanting of Man, is due to the agency of one family, the Websters. The growth and development of the Dogs is thanks to their agency, and the Dog's continued growth is due to the help of Jenkins, the robot created as a butler for the Webster family who becomes a mentor to the Dogs and a through line character in the narrative…..
(3) SIMAK AT 1971 WORLDCON. And with lovely timing, the FANAC YouTube channel has just posted Part 2 of a photo-illustrated audio recording of the Noreascon Banquet. It includes the Guest of Honor speeches from Clifford Simak and Harry Warner, Jr. Other speakers: Bob Shaw, Toastmaster Robert Silverberg, Forrest J Ackerman, Gordon Dickson, and TAFF winner Mario Bosnyak.
(4) PATIENCE REWARDED. Ricky L. Brown says go for it, in a review of Joe Zieja's Mechanical Failure at Amazing Stories.
At first, the book comes off as a plead, as if asking the reader to accept the fact that it supposed to be funny. The dialog feels a little forced and the humor dangerously becomes the focal point over character development and plot. If a literary version of a laugh track was a real thing, letting the reader know that this part is funny and you are supposed to be laughing along with the fabricated audience, it would be running non-stop during the first chapter.

As a reviewer, this is usually the point when one must decide if the work has potential or if it is time to abandon hope before investing the time. The original premise was sound and I truly wanted the book to be good, so I pressed on.

And then it got better….

Mechanical Failure by Joe Zieja is a funny story about a funny man in a funny universe. What makes this book work so well is the author's innate ability to paint a sarcastic hero in a ridiculously irrational setting, and allow the reader to laugh along at the absurdity that could become our future.
(5) AUTOGRAPH SEEKERS. A weekend of signings at the Denver Comic Con inspired Sarah A. Hoyt to write "The Running Of The Fans". Before you get cranked up – I thought it was pretty funny.
….This is interrupted by a voice from the ceiling, "The fans are coming, the fans are coming."

The double doors open on a throng at the end of the hall.  Some of the fans are in costume.  There is a minotaur in an Acme costume, for instance, several ladies in corsets and men wearing uniforms of all epochs, some of them imaginary.

The announcers shriek and run behind the barriers which are formed by booths filled with books.  For a while the melee is too confused to focus on, and the announcers are both talking at the same time.

After a while the younger announcer says.  "John Ringo is down.  I repeat he's down, and they've taken his kilt.  But he's still fighting valiantly."

"Larry Correia," says the older announcer, "Is still running, though he is QUITE literally covered in fans demanding his autograph.  Look at him move!  That's why they call him The Mountain Who Writes."

"If mountains moved, of course."

"We have the first author to escape the melee, ladies and gentlemen.  David Drake seems to have evaded the fans by the expedient of pretending to be lost and asking for directions, then fading away."….
(6) TODAY'S BIRTHDAY BOY
(7) HOW TO HIT BILLIONAIRES IN THE FEELS. Renay at Lady Business outlines a plan for action in "Captain America: Steve Rogers – The Only Power Left to Us is Money".
Captain America: Steve Rogers #2 drops on June 29. I'm not getting it because I dropped it from my pull list and didn't buy #1 due to A) my HEIGHTENED EMOTIONS, expressed by this thread on Twitter by readingtheend and B) the behavior of Nick Spencer/Tom Brevoort in the media, which included laughing at upset fans, and generally being dismissive, cruel, and gratuitously smug on Twitter (the failure mode of clever is asshole, etc.). I placed my funds toward other comics instead (Moon Girl & Devil Dinosaur is super cute, y'all). But I'm just one fan. I've never advocated a boycott before, but there's a first time for everything!

Boycotts work when they target specific behavior. A wholesale Marvel/Disney boycott is ineffective; they're diversified (curse them for being smart at business, and also, billionaires). Refusing to buy and removing from your pull or digital subscription list Captain America: Steve Rogers #2 (June 29, 2016) and all subsequent issues will be more effective than swearing off all Marvel comics. Also, it doesn't punish other creative people at Marvel who had no control over this situation. That sends a message to Marvel, The Company: this comic/plotline is not profitable! That's easier for them to grasp than nuanced discussions about history and cultural respect that it's clear they have no interest in listening to at this particular time. Although it doesn't hurt to tell them, either, by writing emails or letters to outline exactly why you aren't supporting the comic. This post has a longer list on how to make financial decisions that impact this specific comic that are active rather than reactive.
(8) WESTWORLD TEASER TRAILER. Westworld is coming to HBO in October 2016.
(9) ORDWAY. Universe Today features "Finding 'The Lost Science' of 2001: A Space Odyssey".
The film 2001: A Space Odyssey brought space science to the general masses. Today we may consider it as common place, but in 1968 when the film was released, humankind yet to walk on the Moon. We certainly didn't have any experience with Jupiter. Yet somehow the producer, Stanley Kubrick, successfully peered into the future and created a believable story. One of his methods was to employ Frederick I. Ordway III as his science consultant. While Ordway has since passed, he left behind a veritable treasure trove of documents detailing his work for Kubrick. Science author and engineer Adam K. Johnson got access to this trove which resulted in the book "2001: The Lost Science – The Scientist, Influences & Designs from the Frederick I. Ordway III Estate Volume 2". It's a wonderful summary of Ordway's contributions and the film's successes.
Johnson's book was released this month.
(10) TABLE TALK. Black Gate's John O'Neill gave his neighbor a lesson in marketing psychology, as he explains in "Total Pulp Victory: A Report on Windy City Pulp & Paper 2016, Part I".
I learned a great deal about selling at my first Windy City Pulp show. And most of what I learned was the result of one fateful purchase.

When I noticed I was running low on paperbacks, I glanced across the aisle at the seller across from me, who had hundreds in big piles on his table. He was charging 25 cents each for the books he'd stacked on the floor, but wasn't selling many. I'd rummaged through them and found he had a lot of great stuff, including some rare Ace Doubles in great condition, but no one seemed to be taking the time to dig through the jumbled stacks on the floor.

So I offered him 10 bucks for a box of books, and he was happy to sell it to me. Back at my table, I slipped each book out of the box and into a poly bag, and slapped a $10 price tag on it. The vendor watched me wordlessly as I put them prominently on display at the front of my booth. I'd put out less than half of them when a buyer wandered by, picked one up excitedly, paid me $10, and happily continued on his way.

Over the next few hours, the seller across the way watched furiously as I did a brisk business with his books, selling a good portion of his stock and making a very tidy profit. In the process, I learned two very valuable lessons.

A 25 cent book in a jumble on the floor is worth precisely 25 cents, and a prominently displayed $10 book in a poly bag is worth $10. Simple as that.
One the whole, it's much easier to sell a $10 book than a 25 cent book.
(11) STEVE FOX. Somebody on eBay will happily take $12 for "1986 sci-fi fanzine FILE 770 #60, Challenger disaster". However, I included this link for the opportunity afforded of showing you a cover by Steve Fox, a Philadelphia fanartist who, quite unreasonably, was voted behind No Award in 1985.
(12) CHARGE REVERSED. Vox Day, at the end of a post otherwise spent extolling the views of John C. Wright, took issue with the popular acclaim given to a massive battle in the latest episode of Game of Thrones.
The battle scenes in the most recent episode of A Game of Thrones were so shockingly inept and historically ignorant that I found myself wondering if Kameron Hurley had been hired as the historical consultant.

As one wag put it on Twitter: A cavalry charge? I'd better put my pikes in reserve!

And while I'm at it, I'll refrain from ordering my archers to fire at them as they approach. Then I'll send my infantry in to surround the survivors, so they can't break and run, thereby preventing my cavalry from riding them down and slaughtering them from behind. And when the totally predictable enemy reinforcements arrive just in the nick of time, because I've been busy posturing rather than simply destroying the surrounded enemy, instead of withdrawing my army and retreating to my fortress, I'll just stand around and watch them get entirely wiped out before fleeing by myself.

It was the second-most retarded battle scene I've ever seen, topped only by Faramir leading Gondor's cavalry against a fortified position manned by archers in The Return of the King. I was always curious about what the cavalry was intended to do if they somehow managed to survive the hail of arrows and reach the walls that no horse could possibly climb.
(13) STOP MOTION DINOSAURS. The Alex Film Society will show The Lost World (1925) on Sunday, July 10th at 2:00 p.m. at the Alex Theatre in Glendale, CA.
When Sir Arthur Conan Doyle was not writing Sherlock Holmes stories, he often wrote history, fantasy, adventure and science-fiction tales. One of his most successful novels was The Lost World, the story of adventurers who find a South American plateau – where time stopped 65 million years ago – inhabited by dinosaurs. In 1912, when the book was published, movies were still in their infancy and technology wasn't available to do the fantastic story justice, but by 1925, Willis O'Brien had begun to perfect stop motion, a form of animation that would allow him and his small team to bring these long dead creatures to life, blending them convincingly with real actors. It created a sensation when people saw, for the first time, believable prehistoric creatures on the screen, and remains a cinematic milestone today.

Featuring some of the biggest stars of the silent era, including Wallace Beery, Bessie Love and Lewis Stone, as well as no less than a dozen different species of dinosaur, our print of The Lost World is a fully restored version from the George Eastman House collection. Famed composer and pianist Alexander Rannie will accompany the film with the musical score that was written for the original release.

Preservation funded by the National Endowment for the Arts and Hugh Hefner.
(14) NEWS FOR THE FIRST DAY OF SUMMER? Yahoo! Movies has a Frozen franchise update: "Olaf Forever! Disney Introduces 'Frozen Northern Lights' – Including Brand New Character".
Think of it as the Frozen sequel before the Frozen sequel. Disney has just unveiled Frozen Northern Lights, a multimedia expansion of its hugely popular princess franchise that will include new books and Lego animated shorts. The adventure revolves around Elsa, Anna, Olaf, Kristoff, and Sven — joined by their new friend, Little Rock — on an mission to fix the Northern Lights in time for a special troll ceremony.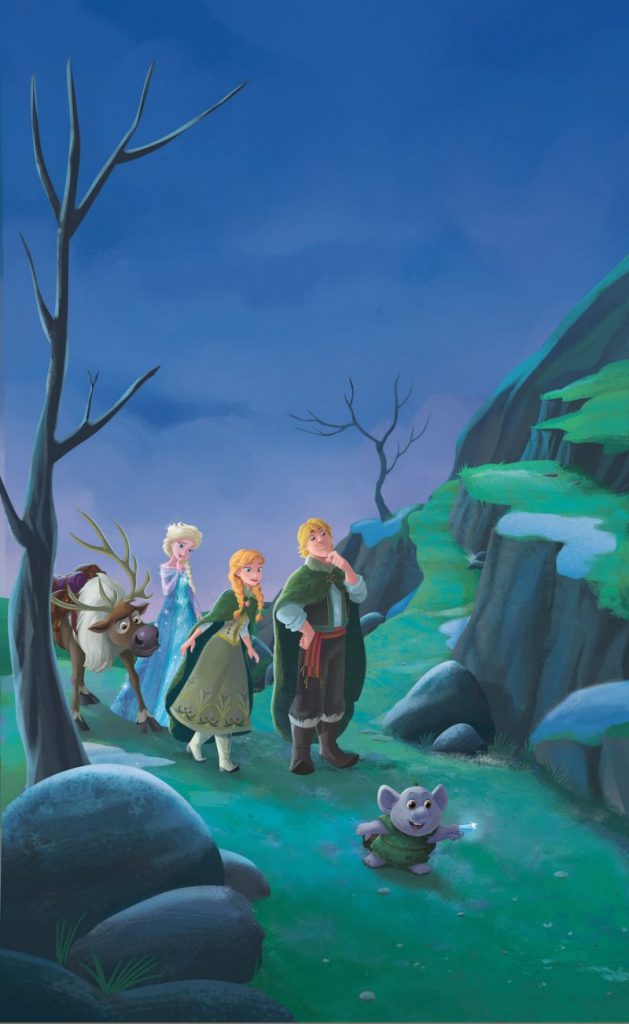 (15) JESSICA F. JONES. Whatever you thought you heard, you apparently didn't. ScienceFiction.com has the story — "She Don't Give A @#$%: 'Jessica Jones' Executive Producer Reveals Marvel's Restrictions In Season 1".
In a recent interview with The Hollywood Reporte, 'Jessica Jones' executive producer Melissa Rosenberg spoke candidly about producing the show, and what restrictions were placed on her by either Netflix or Marvel. As suspected, Netflix did not put a lot of restrictions on the show, but it seems Marvel had some very specific Dos and Don'ts that she had to abide by during Season 1 of 'Jessica Jones.' In her words:

"The beauty of working at Netflix is that you don't have those limits. I also work with Marvel, and Marvel has a brand and their brand is generally PG-13. They've kind of let us go to PG-16. No F-bombs! And if anyone was going to say 'fuck,' it would be Jessica Jones. Sometimes I would be like, 'Please just let me put one!' Never. But what's funny is that people said, 'Wait — she didn't say fuck? I could have sworn she did!' Ritter can deliver 'fuck' with her face. Her look says it! She can be saying 'potato.'"
[Thanks to JJ, and John King Tarpinian for some of these stories. Title credit goes to File 770 contributing editor of the day Rob Thornton.]