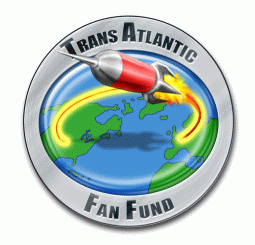 By Geri Sullivan and Johan Anglemark: What an exciting TAFF race! We're pleased to announce Fia Karlsson as the winner. TAFF will bring her to Chicon 8, the 80th Worldcon at the beginning of September. Fia will serve as the TAFF Delegate at Chicon and wherever else her travels take her as she journeys from Sweden to visit fans in North America.
The intial count shows there were 237 valid votes cast, more than in any TAFF race since 2006, and during a global pandemic at that. By standing for TAFF, Fia Karlsson, Anders Holmström, Mikolaj Kowalewski, and Julie Faith McMurray helped spread the word about the Trans-Atlantic Fan Fund and inspired fans to participate by voting for them. Voters sent a total of £735.47, €605.82, and $947.73 in voting fee donations along with their ballots!
TAFF Administrators Johan Anglemark (EU) and Geri Sullivan (NA) congratulate Fia and thank all of the candidates for making it such a lively, high-participation race. We also thank Dave Langford for a multitude of services supporting TAFF, especially the online voting platform on his unofficial TAFF website, and Claire Brialey, who ran the TAFF operations at Eastercon. Kudos and appreciation to those who nominated such a fine slate of candidates and to everyone who voted, donated time and money to TAFF, shared our announcements, and cheered the candidates on.
The exact numbers in this announcement are preliminary, but the result was clear and is final. We will publish the usual voting details and the list of voters shortly.
[Editor's note: File 770's WordPress does not support a special character in Kowalewski's first name, so a Latin "L" has been substituted.]