(1) SECOND ANNUAL SPSFC CONTEST TAKING SUBMISSIONS. Here's the link for authors to submit their books to the next Self-Published Science Fiction Competition.
(2) KEEPING UP. Lincoln Michel on sf epics at Esquire: "Genre-Bending Books: Everything Everywhere All in One Novel".
It's a cliché to say that we live in science fictional times. But recently it's felt like we're living in every science fictional time simultaneously. The world's richest man decides to purchase a global communications platform on a whim, then decides to back out on a whim. Climate change heat waves lead governments to patrol borders with robot dogs. Meanwhile, a global pandemic rages on, new dystopian technologies are unveiled every day, and the wealthy work on their plans to escape into space. When a scroll through the news reveals a dozen dystopian scenarios—and the daily tasks of work, life, and family trudge on—what's a novelist who hopes to capture our reality to do?

Maybe novels must do everything too.

In the last couple of years, there's been a wave of ambitious genre-bending novels whose wide scopes and wild imaginings reflect the surreal state of our times. I've come to think of the form as "the speculative epic." "Speculative" is used here as an umbrella term for science fiction, fantasy, magical realism, and other fictional modes that imagine worlds different from ours. Examples of these speculative epics from the last two years include Emily St. John Mandel's Sea of Tranquility, Matt Bell's Appleseed, Anthony Doerr's Cloud Cuckoo Land, Sequoia Nagamatsu's How High We Go in the Dark, Monica Byrne's The Actual Star, Vauhini Vara's The Immortal King Rao, Hanya Yanagihara's To Paradise, and Kim Stanley Robinson's The Ministry for the Future. These novels vary in style and range from breakout debuts to works from established masters, but they all share an epic scope and the use of speculative premises to tackle the biggest concerns of our day….
(3) TAFF SELLING TWO CHICON 8 MEMBERSHIPS. [Item by Michael J. "Orange Mike" Lowrey.) The Trans-Atlantic Fan Fund has received a generous donation of two Chicon 8 (2022 Worldcon) attending memberships, Hugo voting and site selection rights intact, from two members who sadly cannot attend.

If you are interested in buying one or both of these, please contact the TAFF administrators, Johan Anglemark ([email protected]) and Michael J. Lowrey ([email protected]) for further instructions. The price asked is $150 per membership.
(4) FAST TIMES. [Item by Martin Morse Wooster.] In the Financial Times behind a paywall, Tom Faber discusses the gaming subculture of "speedrunning" or going through a game as quickly as possible. The speed record for The Elden Ring is 21 minutes.
Speedrunners often specialise in classic game series–Doom, Mario, Zelda–and certain new titles, such as platformer Celeste, have become popular and there is even a community dedicated to lengthy Japanese role-playing games. The ingenuity of these players is remarkable–community members have specific roles such as 'routers,' who pore over a game to work out the optimal sequence of actions to get the fastest time, or 'glitch-hunters,' who look for flaws in the game's code which can be exploited to gain seconds.

In new release Lego Star Wars:  The Skywalker Saga, a speedrunner realised that child characters cannot be killed, so if you hit one upwards and continually slash them with your lightsabre, you can fly infinitely through the air, bypassing all manner of obstacles. This technique has been dubbed 'child flight.'
(5) TUNE INTO HORROR. [Item by Jonathan Cowie.] English Rose is a new, five-part, fantastical horror on BBC Radio 4 and BBC Sounds.
It is a #MeToo take on a traditional fantasy horror genre of which I don't want to say more lest it counts as a spoiler. Risking this last, our protagonist – 18 year-old Rose – leaves Whitby to go to New York to be a nanny for a very wealthy couple. Episode 1: The Call of the Wild sees us realize that Rose is leaving behind a family and suggests that she did something that has caused her family to fear being hunted.  There is also more than a suggestion that she is on a mission and has a target… Enough said. The radio play is by the novelist and playwright Helen Cross.

The special effects for this radio drama rely on the best technology: the human brain.
(6) FANS GATHER IN LONDON. [Item by Jonathan Cowie.] The Northumberland Heath SF group had its 2nd Thursday of the month meeting this week in southeast London.

Somewhat slightly depleted due to a few members away on holiday but in the mix is the daughter of a former Worldcon fan GoH Vince Clarke (see picture).

The group resumed its monthly meets in the spring following a winter CoVID lockdown.

All fans in London's Bexley borough or on the 89 and 229 bus routes are most welcome. Details here and Facebook page here.

Apologies – the pic is a smartphone mosaic. (Not mine – don't use smart phones – sustainability, rare earth metals etc)
(7) HERBERT W. FRANKE (1927-2022). Austrian scientist, artist, and SF writer Herbert W. Franke died July 16 at the age of 95. A major science fiction writer in the German language, he was a guest of honor at the 1970 Worldcon. He also was a computer graphics pioneer. His wife Susanne announced his death on Twitter, which he had just joined in March.
His fiction won the Deutscher Science Fiction Preis for Best Novel in 1985 and 1991, and the Kurd Lasswitz prize for sff in 1985, 1986, and 2007. The European Science Fiction Society named him "European Grand Master of Science Fiction" in 2016.
(8) MEMORY LANE.
1987 – [By Cat Eldridge.] "True enough," Willy said with a rueful quirk of an eyebrow. "All right. There are certain days associated with magic. Halloween, May Eve, the solstices and equinoxes, a few others. Some are more favorable to one Court than the other. The next big event is Midsummer's Eve, which is a good one for the Seelie Court. The Eve itself is a truce period. But the Sidhe would like to hold off and fight soon after that, when we're still strong." — Willy to Eddi
Emma Bull's War for The Oaks was published in paperback by Ace Books thirty-five years ago this month. And then that publisher promptly tied up the rights so that it would be fourteen years before Tor Books could release another edition. Yeah Emma wasn't happy.
SPOILERS ABOUND!
I've read it at least a half dozen times, usually in the summer. I'm reasonably sure it was one of a handful of books that I took overseas with me.
I love Eddi McCandry, a musician who dumps her quite nasty boyfriend and in the process of doing that finds herself chosen to be the agent of Good in the fight between the two sides of the Fey.
Everything here is spot-on including the shapeshifter who's chosen to protect Eddi and falls in love with her. For her first novel, Emma does am exceedingly great job of writing the characters here so that each is a true individual. Seelie, unseelie and just plain human characters all seem real.
The story here is that a concert at Midsummer's Eve will determine if the Seelie or Unseelie Court will hold sway for the next six months. The same premise was used in Gael Baudino's rather stellar Gossamer Axe.
Now it won't surprise you, and yes this is why I said there would be spoilers, that Eddi McCandry and her band of human and seelie musicians will triumph and Good will sway for now.
END OF SPOILERS!
Fourteen years after Ace tied the rights to the novels up in, well, I can't use the language I'd like to use, Tor published it in a nifty trade paper. Now they almost published it in a hardcover edition as well though that hardcover did come out as an Orb / SFBC edition.
I have two signed editions here, one hardcover and one softcover. One was signed just after she broke both her forearms at a RenFaire (water and catching yourself don't mix) and is quite shaky, the other from much later on is quite better.
They made a trailer of this novel. Yes they did. Will Shetterly decided not to run for Governor and spent the money here instead. Or so he tells me. Emma plays the Seelie Queen. And the music is by Boiled in Lead. See how many members of Minnesota fandom that you spot.
You can watch it here courtesy of Green Man who has exclusive online rights.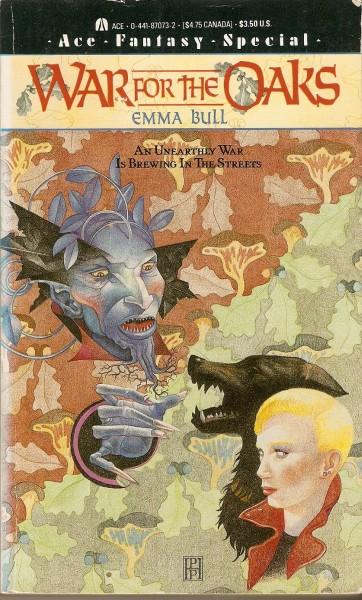 (9) TODAY'S BIRTHDAYS.
[Compiled by Cat Eldridge.]
Born July 16, 1876 — David Lindsay. Best remembered for A Voyage to Arcturus which C.S. Lewis has acknowledged was a great influence on Out of the Silent Planet, Perelandra, and That Hideous Strength. His other genre works were fantasies including The Haunted Woman and The Witch. A Voyage to Arcturus is available from the usual suspects for free. And weirdly it's available in seven audio narratives. Huh.  Seven? (Died 1945.)
Born July 16, 1882 — Felix Locher. He is considered the oldest Star Trek actor of all time by birth year, appearing in "The Deadly Years" episode. Other genre appearances included Curse of the Faceless Man,  The Twilight Zone, Frankenstein's Daughter, The Munsters, House of the Damned, The Man from U.N.C.L.E. and Mission Impossible. His entire acting career was from 1957 to 1969. (Died 1969.)
Born July 16, 1928 — Robert Sheckley. I knew that his short story "Seventh Victim" was the basis of The 10th Victim film but I hadn't known 'til now that Freejack was sort of based off his Immortality, Inc. novel. I've read a lot by him with Bring Me the Head of Prince Charming (written with Zelazny) being my favorite work by him. Sheckley is very well stocked on the usual suspects. He had two Hugo nominations, at NYCon II (1956) for his "Spy Story" short story, and at Detention (1959) for his Time Killer novel. His Seventh Victim novel was nominated for a Hugo at the 1954 Retro Hugos at Noreascon 4. (Died 2005.)
Born July 16, 1929 — Sheri Tepper. I think I'm going to single out her Marianne Trilogy (Marianne, The Magus and The Manticore; Marianne, the Madam and the Momentary Gods; Marianne, the Matchbox and the Malachite Mouse) as her best work. Both the setting and the characters are unique, the story fascinating. She got the World Fantasy Award for Lifetime Achievement. (Died 2016.)
Born July 16, 1943 — Steve Stiles. Fan artist who was nominated way too many times for Best Fan Artist to list here. He did win once at MidAmeriCon II (2016). I can't begin to list everything he's done, so I'm sending you to Mike's eulogy here. (Died 2020.)
Born July 16, 1951 — Esther Friesner, 71. She's won the Nebula Awards for Best Short Story twice with "Death and the Librarian" and "A Birthday".  I'm particularly fond of The Sherwood Game and E.Godz which she did with Robert Asprin. NESFA presented her with the Edward E. Smith Memorial Award for Imaginative Fiction ("Skylark") in 1994, a lifetime achievement award. She's very well stocked at the usual suspects. L.A. Con III (1996) saw her nominated for a short story Hugo for "A Birthday" and she was Toastmaster at Millennium Philcon (2001). 
Born July 16, 1963 — Phoebe Cates, 59. Ok, so her entire genre appearance credit is as Kate Beringer in Gremlins and  Gremlins 2: The New Batch. Yes I'll admit that they're two films that I have an inordinate fondness for that the Suck Fairy cannot have any effect upon them what-so-ever. Update: I've discovered since I last noted her Birthday that she was in Drop Dead Fred, a dark fantasy. She also stopped acting seven years ago. 
Born July 16, 1966 — Scott Derrickson, 56. Director and Writer of Doctor Strange who also had a hand in The Day the Earth Stood Still (as Director), The Exorcism of Emily Rose (Director and Writer), Urban Legends: Final Cut (Director and Producer) and the forthcoming Labyrinth sequel (Director and Writer). His latest film is the supernatural horror The Black Phone based on the short story by Joe Hill.
(10) ORIGINS OF LIBRARY OF AMERICA. "Edmund Wilson's Big Idea: A Series of Books Devoted to Classic American Writing. It Almost Didn't Happen". A 2015 post by National Endowment for the Humanities.
The nonprofit publisher Library of America has released almost two hundred seventy volumes of classic American writing. Its black dust jackets with an image of the author and a simple red, white, and blue stripe running below the author's name, rendered in a fountain-pen-like hand, help give the clothbound volumes a timeless feel, as if copies might have been found in F. Scott Fitzgerald's dorm room or Henry James's steamer trunk. But the series is nowhere near that old. It began publication in 1982.It did, however, take a long time to become a reality.

Jason Epstein remembers the day he joined Edmund Wilson at the bar of the Princeton Club, in New York City, where, in the presence of numerous martinis, Wilson said exactly what he wanted the publishing industry to do: bring out a series of books that would be small enough to fit in the pocket of his raincoat and be filled with classic American writing.
(11) KNIGHTWHO? [Item by Francis Hamit.] Knightscope. Yeah, they look like Daleks.  Sheer coincidence.  Bill Li had never heard of Daleks when he started the company. A Knightscope robot is a supplement not a replacement for a human guard but does have some pretty neat features that humans can't replicate such a license plate reading, 360-degree vision and other sensors.
Augment your existing security program at a fraction of the average rate for one 24-hour security post. Our Autonomous Security Robots (ASRs) are Made in the USA – Designed and Built in Silicon Valley by Knightscope – and offer security patrols as well as a physical presence that deliver real-time, actionable intelligence anytime and anywhere, giving you and your security team the ability to detect and react faster.
(12) WATCH 'EM ALL. "Pokémon Fossil Museum Virtual Tour Lets You See the Japanese Exhibit For Yourself" – IGN tells how to access it.
The Pokémon Company and Toyohashi Museum of Natural History have made it possible to see the Pokémon Fossil Museum without being anywhere near Japan. Pokémon fans can now take a virtual tour around the exhibit — which is open until November — to see the collection of real and Pokémon fossils, from a tyrannosaurus to a Tyrantrum.

Designed to teach children about fossils and dinosaurs, the exhibit includes models of Pokémon side-by-side with fossilised versions and information panels to educate amid the fun.

… Ancient Pokémon obtained through fossils have always existed in the games and anime, and just like the normal pocket monsters (Pikachu being the mouse Pokémon), they're based on species in the real world.
(13) LIGHTS! CAMERA! TENTACLES! Apparently this genre-inspired ad campaign for a brand of rum ran several years ago. But it's news to me! "Kraken Rum Bus" from Oink Creative.
[Thanks to Andrew Porter, Chris Barkley, Michael Toman, Bill Higgins, SF Concatenation's Jonathan Cowie, Francis Hamit, Michael J. Lowrey, Cat Eldridge, Mike Kennedy, Martin Morse Wooster, JJ, and John King Tarpinian for some of these stories. Title credit belongs to File 770 contributing editor of the day Jack Lint.]