(1) WEBB SPACE TELESCOPE DEPLOYMENT WILL AIR. "NASA to Host Coverage, Briefing for Webb Telescope's Final Unfolding" the space agency announced.
NASA will provide live coverage and host a media briefing Saturday, Jan. 8, for the conclusion of the James Webb Space Telescope's major spacecraft deployments.

Beginning no earlier than 9 a.m. EST, NASA will air live coverage of the final hours of Webb's major deployments. After the live broadcast concludes, at approximately 1:30 p.m., NASA will hold a media briefing. Both the broadcast and media briefing will air live on NASA TV, the NASA app, and the agency's website.

As the final step in the observatory's major deployments, the Webb team plans to unfold the second of two primary mirror wings. When this step is complete, Webb will have finished its unprecedented process of unfolding in space to prepare for science operations.
(2) KETTER INTERVIEWED ABOUT DREAMHAVEN BREAK-IN. The DreamHaven Books break-in reported in yesterday's Scroll made local news on the Fox affiliate, who interviewed owner Greg Ketter: "Minneapolis comic store owner frustrated after continued robberies".
(3) BEHIND CLOSED DOORS. "Golden Globes Will Not Be Livestreamed This Weekend" reports Deadline.
The controversy-plagued Golden Globes looks set to return this weekend, but no one will see it online or otherwise. "This year's event is going to be a private event and will not be livestreamed," an HFPA spokesperson said. "We will be providing real-time updates on winners on the Golden Globes website and our social media."

…NBC revealed on May 10 that it would not air the Golden Globes this year due to the diversity issues involving the Hollywood Foreign Press Association.

The network, in a statement at the time, said it continues to believe that the HFPA is "committed to meaningful reform" but "change of this magnitude takes time and work, and we feel strongly that the HFPA needs time to do it right."
(4) LEVAR BURTON. A reminder that the LeVar Burton Reads podcasts are also available on Stitcher. The latest is "To Jump is to Fall" by Stephen Graham Jones.
"To Jump is to Fall" by Stephen Graham Jones

A spy narrates his thoughts as he jumps from an airplane and freefalls toward his government target.
(5) DISCON III PANEL VIDEOS. The recorded panels of the 2021 Worldcon, DisCon III, are now available to attending members and virtual members. The recordings should remain available through the month of January 2022.
1. Go to the DisCon III schedule page: 

https://discon3.org/schedule/

2. Use the Log In button in the top left corner of the page. 

3. On the convention schedule, look for items with a View Replay button.
(6) DISCON III ART SHOW. Lisa Hertel reported on Facebook that DisCon III's art show sales were approximately $32,000 across 33 artists.
(7) EATING THE FANTASTIC. Scott Edelman worries that the Omicron surge will keep him away from future conventions, but that doesn't erase the fun he had in D.C. where he recorded five episodes of his podcast, including "Breakfast on Eggs Benedict with Fonda Lee".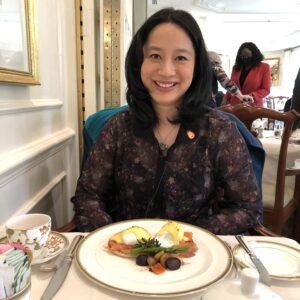 Fonda Lee won both a World Fantasy Award and an Aurora Award for her novel Jade City, which was also nominated for Nebula, Seiun, and Sunburst Awards. That first installment of her Green Bone Saga, an epic urban fantasy, was followed by Jade War, which was nominated for both the Dragon and Aurora Awards. Jade Legacy, the third book in her series, was released in November of 2021. Her young adult novels Zeroboxer and Exo were both Andre Norton Award finalists. She holds black belts in karate and kung fu, which probably came in handy when it was time for her to write Shang-Chi for Marvel Comics.

Because Fonda is a fan of Eggs Benedict, we headed to the Lafayette restaurant in the Hay Adams Hotel, where I'd been informed by Tom Sietsema of the Washington Post we could find an excellent incarnation of that dish.

We discussed what it was like finishing the final book in her Green Bone Saga trilogy during the pandemic, her secret for keeping track of near 2,000 pages of characters and plot points, why every book project is terrifying in its own way, how much of the ending she knew at the beginning (and our opposing views on whether knowing the ending helps or hurts the creative process), the warring wolves inside her as she writes the most emotionally difficult scenes, why she starts to worry if her writing is going too smoothly, the framing device that became far more than a framing device, why her natural length for processing ideas is the novel rather than the short story, and much more.
(8) BEBOP PETITION REACHES 100K. [Item by Ben Bird Person.] According to Dazed's Günseli Yalcinkaya, the Change.org petition "Save the live action cowboy bebop" has now garnered over 100,000 signatures.
Following news of the cancellation, co-executive producer Javier Grillo-Marxuach took to Twitter to voice his disappointment: "I truly loved working on this. It came from a real and pure place of respect and affection. I wish we could make what we planned for a second season, but you know what they say, men plan, God laughs."

…As petition numbers grow by the minute, perhaps it won't be long until Netflix takes note and we can confidently say: See you soon, space cowboy.
(9) THE BOYS. Amazon Prime dropped a teaser trailer for The Boys – Season 3. Coming June 3.
The Boys is an irreverent take on what happens when superheroes, who are as popular as celebrities, as influential as politicians and as revered as Gods, abuse their superpowers rather than use them for good. It's the powerless against the super powerful as The Boys embark on a heroic quest to expose the truth about "The Seven", and their formidable Vought backing.
(10) MILLER OBIT. Wild Cards author John Joseph Miller died January 5 announced DreamForge Magazine.
We are deeply saddened to hear that John Jos. Miller passed away yesterday. Our deepest sympathies to John's wife, family, and friends. We were fortunate to work with John on Ghost of a Smile in 2019 and Don't Look Back in the recently released DreamForge Anvil Issue 6. He's best known for his work in the Wildcard Series edited by George RR Martin. His last story with us, Don't Look Back, is a Satchel Paige baseball story. John was a Fellow of the Society for American Baseball Research and was an authority on America's Negro league baseball of the 20th Century. In his honor, read "Don't Look Back" in Dreamforge Anvil Issue 6.
(11) WILLIAM CONTENTO (1947-2021). William G. Contento known for his annual bibliographical roundups of sff in the Eighties and Nineties (originally with Locus' Charles N. Brown), died December 13, 2021. His family obituary is here.
…Bill retired in 2012. Bill's obsession besides his family, was science fiction, a collector, an author and authority on anthologies and source material. Using his cataloging mind, his home computer and working with other collaborators who shared his passion Bill authored and coauthored at least 14 titles. Some of his reference works were more than 500 pages. Eventually he was able to put them on CDs. His indexes are linked by the Library of Congress, The British Library, MIT's library to name a few. Google his name to see a list of all his labors of love….
(12) MEDIA BIRTHDAY.
1961 — [Item by Cat Eldridge.] Sixty-one years ago, ITV first aired The Avengers. Original cast was Ian Hendry and Patrick Macnee. Hendry left after the first series; Steed than became the primary male character, partnered with a succession of female partners. The series would last for six seasons and one hundred and one episodes. We of course have our favorite female partner but that's not for us to say here. After it ended in 1969, John Steed would be paired with two new partners on The New Avengers, a series that ran for two seasons in the mid-Seventies.
(13) TODAY'S BIRTHDAYS.
[Compiled by Cat Eldridge.]
Born January 7, 1899 — F. Orlin Tremaine. He was the Editor of Astounding from 1933 to 1937. It's said that he bought Lovecraft's At the Mountains of Madness without actually reading it. Later as Editor at Bartholomew House, he brought out the first paperback editions of Lovecraft's The Weird Shadow Over Innsmouth and The Dunwich Horror. He wrote a dozen or so short stories that were published in the pulps between 1926 and 1949. (Died 1956.)
Born January 7, 1912 — Charles Addams. Illustrator best known for the Addams Family which he first drew in 1932 and kept drawing until his death. Needless to say there have been a number of films using these characters of which The Addams Family is my favorite. Linda H. Davis' Charles Addams: A Cartoonist's Life is well worth seeking out and reading. (Died 1988.)
Born January 7, 1913 — Julian S. Krupa. Pulp cover and interior illustrator from 1939 to 1971 who graced Amazing Stories and Fantastic. In the Thirties, he also contributed art to fanzines, including Ad Astra. His grandson said that "his Grandfather did all the illustrations for the training films for the first Nuclear Submarines and was a friend to Admiral Rickover. And then continued to do early training films for NASA." (Died 1989.)
Born January 7, 1928 — William Peter Blatty. Novelist and screenwriter best known for The Exorcist though he was also the same for Exorcist III. The former is by no means the only genre work that he would write as his literary career would go on for forty years after this novel and would include Demons Five, Exorcists Nothing: A Fable which he renamed Demons Five, Exorcists Nothing: A Hollywood Christmas Carol and The Exorcist for the 21st Century, his final work. (Died 2017.)
Born January 7, 1955 — Karen Haber, 67. Wife of Robert Silverberg. I fondly remember reading her Hugo-nominated Meditations on Middle Earth anthology, not to mention the three Universe anthologies she did with her husband which are most excellent. I don't remember reading any of her novels but it's hardly a certainty that I didn't as even when my memory was a lot better than is now, I hardly remembered all the genre fiction I've read. So those you've read her, please tell me what she's like. 
Born January 7, 1957 — Nicholson Baker, 65. Ok ISFDB lists him as having two SFF novels, The Fermata and House of Holes. The Wiki page him lists those as being two out of the three erotic novels that he's written. Not having read them, are they indeed erotic SFF? I see that ESF say they're indeed SFF and yes are erotic. H'h. 
Born January 7, 1961 — Mark Allen Shepherd, 61. Morn, the bar patron on Deep Space Nine. Amazingly he was in Quark's bar a total of ninety-three episodes plus one episode each on Next Gen and Voyager. Technically he's uncredited in almost all of those appearances. That's pretty much his entire acting career. I'm trying to remember if he has any lines. He's also an abstract painter whose work was used frequently on DS9 sets. For all practical purposes, this was his acting career. 
(14) COMICS SECTION.
Lio might be a young Harryhausen.
(15) GET VACCINATED. GeekWire witnesses when "Mr. Spock beams down for vaccine-boosting billboard campaign".
…The first round of the campaign, organized by Nimoy's family and L.A. Care Health Plan with the blessing of ViacomCBS, has been in the works in Los Angeles since last May…
(16) BOWIE THE ACTOR. [Item by Alan Baumler.] BBC's appreciation of the film roles of Davie Bowie, almost all genre. "The underrated genius of David Bowie's acting". For some reason, can't quite put my finger on it, they kept casting him for roles playing someone out of place who did not quite fit in.
… It's unsurprising that this most mercurial of artists, with his visual sensibility and many alter-egos, would be drawn to film. Yet, while Bowie's legendary status in music is beyond question, quantifying his contribution to cinema as an actor is more complicated. In the three decades between The Man Who Fell to Earth (1976) and The Prestige (2006), Bowie appeared in dozens of films but – despite that span of credits – only a few of these roles came close to making the most of his talent. When we leave aside the many cameos – of which the uncontested crème de le crème is Bowie solemnly adjudicating a runway walk-off in Zoolander – and the forgettable flops – the less said about Just a Gigolo, the better – we are left with only a handful of performances. Yet those acting roles that did manage to effectively exploit Bowie's gifts are easily enough to secure his status as a cinema icon. When matched with an inventive director, Bowie could be an unforgettable screen presence….
(17) DEER DEPARTED. RedWombat's Bambi rewatch thread starts here.
(18) WAVES OF SFF. Ron Jacobs reviews Dangerous Visions and New Worlds: Radical Science Fiction 1950-1985 in "Some Hazy Cosmic Jive" at CounterPunch.
…If the reader previously dismissed science fiction as juvenile or foolish, this introductory survey of its radical possibilities is heartily recommended. It could easily change your mind. If the reader is already familiar with this genre, this text will come as an intelligent and inspired discussion of the genre during one of its most creative and fertile periods. Visually delightful and intellectually astute, it should provide each and every reader with a list of books to add to their to-read queue.
(19) NOT JUST A PHASE. [Item by Ben Bird Person.] Artist/illustrator Will Quinn did this piece based on the Saul Bass movie Phase IV (1974). It was riffed by Joel and the Bots in the television series Mystery Science Theater 3000 (1988-) in its KTMA season (1988-1989).
(20) WHERE IT'S AT. I always like to have a science item towards the end of the Scroll.
(21) VIDEO OF THE DAY. Live from 2011, "'Doctor Who on Holiday' by Dean Gray".
It combines Green Day's "Holiday" with Gary Glitter's "Rock and Roll Part 2" and "Doctorin' The TARDIS" by The Timelords (better known as The KLF). "Doctorin' The TARDIS" itself takes a sample from "Rock and Roll Part 2″." From Wikipedia: "Dr Who on Holiday is the second track from the mash up album, American Edit created by Dean Gray (a collaboration of Party Ben and Team 9).
[Thanks to Mike Kennedy, Martin Morse Wooster, JJ, John King Tarpinian, Alan Baumler, Ben Bird Person, Scott Edelman, Will R., Rich Lynch, Nicki Lynch, Andrew Porter, Michael Toman, and Cat Eldridge for some of these stories. Title credit belongs to File 770 contributing editor of the day Jayn.]