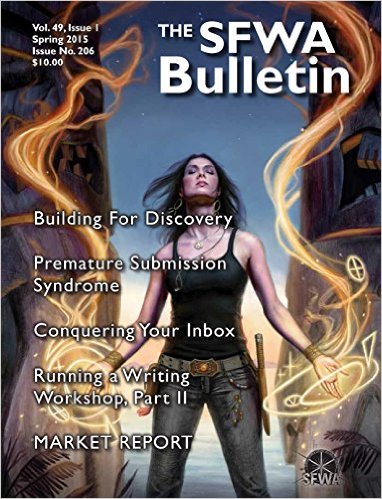 The Spring 2015 issue of the SFWA Bulletin published by the Science Fiction and Fantasy Writers of America is now available in a Kindle edition from Amazon for $2.99.
The features in the current issue are:
Editorial – John Klima
Ask N&E: Answers You Want To Know – Nancy Holder & Erin Underwood
Conquering Your Inbox: Strategies for Winning the E-mail War (Gmail Edition) – John Joseph Adams
Respectful Journalist: Rule of 3 – John Stuart
Building for Discovery – Blair MacGregor
Running a Writing Workshop, Part II – Cat Rambo
Premature Submission Syndrome (PSS) – Bud Sparhawk
Market Report – Cynthia Ward
Cover art – Lindsey Look
Also now available from Amazon is Ad Astra: The 50th Anniversary SFWA Cookbook edited by Cat Rambo and Fran Wilde.  From Alien Scones to At the Fruitcake of Madness, DOOM Cookies, Falling Cloud Cake, and Miss Murder's Black Forest Trifle, there are 157 dishes and how-tos from 134 writers, editors and agents. The Kindle edition is $9.99, the spiral-bound paper edition is $19.95.