(1) OF LANDINGS UNSTUCK. The New York Times' Carlo Rotella reminds us of the power of words in "Good Fantasy Writing Is Pure Magic".
As I watched last fall's showdown of TV's big-money epic fantasy franchises, I was wincingly reminded that language is the most underrated special effect. Unforced errors of word choice — loose talk of "focus" and "stress" in HBO's "House of the Dragon," for example — kept pulling me down from my fantasy high and into the diction of emails from human resources. Case in point: "I have pursued this foe since before the first sunrise bloodied the sky," says the elf warrior-princess Galadriel in Amazon's "The Lord of the Rings: The Rings of Power." "It would take longer than your lifetime even to speak the names of those they have taken from me." She's adrift on a life raft with a mysterious stranger after a sea-monster attack, and certain dark intimations suggest that eldritch evil draws nigh. So far, so OK, but then her speech reaches its climax: "So letting it lie is not an option."

Clangalang! Descending from a tagline fashioned by writers of the movie "Apollo 13" from something a NASA flight director said, "X is not an option" has become a staple of business-speak and coach-talk. The writers of Galadriel's speech couldn't have killed the buzz any deader if they'd followed up with, "I'm all about laserlike focus 24-7 on getting some closure on this whole Sauron thing." …
(2) INTERZONE NEWS. [Item by Andrew Porter.] The new version of Interzone now has a website — https://interzone.press/ — which has the covers and Tables of Contents for the next three issues (294 to 296) coming in January, March and May 2023. The style of the covers is certainly quite a change.
(3) WHO RULES? James Davis Nicoll puts a claim to the test in "SF and Fantasy Governments: A Semi-Scientific Survey" at Tor.com.
…Are science fiction and fantasy as rife with autocracies as some have implied? Or is this merely an illusion, one to which I might be subject because I am personally rather tired of autocratic settings?

It's been nearly a year since my project began. The results are not quite as I expected….
(4) MAY I BUY A VOWEL? Apparently from now on I will be saying it was Turkiye where I ate Turkish Delight in 2004. "US changes to Turkey's preferred spelling at ally's request" reports MSN.com.
The [State] department has instructed that new official documents refer to Turkiye instead of Turkey, although the pronunciation will not change, officials said. But neither the State Department website nor the Foreign Affairs Manual, which guides U.S. diplomatic practices, had been revised to reflect the change as of midday Thursday.

"The Turkish embassy requested that the U.S. government use the name "Republic of Turkiye" in communications," the department said. "We will begin to refer to Turkiye and Republic of Turkiye accordingly in most formal, diplomatic, and bilateral contexts, including in public communications."

The move comes ahead of an expected visit to Washington later this month by Turkish Foreign Minister Mevlut Cavusoglu during which Turkey's position on Russia's invasion of Ukraine and its resistance to allowing Finland and Sweden to join NATO will be high on the agenda.
(5) THE MONEY KEEPS ROLLING IN. It sells tickets whether or not critics love it. Deadline has the numbers: "'Avatar: The Way Of Water' Tops $1.5B Global, Becomes No. 10 Highest-Grossing Film Of All Time [Worldwide]" .
James Cameron's Avatar: The Way of Water, as expected (see below), has exceeded $1.5B globally with Wednesday's figures included. The running total through yesterday is $1,516.5M, meaning that it has overtaken Top Gun: Maverick as the No. 1 worldwide release of 2022. What's more, it is now the No. 10 biggest movie ever globally.

The 20th Century Studios/Disney sci-fi epic has also in the past day crossed Furious 7 worldwide. Today, it will pass The Avengers to claim the No. 9 spot on the all-time global chart.

Internationally, it is the No. 9 biggest movie ever, and, in Europe, is the highest-grosser of the pandemic era (having passed Spider-Man: No Way Home). It is also the No. 5 release of all time for the region….
(6) MEDICAL UPDATE. Jeremy Renner tweets video update ICU. View it at the link: "A 'not no great' ICU DAY, turned to amazing spa day with my sis and mama".
(7) MEMORY LANE.
[Compiled by Cat Eldridge.]
Cowboy Feng's Space Bar and Grille has the best matzo ball soup in the galaxy. Lots of garlic, matzo balls with just the right consistency to absorb the flavor, big chunks of chicken, and the whole of it seasoned to a biting perfection. One bowl, along with maybe a couple of tamales, will usually do for a meal.
As for entertainment, Feng gets some of the best Irish musicians you'll ever hear—good instrumental backing, fine singing, some stupendous fiddle playing, and driving energy. Hell, some of the songs are actually Irish.
— Steven Brust's Cowboy Feng's Space Bar and Grille
Warning: very mild spoilers by inference. H'h
The novel is, to put it charitably, not one of his better efforts though the food and music scenes are wonderful. Think I'm being harsh? Let's ask the author:
Not one of my better efforts, I think, but there are bits of it I like. It started out to be funny, developed a serious side, and I was never able to get the elements to blend the way I wanted them to. Grumble grumble. It's always pleasant to run into someone who liked this book; it means that I can still do all right when I'm not on my game.
I wrote a terrible harsh review of it that I'll not link that I thought Brust would hate but he wrote me an email saying that even he didn't like the novel. But his scenes of the characters eating are fantastic:
Cecil's? It was a small place with a lot of mirrors and chrome and a little bit of an antiseptic feeling. The food was good, though. We had something that tasted like oyster soup and almost was, then she had a small salad and I had something with beef and mushrooms in a sherry sauce. No complaints.
They also drink a lot of coffee and I do mean a lot of it. They must have sacks of beans in this interstellar hopping cafe. And a hell of a roaster.
So it's reading for these scenes and the Irish music scenes herein. The SF story? Well, not so much, say me and the author.
(8) TODAY'S BIRTHDAYS.
[Compiled by Cat Eldridge.]
Born January 5, 1929 — Russ Manning. An artist who created and drew the Gold Key comic book character Magnus: Robot Fighter; who drew the Tarzan comic book from 1965–1969 and the Tarzan newspaper comic strip from 1967 – 1972; and the Star Wars newspaper strip from 1979–1980. (Died 1981.) (bill)
Born January 5, 1940 — Jennifer Westwood. Folklorist who I'm including on the Birthday Honors List (if the King can have such a list, I can too) for one of her works in particular, Albion: Guide to Legendary Britain as it has a genre connection that will take some explaining. Ever hear of the band from Minnesota called Boiled in Lead? Well they took their name from a local legend in that tome about a man that was wrapped in lead and plunged in a vat of scalding oil so that he now stands forever in a circle of stones. Among the genre folk that have had a role in the band are Emma Bull, Steven Brust, Adam Stemple, Jane Yolen and Will Shetterly. (Died 2008.)
Born January 5, 1941 — Hayao Miyazaki, 82. A masterful storyteller who chose animation as his medium. He co-founded Studio Ghibli in 1985 and has directed some of the best loved films of all time. His films include the Oscar winning film Spirited Away, My Neighbor Tortoro, and adapting the classic novel Howl's Moving Castle by Diana Wynne Jones for the big screen. (Matt Russell)
Born January 5, 1959 — Clancy Brown, 64. I first encountered him as the voice of Lex Luthor in the DC animated universe. All of his voice roles are far too extensive to list here, but I'll single out his work as Savage Opress, Count Dooku's new apprentice and Darth Maul's brother, in Star Wars: The Clone Wars.  Very selected live roles include Rawhide in The Adventures of Buckaroo Banzai Across the 8th Dimension, The Kurgan in Highlander, Sheriff Gus Gilbert in Pet Sematary Two, Captain Byron Hadley in The Shawshank Redemption, Sgt. Charles Zim in Starship Troopers and, one of my favorite weird series, Brother Justin Crowe in Carnivàle.
Born January 5, 1966 — Tananarive Due, 57. I'm particularly fond of her short fiction which you can find in her BFA winning Ghost Summer collection which also won the Carl Brandon Kindred Award. The Good House and The Between are novels are worth reading for having strong African-American characters.
Born January 5, 1975 — Bradley Cooper, 48. He'd be here just for voicing Rocket Raccoon in the MCU. In fact he is here just for that role. Mind you he'll have voiced him six times by that Guardians of The Galaxy Vol 3 comes out, so I'd say he's got him spot perfect.
Born January 5, 1978 — Seanan McGuire, 45. Ahhhh, one of my favorite writers. I just finished re-listening to her Sparrow Hill Road stories which was are excellent and earlier I'd read her much of InCryptid series, both of her Indexing books which are beyond amazing and I hope she does more of.
(9) PROTO WRITING'S EARLIER BEGINNING LEARNED. "Mystery of ancient dots and stripes on Europe's caves is solved" reports Yahoo!
For decades, researchers had suspected that the seemingly random dots and stripes on cave paintings across Europe contained a hidden meaning, yet they were unable to decipher them.

Now, thanks to the work of a pioneering amateur, the code has been cracked and archaeologists believe that a wave of discoveries is set to tumble forth.

The first great revelation is that ancient humans were using the paintings to track the mating and birthing seasons of wild animals such as cattle, horses and mammoths….

For example, paintings of aurochs, wild ancestors of modern cattle, in Spain had four dots on them. This showed that they were mating four months after "bonne saison" or Paleolithic spring.

Prof Pettitt and Prof Bob Kentridge, also at Durham, helped confirm the findings by proving that there was almost no statistical chance of the results being coincidental.

By showing that the dots were more than just a simple tally, for example of hunting kills, the research has revealed a much higher level of thought among hunter-gatherers said Prof Pettitt…
(10) A THOUGHT EXPERIMENT. John L Ford is a lifelong fan turned author of Science Fiction. He hails from a background in Natural Sciences having a degree in Meteorology. His novel Dominion is an escape into the analogy of Artificial Intelligence.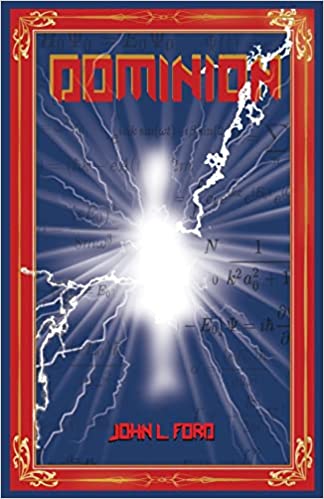 Where the corrosive power of time failed, Dominion begins. Unable to wear down the chains of grief left in the wake of losing her and stuck in the quagmire of postmortem morosity, Colton is on the verge of hanging his legacy upon the gallery walls of dimmed mediocrity in the museum of unknown history. Then, it happens.

A flash of insight, as though spoken from the grave, it becomes the guiding light; one desperately needed to reinvent purpose and meaning. It is so much of what she meant to him shining through, that internal voice from the past, that it strikes him with an idea so profound it could only result in the ensuing research. Is it fiction or reality?

Leonardo da Vinci visualized flying machines, and the essential aspects of that 'fiction' became fact. And just as the genetics of his ideas evolved into man-made dragonflies and humming birds, Colton Reinholt, a physicist, with a unique mind for synthesis, drafts an idea, too.

Borrowed by observation of actual physiological biology, he uses solid state physics to reconstruct a natural paradigm only ever achieved by evolution's miracle, the human mind. Thus, what emerges in this physical and ethereal journey simply must carry more than mere soupcon of riveting plausibility.

So, through accelerating technological forces on the world often charging boldly before compunction, we are compelled by our own evolution to satisfy an unstoppable desire for discovery. What is really meant by the phrase, 'Artificial Intelligence'? This is what we adventure through experimental exploration into the energy of the mind.

What begins as an innocent thought experiment, frolicsome dabbling fuses with technical knowhow and its synthesis results in a fantastic gestalt. By bridging disparate scientific disciplines, it ultimately gives rise to a power that may either become benevolent or malevolent. For despite all human conceits, the answer to the question of good versus evil is not one we are capable to define.
Available from Amazon.com and Amazon.ca.
(11) ROBORAPTORS. Behind a paywall in Nature, "A robotic bird of prey scares off nuisance flocks in a flash – and they don't seem to get wise to the deception". "Plagued by problem birds? Call RobotFalcon!"
Birds that hit aeroplane windscreens or are sucked into jet engines can cause accidents and costly damage, so airfields work to keep birds — particularly flocking birds — away. Trained falcons are more effective than scarecrows, but are expensive to keep and need to rest between patrols.

Rolf Storms at the University of Groningen in the Netherlands and his colleagues designed a robotic raptor to take over the task.

Collisions between birds and airplanes can damage aircrafts, resulting in delays and cancellation of flights, costing the international civil aviation industry more than 1.4 billion US dollars annually.

The RobotFalcon is a practical and ethical solution to drive away birdflocks with all advantages of live predators but without their limitations.
Primary research here.
(12) VIDEO OF THE DAY. [Item by Martin Morse Wooster.] Adam Savage, in this video which dropped Sunday, continues his trip to London examining an original Christopher Reeve Superman suit and how they built such suits before Spandex was invented.
[Thanks to John King Tarpinian, Chris Barkley, Andrew Porter, Martin Morse Wooster, Michael Toman, Cat Eldridge, and Mike Kennedy for some of these stories. Title credit belongs to File 770 contributing editor of the day Daniel Dern.]