(1) AWARDS AT AUSSIE NATCON. Opening night at Continuum 15, the Australian National Convention, saw Lucy Sussex and Julian Warner win a special prize for their services to the Nova Mob and Melbourne fandom generally. The committee also presented Bruce R. Gillespie with the Eternity Award for his long-time fannish achievements. (Still looking for a photo of the latter.)
(2) PRIDE OF 2018. Rocket Stack Rank assembled its annual "Outstanding LGBT Science Fiction & Fantasy of 2018 article".
June is Pride Month, and here are 56 outstanding short stories with LGBT characters from 2018 that were finalists for major SF/F awards (9), included in "year's best" SF/F anthologies (5), or recommended by prolific reviewers. 37 are free online!

This list could be useful for making nominations for the 2019 Gaylactic Spectrum Awards for Best Short Fiction (published in 2010-2018). Anyone can nominate through June 30, 2019. Stories from 2018 are below.
(3) BY THE TIME I GET TO PHOENIX. NPR's Glen Weldon reports that "'Dark Phoenix' Channels The Cosmic Power Of The Comics, Avoids Going Down In Flames":
Thanks to a sure(ish) grip on Marvel's mutants-as-metaphor approach to storytelling, the film brings a classic comics storyline to life. Sure, it's melodramatic — but that's the X-Men for you.

…Characters turn against one another in ways that the comics had ample time to lay plenty of track for, but that the film can't and doesn't. The dialogue is clunky, and at times it turns so deeply purple you expect it to break into "Smoke on the Water" — but hey, it's X-Men. The closest thing we get to a joke is a scene in which McAvoy gets to call up the surprising smarminess he brought to the Xavier character in First Class, as he soaks up the adulation of a grateful nation at an event in the White House.
(4) FANHISTORY REMEMBERED. Usually when this happens it's a hoax convention bid that decides it's serious after all, however, Femizine was a fanzine created under a pseudonym that took on a serious life of its own. Now featuring on Rob Hansen's UK fanhistory site THEN:
'Joan Carr' did not exist. She was created as a hoax to be played primarily on the Nor'west Science Fantasy Club (NSFC), who then met regularly in Manchester. Hiding behind that pseudonym was a man – H. P. 'Sandy' Sanderson. Though initially edited by him, FEMIZINE soon developed a life of its own, becoming a rallying point for female fans in the UK during the 1950s. This was the decade in which women first really began to assert themselves in the hitherto male-dominated SF fandom of these isles. In this context FEMIZINE is a fanzine that is both historically and culturally significant. FEMIZINE ran from 1954 to 1960 and saw fifteen issues in all, plus mini versions bound into a couple of combozines.

Note: As with most fanzines that are many decades old you will occasionally encounter words and attitudes that would be unacceptable today. Decades from now similar warnings may well be considered necessary for today's fanzines as social attitudes continue to evolve.
Rob Hansen has two issues already scanned in and adds, "We are hoping to upload one issue per week." He's also assembled a contemporary photo gallery of many of those who contributed to 'FEZ'.
(5) TALKING ABOUT TOLKIEN MOVIE. All About Jack: A C.S. Lewis Podcast hosted a "Discussion of Tolkien Biopic ([Diana]Glyer and [Brenton] Dickieson)".
In May 2019 a biopic on J.R.R. Tolkien, simply entitled Tolkien was released. While there has been no shortage of opinions on the film, I wanted to add some thoughts on it for those who follow this podcast. Two guests join me to share a hopeful perspective about the movie while acknowledging its shortcomings. They are Dr. Diana Glyer, a respected scholar on Tolkien and Lewis, and Brenton Dickieson who is a Lewis scholar nearing his completion of Ph.D. studies on Lewis.
(6) THREE DEGREES OF RAY BRADBURY. The Zoot Suit Riots led to Edward James Olmos playing the lead in the play, Zoot Suit. Edward James Olmos played Vamanos in Ray's play and movie of the same name, The Wonderful Ice Cream Suit. Edward James Olmos has said his first paid acting job was in Ray's first stage production, in Chicago. "The Zoot Suit Riots Happened This Week, 76 Years Ago. Here's A Look Back At The Fashion Statement That Sparked A Racist Mob" at LAist.
(7) WHEN I'M IN '64. At Galactic Journey, Kaye Dee reports on the test flight of Australia's satellite launcher: [June 6, 1964] Going Up from Down Under (The launch of the Blue Streak rocket)
…At least yesterday's first test launch of the Blue Streak was a success. Although there was a problem with sloshing of the propellant as the fuel tanks emptied which caused the rocket to roll about quite a bit in the last few seconds of its flight and to land short of its intended target zone, the instrumentation along the flight corridor acquired a huge amount of useful information about the rockets performance. I was so thrilled with the news of the Blue Streak flight that I even phoned my former supervisor Mary Whitehead last night to hear more about it (and I'm going to have to give my sister the money for that long-distance trunk call, which I'm sure will be expensive).

Mary was at the Range for the launch and she told me that the rocket looked spectacular as it rose up into the blue sky out of its cloud of orange exhaust. She's especially proud of the fact that the zigzag pattern you can see on the Blue Streak was her idea. It enables the tracking cameras to make very accurate measurements as the rocket rolls after leaving the launchpad. Using the pattern, the cameras can easily measure if, and how far, the rocket rolls depending on where that diagonal was relative to the top and bottom stripes. I know she's looking forward to seeing how well this worked.

I'm looking forward to the next test flight, and Australia's further involvement in the Space Age!
(8) MORE HISTORIC HUGO STATS. Kevin Standlee announced "Hugo History Updates Posted" at The Hugo Awards.
We have now added the Full Nominating and Voting Statistics historical data for the 1943 Retro Hugo Awards (awarded in 2018), 1946 Retro Hugo Awards (awarded in 1996), and 1954 Retro Hugo Awards (awarded in 2004).

We continue to update historical data for past Hugo Awards as data becomes available to us. If you have historical Hugo Award data (such as nominating and voting statistics) that are not shown on the page for that year's Awards, please contact us so we can add it.
(9) HAPPY BIRTHDAY TETRIS. NPR lights the candles: "Happy Birthday, Tetris. 35 Years Later You're As Addictive And Tetromino-y As Ever". Chip Hitchcock notes, "I remember when the mantra for Noreascon 2 concom was "Just Say No to Tetris".
Thirty-five years ago in Moscow, working on what he says was "an ugly Russian" computer that was frankensteined together with spare parts, Alexey Pajitnov started a side project that has become the second-best-selling video game of all time: Tetris.
…Two years later, in 1986, it became the first computer game from the Soviet Union to be released in the West, Engadget reports. Since then it has sold more than 170 million copies around the world, adapting to a vast array of consoles and platforms over the years. In other words, it was and continues to be a commercial juggernaut that has touched lives of hundreds of millions of players.
(10) TODAY'S BIRTHDAYS.
[Compiled by Cat Eldridge.]
Born June 7, 1909 — Jessica Tandy. Though her genre career came late in life, her films were certainly some of the most charming made — Cocoon, Batteries Not Included for which she won a Saturn Award for Best Actress and Cocoon: The Return. Both of the Cocoon films saw her nominated for the same Award. Well one film isn't charming — Still of the Night is a psychological horror thriller. (Died 1994.)
Born June 7, 1932 — Kit Reed. Her first short story, "The Wait" (1958), was published by Anthony Boucher in The Magazine of Fantasy & Science Fiction. She would write more stories than I care to count over her career for which she was nominated for the James Tiptree Jr. Award three times. I'm not at all familiar with her novels, so do tell me about them please. Amazon has very little by her, but iBooks has a generous amount of her fiction available. (Died 2017.)
Born June 7, 1944 — Mildred Downey Broxon, 75. Author of three novels and some short stories, heavy on Nordic-German mythology. The Demon of Scattery was co-written with Poul Anderson. There are no digital books available for her and her printed editions are out of print now. I see no sign that her short fiction has been collected into a volume to date.
Born June 7, 1952 — Liam Neeson, 67. He first shows up in genre films as Gawain in Excalibur and as Kegan in Krull. He plays Martin Brogan In High Spirits, a film I enjoy immensely. Next up is the title role in Darkman, a film I've watched myriad times. He's Dr. David Marrow in The Haunting which I'd contend is loosely off of The Haunting of Hill House by Shirley Jackson. Now we get him as Qui-Gon Jinn in The Phantom Menace. Followed unfortunately by his horrid take as Ra's al Ghul in Batman Begins and as a cameo in the The Dark Knight Rises. Now he voiced Aslan with amazing dignity in The Chronicles of Narnia franchise and I hope voiced Zeus as well in the Titans franchise.
Born June 7, 1954 — Louise Erdrich, 65. Writer of novels, poetry, and children's books featuring Native American characters and settings. She is an enrolled member of the Turtle Mountain Band of Chippewa Indians. Her genre work includes according to ISFDB the Ojibwe series of The Antelope Wife which won a World Fantasy Award and The Painted Drum, plus stand-alone novels of The Crown of Columbus (co-written with her husband Michael Dorris) and Future Home of the Living God.
Born June 7, 1954 — Anthony Simcoe, 50. Ka D'Argo in Farscape, one of the best SF series ever done. If you don't watch anything else, just watch the finale, The Peacekeeper Wars as it's fairly self contained. Farscape is the SF he did. If you can find a copy, Matt Bacon's No Strings Attached: The Inside Story of Jim Henson's Creature Shop is a wonderful look at the creation of the creatures on the show including D'Argo facial appendages.
Born June 7, 1972 — Karl Urban, 47. He's in the second and third installments of The Lord of the Rings trilogy as Éomer. He has was McCoy in the Trek reboot franchise, Cupid on Xena: Warrior Princess and Hercules: The Legendary Journeys, John Kennex on Almost Human, Vaako in the Riddick film franchise, and Judge Dredd in Dredd. For the record, I liked both Dredd films.
(11) COMICS SECTION.
Half Full illustrates more benefits of printed books.
(12) EATING THE FANTASTIC. Scott Edelman hopes you will "Bite into what USA Today dubbed the best burger in Michigan with award-winning horror writer John R. Little" and listen to his Eating the Fantastic podcast.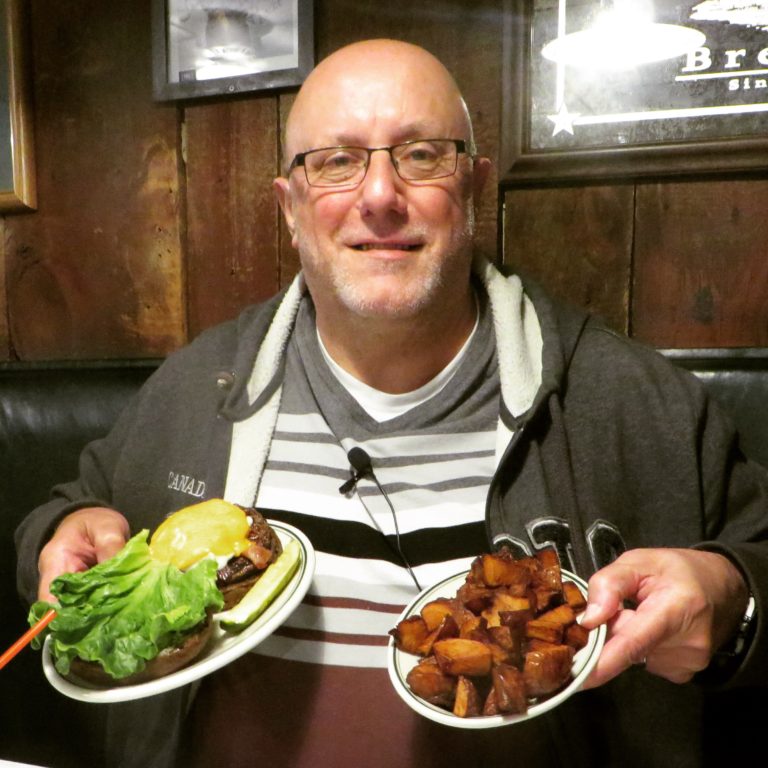 [Lunch was] with John R. Little at The Cottage Bar & Restaurant, a local institution which has been around since 1927.

USA Today says they serve the best burger in Michigan. But what did John and I think of it? Well, for that, you'll have to give this episode a listen.

John's a four-time finalist for the Bram Stoker Award, starting back with his first novel, The Memory Tree, in 2008. He won the following year in the category of Long Fiction for "Miranda," for which he also won a Black Quill Award. His short fiction has been published in Cavalier (his first, in 1983), Twilight Zone, Weird Tales, Dark Discoveries, and other magazines, plus anthologies such as You, Human and Haunted Nights. His most recent novel is The Murder of Jesus Christ.

We discussed how seeing his sister's portable typewriter for the first time changed his life forever, the way he launched his career by following in Stephen King's men's magazine footsteps, why he's so fascinated by time and how he manages to come up with new ways of writing about that concept, which writer's career he wanted when he grew up and how buying a copy of Carrie changed that, the reason a science major has ended up mostly writing horror, the most important thing he learned from a night school's creative writing course, which of his new novel's controversial aspects concerned him the most during creation, and much more.
(13) TAKE ME OUT TO THE BALL GAME. Cut4 has photos — "The Pirates represented nearly every comic/superhero universe with their road trip costumes".
The mash-up provided by the Pirates as they headed to the airport for a road trip on Thursday afternoon is one of the biggest convergences of realms and universes we've seen in a long time — maybe ever. Here's a preview, featuring the Teenage Mutant Ninja Turtles, Batman and Robin, Wolverine (in and out of costume) and … Jesus:
(14) BUGS, MISTER RICO! "Spotted: A Swarm Of Ladybugs So Huge, It Showed Up On National Weather Service Radar" – NPR has the story.
"It was very strange because it was a relatively clear day and we weren't really expecting any rain or thunderstorms," Casey Oswant, a NWS meteorologist in San Diego, tells NPR. "But on our radar, we were seeing something that indicated there was something out there."

So the meteorologists called a weather spotter in Wrightwood, Calif., near the blob's location in San Bernardino County. Oswant says the spotter told them the mysterious cloud was actually a giant swarm of ladybugs.

The phenomenon is known as a ladybug "bloom," and while this one appears particularly large, Oswant says it's not the first time local meteorologists have spotted the beetles.
(15) WE KNEW THAT. BBC reports "Ultimate limit of human endurance found". Wait, they didn't already discover this when Freff stayed awake through nearly the entire 1972 Worldcon?
The ultimate limit of human endurance has been worked out by scientists analysing a 3,000 mile run, the Tour de France and other elite events.

They showed the cap was 2.5 times the body's resting metabolic rate, or 4,000 calories a day for an average person.

Anything higher than that was not sustainable in the long term.

The research, by Duke University, also showed pregnant women were endurance specialists, living at nearly the limit of what the human body can cope with.
(16) …AND A PONY! Sounds like lovely work — "Prehistoric stone engraved with horses found in France".
A stone believed to be about 12,000 years old and engraved with what appears to be a horse and other animals has been discovered in France.

The prehistoric find by archaeologists excavating a site in the south-western Angoulême district, north of Bordeaux, has been described as "exceptional".

…According to the institute, the most visible engraving is that of a headless horse, which covers at least half of the stone's surface on one side.

"Legs and hooves are very realistic," Inrap said on its website (in French), adding: "Two other animals, smaller, are also slightly incised."
(17) DERN MOMENTS. [Item by Daniel Dern.] Ted Chiang's Exhalations collection. Not done reading it yet; they're rich enough (or whatever the term is when it's not denseness of prose but something else that, well, I can't think of the right term for) that I'm finding I'd druther not read more than 0.5 – 1.5 per "session."
Michael Swanwick's The Iron Dragon's Mother. Both via my public library. I don't know if that makes these "Dern moments." The library's mobile app means that as soon as I learn about, or think of, a given book, e.g., reading about it in a scroll, or seeing it listed in Locus, etc., I can do a quick reserve. (If it's sufficiently advanced news, and not yet in their system even as an "ordered but not yet here" I'll suggest it as a purchase.)
(18) TWIN PLANETS. After President Trump shared his amazing understanding of the structure of the Solar System —
— Camestros Felapton ran wild making animated graphics:
(19) FAN ART COMMANDS BIG TICKET PRICE. The owner is asking C$4,189.49 on eBay for Vaughn Bodé's original drawing published as the cover of Ontario Science Fiction Club #2 in June 1968 – which makes it one of the items that appeared in the eligibility year before Bodé won the Best Fan Artist Hugo in 1969.
(20) A ROOM WITH A VIEW. They'll leave the light on: "Nasa to open International Space Station to tourists".
Nasa is to allow tourists to visit the International Space Station from 2020, priced at $35,000 (£27,500) per night.

The US space agency said it would open the orbiting station to tourism and other business ventures.

There will be up to two short private astronaut missions per year, said Robyn Gatens, the deputy director of the ISS.

Nasa said that private astronauts would be permitted to travel to the ISS for up to 30 days, travelling on US spacecraft.

…The new commercial opportunities announced on Friday are part of a trajectory towards full privatisation of the ISS. US President Donald Trump published a budget last year which called for the station to be defunded by the government by 2025.
(21) FIRST BUCK ROGERS FILM. This Buck Rogers film short was made for the 1934 Chicago World's Fair by the owner of the comic strip.
[Thanks to Carl Slaughter, Andrew Porter, rcade, Cat Eldridge, Chip Hitchcock, JJ, John King Tarpinian, Martin Morse Wooster, and Mike Kennedy for some of these stories. Title credit belongs to File 770 contributing editor of the day Kaboobie, who's may be wondering why I used this on a Friday.]