(1) PENRIC RETURNS. Lois McMaster Bujold has finished another Penric and Desdemona novella – see "The Orphans of Raspay cover sneak peek" at Goodreads.
When the ship in which they are traveling is captured by Carpagamon island raiders, Temple sorcerer Penric and his resident demon Desdemona find their life complicated by two young orphans, Lencia and Seuka Corva, far from home and searching for their missing father. Pen and Des will need all their combined talents of mind and magic to unravel the mysteries of the sisters and escape from the pirate stronghold.

This novella follows about a year after the events of "The Prisoner of Limnos".

E-publication before the end of the month, I'm pretty sure; this week or next, maybe. I still have some last polishing and fretting to do on the text file, and then there is the vexing question of a map.
(2) GAINING INSIGHT. Jonathan LaForce advises writers looking to base their stories on lived experience "How to Talk with Veterans" at Mad Genius Club.
Last month, we talked about telling the stories of combat veterans as they really happened. Without whitewashing or varnish. Without embellishment. Without lies.
In the third-to-last paragraph, I make mention of sitting down and talking with veterans. Over the last month I've been looking around and realizing nobody has ever explained how to talk with veterans, as a writer looking for technical (and personal) knowledge about the profession of arms. Today, we're gonna start down that road.
(3) THE OLD EQUATIONS.
Sylvia Spruck Wrigley's article "Throw Grandma Out the Airlock: Representation of Old Women in Science Fiction" appears in SFRA Review #217, published by the Science Fiction Research Association.
This project started because I was wrong. My initial premise was that speculative fiction relegated women "of a certain age" to very specific roles: the crone, the wise woman, the meddling mother, the friendly innkeep. This seemed such an obvious truth that it was barely even worth stating. We've seen these women all our lives, in fairy tales and epic fantasy, and of course in Terry Pratchett's wonderful parodies of old women in all of their cliched roles.

However, when pressed, I discovered that there was one place where we do not see these women: in science fiction novels. Old women are a rarity in science fiction and when they do exist, they inhabit a very different space. We don't have innkeeps, we have immortals. We don't have crazy cat ladies, we have body snatchers. There's a distinct lack of old ladies who love solving cozy mysteries, but we do have a greater than-normal number of politicians.
(4) UNREAL ESTATE. What are "The Most Terrifying Buildings in Literature"? Riley Sager has a little list at Crimereads.
Building: The World's Fair Hotel

Book: The Devil in the White City, by Erik Larson

"I was born with the devil in me." So said H.H. Holmes, one of America's most notorious serial killers. Holmes began construction of his so-called hotel as Chicago was gearing up for the 1893 World's Fair. Far from your normal bed and breakfast, the building included soundproofed rooms, maze-like hallways and, in the basement, a crematorium and acid vats. Although the number of people he killed there is unknown, it was more than enough to give the building a different name—"The Murder Castle."
(5) WRITERS AT SEA. FastCompany's Apollo 11 commemoration series revisits "The celebrity cruise to celebrate the end of the Moon landings was a delightful train wreck" – "The voyage set sail powered by the hot air of macho writer Norman Mailer, and it was precisely the 1970s freak show you'd expect."
…But perhaps the oddest Moon-related cultural experience was one that happened on the occasion of the launch of Apollo 17, in December 1972, the last Apollo mission to the Moon. It was a Caribbean cruise on Holland America's ship, the S.S. Statendam, and anyone with the money for a ticket could mingle with NBC newsman Hugh Downs, science fiction legends Isaac Asimov and Ben Bova, novelist Katherine Anne Porter, and yes, Norman Mailer himself. This curious collection of luminaries also organized events and panels as part of the ship's entertainment. The cruise lasted almost as long as the Apollo 17 mission itself: nine days, starting with a seaborne view of Apollo 17's launch from seven miles off Cape Kennedy….
(6) DECALCOMANIA. The family that cosplays together….
(7) TODAY'S BIRTHDAYS.
[Compiled by Cat Eldridge.]
Born July 7, 1907 — Robert Heinlein. So what do you like by him? I'm very fond of The Moon is A Harsh Mistress. And I like Starship Troopers despite the baggage around it. The Cat Who Walks Through Walls is on my occasional re-read list as I find a fun read in a way that Friday isn't. Time Enough for Love is, errr, self-indulgent in the extreme. Fun though. (Died 1988.)
Born July 7, 1919 — Jon Pertwee. The Third Doctor and one that I'll admit I like a lot. He returned to the role of the Doctor in The Five Doctors and the charity special Dimensions in Time for Children in Need. He also portrayed the Doctor in the stage play Doctor Who – The Ultimate Adventure.  After a four year run here, he was the lead on Worzel Gummidge where he was, errr, a scarecrow. And I must note that one of his fist roles was as The Judge in the film of Toad of Toad Hall by A. A. Milne. (Died 1996.)
Born July 7, 1931 — David Eddings. Prolific and great, with his wife Leigh, they authored several best-selling epic fantasy novel series, including The Belgariad, The Malloreon and The Dreamers to name but three of their series. They've written but one non-sriracha novel, The Redemption of Althalus. (Died 2009.)
Born July 7, 1948 — Kathy Reichs, 71. Author of the Temperance Brennan series which might be genre adjacent, she's also the author of Virals, a YA series about a group of a young adults with minor super powers. 
Born July 7, 1959 — Billy Campbell, 60. There are some films so good in my memory that even the Suck Fairy can't spoil them and The Rocketeer in which he played stunt pilot Cliff Secord is one of them. BTW,  IDW did a hardcover edition called Dave Stevens' The Rocketeer: The Complete Adventures and Amazon has it for a mere twenty-five bucks! 
Born July 7, 1968 — Jeff VanderMeer, 51. Ok I'll admit that I'm ambivalent about the Southern Reach Trilogy and am not sure if it's brilliant or not. I will say the pirate anthology he and his wife Anne did, Fast Ships, Black Sails, is quite tasty reading. 
Born July 7, 1969 — Cree Summer, 50. Voice performer in myriad series such as as Spider-Man: The New Animated Series, Justice League Unlimited, Star Wars: The Clone Wars, and Marvel's Guardians of the Galaxy. She's playing a number of the cast in the current Young Justice series including Madame Xanadu and Aquagirl.
Born July 7, 1987 — V. E. Schwab, 32. I'm very pleased with her A Darker Shade of Magic which explores magicians in a parallel universe London. It's part of her Shades of Magic series. 
(8) COMICS SECTION.
Free Range is there when an important discovery is made about the dark side of the moon.
(9) FINDING RETRO NOMINEES. Ian Moore advises about "Finding the 1944 Retro Hugo finalists online" at Secret Panda. Lots of archival links.
Soon in Dublin the winners of this year's Hugo Awards will be revealed, including the winners of the Retro Hugo Awards for science fiction published in 1943. This year unfortunately there is no voters packet for the Retro Hugos. However most of the publications in which the finalists appeared are available on the Internet Archive, where they can be read online or downloaded by Hugo Award voters. See below for links to where the various works can be found. Voting closes at midnight on 31July, so get reading.
(10) NOW IN BLACK AND WHITE. Missed out on this when it first came around in 2015 – a takeoff on "Batman v Superman" courtesy of a "Vulture Remix" of two 1940s serials.
These days, superhero movies are all about bombast — take, for example, the upcoming "Batman v Superman: Dawn of Justice." But there was a simpler time, when superheroes looked terrible and were more charming than scary. We imagine what a Batman/Superman matchup would've looked like in the era of the first serial films about the characters from way back in the middle of the century.
(11) POWER OF THE PRESS. Another Superman stalwart is getting an update this month – the New York Times has the story: "Lois Lane Fights for Justice in a New Comic Series". "Lois Lane stars in a new 12-issue series focusing on her career as a reporter."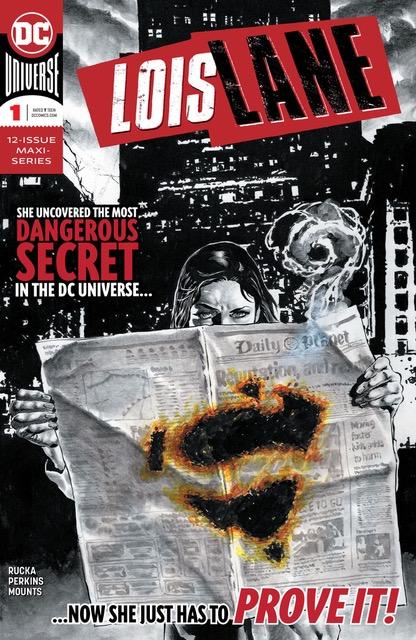 Revoked White House credentials, the mysterious death of a journalist and a conspiracy to profit from the separation of migrant families at the border. This looks like a job for … Lois Lane, the Daily Planet reporter.

The character, who, like Superman and Clark Kent, first appeared in 1939, is starring in a 12-issue comic book series that begins on Wednesday. The story, written by Greg Rucka and drawn by Mike Perkins, focuses on Lois Lane as she tries to find out more about the death of Mariska Voronova, a journalist who had been critical of the Kremlin.
(12) NOTES FROM SPIKECON. David Doering sent a couple of short news items from the NASFiC/Westercon:
Joy Day's fabulous ASFA award, a vibrant spherical interpretation of a Black Hole, got lost enroute to Layton in the Black Hole of the USPS…

While I hoped for one or more of our locals who were nominated to win, but those that did were very worthy.

Sadly, not one winner was in attendance. We need to elevate the appreciation of art. Cover art and illustrations are often the cause of us picking up a book or magazine in the first place.

I still associate Lord of the Rings with the gum drop tree cover art from 1965…
Then, this morning, Dave was able to check another box on his fannish bucket list:
I earned the dubious honor tonight of having our room party shutdown for being too noisy. Who knew that LTUE and World Fantasy crowd could be so boistrous?
(13) ALSO SEEN AT SPIKECON. Tanglwyst de Holloway was encouraged by John Hertz to share this photo, as it was the first time John had seen it done:
(14) VASTER THAN EMPIRES. In the July 7 issue of the New York Times Book Review, author Charles Yu reviews Neil Stevenson's new book:
His latest, "Fall; or, Dodge in Hell," is another piece of evidence in the anti-Matrix case: a staggering feat of imagination, intelligence and stamina. For long stretches, at least. Between those long stretches, there are sections that, while never uninteresting, are somewhat less successful. To expect any different, especially in a work of this length, would be to hold it to an impossible standard. Somewhere in this 900-page book is a 600-page book. One that has the same story, but weighs less. Without those 300 pages, though, it wouldn't be Neal Stephenson. It's not possible to separate the essential from the decorative. Nor would we want that, even if it were. Not only do his fans not mind the extra — it's what we came for.
Also, New York Times Book Review's Tina Jordan conducts a brief interview with Neal Stephenson about Fall, which debuted at No. 14 on the paper's New Fiction list.
"Unlike some of my hard science fiction books, such as 'Seveneves'—where I sweated the details of orbits, rocket engines, etc.—'Fall' is meant to be read as more of a fable," Stephenson explains. "I'm not making any pretense in the book that the neuroscience and computer science are plausible. My approach was to take a particular way of thinking around brains and the uploading of human consciousness into digital form, and just say, 'Suppose this is all true; let's run with it and see where it takes us on a pure storytelling level.'"
(15) BANK EARNS NEW INTEREST. A key player in many older SF novels, "Jodrell Bank gains Unesco World Heritage status".
Jodrell Bank Observatory has been declared a Unesco World Heritage Site.

It has been at the forefront of astronomical research since its inception in 1945 and tracked US and Russian craft during the space race.

The site in Cheshire is part of the University of Manchester. It is dominated by the landmark Lovell Telescope.

It joins the ancient Iraqi city of Babylon and other locations that have been added to the prestigious list.

…Scientific research began at Jodrell Bank Observatory in 1945 when the physicist Sir Bernard Lovell came to the University of Manchester.

The site pioneered the then new science of radio astronomy, which used radio waves instead of visible light to understand the universe.
(16) BESIDE THE SEA. SYFY Wire tells how people looking for rarities found one: "Canadian gemstone miners discover prehistoric sea monster skeleton".
Enchanted Designs Limited miners digging at Alberta's Bearpaw Formation for rainbow-shaded ammolite gemstones, which are created by the fossilized shells of extinct marine mollusks called ammonites, discovered the nearly complete remains of the "T-rex of the Seas" in soft black-shale mudstone. The impressive specimen measured in at between 20 and 23 feet long.
(16) PITCH MEETINGS. Beware spoilers in ScreenRant's "Spider-Man: Far From Home Pitch Meeting."
Marvel Studios wrapped up Phase 3 of the Marvel Cinematic Universe with Avengers: Endgame — except wait no, they squeezed another Spider-Man movie in there before closing the curtains. Spider-Man: Far From Home is Tom Holland's second "solo" outing as Peter Parker, and the character is still heavily influenced by the recently departed Tony Stark AKA Iron Man. Far From Home raises a lot of questions. Like what exactly is Mysterio's long-term plan? What's going on with all the other living Avengers? How does Spider-Man get his Peter Tingle back? Why are the mid-credits and post-credits scenes the most memorable parts of this film? To answer all these questions and more, step inside the pitch meeting that led to Spider-Man: Far From Home! It's super easy, barely an inconvenience!
[Thanks to JJ, Cat Eldridge, Chip Hitchcock, Nicholas Whyte, Tanglwyst de Holloway, Alan Baumler, Michael Toman, Martin Morse Wooster, Rob Thornton, Mike Kennedy, Carl Slaughter, John King Tarpinian, and Andrew Porter for some of these stories. Title credit goes to File 770 contributing editor of the day Soon Lee.]