(1) ROBOT IS 100. The Czech Consulate of Los Angeles invites fans to the Robot is 100! Webinar on Thursday, February 4 at 12:00 PM Pacific exploring the influence of Karel Capek's play "R.U.R." on other forms of art, and the future of robotics. Register here.
[Note: WordPress does not support the proper character for the author's last name, so the Latin C has been used. And a screenshot of the program description is used to work around the same problem.]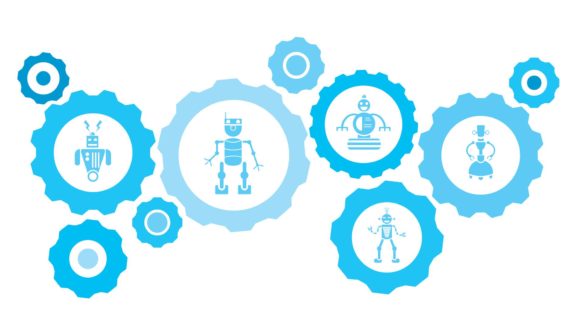 To further explore the past, present, and future of artificial intelligence, visit UCLA Library's virtual exhibit Robot is 100! Karel Capek's R.U.R. and the Robot in Pop Culture. You can learn more about Karel Capek's life and R.U.R. in a complementary UCLA Library Research Guide.

Enjoy an audio created by the BBC Sounds: "The Robots are Us." This BBC Radio Documentary features Jesse Brown O'Dell, PhD. graduate from the UCLA Department of Slavic, East European and Eurasian Languages and Cultures.
(2) EATING THE FANTASTIC. Scott Edelman invites everyone to settle in for bagels and a schmear with comics retailer Joel Pollack in Episode 137 of his Eating the Fantastic podcast.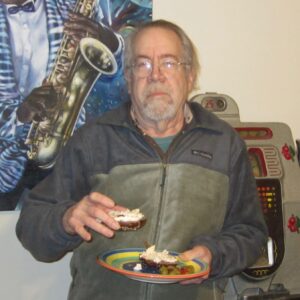 Joel Pollack has been a part of comics fandom even longer than I have — he attended one of Phil Seuling's 4th of July Comic Art Conventions two years before I did — in 1968 — and founded Big Planet Comics in Bethesda, Maryland in 1986. That flagship store has expanded to other locations in Washington, D.C., College Park, MD, and Vienna VA, and I thought it would be fun to chat about the world of comics and comics fandom of the past half century, and how comics retailing has changed over the past three and a half decades.

We discussed what the pandemic has done to the comics shop business, the comic his mother bought him which changed his life, the card game which led to him getting his first piece of original art, how his run-in with a young Howard Chaykin convinced him he wasn't cut out to be a professional comics artist, what opening day was like at the first of his Big Planet comic book stores, the biggest sales event he's seen during his 35-year retailing career, what inspired Bernie Wrightson to draw a freaky issue of Swamp Thing, how he fights back against the Comic Book Guy cliche to makes his shops welcoming places, our joint distaste of slabbing, why he doesn't like doing appraisals, and much more.
(3) INTERZONE UPDATE. [Item by PhilRM.] This week's PS Publishing newsletter provides some more information on their take-over of Interzone (first mentioned in the 1/8/2021 Pixel Scroll) from Andy Cox and TTA Press (and note that Strahan's post referenced there didn't make the latter clear: not only is Ian Whates taking over as editor, but Interzone will be published by PS Publishing). Interzone will now appear on a quarterly schedule, and only in digital format. The first issue will appear in August, and will be free to current subscribers.
And heh, we're kind of jazzed up a little right now where electronic reading matter is concerned . . . and it's all thanks to our taking on board INTERZONE, which we'll be running in digital format only, kicking off in August. Ian has already earmarked some 60/70 thousand words for the debut, and the special festive issue in December (always assuming we have a festive season, that is). So watch out as further details emerge and IZ takes its justified place in the pantheon of Science Fiction and Fantasy in digital format only.

All queries/comments regarding the TTA Press Interzone should be directed to either Andy Cox or Roy Gray direct at [email protected] or [email protected]. In the meantime, by way of a goodwill gesture, the first electronic PS IZ (August 2021) will be sent free of charge to all previous subscribers. Subsequent issues will be sent quarterly on receipt of an email to be found in the magazine. Watch out for more information
(4) UP PERISCOPE ON SUBSTACK. Yudhanjaya Wijeratne tweeted a list of recommended newsletters. Thread starts here. I'm only familiar with the ones by sff writers and they're good, so I expect you'll find more gold in the rest of his list. Here are a few examples:
(5) STOCK MARKET NEWS. Cory Doctorow makes the information comprehensible with his own comments. Read it complete at Threadreader.
(6) DIANA PHO ON DVCON. DVCon 2021 is a free convention for marginalized writers happening online January 30-31.
DVcon, a product of #DVpit, is a free, two-day virtual writers conference for self-identifying marginalized book creators. The mission of DVcon is to educate and connect authors & illustrators who have been historically underrepresented and marginalized in the book publishing industry. Featuring a diverse faculty as well as #DVpit alum, DVcon will offer informative workshops, fun micro-content, and our additional focus will be on community-building and forging connections.
Editor Diana Pho is part of the Money Talks panel from 2:00-3:00 PM Eastern on January 30.
Money Talks.
2:00pm-3:00pm

Let's face it: publishing doesn't always pay. Between low advances, payment installments stretched out for years, and the uncertainty of royalties, authors and illustrators might need to get creative about making ends meet. Our panel will discuss different and unexpected ways that authors and illustrators can make money and still stay on the publishing track. It will also help explain some basics about how payments occur in publishing and how to hustle with your writing. Sponsored by the Authors Guild

Featuring: Rebecca Kuss, Thao Le, Diana Pho, Holly Root, Jennifer Ung, Rebekah Weatherspoon
(7) AMBITIOUS ANIME. [Item by Martin Morse Wooster.] In the January 25 Financial Times, Leo Lewis and Kana Inagaki look at whether Japanese anime producers can compete globally against Disney and Netflix.
For many industry executives, the stage is now set for Japanese animation to truly go global. A newly invigorated Sony is competing with Netflix and global giants to uncover the untapped trove of lucrative anime content. 'We were forced to accelerate efforts on all three fronts of digitalization, global expansion and streaming services. It became now or never,' said George Wada, senior vice-president at Production IG, the company behind the anime hits Ghost In The Shell and Attack On Titan, 'We are on the brink of whether Japanese animation becomes big or goes minor.'…

…The list of the world's 25 most valuable franchises are topped by two Japanese giants–Pokemon and Hello Kitty with respective all-time sales of $92bn and $80bn–and include nine other Japanese names.But behind that success, say analysts, has been a tendency to under-exploit the anime gold mine and heavily criticized labour practices that are hidden behind the most popular titles.
(8) FRAZETTA COLLECTED. Print interviews J. David Spurlock, editor of the art book Fantastic Paintings of Frazetta: "The Daily Heller: Frank Frazetta, the Sci-Fi Rockwell".
Frank Frazetta (1928–2010) may someday hang his paintings in the Guggenheim Museum (hey, whoever thought that Norman Rockwell would have a major exhibition in Frank Lloyd Wright's temple of Modern?). False equivalency aside, anything is possible in the current what-is-art world (what's more, Frazetta already has his own museum). Frazetta is to fantasy what Max Ernst is to surrealism (which is fantasy on another psychic and perceptual plane)….

Frazetta transformed the fantasy genre. What can you point to as his most emblematic work?

There was a gradual building, including comic book covers in the early '50s, which influenced George Lucas and Star Wars. Then Frank's early 1960s illustrations for Edgar Rice Burroughs books, including Tarzan and John Carter of Mars. And Frank had a good run, painting big studio, humorous caricature-based movie posters in the mid-'60s. Most illustrators would consider movie poster work as a dream come true. But Frank walked away from them for what he felt was more uniquely his own, with his Sword & Sorcery heroic fantasy art. A shortlist of pieces that I cite as rocking the public's collective consciousness would include "The Barbarian," which first ran as the cover to the Conan the Adventurer paperback in 1966. Also "Death Dealer," which first appeared on an early-'70s paperback but inspired American Artist magazine to break their own traditions to produce a special issue devoted to illustration, including coverage of Frazetta and covered with the Death Dealer. "Dark Kingdom" is another, which most people recall as running on a multi-million–selling Molly Hatchet album cover….
(9) NZ MENTORS. SFFANZ News applauds the "Recognition for Genre Authors Encouraging Young Writers" in a New Zealand magazine:
Check out this item in the forthcoming Focus Magazine. It gives hugely well deserved recognition to well known local SF/Fantasy authors Piper Mejia, Lee Murray, Jean Gilbert and the many other genre authors around NZ who have helped with their efforts in teaching and mentoring and publishing young students.
(10) SF FROM CALIFORNIA. Peter Larsen of the San Jose Mercury-News talks about Bradbury, PKD, Le Guin, and Kim Stanley Robinson in "Dive into California's science fiction scene — from LeGuin to Philip K. Dick". Even LASFS gets a shout-out.
…Two years ago, Nick Smith, a Pasadena library technician, curated a "Dreaming the Universe: The Intersection of Science, Fiction & Southern California" exhibit at the Pasadena Museum of History. His observation: While the creators of science fiction are rightly lauded, the history of the sci-fi fandom here is also worth acknowledgment.

"I think that's part of why this has been home to a lot of science fiction," says Smith, who is the former president of the Los Angeles Science Fantasy Society. Founded in 1934, it's the oldest such fan group in the world, with a teenage Ray Bradbury one of its early members.

California appealed to science-fiction writers in the same way it appealed to anyone, Smith says. There were jobs to be had here, the promise of a better life and more opportunity or acceptance for people who might be discriminated against in other parts of the nation.

"Hollywood and television also contributed," he says. "They provided a steady extra income for some of the writers."
(11) DARROLL PARDOE OBIT. UK fanzine fan Darroll Pardoe (1943-2021) died January 28 at the age of 77 from COVID-19. Pardoe joined the Birmingham (UK) Science Fiction Group in 1965. He took over Les Spinge from Ken Cheslin and Dave Hale in 1966 and published it until 1979. He also was noted for editing the newzine Checkpoint for a year in the Seventies, and an issue of the British Science Fiction Association's Vector.
He is survived by his wife, Rosemary Pardoe, co-founder of the British Fantasy Society.
(12) CHRISTOPHER LITTLE OBIT. The agent who handled Rowling's Harry Potter series, Christopher Little, died January 7. The New York Times obituary is here.
Christopher Little, who as a struggling literary agent took a chance on a scrappy submission about tween-age wizards — even though he once disdained children's fiction as a money-loser — and built it into the most successful literary empire in history on the strength of its lead character, Harry Potter, died on Jan. 7 at his home in London. He was 79.

His death, from cancer, was announced by his firm, the Christopher Little Literary Agency.

J.K. Rowling, the author of the Harry Potter series, was an unpublished, unemployed single mother in Edinburgh in 1995 when she sent Mr. Little the first three chapters of her first book after finding his name in a directory of literary agents. Knowing nothing about the business, she picked him because his name made him sound like a character from a children's book.

Mr. Little submitted the manuscript for "Harry Potter and the Philosopher's Stone" to 12 publishers. He received 12 rejections in response, before selling it for £2,500, or about $3,400 (the equivalent of about $5,800 today). It was a meager amount, but his genius was in the details: He sold only the rights to publish it in Britain and the Commonwealth, and he asked for high royalties….

Mr. Little did more than launch Ms. Rowling's career. He was the architect of the entertainment powerhouse that grew up around Harry Potter, helping line up everything from Legos to amusement parks.

Ms. Rowling was the first author to earn more than $1 billion off her work, and it's no surprise that her agent did well too: By some estimates Mr. Little made over $60 million from the Harry Potter franchise. He never claimed credit for her success, but he was ever-present in the background, appearing alongside his client at book launches and movie premieres, enjoying those brief moments in the limelight….
(13) MEDIA BIRTHDAY.
January 29, 1964 — Dr. Strangelove or: How I Learned to Stop Worrying and Love the Bomb premiered. Starring a stellar cast of Peter Sellers, George C. Scott, Sterling Hayden, James Earl Jones and Slim Pickens, it was directed, produced, and co-written by Stanley Kubrick.
It was not the original title as Kubrick considered Dr. Strangelove's Secret Uses of Uranus as well as Dr. Doomsday or: How to Start World War III Without Even Trying, and the much shorter Wonderful Bomb.
The film is somewhat based on Peter George's political thriller Red Alert novel. (Originally called Two Hours To Doom.) Curiously Dr. Strangelove did not appear in the book. This novel's available on at usual digital suspects. And George's novelization of the film is on all digital sources. If you purchase it, it has an expanded section on Strangelove's early career.
It would not surprisingly win the Hugo for Best Dramatic Presentation at Loncon II in London in 1965 with The Seven Faces of Dr. Lao being the only other film on the final ballot.
The film was a box office success. Critics were universal in their belief that it was one of the best films ever done with Ebert saying it was "arguably the best political satire of the century". At Rotten Tomatoes, it currently holds a ninety four percent rating with over two hundred thousand audience reviewers casting a vote.
A sequel was planned by Kurbrick with Gilliam directing though he was never told this by Kurbrick and only discovered this after Kurbrick died and he later said "I never knew about that until after he died but I would have loved to."
The original theatrical trailer is here.(CE)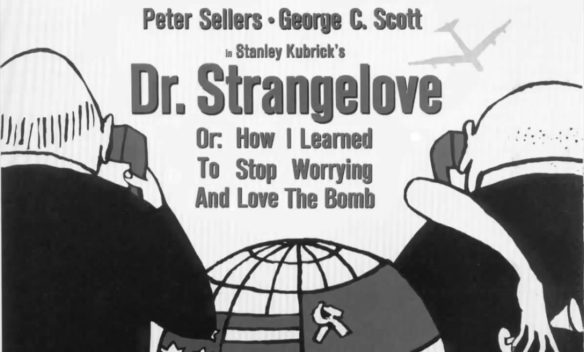 (14) TODAY'S BIRTHDAYS.
[Compiled by Cat Eldridge and John Hertz.]
Born January 29, 1835 – Susan Coolidge. Known for What Katy Did and two sequels. Edited Diary and Letters of Frances Burney. Louisa May Alcott edited Coolidge's collection New-Year's Bargain, which is ours; three dozen books all told; short stories, poems. Alice Dalgliesh edited a posthumous Coolidge coll'n Toinette and the Elves. (Died 1905) [JH]
Born January 29, 1860 – Anton Chekhov. (Note that kh in the usual Roman-alphabet spelling of his name represents a single consonant in Russian: the pronunciation is near to "che-hoff"). A dozen stories have fantastic elements making them particularly for us; stories, plays, generally, for everyone. You can see Nabokov's discussion of "The Lady with the Little Dog" here. (Died 1904) [JH]
Born January 29, 1907 – John Clymer. Illustrator of the American West (worked in U.S. and Canada); Prix de West, Rungius Medal, Royal Canadian Acad. of Arts. Also Argosy, Marine Corps Gazette, Saturday Evening Post (eighty covers), Woman's Day, Chrysler, White Horse whisky; some for us. Clymer Museum in Ellensburg, Washington. Here is the Aug-Sep 37 Romance; it and more about him here. (Died 1989) [JH]
Born January 29, 1918 — Robert Pastene. He played the title role in the first televised Buck Rogers series on ABC that also had Kem Dibbs and Eric Hammond in that role. 35 episodes were made, none survive. As near as I can tell, his only other SFF performance was on the Out There and Lights Out series. (Died 1991.) (CE)
Born January 29, 1932 — Paddy Chayefsky. In our circles known as the writer of the Altered States novel that he also wrote the screenplay for. He is the only person to have won three solo Academy Awards for Best Screenplay. The other winners of three Awards shared theirs. He did not win for Altered States though he did win for Network which I adore. (Died 1981.) (CE)
Born January 29, 1938 — Ralph Bakshi, 83. Started as low-level worker at Terrytoons, studio of characters such as Heckle and Jeckle and Mighty Mouse. His first major break would be on CBS as creative director of Mighty Mouse and the Mighty Heroes. Fast forwarding to Fritz the Cat, which may or may not be genre but it's got a foul-mouthed talking cat. Genre wise, I'd say War Wizards which features voice work by Mark Hamill and given a title with the last word Wizards so it wouldn't be confused with you-know-what film. Next up was The Lord of the Rings, a very odd affair. That was followed by Fire and Ice, a collaboration with Frank Frazetta. Then came what I considered his finest work, the Mighty Mouse: The New Adventures series! Then there's Cool World… (CE)
Born January 29, 1942 – Rosemary Wells, age 79. Five novels for us, counting Voyage to the Bunny Planet and two sequels; ten dozen all told. Illustrator too. Daughter of a ballerina and a playwright, who "praised what I did well and didn't care much about what I didn't do well…. I drew uncannily for a youngster…. hunted rats with a bow and arrows…. fierce and devoted Brooklyn Dodger fan." [JH]
Born January 29, 1945 — Tom Selleck, 76. Setting aside the matter of if Magnum P.I. is genre which some of you hold to be true, he was Sgt. Jack R. Ramsay in Runaway which is most definitely SF. He recently did some voice acting by being Cornelius, Lewis' older self, in the animated Meet the Robinsons film, and he showed up as himself in the "What Do You Want to Be When You Grow Up?" of the Muppet Babies nearly forty years ago. (CE)
Born January 29, 1958 – Nic Farey, age 63. Irreverent and valuable (sorry, Nic, but it's true) fanziner. Two first-rate fanzines, Beam with Ulrika O'Brien, This Here solo (I omit the TH ellipsis mark lest you think I'm eliding, but it's there); both have won FAAn (Fannish Activity Achievement) Awards. Chaired fanziners' convention Corflu (named for mimeograph correction fluid, once indispensable) 19, co-chaired Corflu 31. Likes association football. [JH]
Born January 29, 1970 — Heather Graham, 51. Best known SF role was no doubt Dr. Judy Robinson on the Lost on Space film. She played also Felicity Shagwell that same year in Austin Powers: The Spy Who Shagged Me. And she was Annie Blackburn on Twin Peaks. (CE)
Born January 29, 1985 – Giovanna Fletcher, age 36. Among writing, singing, acting, blogging and vlogging (I am not making this up), two novels for us with husband Tom Fletcher. Sang "Moon River" with him. Won Series 20 of I'm a Celebrity – Get Me Out of Here. Nine other books, some nonfiction. Website. [JH]
Born January 29, 1988 — Catrin Stewart, 33. Jenny Flint in five episodes of Doctor Who. She was the wife of Madame Vastra and the friend of Strax with the three known as the Paternoster Gang who appeared first during the Eleventh Doctor and last during the Twelfth Doctor. Big Finish has continued them in their audiobooks. She also played Stella in two episodes of the Misfits series, and was Julia in a performance of 1984 done at London Playhouse a few years back. (CE)
(15) HAS THERE EVER BEEN SUCH A JOB? [Item by Bill Higgins.] Friends have alerted me to the announcement that Georgia Tech has a job opening for an Assistant or Associate Professor of Science Fiction Film Studies.
There are lots of professors of Film Studies or equivalent, and plenty of them have turned their attention to SF. But a hasty google does not reveal the exact title "Professor of Science Fiction Film Studies" at any other institutions. Could this be the world's first? And science fiction's first? Further research may be needed.
Though I myself am capable of droning on for hours and hours about SF films, the job requires "Ph.D in film studies or a related field," which lets me out. Also, they probably don't want to hire someone with the "ink-and-paper SF is better" prejudice.
Thanks to Fred Scharmen and Bill Leininger for bringing this to my attention.
(16) SOUTHERN FANDOM STORIES. Fanac.org has announced another FanHistory Zoom session (in addition to the second Ted White segment already reported in the Scroll). RSVP to [email protected] for the Zoom link.
February 20, 2021, 7PM EST (4PM PST, 12:00 AM London, 11AM Sunday in Sydney) – An Anecdotal History of Southern US Fandom, with Toni Weisskopf, Janice Gelb and Guy Lillian III. Get a perspective on Southern Fandom from the inside. Topics expected to include history and impact of conventions and Worldcons, clubs and fanzines, and bigger than life individuals.
(17) CALDECOTT WINNER. Publishers Weekly's "When They Got the Call: PW Speaks with the 2021 Newbery, Caldecott, and Printz Winners" includes this quote from an author genre interest:
Michaela Goade, illustrator of We Are Water Protectors by Carole Lindstrom, reflected on the experience of winning the 2021 Caldecott Medal; she is the first BIPOC woman and the first Indigenous artist to receive the award. "I felt a bit like a deer in the headlights and did not know what to say!," Goade told PW.
(18) BIDEN CAN SEE THE MOON (ROCK) FROM HERE. CollectSpace shares the view —"A moon rock in the Oval Office: President Joe Biden's lunar display". Photos at the link.
Joe Biden was three weeks from taking office as a freshman U.S. senator when the moon rock that is now newly on display in the White House was collected by astronauts on the lunar surface.

Six terms in Congress, two terms as the Vice President of the United States and one presidential inauguration later, Biden and the lunar sample 76015,143 will now share the Oval Office.

The Biden Administration requested an Apollo-recovered moon rock for display as "a symbolic recognition of earlier generations' ambitions and accomplishments, and support for America's current moon to Mars exploration approach," according to NASA. The 0.7-pound (333-gram) rock, held by a metal clamp and encased in glass, sits on the bottom shelf of a recessed bookcase beside a painted portrait of Ben Franklin and adjacent to the Resolute desk.
(19) THEY LOST ON JEOPARDY! Andrew Porter's ears perked up when they had a Star Trek-related item on tonight's Jeopardy! A contestant missed it.
Category: Poet-Pourri

Answer: George Herbert's poetic query "Is there there in truth no" this? became the title of the "Star Trek" episode with the Medusans.

Wrong question: "What is stone?"

Correct question: "Is there in truth no beauty?"
(20) UNEXPECTED RING. Click through to see the intriguing image A Moon Dressed Like Saturn on the NASA website, photo by Francisco Sojuel.
Explanation: Why does Saturn appear so big? It doesn't — what is pictured are foreground clouds on Earth crossing in front of the Moon. The Moon shows a slight crescent phase with most of its surface visible by reflected Earthlight known as ashen glow. The Sun directly illuminates the brightly lit lunar crescent from the bottom, which means that the Sun must be below the horizon and so the image was taken before sunrise. This double take-inducing picture was captured on 2019 December 24, two days before the Moon slid in front of the Sun to create a solar eclipse. In the foreground, lights from small Guatemalan towns are visible behind the huge volcano Pacaya.
(21) FRINGE PRODUCER'S NEXT SERIES. "'Debris' Sets Premiere Date As Creator Of New NBC Sci-Fi Drama Draws Parallels To 'Fringe'" reports Deadline.
Debris will premiere on Monday, March 1 at 10 p.m. ET/PT, NBC announced during its first TCA panel on Tuesday. In addition to teasing the upcoming series and unveiling the premiere date, the Debris team also talked parallels to Fringe.

"There's always going to be my DNA in the show," [J.H.] Wyman, who serves as executive producer and showrunner said. "But it's definitely its own thing."

Like Fringe, Debris follows government officials as they investigate when wreckage from a destroyed alien spacecraft has mysterious effects on humankind. Riann Steele will star as MI6's Finola Jones and Jonathan Tucker as the CIA's Bryan Beneventi.

While the series will feature different stories driven by the odd effects of the alien leftovers, Debris will see the relationship between the two leads develop and gain complexity as the show continues.
(22) BREAK TIME. "30 Minutes of Relaxing Visuals From Studio Ghibli" on YouTube is a compilation of short clips about nature from Studio Ghibli films prepared by HBO Max.
[Thanks to John Hertz, JJ, Cat Eldridge, Bill Higgins, Andrew Porter, Michael Toman, Mike Kennedy, John King Tarpinian, PhilRM, David K.M. Klaus, and Martin Morse Wooster for some of these stories. Title credit belongs to File 770 contributing editor of the day Andrew (not Werdna).]