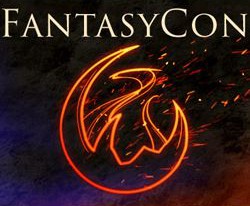 The first – and so far only — FantasyCon was held in Salt Lake City in 2014 — coincidentally across the street from Westercon 67 on the same weekend. The chairs of the two events came to an understanding, which included reciprocating members' access to each others' conventions. Fantasycon drew over 58,000 attendees, Westercon… well, not as many.
FantasyCon founder Joshua B. Patel believed he was launching an annual event. However, even the con's projected move to a more modest venue was not enough to keep the 2015 con from being postponed "to allow sufficient time for the logistics and creating of original art, including a 25-foot-wide, 15-foot-tall bronze water feature. 'There was just not enough time … to maintain that unique vision,' said Patel about attempting to schedule a 2015 convention."
Now Patel has found it necessary to cancel the 2016 event as well. And last month he wrote a long letter appealing to fans to help "Fight for FantasyCon".
Many people are asking what the status is for 2016. I've made sure to be completely honest with you from day one, so here is EXACTLY where FantasyCon stands as of today.

FantasyCon 2016 is not going to happen. The reason this comes to you now and not sooner, is I wanted to be certain and not go back and forth. I didn't learn the financial backing would officially not be available until January 2016. My first thought the moment I learned the funds wouldn't be available for 2016 was, "I need to tell our FantasyCon Family." I've been working on this letter since then.

A little explanation: We built amazing creatures, creations, battle arenas, archery ranges, and experiences for all of our FantasyCon adventure seekers. We invited celebrities, Vegas performers, fire dancers, fire breathers, blacksmiths, glassblowers, aerialists, ballet dancers, musicians, full symphony orchestras, and the list goes on and on.

All of these amazing things came at a cost. The first event cost over 3.5 million dollars to put on….

We spent over 6 years researching and creating FantasyCon and everything was built to be a Nationwide and World touring convention. EVERYTHING is engineered to fit in semi trucks and on shipping containers to bring the magic of FantasyCon to a city near you!

Simply put, there's not enough funds to hold another FantasyCon without additional capital investment. The investor that was going to help FantasyCon after the first event in 2014 doesn't know if there is a big enough demand to hold it again. There have been other investors, but they want to destroy the magic, family focus, affordability, and charity aspects of FantasyCon. This much I had to refuse, as the heart and soul of FantasyCon is helping others through charity and providing affordable prices, so not just the wealthy, but EVERYONE can join the adventure!

My wife and I put our life savings into the first FantasyCon and the many charity events associated with it. We have NO regrets as we were a small part in helping tens of thousands of individuals and families 'join us on an adventure!' For us, FantasyCon's Night of Dreams with the thousands of special needs guests and terminally ill children was the greatest part of the adventure.

I was teary-eyed (which you can ask my Sweetheart, never happens) as I watched countless children and families have experiences and adventures together that they would normally never be able to afford in this life. For some, this was the greatest and only adventure they were able to experience before passing on. I'm forever blessed and thank God for the opportunity to be a part of the many miracles that took place that night. It has changed me forever and is one of the main reasons I WILL NOT sell out to capitalists that only are in it for the money and not the people….
Patel outlines two strategies for gaining the necessary financial support .
If by September 2016 he can get 250,000 names/email addresses together, he believes FantasyCon can be crowdfunded.
We can fund the next FantasyCon without any investors required. We will launch a Crowd Funding campaign where we the fans can own and maintain control of the FantasyCon world. This also allows us to keep ticket prices low, keep all the amazing charity events, and finish making a beautiful Fantasy World for us all to enjoy. We can do it together!
Or with only 100,000 names, he could show the interested investors that people want FantasyCon to happen again.
The investors have already agreed to fund FantasyCon if we show this demand. The only down side is the investors will want controlling interest and will no longer allow the Night of Dreams charity night.
Those willing to help are directed to fill out the form on http://fantasycon.com/fight-for-fantasycon.html, and to follow the con on Facebook and Twitter.
[Thanks to David Doering for the story.]