(1) SKIPPING OVER THE SAND. Judith Tarr tells why she'll be passing on a Bene Gesserit tv series with an all-male creative team. Thread starts here.
(2) KAIJU-CON. On Saturday June 14, the Japanese American National Museum in Los Angeles is holding a one-day "Kaiju-Con".
In conjunction with Kaiju vs Heroes, JANM is hosting a day-long Kaiju-Con that will include a vendor hall, workshops, panel discussions, and demonstrations all related to kaiju and Japanese toys. The day will culminate in a special free outdoor screening at 8:30 p.m., on JANM's plaza of Mothra vs. Godzilla from 1964.
The museum's exhibit "Kaiju vs Heroes: Mark Nagata's Journey through the World of Japanese Toys" continues through July 7.
… After the war, the United States closely monitored the types of industries allowed to revive in Japan. The toy industry was one of the first to be enabled to reinvent itself, and the kaiju films and television shows helped fuel it. Additionally, the toy industry helped stimulate Japan's economy during the early postwar reconstruction period. These new artistic and economic factors fused with kaiju and hero characters to set the stage for a golden age of Japanese popular culture—one that Nagata first became enamored with as a nine-year-old boy.

Nagata's pursuit of these Japanese toys took him on an unexpected journey that brought new realizations about his cultural identity as an American of Japanese ancestry….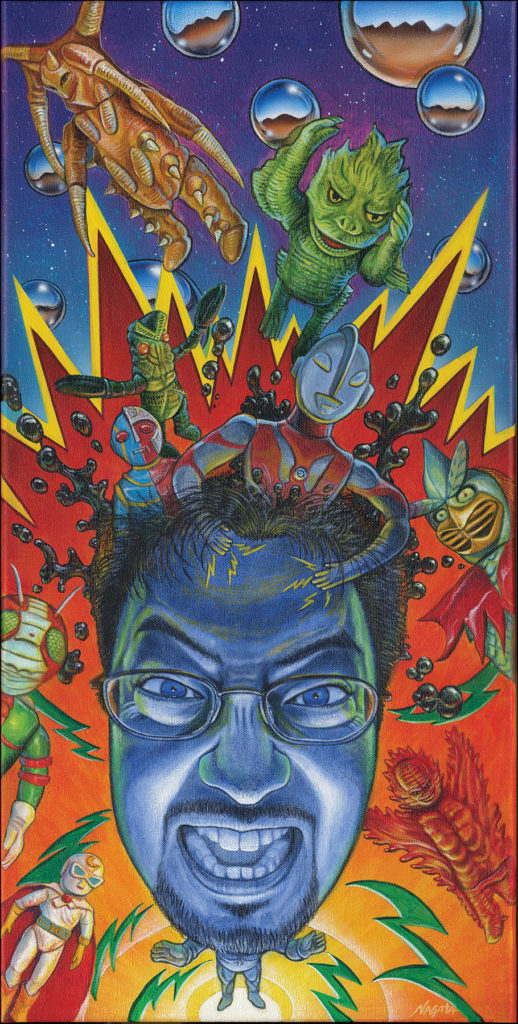 (3) DRAW YOUR OWN CONCLUSIONS. Gizmodo assures us that "Half the DNA on the NYC Subway Matches No Known Organism".
The results of a massive new DNA sequencing project on the New York City subway have just been published. And yup, there's a lot of bacteria on the subway—though we know most of it is harmless. What's really important, though, is what we don't know about it.

The PathoMap project, which involved sampling turnstiles, benches, and keypads at 466 stations, found 15,152 life-forms in total, half of which were bacterial. The Wall Street Journal has created a fun, interactive microbial map of the subway out of the data, showing where on the lines the bacteria "associated with" everything from mozzarella cheese to staph infections was found.
(4) GUNN RETROSPECTIVE. Dark Matter Zine is revisiting the work of the late Hugo-winning fanartist Ian Gunn: "Giant man-baby. A silly illo by Ian Gunn".
Over the next few weeks we'll be seeing some movie cliches that Ian Gunn drew. Today's, obviously, is the giant man-baby walking in slow motion. Although the drawing is at least 20 years old but did Gunn foresee the Trump Baby resistance balloons, banners etc? I wonder if the giant Trump Baby acts in slow motion too?
(5) JUST A LITTLE SMACK. John Boston doesn't pull his punches when he's slugging the prozines of 1964 for Galactic Journey: "[June 12, 1964] RISING THROUGH THE MURK (the July 1964 Amazing)".
Can it be . . . drifting up through the murk, like a forgotten suitcase floating up from an old shipwreck . . . a worthwhile issue of Amazing?

You certainly can't tell by the cover, which is one of the ugliest jobs ever perpetrated by the usually talented Ed Emshwiller—misconceived, crudely executed, and it doesn't help that the reproduction is just a bit off register.
(6) CLONE ARRANGER. ComicsBeat brings music to fans' ears — "ORPHAN BLACK returns in new serialized novel and audio adaptation".
The Clone Club is reconvening. Variety reports that Orphan Black, the hit BBC America sci-fi series that ended in 2017, is set to return as a serialized novel, with accompany audio narration, later this year. The new story is produced by publishing startup Serial Box, and will feature original series star Tatiana Maslany providing the audio narration.
(7) FLIP THE SCRIPT. Eater says the promotion is really quite simple: "Burger King's New 'Stranger Things' Special Is Literally an Upside-Down Whopper".
With the premiere of Stranger Things Season 3 just a few weeks away, Netflix and Burger King are teaming up for a fast food stunt that seems aimed at the die-hard fans, only: At 11 locations across the country, the chain is adding an "Upside Down Whopper" to the menu, which is literally just a Whopper served upside down. No special Demagorgon sauce, Eggo bun, or Hopper's bacon crumbles. It's just an inverted hamburger in Stranger Things-branded packaging.
The YouTube caption assures viewers —
pro tip: you can't get eaten by something in the upside down if you've already eaten the upside down whopper. served upside down at select bk locations on June 21:
(8) MILES OBIT. Actress Sylvia Miles has died at the age of 94 reports the New York Times.
Sylvia Miles, who earned two Academy Award nominations (for "Midnight Cowboy" and "Farewell, My Lovely") and decades of glowing reviews for her acting, died on Wednesday in Manhattan. She was 94.

Ms. Miles began her career as a stage actress; [she] was a witch in "A Chekhov Sketchbook" (1962). She described her character in the 1977 horror film "The Sentinel" as "a mad dead crazed German zombie lesbian ballet dancer." Her other film roles included … Meryl Streep's mother in "She-Devil" (1989).

Her final TV appearance was in 2008, on the series "Life on Mars." Her last screen appearance was in "Old Monster," a 2013 short based on the epic "Beowulf."
(9) TODAY'S BIRTHDAYS.
[Compiled by Cat Eldridge.]
Born June 13, 1892 — Basil Rathbone. He's best remembered for being Sherlock Holmes in fourteen films made between 1939 and 1946 and in a radio series of the same period. For films other than these, I'll single out The Adventures of Robin Hood (all Robin Hood is fantasy), Son of Frankenstein and Voyage to the Prehistoric Planet. (Died 1967.)
Born June 13, 1893 — Dorothy Sayers. ISFDB often surprises me and having her listed as writing four stories in the genre did it again. All of them were written in the Thirties and here they are: "The Cyprian Cat", "The Cave of Ali Baba", "Bitter Almonds" and "The Leopard Lady". So, who here has read them and can comment on them being genre or not? (Died 1957.)
Born June 13, 1929 — Ralph McQuarrie. Conceptual designer and illustrator. He worked on the original Star Wars trilogy, the first Battlestar Galactica, Star Wars Holiday Special, Cocoon, Raiders of the Lost Ark, Nightbreed, Star Trek IV: The Voyage Home andE.T. the Extra-Terrestrial. (Died 2012.)
Born June 13, 1943 — Malcolm McDowell, 76. My favorite role for him was Mr. Roarke on the rebooted Fantasy Island. Of course, his most infamous role was Alex in A Clockwork Orange. Scary film, that. His characterization of H. G. Wells in Time After Time was I thought rather spot on. And I'd like to single out his voicing Arcady Duvall in the "Showdown" episode of Batman: The Animated Series. Remember the Will Smith starred Wild Wild West film? Here is the same premise with John Hex instead.
Born June 13, 1945 — Whitley Strieber, 74. I've decidedly mixed feelings about him. He's written two rather good horror novels, The Wolfen which made a fantastic horror film and The Hunger. But I'm convinced that his book Communion about his encounter with aliens is an absolute crock.
Born June 13, 1949 — Simon Callow, 70. English actor, musician, writer, and theatre director. So what's he doing here? Well, he got to be Charles Dickens twice on Doctor Who, the first being in "The Unquiet Dead" during the time of the Ninth Doctor and then later during "The Wedding of River Song". He'd also appear, though not as Dickens, on The Sarah Jane Adventures as the voice of Tree Blathereen in "The Gift" episode. I've not watched the latter. How are they? He was The Duke of Sandringham in the first season of Outlander.
Born June 13, 1953 — Tim Allen, 66. Jason Nesmith in the beloved Galaxy Quest, winning a much deserved Hugo Award for Best Dramatic Presentation. (What was running against it that year?) it actually had a big hit several years previously voicing Buzz Lightyear in Toy Story which would be the first in that film franchise.
Born June 13, 1963 — Audrey Niffenegger, 56. Her first novel was The Time Traveler's Wife. She has stated in interviews that she will not see the film as only the characters in the novels are hers. Good for her. Raven Girl, her third novel about a couple whose child is a raven trapped in a human body, was turned into performed at the Royal Opera House.
Born June 13, 1981 — Chris Evans, 38. Captain America in the Marvel film franchise. He had an earlier role as the Human Torch in the non-MCU Fantastic Four and Fantastic Four: Rise of the Silver Surfer. I think this makes him the only performer to play two major characters in either the DC or Marvel Universes.
(10) ROBOCOMICS. The New York Times looks at a marketing solution: "Like Comic Books? This Platform Picks Titles for You".
Comic book fans have multiple digital options to choose from these days, with apps for independents, manga and political cartoons as well as libraries from giants like DC and Marvel. But the fractured nature of the business means readers have to visit several platforms to fill their needs.

Enter Graphite, a free digital service from Graphic Comics that begins Tuesday and hopes to put them all under one roof.

The impetus for the company was a simple one, said Michael Eng, Graphite's chief executive: "There is no solution right now that serves comics in all its forms."

The goal of the service is to offer digital comics from all formats, including the work of independent creators as well as major publishers, and make it all free. The content will include ads, but an ad-free service is available for a $4.99 monthly fee. Graphite also hopes to expand the audience of comics readers by offering material in 61 languages. But its biggest bet is on artificial intelligence, which will suggest content to readers based on their taste.
(11) HIDDEN NO MORE. BBC: "Hidden Figures: Nasa renames street after black female mathematicians".
The street outside Nasa's headquarters has been named "Hidden Figures Way", in honour of three African-American women whose work helped pave the way for future generations at the space agency.
(12) A LARK IN THE VACUUM. The Atlantic's Rebecca Boyle has her own estimate of "The True Price of Privatizing Space Travel".
…NASA's decision to open up the space station is in some ways a natural next step for space exploration. Earlier, earthbound vessels all experienced a similar transformation. Transoceanic ships, railroads, and airplanes spawned cottage industries to enable their spread and wide adoption, and each eventually reached the masses. And in widening access to space, NASA is actually behind the Russians, whose space agency has transported a few space tourists through a company called Space Adventures.

But space is different. Space, as they say, is hard. To get there, you have to strap yourself to a bomb, and sometimes those bombs malfunction.

Personal space exploration is also hard to justify….

…Handing tourists the keys to the ISS reflects a much broader shift in space exploration, one that prioritizes resource extraction and commercial profit over pure research and collective scientific efforts. It's a step toward making space more mundane, a travel destination defined by money and vacations, rather than discovery and glory.
(13) ONE OF EVERYTHING. Joe Sherry does a fine job of tackling these finalists in "Reading the Hugos: Related Work" at Nerds of a Feather.
Related Work is a bit of a catch-all category. It's for work that is primarily non fiction and that is related to science fiction and fantasy, and which is not otherwise eligible elsewhere on the ballot. This is how you can have an encyclopedia compete against a folk album against a podcast against a collection of essays about movies (this was in 2012 when the Fancast category had not yet been created. That particular lineup of finalists can't happen today. You may also note that albums and songs have been included in Dramatic Presentation – because the two Clipping albums in question are narrative driven whereas Seanan McGuire's Wicked Girls was not.). There may also be a single blog post competing and winning in the category. Or a series of blog posts focusing on the women of Harry Potter. In the case of this year there is a four way biography, a series of interviews, a three part documentary, a collected essay series about the Hugo Awards, a recognition of the work done by a website, and the experience of bringing together Mexicanx fans and creators to Worldcon. Related Work is an interesting cross section of another side of the genre and another side of fandom.
(14) HUGO NOVELLAS. James Reid continues his "Hugo Awards Extravaganza 2019 – Novella".
I feel like this category has undergone a bit of a renaissance with digital publishing: when I was growing up, I thought of Novellas as either the anchor of a short story collection, 1 or works that flesh out a larger series.2  Without the pressure of meeting mass market paperback length however, novellas can be sold as free standing works, which then can lead to series of novellas.  Fully half the slate fall into this category,3 and not only are they sequels, but they are sequels to previous nominated works.

In all three of these series, I liked the original novella,4 but the two sequels that were in the ballot last year, Binti: Home and Down Among the Sticks and Bones were both marked by precipitous drops in quality.  Given this, my big questions going into the ballot this year are can Artificial Condition avoid this sophomore slump, and can either of the threequels pull out of their series nosedives?
(15) CANNED. "Star Wars' Mark Hamill Reveals He Got Fired From Jack in the Box for Doing a Clown Voice" – Comicbook.com has the story.
Star Wars icon Mark Hamill is still full of stories that will surprise and delight fans – as he recently proved during an appearance on The Late Show with James Corden. Corden and Hamill were talking about the road to fame (and all the detours it an take); when they got to the topic of Hamill having worked as a waiter (like so many struggling actors), we got this great anecdote:

"I tried. I always was trying to find the theatrical aspect of it. You know, I worked right down the street at Jack in the Box. And I was in the back all the time, making shakes and minding the grill, and I always aspired to work the window… The one chance I had at it, it never occurred to me not to be in character as the clown, as the Jack in the Box clown! Who would want to hear [Robot voice] 'What is your order?' I wanted to hear [Clown voice] 'Whats your orderrrrrrrrrr?" My manager didn't think it was very funny: He told me to go home and never come back. I got fired! Fired for being in character! Why you… [Shakes fist] I'll show you: One day I will be The Joker and then you'll be sorry!"
(16) BIG FAMILY IS WATCHING. [Item by Jonathan Cowie.] Nature notes some past fiction has become science fact with the rise of the surveillance state — "Eyed up: the state of surveillance"
In the 1998 Hollywood thriller Enemy of the State, an innocent man (played by Will Smith) is pursued by a rogue spy agency that uses the advanced satellite "Big Daddy" to monitor his every move. The film — released 15 years before Edward Snowden blew the whistle on a global surveillance complex — has achieved a cult following. It was, however, much more than just prescient: it was also an inspiration, even a blueprint, for one of the most powerful surveillance technologies ever created…
This is the basis for the new book Eyes in the Sky: The Secret Rise of Gorgon Stare and How It Will Watch Us All by Arthur Holland Michel (Houghton Mifflin Harcourt, 2019).
(17) A SEMI-MOVING PICTURE. Mike Kennedy sent the link with an observation – "I was not aware we needed this": "'Playmobil: The Movie': Film Review" in The Hollywood Reporter.
Once they're transformed into animated characters, Charlie soon winds up prisoner in a Gladiator-like kingdom ruled by the evil Emperor Maximums (Adam Lambert), prompting Marla to team up with a hipster food truck driver (Jim Gaffigan, providing vague comic relief) and a ridiculous secret agent (Daniel Radcliffe) to get her bro back. Along the way, she runs into tons of other merchandise, although it's uncertain at this point whether the figure of Glinara (Maddie Taylor) — basically a female Jabba the Hut decked out in a sleeveless leather dress — was something already made by Playmobil or a creature the filmmakers invented for the hell of it.

Otherwise, everything goes exactly where you expect, from the live-action scenes bookending the cartoon to the nonstop chases and thundering soundtrack to all the attempts at humor that mostly miss their mark. To the director's credit, the animated sequences are richly rendered, making the most of the rather stiff and plain-looking originals (though, if you want to get nitpicky, an early gag poking fun at the fact that Playmobil legs are unbendable is soon forgotten) and offering up a plethora of settings that help compensate for the lack of good writing.
[Thanks to Mike Kennedy, Martin Morse Wooster, ULTRAGOTHA, John King Tarpinian, JJ, SF Concatenation's Jonathan Cowie, Cat Eldridge, Chip Hitchcock, Carl Slaughter, and Andrew Porter for some of these stories. Title credit goes to File 770 contributing editor of the day, the reference detecting Randall M.]