(1) A CRITIQUE OF NEAL STEPHENSON. In The New Atlantis: "The Supergenius at the End of the World".
… And yet for all of sci-fi's close attentiveness to arcane scientific ideas — say, the equivalence principle or the physics of traversable wormholes — the portrayals we see of how political actors might face such crises are rarely realistic. What we typically find instead are political arrangements in which knowledgeable technocrats are already comfortably ensconced in positions of authority, or narratives that leave politics offstage altogether.

In this sense, the renowned science fiction writer Neal Stephenson's oeuvre may serve as a stand-in for the genre. For while his work draws heavily upon the tradition of political philosophy, and his plots make frequent dramatic use of catastrophic scenarios, he seems unable to present a serious account of politics as a venue for decision-making of the most consequential sort. And though he is attentive to the social and political tensions modern science often generates, particularly in democratic societies, his protagonists usually end up circumventing politics when faced with the kinds of disasters that set his plots in motion.

This is altogether a great loss. The genre of science fiction as we think of it today originally arose as part of a cultural response to the rise of scientific and technical mastery. But before it was ever a genre, it was part of a broader tradition of speculative philosophical and political thought. That today's sci-fi — and a writer of Neal Stephenson's caliber in particular — is unserious about crisis politics is a shame….
(2) CENSORS LOSE ROUND ONE. [Item by Martin Morse Wooster.] In the Washington Post, Hannah Natanson says District Court Judge Pamela Baskervill (spelled that way) dismissed a lawsuit by two Virginia legislators that the graphic novel Gender Queer and the fantasy novel A Court Of Mist And Fury are obscene and can be banned from Barnes and Noble, but the legislators could sill appeal to the Virginia Supreme Court. "Virginia judge dismisses lawsuit challenging sale of two 'obscene' books".
A Virginia judge on Tuesday dismissed a lawsuit brought by two Republicans that sought to limit how bookstores and public school libraries could distribute two books to minors, closing — at least temporarily — an unusual commercial strategy in what conservatives say is a campaign to protect students from age-inappropriate literature….
(3) ANDY DUNCAN ADVICE. Long-time Clarion West instructor Andy Duncan recorded six videos for their Flash Fiction Workshop as part of the 2022 Write-a-thon, and they're now available to watch on the Clarion West YouTube channel. Dig into the first video here.
(4) CLARION WEST SCHOLARSHIP WINNERS. The 2022 Octavia E. Butler and Worldbuilder Scholars were profiled by Clarion West.
Two Octavia E. Butler Memorial Scholarships donated by the Carl Brandon Society went to Clarion West students. Naomi Day and Wen-yi Lee. Naomi was initially selected as a Butler Scholar in 2020, and Wen-yi was selected this year upon her acceptance.
Since 2007, the Carl Brandon Society has donated this scholarship in Octavia's name to writers of color attending Clarion and Clarion West. Octavia attended the Clarion Writers Workshop in Pennsylvania in 1970 and taught at the Clarions for many years; this scholarship offers BIPOC writers a similar opportunity to emerge into the speculative fiction scene.

Naomi Day is a queer Black American writer who spends their time thinking about liminal experiences, mothers, and broken and found families. Her work has appeared in Black Warrior Review and The Seventh Wave, and she is an MFA candidate at The New School.

Wen-yi Lee is from Singapore and likes writing about girls with bite, feral nature, and ghosts. Her fiction has appeared in Uncanny and Strange Horizons, among others, and her non-fiction can be found on Tordotcom. She is currently working on a Singaporean historical fantasy.
George R. R. Martin awarded two Worldbuilder Scholarships this year. Tania Fordwalker, of Tasmania, was selected to receive a Worldbuilder Scholarship in 2020, and Yvette Lisa Ndlovu, of Zimbabwe, was selected this year upon her acceptance.
The Worldbuilder is a full scholarship funded by George R. R. Martin and anonymously judged by Martin's team. The scholarship is awarded to a student with strong worldbuilding skills. Martin says: "Every great story requires interesting characters, an engrossing plot, evocative prose, an important theme… but epic fantasy also requires a memorable setting. A 'secondary universe,' as J.R.R. Tolkien termed it, a world both like and unlike our own, with its own rich history and geography and customs, its own beauties and terrors."

Tania Fordwalker is an Australian living between chilly Tasmania and tropical Queensland with her spouse and cloud-shaped dog. She travels whenever she can, and writes because she's incapable of holding down a real job. Her work has appeared in Lightspeed, Beneath Ceaseless Skies, PodCastle and more. Her first novel — the story of an escapee from a post-apocalyptic cult — is currently out on submission. She is very short and, in the way of all small things, will absolutely fight you. Find Tania at Fordwalker.com or on Twitter at @TaniaWalker.

Yvette Lisa Ndlovu is the Zimbabwean author of Drinking from Graveyard Wells (University Press of Kentucky, March 2023). She earned her BA at Cornell University and is an MFA candidate at UMass Amherst. Her work has been supported by fellowships from Tin House, Bread Loaf Writers Workshop, and the New York State Summer Writers Institute. She is the co-founder of the Voodoonauts Summer Fellowship for Black writers.
(5) RON LOGAN OBIT. Disney Legend Ron Logan, who as EVP and executive producer for Walt Disney Entertainment transformed live entertainment in its parks and helped bring Beauty and the Beast to Broadway, died August 30 at the age of 84.
… In his last role at Disney, Logan was EVP, executive producer, for Walt Disney Entertainment. He was responsible for creating, casting and producing all live entertainment products for the Walt Disney Company, including its resorts, The Disney Institute, Disney Business Productions, Disney Cruise Line, Disney Entertainment Productions and Walt Disney Entertainment Worldwide. He also was EVP of the Walt Disney Special Events Group, and EVP of Disney Special Programs Inc. He produced all live entertainment shows for the Disney Parks worldwide, as well as five Super Bowl halftime shows.
(6) MEMORY LANE.
1965 – [By Cat Eldridge.] Susan Cooper's The Dark Is Rising sequence.
Fire on the mountain shall find the harp of gold
Played to wake the Sleepers, oldest of the old;
Power from the green witch, lost beneath the sea;
All shall find the light at last, silver on the tree.
I suspect that most of you know something about this series, and further more that a lot of you have read this splendid undertaking. These five novels were intended for older children and young adults, published from 1965 to 1977, were written by the British author Susan Cooper, born May 1935.
Over Sea, Under Stone, the first was meant to be a solo novel but four followed. The series takes its name from the second novel The Dark is Rising. The final three were Green Witch, The Grey King and Silver on the Tree.
Cooper's summation of the series is: "When young Will Stanton discovers he has come of age as the lastborn of the Old Ones, the immortal keepers of the force of the Light, he is swept up in the age-old struggle between the powers of Light and Dark. The battles against the last dreadful rising of the Dark are waged across time in the most ancient myth-haunted places of England and Wales. Will, his ageless master Merriman, and their allies and adversaries—human and mythic alike—seek the objects of power that will tip the uncertain balance of good and evil that exists throughout the world and within the mind of man."
Cooper did a most splendid crafting of stitching together of Arthurian mythology, Celtic mythology, English folklore and Norse mythology. And I can say that they quite wonderful books indeed!
The American Library Association's Margaret A. Edwards Award, which recognizes one writer and a particular body of work for significant and lasting contribution to YA literature, went to the full series. Solo books have been have honored as well — The Grey King picked up a Newbery Medal and Tir na n-Og while Silver on The Tree garnered a Tir na n-Og.
An adaptation was done, not at all successfully I'd say was a kind way to put it. Cooper didn't like the film and has made that clear in interviews. It was called The Seeker: The Dark Is Rising and critics and the box office alike were hostile to it.
I swear there was a series made as well but I can't find anything about it. I've got a Radio Times story from 2016 "Sky is developing a drama based on The Dark is Rising fantasy books" but nothing after that.
The audiobooks are read by Alex Jennings who does a most excellent job. He's a British actor of the stage and screen who has worked mainly with the National Theatre and Royal Shakespeare Company. For his work with the London stage, he received three Olivier Awards given for My Fair Lady, Peer Gynt and Too Clever by Half.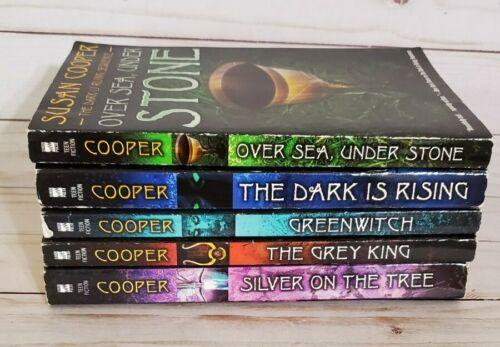 (7) TODAY'S BIRTHDAYS.
[Compiled by Cat Eldridge.]
Born August 31, 1914 — Richard Basehart. He's best remembered as Admiral Harriman Nelson in Voyage to the Bottom of the Sea. He also portrayed Wilton Knight in the later Knight Rider series. And he appeared in "Probe 7, Over and Out", an episode of The Twilight Zone. (Died 1984.)
Born August 31, 1949 — Richard Gere, 73. Lancelot in First Knight starring Sean Connery as King Arthur. And was Joe Klein in The Mothman Prophecies. That's it. First Knight for me is more than enough to get Birthday Honours! And there's Chicago which though not genre is absolutely stellar.
Born August 31, 1958 — Julie Brown, 64. Starred with Geena Davis in the cult SF comedy, Earth Girls Are Easy. She's also been in genre films such as The Incredible Shrinking Woman, Bloody Birthday (a slasher film), Timebomb and Wakko's Wish. She's had one-offs in TV's Quantum Leap and The Addams Family. She's voiced a lot of animated characters included a memorable run doing the ever so sexy Minerva Mink on The Animaniacs. She reprised that role on Pinky and The Brain under the odd character name of Danette Spoonabello Minerva Mink.
Born August 31, 1969 — Jonathan LaPaglia, 53. The lead in Seven Days which I've noted before is one of my favorite SF series. Other than playing Prince Seth of Delphi in a really bad film called Gryphon which aired on the Sci-fi channel, that's his entire genre history.
Born August 31, 1971 — Chris Tucker, 51. The way-over-the-top Ruby Rhod in Luc Besson's The Fifth Element, a film I really, really like. His only other genre credit is as a MC in the Hall in The Meteor Man.
Born August 31, 1982 — G. Willow Wilson, 40. A true genius. There's her amazing work on the WorldCon 75 Hugo Award winning Ms. Marvel series starring Kamala Khan which I recommend strongly, and that's not to say that her superb Air series shouldn't be on your reading list. Oh, and the Cairo graphic novel with its duplicitous djinn is quite excellent as well. I've not yet read her Wonder Women story but will soon. She also got a nomination at Discon III for Invisible Kingdom, vol 2: Edge of Everything. Am I missing anything I should be reading?
Born August 31, 1992 — Holly Earl, 30. She's been in a number of British genre shows, playing Kela in Beowulf: Return to the Shieldlands, Agnes in Humans, and yes, Doctor Who in the "The Doctor, the Widow and the Wardrobe", an Eleventh Doctor story in she was Lily Arwell.
(8) COMICS SECTION.
Eek! has a shocking aquatic "morning after" moment.
(9) A SECRET IDENTITY THAT WAS EVEN SECRET FROM ITS OWNER. "Did DC Once Produce a Superman Issue Hidden From the Editor of the Comic?" CBR.com says, of course, the answer is yes.
…Schwartz recalled the incident in his auto-biography:

"So comes the day [of his 70th birthday], and all of a sudden publisher Jenette Kahn's administrative assistant Carol Fein comes in and says we're having a special meeting in the conference room. I probably fretted as I walked down the hall wondering what the latest crisis was—and walked into the conference room to discover champagne on ice and Jenette handing me the first copy of SUPERMAN #411, and I see that I am depicted on the cover."

The original art for the cover was then signed by LOTS of people, and Schwartz kept having people sign it over the years…
(10) MALTIN ON MOVIES. [Item by Martin Morse Wooster.] I listed to this podcast Leonard and Jessie Maltin did with animator Andreas Deja, who saw The Jungle Book when he was 10 or 11 in West Germany and decided he wanted to be an animator.  He wrote to Disney asking what he had to do and they told him in a form letter to study anatomy and learn to draw animals in real life.  He did this, went to Disney, and worked his way up to being a master animator in charge of a particular character.  He stayed at Disney for 30 years and is now a Disney Legend, but left around 2010 when Disney decided to switch to CGI.  Since then, Deja lectures on animation history with the aid of Disney's unusually extensive archives and has worked on his own animated film, the 25-minute Mouschka which will feature 80 percent hand-drawn animation by him.  This is a pretty deep dive into Disney animation but this is a subject Maltin knows very well so I thought it informative. "Maltin on Movies: Andreas Deja".
(11) THE RADIANT AFTERGLOW. "The Atomic Café: The Cult Classic Documentary Made Entirely Out of Nuclear Weapons Propaganda from the Cold War (1982)" – discussed at Open Culture.
…It came out in 1982, when the public's assumptions of American military benevolence — and its patience with the country's seemingly permanent arms race against the Soviet Union — were running low. These decades-old clips of strenuously pious politicians, drawling bomber pilots, rambling Babbitts, and civil defense-ready nuclear (in both senses) families could hardly have met with more intense cynicism.

"I was an exact contemporary of those kids in this old documentary footage," writes Roger Ebert in his review The Atomic Café. "Life magazine ran blueprints for fallout shelters, and Estes Kefauver barnstormed the nation with warnings about strontium 90 in the milk supply." In one scene "girls in home ec classes display their canned goods designed for nuclear survival, and it is clear from their faces that they have no clue of how they would survive nuclear war, and little hope of doing so." The film as a whole evokes a time when the United States "spent a good deal of its resources on addressing the possibility of nuclear war, however uselessly." We no longer hear much about that possibility, perhaps because it has genuinely diminished, or perhaps because — as viewers of The Atomic Café will suspect even today — the propagandists are busy convincing us of something else entirely.,,,
[Thanks to Mike Kennedy, Martin Morse Wooster, JJ, John King Tarpinian, Andrew Porter, Chris Barkley, Michael Toman, Cat Eldridge for some of these stories. Title credit belongs to File 770 contributing editor of the day Anthony.]