(1) TWO NEW TAFF EBOOK FUNDRAISERS. David Langford says they were unable to locate the final speech, but all the rest of The Serious Scientific Talks by Bob Shaw are now available as an ebook which you can download free – though with hopes you'll be inspied to donate to the Trans-Atlantic Fan Fund.
The same hope comes with Rob Hansen's latest fanhistory compilation, Challenging Moskowitz, released today:
Sam Moskowitz's The Immortal Storm is regarded by many as the definitive history of US fandom in the 1930s, but several contemporary fans either presented alternative versions of events or took issue with the book's selectivity (New York-centrism in particular) and partisanship. Rob Hansen has compiled and introduced this collection of relevant fanwriting by Allen Glasser, Charles D. Hornig, Damon Knight, Jack Speer, Harry Warner Jr, Donald A. Wollheim and T. Bruce Yerke.

First published as an Ansible Editions ebook for the TAFF site on 1 November 2019. The cover photograph of (from left to right) Jack Darrow, Julius Schwartz, an unknown, Donald A. Wollheim and Conrad Ruppert is from the Ted Carnell collection; actual photographer unidentified. Approximately 47,000 words.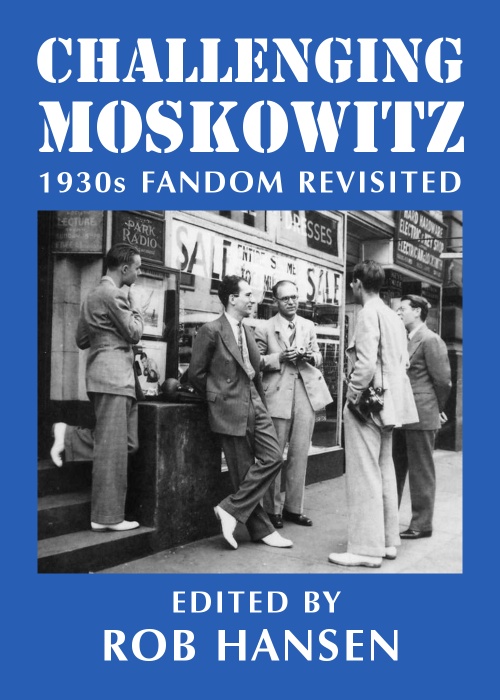 (2) TIME AFTER TIME. In "The Superman Clause", The Hugo Book Club Blog explores the rule in the WSFS Constitution that lets Worldcon members vote to add a year of Hugo Award eligibility. Their research has uncovered facts that are both fascinating and unexpected. For example, after listing all the works that have been granted an extension, they say:
We find it interesting that despite the high quality of these works, only the Cambridge Companion to Science Fiction was actually placed on the Hugo Ballot (and it won a well-deserved Hugo trophy for Edward James and Farah Mendlesohn)….
(3) DRAGONS IN THE BOX SCORE. George R.R. Martin shares his insights about the fate of two post-Game-of-Thrones TV projects, one approved, the other dropped, in "The Dragons Take Wing" at Not A Blog.
Ryan Condal is new to Westeros, but not to me. I first met Ryan when he came to New Mexico to shoot a pilot for a fantasy western that was not picked up. I visited his set and we became friendly. Later Ryan created and served as showrunner for the SF series COLONY, and we had the honor of doing a premiere screening for the show at the Jean Cocteau. He's a terrific writer… and a fan of my books since well before we met. He tells me that he discovered the series just after A STORM OF SWORDS was published, and "I've loved the books for 19 years." (He is also a huge fan of my Dunk & Egg stories. In fact, that was the show he wanted to do initially, but I'm not prepared to bring Dunk & Egg to television until I've written quite a few more stories). Working with Ryan on the development of HOUSE OF THE DRAGON has been a dream.
Martin adds:
But… let me make this perfectly clear… I am not taking on any scripts until I have finished and delivered WINDS OF WINTER. Winter is still coming, and WINDS remains my priority, as much as I'd love to write an episodes of HOUSE.
(4) WHERE IS IT? Readers learned from the November Ansible where Nature has hidden the fiction:
When Nature acquired a 'new look' with its 23 October issue, the 'Futures' short-sf-story page vanished from both the printed magazine and the website contents list. The feature continues online but you have to know where to look for it: nature.com/futures.
Their most recent entry (October 30) is Wendy Nikel's "When We Were Infinite" which begins:
"The faster your ships, the smaller the Universe. The smaller the Universe, the more important it is to live harmoniously." Inva weaves her digits together, invoking a picture of beings residing tranquilly side-by-side.
(5) THE ORIGINAL UPGRADE. What's new at Los Alamos – in 1964? Galactic Journey's Ida Moya has the declassified scoop: "[November 1, 1964] Time (sharing) travel".
As the Traveler said, things have really been heating up in Los Alamos Scientific Laboratory (LASL). And what with President Kennedy being taken from us so traumatically last year, it has all been too much. We have been struggling with national security while mourning the loss of our leader, and also attending to a deluge of new computers that are coming into the lab. Things have calmed down a little so I am now able to share a few secrets with you again.

…I'm sure I also told you that we finally received our IBM 7090 computer. This equipment is being used for big science calculations around atomic energy, guided missile control, strategic planning (cryptanalysis, weather prediction, game theory), and jet engine design. I'm sure it is no surprise when I tell you we are using it to simulate nuclear explosions. This computer also has what they call an "upgrade," the addition of more memory and input-output capability. The upgraded computer is called an IBM 7094.
(6) EXPLAINING THAT SUDDEN BURST OF TRAFFIC. I didn't know there was more than one sff writer named Spinrad – meet Demetria Spinrad.
(7) WATCHERS' DIGEST. [Item by Mike Kennedy.] Entertainment Tonight: "'For All Mankind' Cast Describes the Apple TV Plus Drama in 10 Seconds". ET challenged the cast of Apple TV+ streaming alternate history For All Mankind to describe the show in 10 seconds or less. The exclusive video is available on their website.
This is one small step for your screens, but one giant leap for Apple TV+.

Apple's streaming service officially launches today with a star-studded lineup of new shows including For All Mankind — the latest space-centric drama from Battlestar Galactica and Star Trek: The Next Generation executive producer Ronald D. Moore.

[…] ET asked Joel Kinnaman, Shantel VanSanten, Sarah Jones and many more of For All Mankind's cast members to embark on a stellar mission to describe the drama in 10 seconds or less — and their answers are out of this world!
(8) ALTERNATE SPACE HISTORY. And Andrew Liptak reviews the series at Polygon: "Apple series For All Mankind isn't thrilled by America's role in the space race". When the Soviets get to the Moon first —
…The landing prompts the US to reexamine the drive to get to space. Astronaut Edward Baldwin (Altered Carbon's Joel Kinnaman) takes the news particularly hard, and calls out NASA's administration and Werner Von Braun's cautious approach to space travel. He gets booted from his assignment, Apollo 15, but his antics attract the attention of some ambitious politicians and administrators, who get him to testify in congress that NASA all but allowed the USSR to get there first, and that the country needs a far more aggressive approach to space.

He gets his wish — he's reinstated on Apollo 15, and Von Braun is forced out. The move is a timely one: after a far more hair-raising Apollo 11 mission (Neil Armstrong and Buzz Aldrin almost don't make it off after a rough landing), the Soviets land a second time, this time with a female cosmonaut stepping out onto the surface. In response, President Richard Nixon orders that NASA begin training a team of female astronauts. When US intelligence believes that the Soviets might be planning a permanent camp on the Moon, NASA makes a lunar base a top priority.

Other plot threads feel embedded for future episodes or seasons (Moore and his writers have apparently plotted out seven).
(9) THE GAME GOES ON. The final trailer for Jumanji: The Next Level has dropped – the movie comes to theaters December 13.
(10) TODAY IN HISTORY.
November 1, 1974 — Phantom Of The Paradise premiered. Written and directed by Brian De Palma, and scored by and starring Paul Williams. It's a very loose bastardisation of The Phantom of the Opera, The Picture of Dorian Gray and Faust. Remarkably it rates 84%% among viewers at Rotten Tomatoes and 92% among critics.
November 1, 2000 — The SciFi series Starhunter premiered with its first episode, "The Divinity Cluster". Starring Michael Paré, Tanya Allen and Claudette Roche, it would last just two seasons and be called Starhunter 2300 in the second season. Peter Gabriel Did the music for the second season opening credits.
(11) TODAY'S BIRTHDAYS.
[Compiled by Cat Eldridge.]
Born November 1, 1882 — Edward Van Sloan. He's best remembered for his roles in three Thirties Universal Studios films of Dracula, Frankenstein  and The Mummy. He was Abraham Van Helsing in the Dracula, a role he'd done in touring production of Dracula by Hamilton Deane and John L. Balderston. He would be in a number of other horror films though none remembered as well as these. (Died 1964.)
Born November 1, 1897 — Naomi Mary Margaret Mitchison, Baroness Mitchison, CBE (née Haldane). Author of many historical novels with genre trappings such as The Corn King and the Spring Queen and The Bull Calves but also new wave SF such as Memoirs of a Spacewoman.
Born November 1, 1917 — Zenna Henderson. Her first story was published in The Magazine of Fantasy & Science Fiction in 1951.  The People series appeared in magazines and anthologies, as well as the stitched-together Pilgrimage: The Book of the People and The People: No Different Flesh. Other volumes include The People Collection and Ingathering: The Complete People Stories. She was nominated for a Hugo Award in 1959 for her novelette "Captivity." Her story "Pottage" was made into the 1972 ABC-TV movie, The People.  "Hush" became an episode of George A. Romero's Tales from the Darkside which first aired in 1988. (Died 1983.)
Born November 1, 1923 — Gordon R. Dickson. Truly one of the best writers of both Science Fiction and Fantasy. I won't even begin to go into his stellar career in any detail as that would require a skald to do so. His first published speculative fiction was the short story "Trespass!", written with with Poul Anderson, in the Spring 1950 issue of Fantastic Stories which was the first issue of Fantastic Story Magazine as it came to be titled. Childe Cycle involving the Dorsai is his best-known series and the Hoka are certainly his silliest creation. I'm very, very fond of his Dragon Knight series which I think reflects his interest in that history. (Died 2001.)
Born November 1, 1941 — Robert Foxworth, 78. He's been on quite a number of genre shows including The Questor Tapes,seaQuest DSV, Deep Space Nine, Outer Limits, Enterprise, Stargate SG-1 and Babylon 5. His first genre role was as Dr. Victor Frankenstein in Frankenstein where Bo Swenson played the monster.
Born November 1, 1942 — Michael Fleisher. Comics writer best known for his DC Comics work of in the Seventies and Eighties on Spectre and Jonah Hex. He also has had long runs on Ghost Rider and Spider-Woman early which pulling it them on the Marvel Unlimited app shows that he is a rather good writer. (Died 2018.)
Born November 1, 1958 — Rachel Ticotin, 61. Melina in Total Recall. (Anyone see the remake?) She voiced Capt. Maria Chavez in the most excellent animated Gargoyles series. She hasn't done a lot of acting but she was Charbonnet / Lilian in "Staited in Horror", a Tales from The Crypt episode, and Theodora 'Teddi' Madden in "Mona Lisa", an Outer Limits episode.
Born November 1, 1959 — Susanna Clarke, 60. Author of Jonathan Strange & Mr Norrell which I think wins my award for the most-footnoted work in genre literature. It won the World Fantasy, Nebula, Locus, Mythopoeic and Hugo Awards for Best Novel. It was adapted into a BBC series and optioned for a film. The Ladies of Grace Adieu and Other Stories collects her short works and is splendid indeed.
Born November 1, 1973 — Aishwarya Rai, 46. Indian actress who's done two SF films in India, the Tamil language Enthiran (translates as Robot) in which she's Sana, the protagonist's medical student girlfriend, and Mala in Action Replayy, a Hindi-language SF romantic comedy. She was also Sonia in The Pink Panther 2.
Born November 1, 1984 — Natalia Tena, 35. She played Nymphadora Tonks in the Harry Potter film franchise, and was the wildling Osha in Game of Thrones. She was also Lana Pierce on the YouTube SF series Origin which lasted one season. And, to my amazement, she was Fevvers in the stage adaptation of Angela Carter's Nights at the Circus which took place at the Kneehigh Theatre. 
(12) ATWOOD NOW A COMPANION. But not the Doctor's – the Queen's. Shelf Awareness reports a royal honor for Margaret Atwood:
On Friday, Queen Elizabeth named Margaret Atwood a member of the Order of the Companions of Honour for her services to literature, the CBC reported, adding that Atwood told British media she felt "a bit emotional" in the presence of the Queen while accepting the prestigious accolade during an investiture ceremony at Windsor Castle. The Royal Family's Twitter account noted the event: ".@MargaretAtwood was made a Companion of Honour by Her Majesty for Services to Literature. #Investiture."

"When you see the Queen at her age and her schedule that she puts out, it's an inspiration to everybody, you just keep going," Atwood said after the ceremony.

Founded by King George V in 1917, the Companion of Honour is an award for those who have made a major contribution to the arts, science, medicine, or government over a long period.
(13) CRADLE OF GOLDEN AGE SF. In "Heinlein and Butler Revisited", Steve Fahnestalk tells Amazing Stories readers about the time he visited Heinlein's Missouri home town.
…Knowing that I would be driving to Missouri that summer, Spider [Robinson] asked me if I would be going anywhere near Butler and, if so, could I take some photos of the Heinlein wing of the public library. For reasons of my own not related to RAH, I was indeed going to Butler itself, so I said, "Sure!" and on June 15 of 2013, we drove into the almost prototypical little mid-American town. This town looks like something Ray Bradbury wrote, with a bandstand (Figure 2) on the town square across from the courthouse. I almost expected to see Mr. Dark and the Dust Witch! Or maybe even the story "You Know They Got a Hell of a Band" by Stephen King!
(14) HALLOWEEN IS OVER. And James Davis Nicoll announces he's "So Tired of All These Gormenghast Costumes, Year After Year…" at Tor.com.
…I do know how important Tékumel and Gormenghast are to people. Tékumel was, after all, one of the earliest in-depth roleplaying game settings, the first that offered worldbuilding with the depth of J. R. R. Tolkien's popular works without being in any way derivative. (This was important for RPG companies fearing letters from Professor Tolkien's estate's lawyers … who are fine people, of course! No offense intended.) Obviously, had anyone tried a Lord of the Rings knock-off that featured Hobbits renamed "Halflets" or some such thing, the game might have survived a legal challenge… However, no roleplaying game company back then had the cash to test the theory. Empire of the Petal Throne pointed the way and other companies have followed.
(15) IN THE SPIRIT. There are lots of photos to go with BBC's article "Harry Potter: How one drag queen became 31 JK Rowling characters".
Some people might know Jaremi Carey as drag queen Phi Phi O'Hara.

Others might recognise him as Hermione Granger, Professor McGonagall, Dobby, Sirius Black or Rubeus Hagrid from the Harry Potter movies.

That's because he's spent October 2019 sharing photos of his transformations into some of JK Rowling's fantasy characters on social media.

"I'm a Harry Potter fan first off, so it wasn't a stretch for me to do," Jaremi tells Radio 1 Newsbeat.

He'd already been performing as Helena Bonham Carter's character, Bellatrix Lestrange, in his live shows, and the idea for something bigger and more magical came to him during a trip to the UK.
(16) KAIJU HERDER. "Godzilla's Conscience: The Monstrous Humanism of Ishiro Honda" – Criterion traces the director's impressive career.
… Honda… would forge a unique path as Japan's foremost director of kaiju eiga, or giant-monster movies. While the works of Kurosawa et al. were limited to art-house distribution abroad, Honda's films played to mainstream moviegoing audiences in the U.S. and across the West, and they have subsequently become ensconced in the pop-culture pantheon. Honda's influence is undeniable: as one of the creators of the modern disaster film, he helped set the template for countless blockbusters to follow, and a wide array of filmmakers—including John Carpenter, Martin Scorsese, Tim Burton, and Guillermo del Toro—have expressed their admiration for his work. Yet the full scale of his achievements has only recently begun to be appreciated.

But it all started with Honda's sober-minded approach to the original Godzilla. Other directors had begged off the project, believing it was ridiculous, and that it would likely end up a laughingstock. But to Honda, this was no joke….
(17) ANSWER BACK. BBC is there when "Disney boss Bob Iger talks Star Wars, Marvel and Martin Scorsese".
Since becoming chief executive of The Walt Disney Company in 2005, Bob Iger has masterminded the Mouse House's growth into an entertainment empire with the takeovers of Pixar, Marvel, Lucasfilm and 21st Century Fox….

Following the publication of his memoir, titled The Ride of a Lifetime (Disney does theme parks too), he gave his only UK interview to BBC media editor Amol Rajan.

Here are five key things he said, including why "less is more" in the Star Wars universe, why Martin Scorsese was wrong to compare Marvel films to theme parks, and why Disney didn't go through with a deal to buy Twitter.

…The legendary Taxi Driver and Goodfellas director recently put the boot into Marvel by saying they are closer to theme parks than real films because it "isn't the cinema of human beings trying to convey emotional, psychological experiences to another human being".

"Ouch!" is Iger's reply. "Martin Scorsese is a great film-maker. I admire him immensely. He's made some great films. I would debate him on this subject. First of all, Marvel's making movies. They're movies. That's what Martin Scorsese makes. And they're good movies."

He goes on: "I don't think he's ever seen a Marvel film. Anyone who's seen a Marvel film could not in all truth make that statement."
(18) BREAKFAST IS SERVED. Daniel Dern says, "I'm not sure I'l like this on a phone, or on a tablet, on a TV, or on a credenza…" Netflix will launch its Seussian Green Eggs & Ham series on November 8.
Heroes aren't born, they're poached, scrambled, and fried… Green Eggs and Ham, serving November 8, only on Netflix. The story you know is just the start. This new adventure is off the charts. Hit the road with a whole new crew. There's Sam, Guy, and a Chickeraffe too. But how'd we turn this 50-word, Seussian spiel into a 13-episode meal? Our recipe starts "Here" and definitely goes "There." We added a "Box" full of "Fox", a "Boat" load of "Goat," and a "Mouse," on the "House." Try it in the "Rain" on a "Train" or go far in your "Car" to find a spot to park and stream it in the "Dark." Because, in case you were unaware, this show's miles ahead of "Anywhere!"
[Thanks to John King Tarpinian, JJ, Cat Eldridge, Chip Hitchcock, Martin Morse Wooster, Mike Kennedy, Daniel Dern, SF Concatenaion's Jonathan Cowie, Mlex, and Andrew Porter for some of these stories. Title credit belongs to File 770 contributing editor of the day Jon Meltzer.]