(1) OMENANA. The new issue of Omenana Speculative Fiction Magazine is available to read online. The tri-monthly magazine takes submissions from speculative fiction writers from across Africa and the African Diaspora.
Omenana is the Igbo word for divinity – it also loosely translates as "culture" – and embodies our attempt to recover our wildest stories. We are looking for well-written speculative fiction that bridges the gap between past, present and future through imagination and shakes us out of the corner we have pushed ourselves into.
(2) WINNIPEG WORLDCON BID. The Winnipeg in 2023 Worldcon bid will hold a "Question Time" Zoom session on Sunday, July 25, at 1:00pm CDT. The session will also be streamed live on their YouTube channel.
We will start off with standard questions and then take submitted questions. Questions may be submitted via our social media accounts , Discord server and our "Contact Form". During the session, questions may be submitted through Zoom and YouTube chat. As with all "Question Time", moderation will be applied.
(3) SUMMIT MEETING. There's a photo on the Chicago Worldcon Facebook page showing that Chicon 8 Chair, Helen Montgomery, and DisCon III Chair, Mary Robinette Kowal, "met up in DC yesterday for convention strategizing. They have Plans with a capital P for their attendees!"
(4) A SECOND BLACK SUPERMAN IN DEVELOPMENT. Collider reports, "Michael B. Jordan Developing His Own Black Superman Project for HBO Max".
Sources say that Outlier Society has hired a writer who is currently working on the script, though we were unable to ascertain their identity. Though it was initially unclear whether the Val-Zod project would be a movie or a limited series, sources have since reached out to clarify that as of right now, it is, in fact, being written as a limited series that Jordan will produce and possibly even star in, though he has yet to officially commit on the latter front.

As previously reported, J.J. Abrams and his company Bad Robot are set to produce a Black Superman movie for Warner Bros. that is expected to follow the Kal-El/Clark Kent version of the character. Though Clark Kent is traditionally depicted as white in the DC comics, the character will be played by a Black actor in the Bad Robot movie, which will likely be directed by a Black filmmaker, as Abrams is simply expected to produce. Author and cultural critic Ta-Nehisi Coates is already hard at work on the script for that project.

While Jordan did work with Warner Bros. on developing a Black Superman movie at one point, he recently shot down rumors that he would star in Abrams' new film, saying "I'm flattered that people have me in that conversation. It's definitely a compliment, but I'm just watching on this one."

The question is, why?

A recent editorial penned by Jamie Broadnax for Black Girl Nerds provides some context and prompted Collider to do some digging, as Broadnax's sources told her that "Jordan has not wanted to engage in conversations about racebending Kal-El for the same reasons many of the fans are pushing back on the current Warner Bros. re-imagined version of Clark Kent, but that he would be interested in engaging on a Black Superman project centering on the Val-Zod storyline."
(5) CANADIAN SFF HALL OF FAME INDUCTEES. Stan Hyde, the late Monica Hughes, and Jean-Louis Trudel are the 2021 inductees into the Canadian Science Fiction and Fantasy Hall of Fame reports Robert J. Sawyer. He and Carolyn Clink, along with fellow jurors Clint Budd, Marcie Tentchoff, and Chris Sturges, made the selections. Here are excerpts from the citations (full text at the link).
Stan Hyde is an exemplar of passionate, lifelong devotion to SF&F fandom and fan activity, specifically in the areas of club organization, writing, film media, and model kit making, painting, and collecting.

Stan is also noted for the numerous articles he has written for G-Fest, a magazine devoted to the topic of Godzilla, about whom Stan is a world-renowned expert and recognized as such by Toho Studios where he is always welcome. (He visits once every two years on average.)

Monica Hughes (1925-2003), an Officer of the Order of Canada, wrote about 40 books including more than 20 that ISFDB covers as speculative fiction novels. Although she spent a large part of her life writing, she was almost fifty when her first book was published (Gold-Fever Trail: A Klondike Adventure, a Canadian historical novel.) …Invitation to the Game (Toronto: HarperCollins, 1990) won the Hal Clement Award as the year's best science fiction novel for young adults.

Jean-Louis Trudel holds degrees in physics, astronomy, and the history and philosophy of science. Since 1994, he has authored (alone or in collaboration with Yves Meynard as Laurent McAllister) three science fiction novels published in France, four fiction collections, and twenty-six young adult books published in Canada…. He has received several literary distinctions, including the "Grand Prix de la Science-Fiction et du Fantastique québécois" in 2001 and several Prix Aurora Awards.
(6) WELCOME TO THE THE TAR TAR PITS. SYFY Wire tells about "La Brea: Trailer for NBC sci-fi series strands Los Angeles family in time". "When a massive sinkhole opens in the middle of Los Angeles, those who fall find themselves in a strange world." At the risk of being a party pooper, I can see this show lasting about one week.
Can anyone explain how there's a hole in the Earth — the kind that supernaturally swallows up hapless Los Angeles residents and spits them out in the frightening primeval past? That's just the first mystery launching with NBC's La Brea, the highly awaited sci-fi series that's set to make its TV debut this fall….

On the other side of the time warp are Gavin's wife and son, all while a "disparate group of strangers" work alongside the family's stranded half to "uncover the mystery of where they are and if there is a way back home," according to NBC's earlier series description. Are all these stuck strangers merely the random victims of fate, or might they be connected by something deeper?
(7) NOW STARRING. "John Barrowman sparks backlash after tagging M Night Shyamalan in criticism about his new film Old" – The Independent has the story.
Torchwood star John Barrowman has attracted criticism for a negative social media post about M Night Shyamalan's new film, Old.

The actor repeatedly called the film "s****", and claimed that he had received a refund after seeing it in a cinema, in a message which tagged Shyamalan himself.

Old is directed by Shyamalan (The Sixth Sense) and tells the story of an island where people age extremely rapidly….
(8) A QUOTATION. "There is no trick or cunning, no art or recipe, by which you can have in your writing that which you do not possess in yourself." —Walt Whitman
(9) BACK TO THE ORIGINAL FUTURE. The Hollywood Reporter says "'Back to the Future' Writer Asks Universal to Destroy Censored Version of Sequel". Like they say, it's the cover-up that gets people in trouble.
Bob Gale is asking fans not to be too hard on Netflix for a censored version of Back to the Future: Part II, which was streaming for a short while.

Fans of the series were irate when they discovered a tiny portion of the 1989 sequel was changed, poorly. It has since been replaced with the standard version. The alteration happened when Marty (Michael J. Fox) finds the Oh La La magazine within the sports almanac dustcover. The moment was cut short, with the cover of the magazine edited out.

Gale, the screenwriter of the beloved trilogy, explained what happened and why it was not Netflix's fault.
(10) PATRICIA KENNEALY-MORRISON (1946-2021). Author Patricia Kennealy-Morrison died a few days ago reported Liz Williams on Facebook. She wrote eight books and a collection of short stories in her genre series The Keltiad. She also wrote the Rennie Stride mystery series. She was a widely-read rock journalist, and widow of the late Jim Morrison of The Doors.
(11) MEMORY LANE.
2003 – Eighteen years ago at Torcon 3, Neil Gaiman wins a Hugo Novella for Coraline. (Other nominated works were "Bronte's Egg" by Richard Chwedyk, "Breathmoss" by Ian R. MacLeod, "A Year in the Linear City" by Paul Di Filippo, "The Political Officer" by Charles Coleman Finlay and "In Spirit" by Pat Forde.) It also won a Nebula, a Locus Award for Best Young Adult Book and a BSFA Award for Short Fiction, along with a Stoker for Superior Achievement in a Work for Young Readers. It would become an animated film written and directed by Henry Selick, and both musicals and operas were based off it.
(12) TODAY'S BIRTHDAYS.
[Compiled by Cat Eldridge.]
Born July 24, 1878 — Lord Dunsany whose full name and title was a jaw dropping Edward John Moreton Drax Plunkett, 18th Baron of Dunsany. So ISFDB lists him as genre for the Jorkens body of work among works. H'h. Gary Turner, who some of you will recognize from Golden Gryphon Press and elsewhere, reviewed The Collected Jorkens: Volumes One, Two, and Three for Green Man, so I've linked to the review here. They also list The King of Elfland's Daughter which I'm going to link to another review on Green Man as it's a audio recording with a very special guest appearance by Christopher Lee. (Died 1957.)
Born July 24, 1916 — John D. MacDonald. Though better known for the Travis McGee series which I really like, he wrote three genre novels of which I think the best by far is The Girl, the Gold Watch & Everything. He also wrote some sixty genre short stories, many of them collected in End of The Tiger which is available from the usual digital suspects. (Died 1986.)
Born July 24, 1936 — Mark Goddard, 85. Major Don West, the adversary of Dr. Zachary Smith, on Lost in Space. Other genre appearances were scant. He played an unnamed Detective in the early Eighties Strange Invaders and he showed up on an episode of The Next Step Beyond which investigated supposed hauntings as Larry Hollis in "Sins of Omission". Oh and he was an unnamed General in the Lost in Space film.
Born July 24, 1951 — Robert Hood, 70. Australian horror writer who won a William Atheling Jr. Award for Criticism or Review for "Weight of Water: Vengeance from Beyond the Grave?" and another Atheling for "Divided Kingdom: King Kong Versus Godzilla". The latter is included in David Brin and Leah Wilson's King Kong Is Back! An Unauthorized Look at One Humongous Ape.  He won a Ditmar for his Daikaiju! Giant Monster Tales collection, and an Australian Shadows Award for his Peripheral Visions: The Collected Ghost Stories.
Born July 24, 1951 — Lynda Carter, 70. Wonder Woman of course. But also Principal Powers, the headmistress of a school for superheroes in Sky High; Colonel Jessica Weaver in the vampire film Slayer;  Moira Sullivan, Chloe Sullivan's Kryptonite-empowered mother in the "Prodigy" episode of Smallville; and President Olivia Marsdin In Supergirl. She has a mid credit appearance in Wonder Woman 1984 as Asteria. 
Born July 24, 1964 — Colleen Doran, 57. Comics artist and writer. The work she's done includes Warren Ellis' Orbiter graphic novel, Wonder Woman, Legion of Superheroes, Teen Titans, the "Troll Bridge" by Neil Gaiman and her space opera series, A Distant Soil. She also did portions of The Sandman, the "Dream Country" and "A Game of You". She's tuckerized Into Sandman as the character Thessaly.
Born July 24, 1971 — Patty Jenkins, 50. Director of Wonder Woman and Wonder Woman 1984, she appears in Robert Kirkman's Secret History of Comics as herself in 'The Truth About Wonder Woman' episode. She's the director and producer of the forthcoming Star Wars film, Rogue Squadron. She'll also be directing Gal Gadot in Cleopatra. 
Born July 24, 1981 — Summer Glau, 40. An impressive run in genre roles as she's was River Tam in the Firefly series and of course the Serenity film, followed by these performances: Tess Doerner in The 4400, as Cameron in Terminator: The Sarah Connor Chronicles, Bennett Halverson in Dollhouse (is this worth seeing seeing?), Skylar Adams in Alphas, and Isabel Rochev who is The Ravager in Arrow. Her latest role is Miss Jones (The Water Wu) on The Wu Assassins series. 
(13) COMICS SECTION.
Speed Bump introduces a familiar character whose phone asks a well-known question.
(14) PEELE'S NEXT. "'Nope': Jordan Peele Unveils Title of 2022 Horror Movie" in The Hollywood Reporter. I guess that's clear enough.
(15) EYECATCHERS. See the ads for sff books that appeared in the New York Times back in the day: "Advertisements for the Otherworldy". Includes Philip K. Dick and Ray Bradbury.
Science Fiction was extraordinarily popular in the 1940s and 1950s — and so were books about U.F.O.s. Coverage of mysterious objects in the night sky was plentiful in The Times, too. On July 6, 1947, the front page featured an article headlined "Flying Saucers Mystify Experts; May Be Prank of Nature." Two days later, a follow-up appeared, also on the front page, with a more provocative headline: "'Disks' Soar Over New York, Now Seen Aloft in All Colors." It should perhaps come as no surprise that those years saw the Book Review filled with ads looking to sate this interest in the extraterrestrial and dystopian.
(16) LOOKS FAMILIAR. [Item by David Doering.] Surely this design is no accident! Whoever designed this high school in PA deserves a medal. (Or at least a Hugo.) I wonder if the school mascot is the Falcon??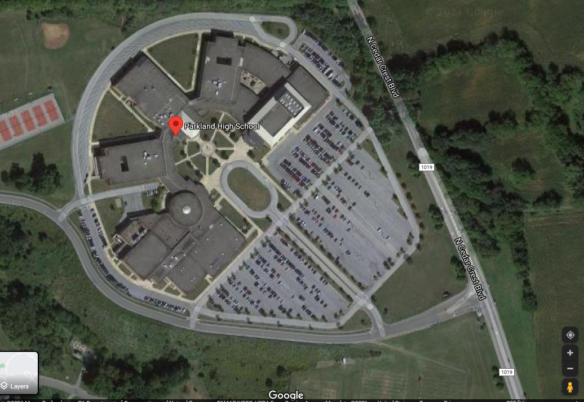 (17) NOLAN APPRECIATION. Mr. Sci-Fi, Marc Scott Zicree, in "Logan's Run Writer Passes Away", remembers the help William F. Nolan gave him when Zicree was researching his Twilight Zone book.
…And he was an astonishing man. He was basically — the great thing about Bill Nolan was not only was he very articulate and very enthusiastic but he had kept notes on everything and recordings on everything and so he knew an enormous amount about Charles Beaumont and Ray Bradbury and all of these characters who were central to what i was working on but also central to science fiction…
(18) TALK TO THE DOCTOR. Louis Moorhouse, a blind fan who's been raising money for Living Paintings, to make a set of Touch to See books about Doctor Who, interviews Tom Baker in this YouTube video.
Blind Doctor Who super fan meets one of his heroes, Tom Baker, thanks to inspirational fundraising campaign. Louis,19, from Bradford, has been blind since he was 18 months old. A few weeks ago, Louis launched a fundraising campaign on Crowd Funder in an attempt to raise £15,000 to make it possible for a charity, Living Paintings, to make a set of Touch to See books which will bring him and other blind and partially sighted people closer to the incredible world of Doctor Who. Having blasted through his first fundraising target Louis is now looking to raise an incredible total £25,000 to support the charity that has helped him since he was two years old. Louis says of his motivation to carry on with the campaign:"Living Paintings has had such a hugely positive impact on my life, from the first time I received a book and found out what Thomas the Tank Engine looks like (until then I had no idea what a train with a face could possibly mean), to helping me learn to read and express myself. I wouldn't be who I am today without this wonderful charity and I hope people continue to support me on this journey so I can help other children facing the struggles I overcame with their help." Louis and Living Paintings have been overwhelmed by the support shown by the Doctor Who community and this week he met one of his favourite ever Doctors on Zoom, the wonderful Tom Baker.
(19) MUSIC OF THE SPHERES. This is a NASA video that dropped on July 14 about June flybys of Jupiter and Ganymede.
[Thanks to Andrew Porter, Martin Morse Wooster, JJ, Jannie Shea, David K.M. Klaus, David Doering, Michael Toman, John King Tarpinian, Cat Eldridge and Mike Kennedy for some of these stories. Title credit belongs to contributing editor of the day Tom Becker.]