(1) IT WASN'T THE HOBBIT. What turned Stephen Colbert into a voracious reader? Science fiction. Specifically, Niven, Asimov, Heinlein, Pohl and more. See "Team Hobbit or Lord of the Rings?" on TikTok.
(2) SETTING THE RECORD STRAIGHT. Concerning a Slate critic's claim about Tolkien's elves, here's Kalimac's response from "Ross Douthat writes a fantasy novel".
…Tolkien's elves…. only … "essentially good" in the … sense in which they're broadly good, they're more good than bad, they aspire to goodness. Read the Silmarillion and you'll find plenty of elves behaving extremely badly, and a few who are evil the way that Saruman in Lord of the Rings is evil. The reason you don't find elves like that in Lord of the Rings is that the elves are chastened by their earlier experiences, the ones recounted in the Silmarillion, and aren't going to make the same mistake again….
(3) SPECULATIVE POETS AT COLLAGE. [Item by Denise Dumars.] Science Fiction and Fantasy fan? Poetry fan? Why not try both together? You will get to do so when members of the Science Fiction and Fantasy Poetry Association (SFPA) read their work and discuss the topic at Collage: a place for Art and Culture. You'll also learn how to join the SFPA and how to find markets for your own poetry in the genres by writers who have published in numerous journals both print and online. Come join us on Sunday, January 15, at 2:00 p.m.. Collage is located at the south end of the Harbor Freeway, at 731 S. Pacific Ave., San Pedro, CA, 90731.
Speakers:
(4) PIEZOELECTRIC BOOGALOO. A New York Times writer says, "'M3GAN' Makes Us Ask (Again): Who's Afraid of Dancing Robots?"
…"When you see the Boston Dynamics robots dancing in perfect unison," Johnstone said, "it's almost like them looking at us and saying, 'We can do what you do, and we can do it better,' in the most obnoxious way." He chuckled. "Like they're going to sashay their way toward the extermination of all humanity."

M3GAN's ice-cold, ruthlessly calculated "performance" stands in contrast to the human dancing in some recent horror films, where flesh-and-bone bodies reach states of overheated delirium. The choreographer, director and writer Jack Ferver, who worked on the coming horror movie "The Parenting," said dance horror is effective when the person dancing "transcends their personhood."

But what does that mean for a nonperson? Robots aren't dead behind the eyes because they're in some kind of ecstatic trance; they're dead behind the eyes because they're not alive….
(5) MEMORY LANE.
1964 — [Compiled by Cat Eldridge.] Roald Dahl's Charlie and the Chocolate Factory
No. We are not here to talk about the stellar Willy Wonka and the Chocolate Factory film but rather about the source material that inspired it, Roald Dahl's Charlie and the Chocolate Factory novel. It was first published in the U.K. by George Allen & Unwin in 1964 with this edition illustrated by Faith Jaques. (Yes, the US edition was first but we think this one should be considered the true first for reasons below.)
She was renowned for her work as a children's book author, illustrator, artist, stamp designer and a very fierce advocate of artists' rights for control of their work. She was chosen to do the British edition following the controversy over the depiction of the Oompa-Loompas in the US edition of the book where they were African pygmies. Racism at its very worst.
In this edition, as well as the subsequent sequel, Charlie and the Great Glass Elevator, was written by Dahl in 1971, the Oompa-Loompas were drawn as being white and appearing similar to hippies and the references to Africa were deleted. All other editions followed this convention.
The story was said to based on Dahl's experience of chocolate companies including Cadbury during his schooldays sending packages to the schoolchildren in exchange for their opinions on the new products. Popular belief was that the companies sent spies into each other's factories to scope out new chocolates.
Because of these practices, companies became highly protective of their chocolate making. It was a combination of this secrecy and the elaborate, often gigantic, machines that looked fantastical to a child that inspired him to write this novel.
There are several editions, each with a different illustrator — Joseph Schindelman (first and revised US editions); Faith Jaques (first UK edition); Michael Foreman (1985 US edition); and Quentin Blake (1995 edition).
The book as you know as been adapted into two major motion pictures: Willy Wonka & the Chocolate Factory just several years after it was published, and Charlie and the Chocolate Factory that came out about twenty years ago. A prequel film, Wonka, a musical fantasy film, exploring Willy Wonka's origins will be released in 2023. Timothée Chalamet is Willy Wonka. Really, he is.
Eric Idle narrated the audiobook version of the American Edition of Charlie and the Chocolate Factory.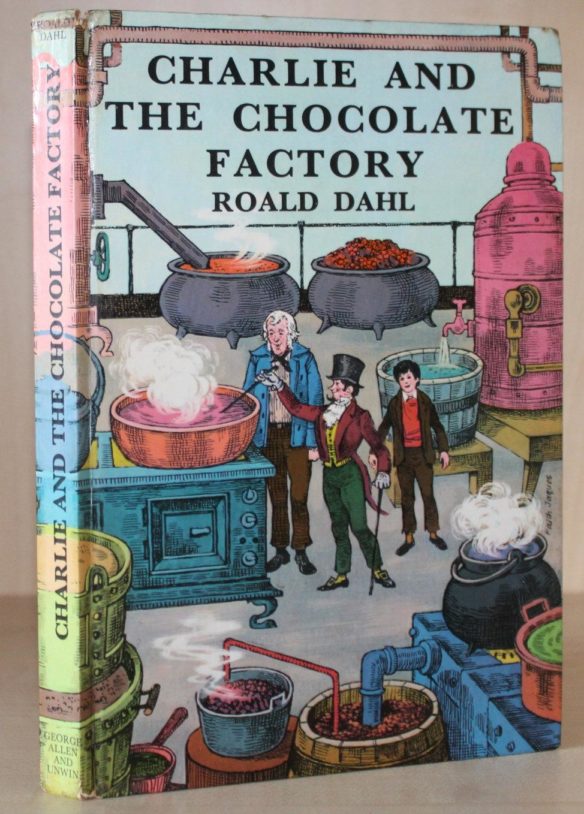 (6) TODAY'S BIRTHDAYS.
[Compiled by Cat Eldridge.]
Born January 7, 1899 — F. Orlin Tremaine. He was the Editor of Astounding from 1933 to 1937. It's said that he bought Lovecraft's At the Mountains of Madness without actually reading it. Later as Editor at Bartholomew House, he brought out the first paperback editions of Lovecraft's The Weird Shadow Over Innsmouth and The Dunwich Horror. He wrote a dozen or so short stories that were published in the pulps between 1926 and 1949. (Died 1956.)
Born January 7, 1912 — Charles Addams. Illustrator best known for the Addams Family which he first drew in 1932 and kept drawing until his death. Needless to say there have been a number of films and series using these characters of which The Addams Family is my favorite. Linda H. Davis' Charles Addams: A Cartoonist's Life is well worth seeking out and reading. (Died 1988.)
Born January 7, 1913 — Julian S. Krupa. Pulp cover and interior illustrator from 1939 to 1971 who graced Amazing Stories and Fantastic. In the Thirties, he also contributed art to fanzines, including Ad Astra. His grandson said that "his Grandfather did all the illustrations for the training films for the first Nuclear Submarines and was a friend to Admiral Rickover. And then continued to do early training films for NASA." (Died 1989.)
Born January 7, 1928 — William Peter Blatty. Novelist and screenwriter best known for The Exorcist though he was also the same for Exorcist III. The former is by no means the only genre work that he would write as his literary career would go on for forty years after this novel and would include Demons Five, Exorcists Nothing: A Fable which he renamed Demons Five, Exorcists Nothing: A Hollywood Christmas Carol and The Exorcist for the 21st Century, his final work. (Died 2017.)
Born January 7, 1955 — Karen Haber, 68. Wife of Robert Silverberg. Author Of the Fire In Winter series (first co-written with Robert) and the War Minstrels series as well. With Robert, she edited three of the exemplary Universe anthologies that Terry Carr had created. Her Meditations on Middle Earth, her essay collection on J.R.R. Tolkien is quite superb. And of course her prequel Thieves' Carnival to Leigh Brackett's The Jewel of Bas is stunning.
Born January 7, 1962 — Mark Allen Shepherd, 61. Morn, the bar patron on Deep Space Nine. Amazingly he was in Quark's bar a total of ninety-three episodes plus one episode each on Next Gen and Voyager. Technically he's uncredited in almost all of those appearances. That's pretty much his entire acting career. I'm trying to remember if he has any lines. He's also an abstract painter whose work was used frequently on DS9 sets. For all practical purposes, this was his acting career. Do note that we saw more Lurians on Discovery showing that the species is still around even in the 32nd century.
Born January 7, 1971 — Jeremy Renner, 52. You know him as Hawkeye in those MCU films but he's also in a number of other SFF film including Hansel and Gretel: Witch Hunters, Mission: Impossible – Ghost Protocol, Mission: Impossible – Rogue Nation and Arrival.
(7) COMICS SECTION.
Catching up with Tom Gauld –
(8) THEY MADE MARVEL. CBR.com contends these are "The 10 Most Important Comics In Marvel History". For example —
8/10 Fantastic Four #1 Brought The Heroes Back

As the superhero boom died out in the late 1940s, Timely switched to other genres, including romance, teen books, and comedy titles. In 1951, a year after Captain America was canceled, Timely became Atlas News Company and it seemed like the heroes would be gone for good.

But according to legend, a decade later Martin Goodman was playing golf with Jack Liebowitz, the then head of DC Comics when Liebowitz bragged about the company's success with their new superhero titles, most notably the Justice League of America. Goodman turned to Stan Lee and Jack Kirby to give Atlas their own superhero team, and from that discussion, the Fantastic Four, and "The Marvel Age of Comics," were born.
(9) HE'S A POE MAN FROM A POE FAMILY. "Dudley did right: Harry Melling on his evolution from Harry Potter to Edgar Allan Poe" is explained by in a Yahoo! profile.
…He first appeared at 10 years old in Sorcerer's Stone as the hero's tortuous, spoiled cousin, Dudley Dursley, and would maintain the part into his 20s.

Unlike his contemporaries, he found life on set to be quite isolating at times. "My experience was unique in terms of I wasn't in it throughout the entire shoot," the actor, 33, tells EW over Zoom from Los Angeles — now much taller and leaner compared to the plump, rosy-cheeked child with a haughty smirk movie-goers have been used to. "The earthly sequences would very much be an isolated filming block. So, I dipped in, and then I went back to school and normal life."

Melling never felt as if people would recognize him on the streets of London. "Which I kind of loved," he quickly adds. To him, fame feels like noise. He counts himself lucky that he hasn't become traditionally "famous." "Sometimes it's nice to just concentrate on the work and what excites you," he says.

Melling has been able to do just that with his life post-Potter, from his early run in theater to playing chess champ Harry Beltik in the Netflix hit The Queen's Gambit. However, one role would create a different kind of noise, the kind that would get his industry peers to notice him, if not the public. Seeing Melling as the limbless artist in 2018's The Ballad of Buster Scruggs would inspire director Scott Cooper (Out of the Furnace, Antlers) to cast the Englishman as a young Edgar Allan Poe in The Pale Blue Eye, Melling's most impressive on-screen role to date.

"I was struck by that performance," Cooper tells EW of Melling's work in Buster Scruggs. "I felt, 'My God! He would be a really terrific Edgar Allan Poe.' And as we say in Virginia, he kind of favors Poe. He looks like him."….
Melling also was interviewed by NPR: "Harry Melling on playing Edgar Allan Poe in the new movie 'The Pale Blue Eye'".
…SIMON: The film is set in 1830. But I got to begin by asking, what's Edgar Allan Poe doing at West Point?

MELLING: I know. That's what I thought, right? He was there in real life, which is extraordinary….
(10) DOOR HANGER. Found hanging on the internet…
(11) BE FREE. JUNG_E debuts on Netflix on January 20.
Humanity's hope and ultimate weapon A.I. combat warrior JUNG_E Watch her break free.
[Thanks to Andrew Porter, Michael Toman, SF Concatenation's Jonathan Cowie, Cat Eldridge, John Hertz, Andrew (not Werdna), Mike Kennedy, John King Tarpinian, and Chris Barkley for some of these stories. Title credit belongs to File 770 contributing editor of the day Daniel Dern.]