(1) RUSSIAN SF PODCAST. [Item by Nickpheas.] Mark Galeotti is a British expert on Russian affairs, with a podcast series "In Moscow's Shadows". He's also an SF fan and roleplayer, having written for RuneQuest and self published a Mythic Russia game, all sadly out of print as far as I can tell.
One of his latest podcasts has a segment on themes in Russian SF and how they shed light on the thinking of the Putin regime. In Moscow's Shadows 91: "Russian Fantasies – Putin's address to the nation and the lessons from Russian science fiction".
The SF bit starts about two thirds of the way in. There is obviously much to say about Kremlin infighting and the war in Ukraine first.
(2) GRIM AND BEAR IT. "Margaret Atwood on Loss and Storytelling" – an interview at Vanity Fair to promote her new story collection, Old Babes in the Wood.
Vanity Fair: While reading the collection, I was reminded of how many funny moments you weave into your writing, regardless of how grim the circumstances.

Margaret Atwood: In Nova Scotia, there's a tradition of deadpan lying—so, to see if you can get people to believe you—but they have that kind of humor. I think it's kind of Scottish. It's not very puritan New England, particularly, although a bunch of the family came from there. Some of them came from Scotland, and some of them came from Wales, and some of them came from France because they were Huguenots who got kicked out of France in the 18th century. We used to laugh a lot as kids at inappropriate things, and maybe it comes from that. But I think a lot of people are actually like that. Things are grim, but they're not completely hopeless.

Some of the grimmest circumstances can have an absurd bent to them, maybe.

Without a doubt. There's a very thin line between the absolutely horrific and the slapstick comedy. Pie in the face. There used to be a form of theater called Grand Guignol, which was horror theater, but it was funny too. It's funny if it's not happening to you—or anybody you love. But I don't know, there's something about rich men in fur coats slipping on a banana peel that's just funny. Of course, it's different if it's a poor person slipping on a banana peel. I think things that violate expectations—or, as somebody said to me long ago, in the English-seaside-postcard tradition, the wife hitting the husband over the head with the rolling pin is funny, but the husband hitting the wife over the head with the rolling pin, that's a different thing.
(3) SHAPERS OF WORLDS KICKSTARTER COMING MARCH 14. Edward Willett, Saskatchewan-based award-winning author of more than sixty books of science fiction, fantasy, and non-fiction for readers of all ages, is launching a Kickstarter campaign on March 14, 2023, to fundthe fourth annual anthology featuring some of the top writers of science fiction and fantasy working today, all of whom were guests on his Aurora Award-winning podcast, The Worldshapers (www.theworldshapers.com). The Kickstarter campaign can be found here: "Shapers of Worlds Volume IV by Edward Willett".
Shapers of Worlds Volume IV will feature new fiction from David Boop, Michaelbrent Collings, Roy M. Griffis, Sarah A. Hoyt, Sherrilyn Kenyon, Noah Lemelson, Mark Leslie Lefebvre, Edward M. Lerner, David Liss, Gail Z. Martin, Joshua Palmatier, Richard Paolinelli, Jean-Louis Trudel, James van Pelt, Garon Whited, and Edward Willett, plus reprints by James Kennedy, R.S. Mellette, and Lavie Tidhar. Among those authors are several international bestsellers, as well as winners and nominees for every major science fiction and fantasy literary award.

All of the authors were guests during the fourth year of The Worldshapers, where Willett interviews other science fiction and fantasy authors about their creative process.

Backers' rewards offered by the authors include numerous e-books, signed paperback and hardcover books, Tuckerizations (a backer's name used as a character name), commissioned artwork, one-on-one writing/publishing consultations, audiobooks, opportunities for online chats with authors, short-story critiques, and more.
The Kickstarter campaign goal is $12,000 CDN. Most of those funds will go to pay the authors, with the rest going to reward fulfillment, primarily the editing, layout, and printing of the book, which will be published this fall in both ebook and trade paperback formats by Willett's publishing company, Shadowpaw Press (www.shadowpawpress.com). This year, there's a special stretch goal: once the campaign reaches $17,000, $5,000 over the goal, the anthology will be illustrated, with a new black-and-white drawing for each story from Calgary, Alberta artist Wendi Nordell, who has illustrated numerous books for regional publishers including Edward Willett's science-fiction and fantasy poetry collection, I Tumble Through the Diamond Dust. [Based on a press release.]
(4) HELP WANTED. Karl Kotas hopes you can remember a book title for him.
I am trying to recall a science fiction first contact novel, possibly by a woman writer, which I read some decades ago. Normally, I have had luck searching online via sites like substack and AskMetafilter but so far I have failed.

So, let me cut to the chase and tell you what I remember:

The book began with a scene in Iceland or Finland — a man meets some children who claim to have found an elf, a very Nordic elf. The man meets this so-called elf and realizes he is not human.

As it turns out, this elf came from a ship in orbit with a strange matriarchal system system with an extreme sexual dimorphism where the females are giant and the males are tiny..

What came to my mind then are those deep sea angler fish where the females are enormous with tiny tadpolish males permanently joined to them at the cloaca.

Fairly fast, these matriarchs took a look at the ecological damage being done to the earth via overpopulation and relentless development and broadcast an ultimatum to the entire human race to shape up or else.

One of the results of this broadcast is no children were conceived or born thereafter for years. This was done via the broadcast or some sort of unexplained handwavium.

Later on the man is aboard the ship and observes the results. Cars and trucks have disappeared to be replaced by railroads and North America was rewilded back to the 17th century level with large herds of bison roaming the vast open plains.

Does this ring a bell to anyone here?
(6) MEMORY LANE.
2013 – [Compiled by Cat Eldridge.]
So let's talk about Charles de Lint's The Cats of Tanglewood Forest which is the sequel to children's children's book he did with Charles Vess, A Circle of Cats. Without giving away anything, the themes are the same, just expanded to a novel length work.
I love everything that de Lint has done and this is no exception, though is is quite different from the urban fantasy work of his that you're likely to be familiar with. This is based is the Appalachian myths that I assume he and Vess talked about. He sort of first used them in Someplace to Be Flying, but they were moved to Newford which was deliberately located nowhere. This story, and related stories are located in the Appalachian region.
Needless to say it too is illustrated by Vess. Oh is it. Illustrations beyond counting. Of Lillian, of cats, of other creatures, of the Forest. You get the idea.
It's warm, comfortable story with believable characters, human and otherwise. That's all I'll say. I is available from the usual suspects but I recommend you buy the hardcover edition instead as it's a truly remarkable book, one that you'll cherish.
Now here's its Beginning…
Once there was a forest of hickory and beech, sprucy-pine, birch and oak. It was called the Tanglewood Forest. Starting at the edge of a farmer's pasture, it seemed to go on forever, uphill and down. There were a few abandoned homesteads to be found in its reaches, overgrown and uninhabitable now, and deep in a hidden clearing there was a beech tree so old that only the hills themselves remembered the days when it was a sapling.
Above that grandfather tree, the forest marched up to the hilltops in ever-denser thickets of rhododendrons and brush until nothing stood between the trees and stars. Below it, a creek ran along the bottom of a dark narrow valley, no more than a trickle in some places, wider in others. Occasionally the water tumbled down rough staircases of stone and rounded rocks.
On a quiet day, when the wind was still, the creek could be heard all the way up to where the old beech stood. Under its branches cats would come to dream and be dreamed. Black cats and calicos, white cats and marmalade ones, too. Sometimes they exchanged gossip or told stories about L'il Pater, the trickster cat. More often they lay in a drowsy circle around the fat trunk of the ancient beech that spread its boughs above them. Then one of them might tell a story of the old and powerful Father of Cats, and though the sun might still be high and the day warm, they would shiver and groom themselves with nervous tongues.
But they hadn't yet gathered the day the orphan girl fell asleep among the beech's roots, nestling in the weeds and long grass like the gangly, tousle-haired girl she was.
Her name was Lillian Kindred.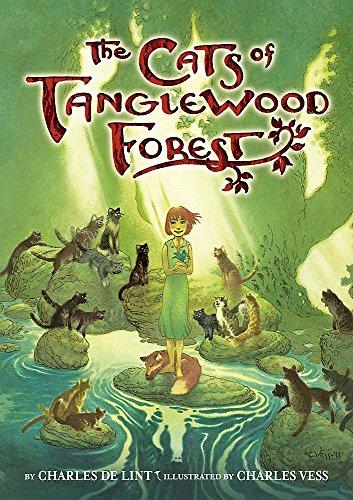 (7) TODAY'S BIRTHDAYS.
[Compiled by Cat Eldridge.]
Born March 7, 1934 — Gray Morrow. He was an illustrator of comics and paperback books. He is co-creator of the Marvel Comics' Man-Thing with writers Roy Thomas and Gerry Conway, and co-creator of DC Comics' El Diablo with writer Robert Kanigher. If you can find a copy, The Illustrated Roger Zelazny he did in collaboration with Zelazny is most excellent. ISFDB notes that he and James Lawrence did a novel called Buck Rogers in the 25th Century. No idea if it was tied into the series which came out the next year. (Died 2001.)
Born March 7, 1942 — Paul Preuss, 81. I know I've read all of the Venus Prime series written by him off the Clarke stories. I am fairly sure I read all of them when I was in Sri Lanka where they were popular. I don't think I've read anything else by him.
Born March 7, 1944 — Stanley Schmidt, 79. Between 1978 and 2012 he served as editor of Analog Science Fiction and Fact magazine, an amazing feat by any standard! He was nominated for the Hugo Award for Best Professional Editor every year from 1980 through 2006 (its final year), and for the Hugo Award for Best Editor Short Form every year from 2007 (its first year) through 2013 with him winning in 2013.  He's also an accomplished author with more than a dozen to his name. I know I've read him but I can't recall which novels in specific right now. 
Born March 7, 1945 — Elizabeth Moon, 78. I'll let JJ have the say on her: "I've got all of the Serrano books waiting for when I'm ready to read them. But I have read all of the Kylara Vatta books — the first quintology which are Vatta's War, and the two that have been published so far in Vatta's Peace. I absolutely loved them — enough that I might be willing to break my 'no re-reads' rule to do the first 5 again at some point. Vatta is a competent but flawed character, with smarts and courage and integrity, and Moon has built a large, complex universe to hold her adventures. The stories also feature a secondary character who is an older woman; age-wise she is 'elderly,' but in terms of intelligence and capability, she is extremely smart and competent — and such characters are pretty rare in science fiction, and much to be appreciated."
Born March 7, 1955 — Michael Jan Friedman, 68. Author of nearly sixty books of genre fiction, mostly media tie-ins. He's written nearly forty Trek novels alone covering DS9, Starfleet Academy, Next Gen, Original Series and Enterprise. He's also done work with Star Wars, Aliens, Predators, Lois & Clark: The New Adventures of Superman, Batman and Robin and many others. He's also done quite a bit of writing for DC, mostly media-ins but not all as I see Superman, Flash and Justice League among his credits.
Born March 7, 1967 — Ari Berk, 56. Folklorist, artist, writer and scholar of literature and comparative myth. Damn great person as well. I doubt you've heard of The Runes of Elfland he did with Brian Froud so I've linked to the Green Man review of it here. He also had a review column in the now defunct Realms of Fantasy that had such articles as "Back Over the Wall – Charles Vess Revisits the World of Stardust".
(8) HOBBLING THE HUBBLE. The New York Times reports "Hubble Telescope Faces Threat From SpaceX and Other Companies' Satellites".
Private companies are launching thousands of satellites that are photobombing the telescope — producing long bright streaks and curves of light that can be impossible to remove. And the problem is only getting worse.

A study, published Thursday in the journal Nature Astronomy, reveals an increase in the percentage of images recorded by the Hubble that are spoiled by passing satellites. And the data goes only through 2021. Thousands more satellites have been launched since then by SpaceX and other companies, and many more are expected to go to orbit in the years ahead, affecting the Hubble and potentially other telescopes in space.

"We're going to be living with this problem. And astronomy will be impacted," said Jonathan McDowell, an astronomer at the Harvard-Smithsonian Center for Astrophysics who was not involved in the study. "There will be science that can't be done. There will be science that's significantly more expensive to do. There will be things that we miss."…
(9) SOME GOOD NEWS ABOUT AI. [Item by SF Concatenation's Jonathan Cowie.] An article on the Nature website explains how an artificial-intelligence model trialled in Chile's Atacama Desert could one day detect signs of life on other planets. "Astrobiologists train an AI to find life on Mars".
Artificial intelligence (AI) and machine learning could revolutionize the search for life on other planets. But before these tools can tackle distant locales such as Mars, they need to be tested here on Earth.

A team of researchers have successfully trained an AI to map biosignatures — any feature which provides evidence of past or present life — in a three-square-kilometre area of Chile's Atacama Desert. The AI substantially reduced the area the team needed to search and boosted the likelihood of finding living organisms in one of the driest places on the planet. The results were reported on 6 March in Nature Astronomy…

….Ultimately, Warren-Rhodes says she would like to see a comprehensive database of different Mars analogues that could feed valuable information to mission scientists planning their next sampling run. Her team's advance, she adds, might appear "deceptively simple" to anyone who grew up watching Star Trek explorers scanning alien worlds with a tricorder. But, it represents an important advance in extraterrestrial research, in which biology has often lagged behind chemistry and geology. Imagine, for instance, virtual-reality headsets that feed mission scientists real-time data as they scan a surface, using a rover's 'eyes' to direct their activities. "To have our team make one of these first steps towards reliably detecting biosignatures using AI is exciting," she says. "It's really a momentous time."
Primary research paper abstract here here.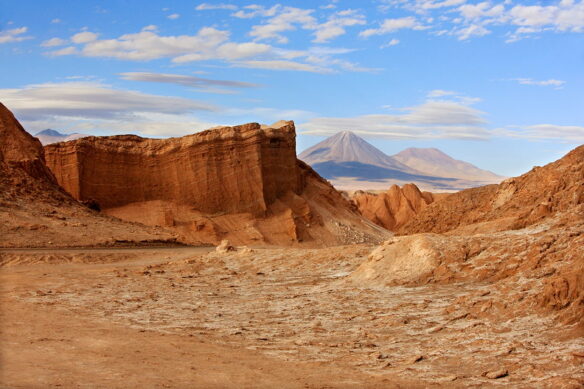 [Thanks to Mike Kennedy, John King Tarpinian, Chris Barkley, Karl Kotas, SF Concatenation's Jonathan Cowie, Andrew Porter, Michael Toman, and Cat Eldridge for some of these stories. Title credit belongs to File 770 contributing editor of the day Andrew (not Werdna).]