(1) THE DC COMICS SALE TO END ALL. Comicbook.com says "Sotheby's Selling Most Complete DC Comics Collection Ever Featuring Rare Batman and Superman Comics".
Today Sotheby announced that is will auction DC Complete: The Ian Levine Collection, a comic book collection that includes every comic book published by DC Comics from 1935 through 2016, including complete runs of Superman, Batman, Action Comics, and Detective Comics. The collection includes more than 40,000 comics that also feature Wonder Woman, The Flash, Green Lantern, Aquaman, and the Justice League. The collection is available to view now on the Sotheby's website. Sotheby's chose today to start the private sale as it marks the 81st anniversary of the release of Detective Comics #27, which included the first appearance of Batman.
It's a private sale, which means there is no public auction, just negotiations between Sotheby's specialists and one or more private buyers.* Bids are being taken starting today – here's the Sotheby's link. Download the catalog here [PDF file]. A quote about how the collection was assembled, from the auction house's article —
For a decade, Levine purchased a new copy of every DC issue he could find, while trying to fill in earlier issues. However, in pre-internet 1987, Levine despaired of finding many Golden Age comics he lacked, and decided to sell many of his best issues in order to fund his collection of Northern Soul records and Doctor Who film prints. However, reviewing his stacks of comic books with the purchaser reawakened his passion for this pop art form, and Levine bought his comics back from the dealer he had sold them to—at a 50% premium. Amassing about half of the comics DC had ever published, Levine determined to form a complete collection. Sacrificing his incomparable collection of Northern Soul records and Doctor Who prints, along with the assistance of the nascent internet and dealer, advisor, and author of The Comic Book Paul Sassienie, he achieved this ambition, which would essentially be impossible to replicate. In 2010, Levine's paramount, unique collection was utilized to supply the illustrations for Taschen's monumental publication 75 Years of DC Comics: The Art of Modern Mythmaking by Paul Levitz, the former president and publisher of DC.
(2) ASK THE EXPERTS. The Boston Globe asks futurists and SF writers to look ahead: "It actually may be the end of the world as we know it". Beware paywall.
…ANNALEE NEWITZ, science-fiction and nonfiction author, podcaster

I have a couple of scenarios I've been batting around in my head, which both feel equally plausible at this point.

Scenario One: As more people hunker down at home, more of our most vital and personal activities will have to go online. Lots of people are learning how to have serious meetings remotely, and how to work as teams in group chat.

Then there's the arguably more psychologically vital stuff: I've been playing Dungeons & Dragons with my gamer group using videoconferencing, and watching TV with a housebound, high-risk loved one by hitting play at the same time on a TV episode and videochatting with him at the same time.

I'm not alone. A lot of us are cut off from our loved ones right now, and online connection is all we have. Suddenly "online" doesn't feel like a fantasy realm. It's our social fabric. The online world is going to become a fully robust public space, and we won't want to see garbage and detritus everywhere. We will finally start to see social media companies taking responsibility for what's on their platforms — information will need to be accurate, or people will die.

…Scenario Two: The pandemic rips through the population, aided in part by contradictory messages from state and federal governments, as well as misinformation online. As social groups and families are torn apart by disease and unemployment, people look increasingly to social media for radical solutions: violent uprisings, internment camps for immigrants and other "suspicious" groups, and off-the-grid cults that promise sanctuary from death.
(3) HAS THE JURY REACHED A VERDICT? James Davis Nicoll's Young People Read Old SFF panel considers "Rediscovery: Of All Possible Worlds, Rosel George Brown".
This is the second Brown featured in Rediscovery. As mentioned last month, Brown was a promising author whose career was cut short by her death in 1967. I don't have much to add to that, except to wonder if my Young People will enjoy this story more than they did the previous one.
(4) WHO WAS THAT MASKED FAN? John King Tarpinian has already ordered "Classic Monster Aloha Safety Mask". Get yours for a mere $9.95. More styles here. And they sell matching shirts for some of them — Daniel Dern says "I've got the first two in that were shown in this post."
Introducing Aloha Safety Face masks!! Hawaiian Printed Masks that are fashionable , fun, and made in the USA!!
And just like that, my shirt factory has shifted production, retooled, and is making much needed face masks for hospitals and clinics. We are all proud to be part of the effort to in the corona-virus fight and provide protective gear to Doctors, Nurses, and hospital staff, who in my eyes are the front line soldiers in this global pandemic.Due to the unprecedented demand for masks, healthcare system completely lacks the needed supplies and we are on a mission to outfit them.

While they are our priority so is the safety of my friends, neighbors, and countrymen. Many people with elderly parents, respiratory illnesses, diabetes, are at high risk, or want to protect their families have reached out. I know it's hard to find masks of any kind anywhere.
(5) NEW ZEALAND. This year's Worldcon, CoNZealand, has already announced they're going virtual. The need for the decision can only be reinforced by the Prime Minister's statement today: "Coronavirus: Jacinda Ardern warns border restrictions will exist for some time".
Prime Minister Jacinda Ardern has warned New Zealanders should get used to border restrictions in New Zealand and overseas, saying they're likely to be in place "for some time".

She said border restrictions overseas would likely persist until a vaccine for the novel coronavirus, believed to be one year to eighteen months away at the earliest – some vaccines take a decade to develop.

"We will be having to manage covid-19 for months, until of course there is a vaccine and that will be many months," she said.

Ardern told RNZ: "I'm anticipating border restrictions for some time."
(6) WRITING THEIR WAY OUT. Melinda Snodgrass, Robert Vardeman, and Walter Jon Williams answered the Albuquerque Journal's questions in "Science fact & fiction: Three New Mexico authors see parallels between the genre they write and the current world situation".
Life as it is now – with most of us confined to home, getting out only for a walk in the sunshine or a quick trip to pick up mail, prescriptions, another bottle of water, an extra loaf of bread – is something we might have read about in a science fiction novel, seen on TV or at the movies but never before experienced personally to the extent we are dealing with now.

"I feel like I'm in what (science fiction author) Brian Aldiss called a cozy catastrophe," said Walter Jon Williams, a writer of science fiction and fantasy who lives in Belen. "We have clothing, shelter, enough food in the fridge to last a month, and everything works. But everyone is gone. We just don't see people. I went for a walk to the park today and saw one person."
(7) SWIPER, NO SWIPING. Publishers Weekly boosts the signal as "Authors Guild, AAP Outraged by IA's 'National Emergency Library'".
The outcry from publisher and author groups has been swift and furious after the Internet Archive announced last week the launch of it's National Emergency Library, which has removed access restrictions for some 1.4 million scans of mostly 20th century books in the IA's Open Library initiative, making the scans available for unlimited borrowing during the Covid-19 Outbreak.

"We are stunned by the Internet Archive's aggressive, unlawful, and opportunistic attack on the rights of authors and publishers in the midst of the novel coronavirus pandemic," reads a March 27 statement from Association of American Publishers president and CEO Maria Pallante, adding that publishers are already "working tirelessly to support the public with numerous, innovative, and socially-aware programs that address every side of the crisis: providing free global access to research and medical journals that pertain to the virus; complementary digital education materials to schools and parents; and expanding powerful storytelling platforms for readers of all ages."

The Authors Guild said it too was "appalled" by the program. "[The Internet Archive] is using a global crisis to advance a copyright ideology that violates current federal law and hurts most authors," reads a March 27 statement. "It has misrepresented the nature and legality of the project through a deceptive publicity campaign. Despite giving off the impression that it is expanding access to older and public domain books, a large proportion of the books on Open Library are in fact recent in-copyright books that publishers and authors rely on for critical revenue. Acting as a piracy site—of which there already are too many—the Internet Archive tramples on authors' rights by giving away their books to the world."

In a statement on March 24, Edward Hasbrouck, co-chair of the National Writers' Union 's book division also accused the IA of "using the coronavirus pandemic as an excuse" to redistribute copyrighted works without permission or payment.

"So much for authors' incomes in a time of crisis. Do librarians and archivists really want to kick authors while our incomes are down?" Hasbrouck writes. "The argument is that students need e-books while they are staying home. But that's an argument for spending public funds to purchase or license those resources for public use — not putting the burden of providing educational materials for free on writers, illustrators, and photographers. Authors also need to eat and pay rent during this crisis."

The Internet Archive announced the National Emergency Library project on March 24, in response to the closures of libraries during the Covid-19 crisis, building upon the Internet Archive's "Controlled Digital Lending" program. …
(8) MANDEL OBIT. Playwright and screenwriter Loring Mandel died March 24. His 1959 script "Project Immortality" for Playhouse 90 got him his first Emmy nomination: "Key defense scientist Doner has cancer. Schramm is assigned to code Doner's thinking into a computer. He gets to know him as a friend, a husband and father. The project is successful, but he now knows identity is not programmable."
He was the screenwriter for Countdown, released in 1967, the year before the first Moon landing: "Desperate to reach the moon first, N.A.S.A. sends a man and shelter separately, one-way. He must find it to survive. He can't return until Apollo is ready." The movie starred James Caan and Robert Duvall.
However, as The Hollywood Reporter tribute notes, he was more famous for non-genre work: "Loring Mandel, Screenwriter and 'Advise and Consent' Playwright, Dies at 91". "Mandel earned five Emmy nominations during his career, winning twice: in 1968 for his work on an installment of CBS Playhouse and in 2001 for penning the BBC-HBO telefilm Conspiracy."
(9) TODAY IN HISTORY.
March 30, 2013 — Orphan Black premiered on BBC America in the USA and Space in Canada. Starring Tatiana Maslany as the clones, it run for five seasons and fifty episodes. It would win a Best Dramatic Presentation, Short Form Hugo at Sasquan for "By Means Which Have Never Yet Been Tried".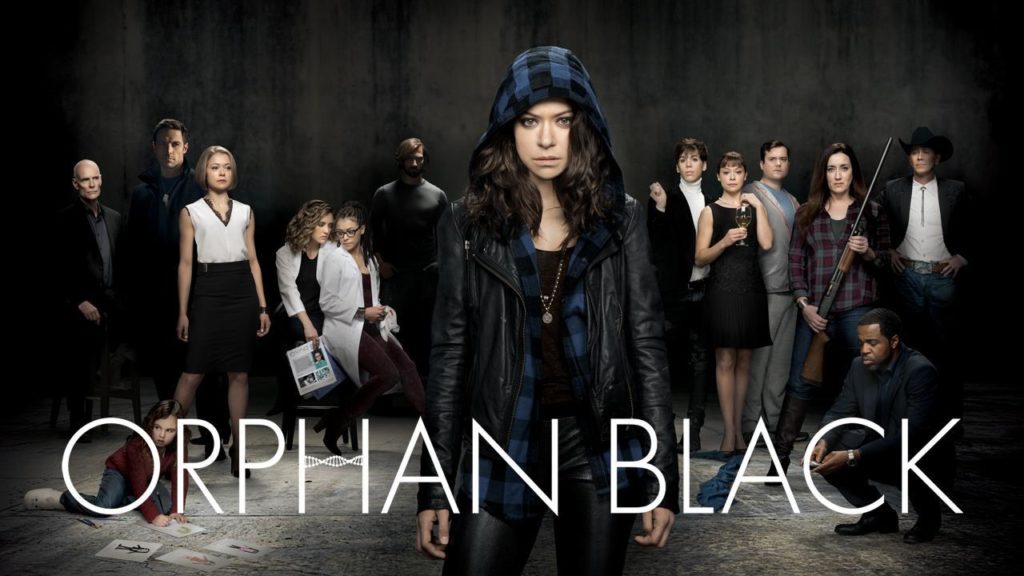 (10) TODAY'S BIRTHDAYS.
[Compiled by Cat Eldridge.]
Born March 30, 1904 — Herbert van Thal. Editor of the Pan Book of Horror Stories series that ran twenty-four volumes from 1959 to 1983. Back From the Dead: The Legacy of the Pan Book of Horror Stories is a look at the series and it contains Lest You Should Suffer Nightmares, the first biography of him written by Pan Book of Horror Stories expert Johnny Mains. (Died 1983.)
Born March 30, 1927 — Greta Thyssen. Labeled Queen of the B-Movies she appeared in a number of genre films such as The Beast of Budapest, Creature from Blood Island andJourney to the Seventh Planet. (Died 2018.)
Born March 30, 1928 — Chad Oliver. Writer of both Westerns and SF, a not uncommon occupation at that time. He considered himself an anthropological science fiction writer whose training as an academic informed his fiction, an early Le Guin if you will. Not a terribly prolific writer with just nine novels and two collections to his name over a forty-year span. Mists of Dawn, his first novel, is a YA novel which I'd recommend as it reads a lot a similar Heinlein would. (Died 1993.)
Born March 30, 1933 — Anna Ruud. Dr. ingrid Naarveg in the Three Stooges film Have Rocket — Will Travel. Hey, it is genre of a sorts. On a more serious note, she was Doctor Sigrid Bomark in 12 to the Moon. She had one-offs in Voyage to the Bottom of The Sea, The Girl from U.N.C.L.E. and The Man from U.N.C.L.E. (Died 2018.)
Born March 30, 1943 — Dennis Etchison. As editor, he received two World Fantasy Awards for Best Anthology, MetaHorror and The Museum of Horrors. As a writer, he's best remembered as a short story writer of quite tasty horror. Talking in the Dark Is his personally selected collection of his stories. (Died 2019.)
Born March 30, 1948 — Jeanne Robinson. She co-wrote the Stardance Saga with her husband Spider Robinson. To my knowledge, her only other piece of writing was 'Serendipity: Do, Some Thoughts About Collaborative Writing ' which was published in the MagiCon Program. (Died 2010.)
Born March 30, 1958 — Maurice LaMarche, 62. Voice actor primarily for such roles as Pinky and The Brain (both of which Stross makes use of) with Pinky modelled off Orson Welles, the entire cast as near as I can tell of Futurama, the villain Sylar on Heroes, the voice of Orson Welles in Ed Wood, a less serious Pepé Le Pew in Space Jam, and, though maybe not genre, he's voiced Kellogg's Froot Loops spokesbird Toucan Sam and the animated Willy Wonka character in Nestlé's Willy Wonka Candy Company commercials.
Born March 30, 1990 — Cassie Scerbo, 30. Nova Clarke in the Sharknado film series alongside Ian Ziering and Tara Reid (2013–2018). And one site listed her as being a member of the cast of Star Trek: Progeny, yet another of those video Trek fanfics.
(11) COMICS SECTION.
(12) FROM COMIC BOOKS TO HISTORY BOOKS. "Overlooked No More: Kate Worley, a Pioneer Writer of Erotic Comics". The New York Times says "Worley, who wrote Omaha the Cat Dancer, about a feline stripper, 'injected a woman's point of view' that helped the comic stand out from others in the 1980s."
…At the heart of the series was the writer Kate Worley, who gave the comic its distinctive voice and helped cultivate its wide-ranging fan base.

The character Omaha, created by the writer and artist Reed Waller, made her debut in 1978 as part of a fanzine. She eventually found her way into her own comic book, beginning in 1984. But then Waller got writer's block.

"He wasn't sure he wanted to continue," Worley wrote in an introduction to a 1989 collected edition of Omaha. So she offered some suggestions. "I chattered for some time about possible plot directions, new characters," she said.

When she was finished, Waller asked, "Would you like a job?" Worley took over as the writer, while Waller continued to draw the comic.
(13) A CLASSIC AGES GRACEFULLY. Tor.com's prolific James Davis Nicoll goes monster hunting: "Another One of Them New Worlds: Revisiting Forbidden Planet".
…United Planets cruiser C-57D, under the command of Commander John J. Adams (Leslie Nielsen), was dispatched to Altair IV to find out what had happened to an expedition that had been sent out twenty years earlier. As soon as the starship arrives in orbit, C-57D receives a transmission from the surface. There is at least one survivor of the earlier mission. To Adams' surprise, the survivor, scientist Dr. Edward Morbius (Walter Pidgeon) doesn't want to be rescued. Indeed, he warns the craft to go away if it wants to save its crew.
(14) HAULING THE FREIGHT. SpaceX has been selected as a contractor to deliver supplies to NASA's Lunar Gateway station. "NASA Awards Artemis Contract for Gateway Logistics Services".
NASA has selected SpaceX of Hawthorne, California, as the first U.S. commercial provider under the Gateway Logistics Services contract to deliver cargo, experiments and other supplies to the agency's Gateway in lunar orbit. The award is a significant step forward for NASA's Artemis program that will land the first woman and next man on the Moon by 2024 and build a sustainable human lunar presence.

At the Moon, NASA and its partners will gain the experience necessary to mount a historic human mission to Mars.

SpaceX will deliver critical pressurized and unpressurized cargo, science experiments and supplies to the Gateway, such as sample collection materials and other items the crew may need on the Gateway and during their expeditions on the lunar surface.
(15) HE AM IRON MAN. [Item by Mike Kennedy.] Should the Marvel Cinematic Universe ever decide to reboot, we may have found our new Iron Man…
(16) BEWARE THOSE DARNED SPOILERS. The Guardian's Stephen Kelly doesn't sound like a fan of the show: "Star Trek: Picard is the dark reboot that boldly goes where nobody wanted it to". And did I mention, this article HAS SPOILERS?
It is the year 2364, and Jean-Luc Picard – the revered captain of the USS Enterprise – has just come face to face with three humans who have been frozen in time since the late 20th century. By this point in the story – the 1988 finale of the first season of Star Trek: The Next Generation – he has met Klingons, Romulans, a pool of black goo, but nothing is as alien as these greedy, selfish relics.

This is Star Trek, after all: the pop-culture behemoth built on the idealistic future envisioned in the 60s by its creator Gene Roddenberry. "A lot has changed in the past 300 years," Picard tells them. "People are no longer obsessed with the accumulation of things. We've eliminated hunger, want, the need for possessions. We've grown out of our infancy."

Or have we? Revisiting the character 30 years later in Star Trek: Picard, Patrick Stewart's grand return to the role at the age of 79, it seems the world has not progressed as much as we were led to believe. Set during a time in which the Federation – a union of planets with shared democratic values and interests – has turned isolationist in response to a terror attack, it has proved to be a divisively dark, gritty and morally bleak take on the Star Trek universe….
(17) TAKE IT IN STAGES. Harvard's School of Public Health concludes that "On-again, off-again looks to be best social-distancing option".
With global coronavirus cases heading toward half a million, Harvard infectious disease experts said recent modeling shows that — absent the development of a vaccine or other intervention — a staggered pattern of social distancing would save more lives than a one-and-done strategy and avoid overwhelming hospitals while allowing immunity to build in the population.

The work, conducted by researchers at the Harvard T.H. Chan School of Public Health and led by Yonatan Grad, the Melvin J. and Geraldine L. Glimcher Assistant Professor of Immunology and Infectious Diseases, and Marc Lipsitch, professor of epidemiology, also shows that if strict social distancing such as that imposed in China — which cuts transmission by 60 percent — is relaxed, it results in epidemic peaks in the fall and winter similar in size and with similar impacts on the health care system as those in an uncontrolled epidemic.

"We looked at how it would affect the thing that matters most — overwhelming the critical-care unit," Grad said.

The problem, the researchers said, is that while strict social distancing may appear to be the most effective strategy, little population-level immunity is developed to a virus that is very likely to come around again.
(18) PUBLIC SERVICE ANNOUNCEMENTS. A lot of genre figures are getting in on the act – we learned about these three from Comicbook.com:
[Thanks to Daniel Dern, JJ, Mike Kennedy, Chip Hitchcock, John King Tarpinian, Martin Morse Wooster, Michael Toman, Michael J. Walsh, Cat Eldridge, Darrah Chavey, and Andrew Porter for some of these stories. (* )Thanks to Bill Burns for the assist. Title credit goes to File 770 contributing editor of the day Daniel Dern.]