Six suggestions from AudioFile Magazine of new and classic sff audiobooks for fans to enjoy this Fall.
AFTERMATH
by LeVar Burton | Read by LeVar Burton
[Hachette Audio | 10 hrs.]
Levar Burton's sonorous and soothing narration makes his 1997 novel, with a recent update, engaging because many of his predictions have come true. Burton is best known for playing Lt. Cmdr. Geordi La Forge on "Star Trek: The Next Generation" and for hosting the PBS program "Reading Rainbow." His sincere and forthright voice has just a bit more bass now as he ages. The story predicts a technological breakthrough that gives users extraordinary healing power, along with telepathic abilities. Burton portrays his characters with earnestness, and uses his acting and hosting experience to relate directly to listeners. This audiobook is both entertaining and uplifting.
THE WITNESS FOR THE DEAD
by Katherine Addison | Read by Liam Gerrard
[Macmillan Audio | 8.25 hrs.]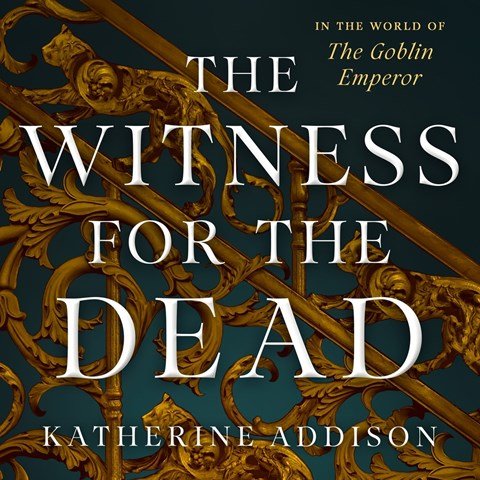 Liam Gerrard narrates a fantasy-mystery set in the world of THE GOBLIN EMPEROR. Thara Celehar, a former member of court, goes about his business as a Witness for the Dead in a far-flung province. A series of seemingly unconnected deaths causes Celehar to once again use his skills to uncover the truth. As the puzzle of the deaths slowly resolves, Gerrard tightens his narrative pace, heightening the sense of urgency as the solution is revealed. While this story is related to a previous volume, it also stands fully on its own.
VAGRANT QUEEN I: The Bezoar of Kings
by Magdalene Visaggio, Jason Smith | Read by Nanette Savard and a Full Cast
Winner of AudioFile Earphones Award
[GraphicAudio | 2 hrs.]
Narrator Nanette Savard and an ensemble of voice actors skillfully create a universe in which a queen flees from villains who fear she will try to reclaim her throne. Thanks to the wonderful narration, it's easy to get lost in the adventure. No-nonsense Queen Elida teams up with Isaac, a cocky rebel from the Han Solo School of Rogues, to steal a mind-control device from a bad guy. The full cast and generous sound effects bring the Vagrant Queen saga to life.
THE GALAXY, AND THE GROUND WITHIN
by Becky Chambers | Read by Rachel Dulude
Winner of AudioFile Earphones Award
[Harper Audio | 10 hrs.]
The fourth installment in the Wayfarers series brings listeners on a quiet space adventure. Narrator Rachel Dulude voices the mismatched entirely nonhuman crews of several spaceships who are stranded by a telecommunications accident on a remote planet. These widely varying species of sapients learn to relate to each other in bold new ways through their shared needs. Dulude moves between the robotic tones of a mechanical talk box, the bubbly excitement of a fluffy preteen quadruped, the clipped speech of an insectoid, and more.
THE CONJURING OF ZOTH-AVAREX
by K.R.R. Lockhaven | Read by Jay Spaulding
Winner of AudioFile Earphones Award
[K.R.R. Lockhaven | 7.5 hrs.]
Narrator Jay Spaulding gives a hilarious performance of this fantasy in which a dragon attempts to reign over Seattle. The Site is a magic location hidden away and overseen by the U.S. Government. On Harris Reed's first day at his new job there, his first project—the summoning of a dragon—goes awry. Spaulding nails the delivery of every joke and pun. Comical allusions, wisecracks, and well-crafted jokes abound in Spaulding's masterful performance.
SPACE: 1999
by Andrew Smith, Anthony Terpiloff, Elizabeth Barrows| Read by Mark Bonnar, Maria Teresa Creasey
Winner of AudioFile Earphones Award
[Big Finish | 3.75 hrs. Only Available here: https://www.bigfinish.com/hubs/v/space-1999]
A full cast narrates a trio of adventures featuring the Moon Base Alpha crew as they attempt to survive after being transported across space. First, the Alphans investigate a signal from a nearby planet, then a distant winter planet calls to the crew, and, finally, a perfect paradise offers a temporary respite. Dramatic scenes are filled with sound effects and music. Fans of the original Star Trek series will be pulled in by the engaging personalities and stellar writing.
SOULSTAR
by C.L. Polk | Read by Robin Miles
Winner of AudioFile Earphones Award
[Recorded Books | 12.25 hrs.]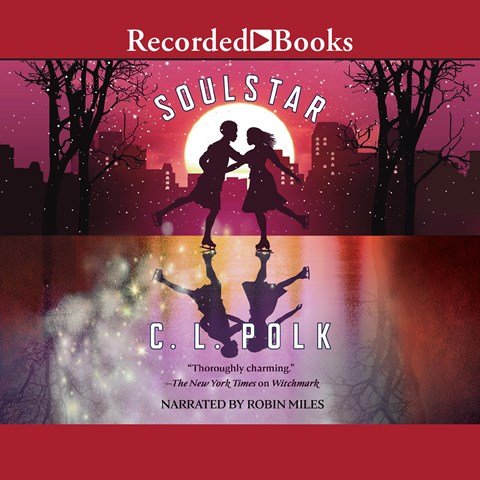 Narrator Robin Miles delivers the profound conclusion to The Kingston Cycle. Miles portrays Robin Thorpe, who has always been aware of the injustice and inequality that surround her and the other citizens of Aeland. As Thorpe takes on a new role, Miles's narration becomes more powerful and commanding, perfectly illustrating Thorpe's path to leadership. Miles's compelling narration will resonate long after the story ends, offering both hope and inspiration.
RULE OF COOL
by Matthew Siege| Read by Felicia Day
Winner of AudioFile Earphones Award
[Podium Audio | 12.5 hrs.]
Felicia Day narrates a sidesplitting literary RPG told from the perspective of the story's monsters. Raze is a gearblin—a mix of goblin and gremlin—in a game in which the players carry out quests. Using a special code, Raze casts aside her chains and gathers other monsters to face down the game's so-called heroes. Day is perfection as the strong-willed, vivacious Raze. The story balances the game mechanics of the genre with a compelling narrative that is brimming with heart.
---
"Best New Sci-Fi & Fantasy Audiobooks Fall 2021" was curated by AudioFile. AudioFile is an independent source of audiobook reviews and recommendations with a clear focus on the performance and listening experience. AudioFile Earphones Awards are given to exceptional audiobooks.