(1) WORLDCON AHEAD. CoNZealand urges members: "Fan tables and fan parties- get your application in!"
There's still time to host a fan table or fan party at the first ever Virtual Worldcon, and we encourage you to apply- but don't delay, as the registration deadline is 15th July at midnight NZT. This is to give our tech team time to make the plans they need to.

Fan tables will happen on Discord, and fan parties will be hosted via Zoom.

To learn a bit more, and apply to host a table or a party, visit our fan tables, fan parties, flyers and freebies page.
Also, "Masquerade registrations are now live". More guidelines at the link.
The first Digital WorldCon masquerade is a unique event celebrating costumes from all over the world. The Masquerade has always been a space that welcomes every kind of costuming.

…Take inspiration from how technology has connected us, socially, for work, for school, how theatre has reimagined works, and to embrace any limitations as creativity.

The Masquerade rules can be found here.

The Masquerade registration guide can be found here.

The Masquerade registration form can be found here.

Masquerade registration closes Sunday 23.59 NZST (New Zealand Standard Time) 16 July 2020.
(2) GETTING OUT THE VOTE. Camestros Felapton continues this week's series with "Hugo Fan Writer: Why you should vote for…James Davis Nicoll".
… The theme that has emerged from the Hugo-voter's collective intelligence this year is fan writers as connections between worlds. The most apparent aspect of that in James's work is his Young People Read Old SFF project (http://youngpeoplereadoldsff.com/) which puts classic science fiction stories in front of young people (or sometimes current science fiction in front of old people). As a project it is a fascinating example of how 'fan writing' exceed simple definition. The posts show how reading is a conversation with texts and with others reading those texts. James's role is to facilitate the process but by doing so the whole project turns the process of review into a deeper form of literary criticism.
(3) VIRTUAL MILEHICON. Denver's MileHiCon 52 has joined the ranks of virtual conventions.
Because we are going Virtual, we will not be able to provide all of the types of programs that we have had in the past. The art show, vendors room, and Authors Row will be available but in a totally different format. Panel discussions, presentations, readings and demonstrations will still be offered. There may also be some totally new types of programming. We will be announcing more information about the program schedule at later dates. Scroll down form more information.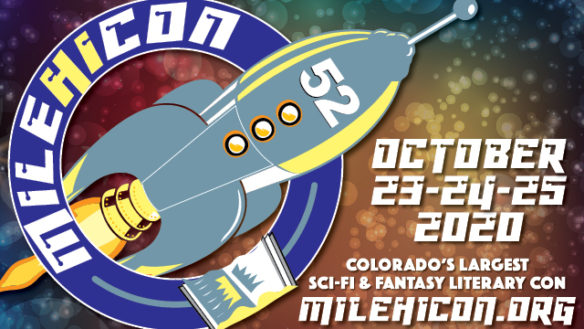 (4) DIVE, DIVE! In "Subplots: What Are They Good For?" Kay Kenyon and Cat Rambo discuss subplots and how to use them. Kenyon will be teaching the "Mapping the Labyrinth: Plotting Your Novel" class on August 2 online at the Rambo Academy for Wayward Writers. Registration and scholarship info at the link.
An outline is one of your best tools for writing a novel, but how do you figure what happens, when, where, and to whom? How do you deal with plots when they go astray and how do you weave multiple plotlines together? With series, what can you leave for future books — and how do you set events up for those books?
(5) NOT A FAN. In The New Yorker, David Roth articulates "How "Starship Troopers" Aligns with Our Moment of American Defeat" .
… For most of "Starship Troopers," humanity, in every possible facet, gets its ass kicked. A culture that reveres and communicates exclusively through violence—a culture very much like one that responds to peaceful protests with indiscriminate police brutality, or whose pandemic strategy is to "dominate" an unreasoning virus—keeps running up against its own self-imposed limitations. Once again, the present has caught up to Verhoeven's acid vision of the future. It's not a realization that anyone in the film can articulate, or seemingly even process, but the failure is plain: their society has left itself a single solution to every problem, and it doesn't work….
(6) LOOKITTHAT MOUNT TBR. Buzz Dixon says David Gerrold's new book is fun: "That's A HELLA Story".
…But the best monsters in the book aren't human but rather the megasized fauna of Hella (an old South Park joke carried to its logical conclusion, much like Niven's Mt. Lookitthat). This is the most joyous part of the story, really evocative of the grand old space opera traditions.

But it also explores territory that, if not exactly new to science fiction, certainly isn't commonplace, either….
(7) DANIELS OBIT. [Item by Danny Sichel.] Country singer Charlie Daniels — who wrote "The Devil Went Down to Georgia", which one could very easily argue is a fantasy short story — has died at the age of 83.
There's also an argument to be made that, golden fiddle or no, Jonny lost his soul the second he agreed to participate in the contest.
(8) MORRICONE OBIT. A composer who scored 500 films, Ennio Morricone, died July 6. The New York Times obituary is here: "Ennio Morricone, Influential Creator of Music for Modern Cinema, Dies at 91".
…Mr. Morricone scored many popular films of the past 40 years: Édouard Molinaro's "La Cage aux Folles" (1978), Mr. Carpenter's "The Thing" (1982), Mr. De Palma's "The Untouchables" (1987), Roman Polanski's "Frantic" (1988), Giuseppe Tornatore's "Cinema Paradiso" (1988), Wolfgang Petersen's "In the Line of Fire" (1993), and Mr. Tarantino's "The Hateful Eight" (2015).

In 2016, Mr. Morricone won his first competitive Academy Award for his score for "The Hateful Eight," an American western mystery thriller for which he also won a Golden Globe. In a career showered with honors, he had previously won an Oscar for lifetime achievement (2007) and was nominated for five other Academy Awards, and had won two Golden Globes, four Grammys and dozens of international awards.
(9) MEDIA ANNIVERSARY.
July 1976 — Gordon R. Dickson's The Dragon and the George was published by the Science Fiction Book Club. It originally appeared in The Magazine of Fantasy and Science Fiction, the September 1957 issue, as the novella "St. Dragon and the George". It would be the first in a series that would eventually reach nine titles. The Dragon and the George would win the BFA George August Derleth Fantasy Award, and was loosely adapted into the 1982 animated The Flight of Dragons, a Rankin/Bass production.
(10) TODAY'S BIRTHDAYS.
[Compiled by Cat Eldridge and John Hertz.]
Born July 6, 1755 – John Flaxman.  Sculptor and draftsman (he wrote draughtsman); began by working for Wedgwood.  We can claim his illustrations of Homer, Hesiod, Aeschylus, Dante; some of his sculpture.  For our purposes we needn't care whether angels, or the Greek gods, exist or in what sense: portrayal of them by human beings is fantastic.  Here is Homer invoking the Muse.  Here is Sleep escaping from the wrath of Jupiter (I wish JF had said Zeus, but he didn't).  Here is Apollo with four Muses.  Here is the Archangel Michael overpowering Satan.  (Died 1826) [JH]
Born July 6, 1916 — Donald R. Christensen. Animator, cartoonist, illustrator, writer. He worked briefly at Warner Bros. studio, primarily as a storyboard artist for Bob Clampett's animation unit.  After that, he worked for Dell, Gold Key and Western Publishing comic books, as well as Hanna Barbera, Walter Lantz Productions and other cartoon studios. He wrote and provided illustrations for such comic book titles as Magnus, Robot Fighter, Donald Duck, and Uncle Scrooge. (Died 2006.) (CE)
Born July 6, 1927 – Rick Sneary.  We liked what we thought his idiosyncratic spelling, and preserved it; few knew, few imagined, he was largely self-taught and wished we'd correct it.  One of his fanzines was Gripes & Growns – see?  President of the N3F (Nat'l Fantasy Fan Fed'n), chaired its board of directors; President of FAPA (Fantasy Amateur Press Ass'n) – by mail.  Locally, co-founded the Petards, who took turns as Hoist; the Outlanders, who could not always attend LASFS (L.A. Science Fantasy Soc.) meetings.  Living in South Gate, he did much for the South Gate in '58 Worldcon bid; it won; physically it had to be in Los Angeles, but by proclamation of both mayors was technically in South Gate; at the end he carried a sign "South Gate Again in 2010"; this came to pass, see File 770 153 p. 20 (PDF).  He won the LASFS Evans-Freehafer service award, wretched health and all.  Afterward June & Len Moffatt and I co-edited the memorial fanzine Button-Tack.  His name rhymed with very.  (Died 1990) [JH]
Born July 6, 1935 – Ditmar, 85.  Full name Martin James Ditmar Jenssen.  Outstanding and distinctive fanartist, most often seen on covers of Bruce Gillespie zines because BG has the tech to do him justice; see here (The Metaphysical Review), here (Scratch Pad), here (SF Commentary).  Others too, like this (PDF). The Australian SF Awards are named Ditmars after him.  Won the Rotsler Award.  [JH]
Born July 6, 1945 – Rodney Matthews, 75.  Illustrator and conceptual designer, famous for record album covers (130 of them), calendars, jigsaw puzzles, snowboards, T-shirts.  Lavender Castle, a children's animation series.  Computer games.  Lyrics and drums for a Christmas CD.  A Michael Moorcock calendar and two of his own.  Two RM Portfolios.  Five dozen book & magazine covers, six dozen interiors: here is one for Vortex; here is Rocannon's World (in Serbo-Croatian); here is his vision of Alice in Wonderland.  [JH]
Born July 6, 1945 — Burt Ward, 75. Robin in that Batman series. He reprise the role in voicing the character in The New Adventures of Batman and Legends of the Superheroes , and two recent films, Batman: Return of the Caped Crusaders and Batman vs. Two-Face. The latter are the last work done by Adam West before his death. (CE)
Born July 6, 1951 — Rick Sternbach, 69. Best-known for his work in the Trek verse starting with ST: TMP where he designed control panel layouts and signage for the Enterprise. He's next hired for Next Gen where communicator badge, phasers, PADDs and tricorders are all based on his designs. These designs will also be used on DS9 and Voyager. He also pretty much designed every starship during that time from the Cardassian and Klingon to the Voyager itself. He would win the Best Professional Artist Hugo at SunCon and IguanaCon II. (CE)
Born July 6, 1946 — Sylvester Stallone, 74. Although I think Stallone made a far-less-than-perfect Dredd, I think the look and feel of the first film was spot which was something the second film, which had a perfect Dredd in Karl Urban, utterly lacked. And Demolition Man and him as Sergeant John Spartan were just perfect. (CE)
Born July 6, 1966 – Beth Harbison, 54.  Writes fiction and cookbooks; twoscore all told. Shoe Addicts Anonymous was a New York Times Best-Seller.  If I Could Turn Back Time and Every Time You Go Away are ours.  The title Met the Wrong Man, Gave Him the Wrong Finger should give us all, as the French say, furiously to think.  [JH]
Born July 6, 1978 – Tamera & Tia Mowry, 42.  Identical twins.  Together four Twintuition novels for us; two television shows, Sister, Sister (both women won the NAACP Image Award, three Nickelodeon Kids' Choice Awards, Nickelodeon Hall of Fame) and Tia & Tamera.  Tamera, the elder (two minutes apart), won a Daytime Emmy and two NAACP Image Awards as a talk-show host on The Real; two films and two dozen other TV shows.  Tia has done eight films, thirty other TV shows; is the head coach of the Entertainment Basketball League celebrity team.  [JH]
Born July 6, 1980 — Eva Green, 40. First crosses our paths in Casino Royale as Vesper Lynd followed by Serafina Pekkala in The Golden Compass, and then Angelique Bouchard Collins in Dark Shadows. Ava Lord in Sin City: A Dame to Kill For (weird films those definitely are) with a decided move sideways into being Miss Alma Peregrine for Miss Peregrine's Home for Peculiar Children. And she was Colette Marchant in Dumbo. She's got two series roles to her credit, Morgan Pendragon in Camelot and Vanessa Ives in Penny Dreadful. (CE)
(11) SEEN IT ALREADY. PsyArXiv Preprints has posted "Pandemic Practice: Horror Fans and Morbidly Curious Individuals Are More Psychologically Resilient During the COVID-19 Pandemic".
Conducted during the COVID-19 pandemic, this study (n = 310) tested whether past and current engagement with thematically relevant media fictions, including horror and pandemic films, was associated with greater preparedness for and psychological resilience toward the pandemic. Since morbid curiosity has previously been associated with horror
(12) OKAY BOOMERS. James Davis Nicoll takes us all out to launch in "Five New Books for Fans of Spaceships, Rockets, and Occasional Explosions" at Tor.com.
I like fantasy well enough, but what warms the cockles of my heart is science fiction. Preferably with rockets. Brobdinagian space battles (or at least the potential for same) are also a plus.

Here are a few recent novels that scratch that old-fashioned itch….
(13) DISCOVERY OF THE DAY. Apparently it's been online for years — but it's news to me! A Goodreads list of the sff classics John Hertz has led discussions about at conventions: "Hertz Led Science Fiction Classics Discussed".
At a number of Worldcons and other science fiction conventions, John Hertz has organized a discussion of science fiction classics.

By his definition, "A classic is a story which survives its time which, after the currents change which might have buoyed it, is seen to be valuable in itself." He explicitly is not interested in the idea of a classic as needing to be either influential or popular. To be fair that definition may not be his personal definition, but it was the guiding principle for the discussion at sasquan in 2015.

This list is for the books that were discussed at Worldcons and other science fiction conventions as picked by John Hertz. If a book that is from that list is missing on this one, please add it. Otherwise books that can't be substantiated as being part of that process will be removed
(14) RECASTING. In the Washington Post, Sonia Rao says some white voice actors including Jenny Slate and Mike Henry (who played Cleveland Brown on Family Guy) have said they will not voice non-white characters as people are thinking about the role race should play in animation. "'The Simpsons' and 'Big Mouth' are recasting nonwhite roles. But it's about more than finding the right voices."
…Equitable casting "is being demanded to the point where people are giving up their jobs they've had for 20 years," Baker says. "In a sense, I think it's a great thing to have opportunity for diversity to come into place and be the norm. Why? Because it reflects the world. The world isn't just one-sided."

Baker co-founded the Society of Voice Arts and Sciences as a means of training, mentoring and advocating for her peers. Diversity and inclusion, mentioned in the organization's mission statement, are central to what Baker refers to as her "journey of a lifetime." White people continue to run the industry, she says. It's always been cost-effective to hire actors like Mel Blanc, nicknamed "The Man of a Thousand Voices," to play multiple characters. The overarching goal isn't to take away from these talented white actors, but to ensure that equally equipped people of color have a substantial "piece of the pie."
(15) ANOTHER ICON MOVES OVER. Food & Wine reports "Iconic Big Boy Restaurant Mascot Has Been Replaced by a Girl Named Dolly".
…Rest assured that, no, Big Boy has not done anything wrong, or been canceled for bad behavior. Rather, the switch to a female face is a pre-planned promotional move tied to an on-trend new menu item.

"We are rolling out a brand-new chicken sandwich," Frank Alessandrini, Big Boy's director of training, said according to Michigan's WOOD TV, based in the company's home state. "Dolly has been with Big Boy since as far as we can go back with our comic books […] we decided that she's going to be the star of this sandwich as Big Boy was the star of his double decker sandwich."
(16) BADGE 404. BBC reports "Hong Kong: Facebook, Google and Twitter among firms 'pausing' police help".
Facebook, WhatsApp, Twitter, Google and Telegram have all said they are "pausing" co-operation with requests for user information from the Hong Kong police.

Several countries have criticised China for imposing a new security law, which they say threatens the territory's long-standing autonomy.

The announcements are likely to put pressure on Apple to do likewise.

While the others' services are blocked in mainland China, Apple's are not.

However, Facebook, Google and Twitter do generate revenue from selling advertising to Chinese clients.

Apple complied with the majority of requests it received from Hong Kong's government between January and June, before the new law came into effect, according to the firm's latest transparency report.

Microsoft – which has also previously handed over data about its users to Hong Kong's authorities, and maintains a significant presence in mainland China – has not announced a change in policy either.
(17) THE OLD SHELL GAME. Did the Harvard Gazette tweet the news too? "When a bird brain tops Harvard students on a test".
What happens when an African grey parrot goes head-to-head with 21 Harvard students in a test measuring a type of visual memory? Put simply: The parrot moves to the head of the class.

Harvard researchers compared how 21 human adults and 21 6- to 8-year-old children stacked up against an African grey parrot named Griffin in a complex version of the classic shell game.

It worked like this: Tiny colored pom-poms were covered with cups and then shuffled, so participants had to track which object was under which cup. The experimenter then showed them a pom-pom that matched one of the same color hidden under one of the cups and asked them to point at the cup. (Griffin, of course, used his beak to point.) The participants were tested on tracking two, three, and four different-colored pom-poms. The position of the cups were swapped zero to four times for each of those combinations. Griffin and the students did 120 trials; the children did 36.

The game tests the brain's ability to retain memory of items that are no longer in view, and then updating when faced with new information, like a change in location. This cognitive system is known as visual working memory and is the one of the foundations for intelligent behavior.

So how did the parrot fare? Griffin outperformed the 6- to 8-year-olds across all levels on average, and he performed either as well as or slightly better than the 21 Harvard undergraduates on 12 of the 14 of trial types.

That's not bad at all for a so-called bird brain.
(18) TRIVIAL TRIVIA. Uh, yeah, that sounds logical.
(19) VIDEO OF THE DAY. On the off chance that you have 22 minutes to spare, you might also appreciate the opportunity to see excerpts from a 1977 interview with Philip K. Dick in Metz, France.
[Thanks to Mike Kennedy, JJ, John King Tarpinian, Martin Morse Wooster, Chip Hitchcock, Michael Toman, John Hertz, Danny SIchel, Todd Mason, Cat Eldridge, and Andrew Porter for some of these stories. Title credit goes to File 770 contributing editor of the day Niall McAuley.]