(1) NEW PANEL FOR CORDWAINER SMITH REDISCOVERY AWARD. [Item by Steven H Silver.] Robert J. Sawyer and Barry Malzberg have retired as judges for the Cordwainer Smith Rediscovery Award. A new panel has been created to select the honorees. The new panel includes Rich Horton, Steven H Silver, and Grant Thiessen. The new panel's first selection will be announced at Readercon the weekend of August 13-15.
(2) EATING THE FANTASTIC. Scott Edelman declares "It's pure pandemonium — peanut butter pandemonium! — with John Wiswell" in Episode 149 of his Eating the Fantastic podcast.
Over the past year, you joined me as I've baked and shared homemade scones and pizza, or ordered takeout weiner schnitzel and sushi, my guests and I doing our best to seize those moments of community COVID-19 tried to steal from us. In this case, John Wiswell and I pretended we were sitting across the table from each other during the Nebula Awards weekend.

John Wiswell won a Nebula Award earlier this month for the short story "Open House on Haunted Hill," which had been published last year by Diabolical Plots. He's also appeared in Nature, Uncanny, Weird Tales, Fireside, Daily Science Fiction, Flash Fiction Online, Cast of Wonders, Podcastle, and Pseudopod. In an astonishing show of prolificacy, he managed to posted fiction on his blog every day for six straight years, which I find astonishing. I found his Nebula acceptance speech astonishing as well; it was one of the best I've ever heard.

John and I were supposed to enjoy specialty hamburgers together this time around, only … something went wrong, as you shall hear. Why did I end up eating a chuck roast, brisket, and short rib burger while John only got to nibble on ice cream and carrots? For the answer to that question, well … you'll have to listen.

We discussed his motivation for giving one of the greatest acceptance speeches ever, how he learned to build meaning out of strangeness, the way writing novels taught him to make his short stories better, his dual story generation modes of confrontation vs. escape, why what we think we know about the Marshmallow Test is wrong, the reason we're both open online about our rejections, how the love of wallpaper led to him becoming a writer, why we've each destroyed our early writing from time to time, what he learned writing a story a day for six years, and much more.
(3) GARCIA APPEARANCES. Chris Garcia will be doing presentations at two Mystical Minds convention gatherings in the coming year.
Mystical Minds is a new Pagan, Paranormal, and Metaphysical convention created to expand our minds as well as our networks! 

Witches, Pagans, Paranormal investigators, psychics, mediums, metaphysical practitioners, UFO experts, cryptozoologists, mystics, and other free-thinking spiritual seekers will come together in person this fall and spring for two conventions in the beautiful Bay area of Northern California! 
For the Fall Gathering / Mystical Minds convention this October in Dublin, CA he'll present:
History of Paranormal Research in the Bay Area

Before Ghost Hunters, Most Haunted, or even Ghostbusters, San Francisco and the Bay has been home to research into the unknown. From occultists and de-bunkers in the early 20th century, to TV personalities in the 70s and 80s, to hard core particle physicists, research into the paranormal has happened here! Join Chris Garcia as he tells their stories! 
At the Spring Gathering / Mystical Minds convention next February in San Jose, CA he'll speak about —
The Winchester House

An architectural marvel, containing a story of American eccentricity, and a debate over the potential paranormal aspects. We will look at the history of the House, the stories surrounding its building, the recounting of what people have experienced, and how development in the area may have something to do with all the fuss… both before and after Sarah Winchester showed up!  
(4) HARD DRIVES OF IF. [Item by Martin Morse Wooster, Designated Financial Times Reader.] In the July 16 Financial Times, Tom Faber discusses "interactive fiction" or IF, a genre between a video game and a novel.
After a few wilderness years (around 2000), IF re-emerged among a niche community of writers and intellectuals who organised around the annual Interactive Fiction Competition, founded in1995.  This renaissance as partially triggered by  progress in technology.  Writers developed methods for inactivity such as multiple choice as an alternative to the intimidating grammar rules of the text parser. New tools such as Twine, ChoiceScript and Inklewriter empowered those without coding skills to create their own games.  This contributed to a diversification of the creator pool, particularly encouraging queer writers who have broached provocative topics not tackled in the gaming mainstream, ranging from gender dysphoria to clinical depression to unconventional kinks…

…One of the most remarkable IF writers is Porpentine, author of the vivid story With Those We Love Alive.  On this tale of an artist enslaved by an insectoid empress, you roam an alien world of 'glass flowers on iron stalks. Canopy of leafbone.  Statues sunk into the earth.'  Porpentine asks you to swap words out, wipe them away, and — most intimately — to draw symbols on your arm which represent emotional responses to the narrative.
(5) FREE DOWNLOAD FROM TAFF. Willis Discovers America and other fan fiction by Walt Willis is the latest addition to the selection of free ebook downloads at David Langford's unofficial Trans-Atlantic Fan Fund site, where they hope you'll make a little donation to the fund if you please. Here's the download page.
An attempt to collect all Walt Willis's short fan fiction, in the old sense of invented stories about real-life fans and fandom. This omits the long and much-reprinted The Enchanted Duplicator (1954 with Bob Shaw) and its sequel Beyond the Enchanted Duplicator… To the Enchanted Convention, both already in the TAFF ebook library.

The title piece is a wildly silly imagining of Walt's first trip to the USA in 1952, written and serialized in multiple fanzines before he actually began the journey; the text used here is from the collected edition of 1955, which included a new preface and annotations explaining some of the more arcane in-jokes. Further items range from scripts for two recorded "taperas" or tape operas that had fans rolling in the aisles at 1950s conventions, to a 1987 recasting of The Enchanted Duplicator as a computer text-Adventure game. Most of this material has never before been collected.

Edited by David Langford, who has added a few more explanatory notes; research work by Rob Hansen and others; proofreading by Pat Charnock. Cover artwork by Bob Shaw, drawn on to stencil for the collected Willis Discovers America (1955). 45,000 words.
(6) YOU COULD LOOK IT UP. John Scalzi tweeted this response to an item screencapped here the other day:
(7) ELVISH. The On fairy-stories website interviews Elvish linguistic scholar Carl F. Hostetter, editor of The Nature of Middle-Earth, a new J.R.R. Tolkien book: "From Linguistics to Metaphysics". The book proposal with many of the edited texts was seen and approved by Christopher Tolkien, who passed away last year.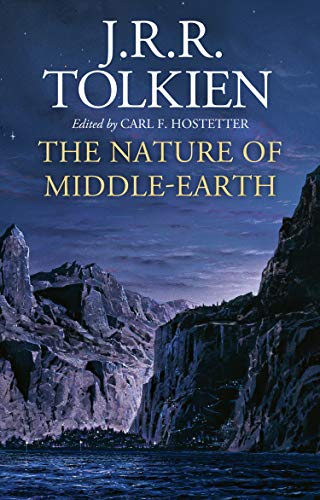 In your opinion, why did Tolkien not develop completely the Elvish languages?

For much the same reason that he never completed The Silmarillion: at first, because things grew and changed in his imagination and their expression on paper, and then, after the intervention and completion of The Lord of the Rings, because he had to revise everything to make it consistent with the published book and the thousands of years of "new history" that the introduction of the Second and Third Ages required, a task he was never able to achieve. With the languages, this was because whenever he attempted to make "definitive" decision on some point of phonology or grammar, he would almost inevitably start revising the whole system, which makes sense since any language is a complexly intertwined system, such that a change in one feature or detail can and almost always does affect other aspects. Nor, I think, was it ever Tolkien's intention to make the Elvish languages "complete" or "finished": they were primarily an expression of his linguistic aesthetic, and its changes over time. Unlike, say, with Zamenhof and Esperanto, Tolkien had no utilitarian purpose in mind for his languages.
(8) THINKING ABOUT THE FUTURE. ASU's Center for Science and the Imagination has published the latest issue of Imaginary Papers, their quarterly newsletter on science fiction worldbuilding, futures thinking, and imagination. Issue 7 features a piece on The Expanse by science, technology, and society scholar Damien P. Williams, and a piece on "Sultana's Dream," a 1905 Bengali feminist utopian speculative fiction story, by musicologist and media scholar Nilanjana Bhattacharjya.
One of the most engrossing things about the small-screen adaptation of The Expanse is how viscerally it examines the human costs of life in space. After being exposed to a massive dose of radiation, starship captain James Holden gets a permanent anticancer implant, like a far-future successor of a Port-A-Cath. And from the first episode, we're made to understand that the Belters—descendants of humans who have worked, lived, and started societies on asteroids or the moons of other planets in our solar system—have different physiologies than the humans who still call Earth home. Gravity weighs heavier on Belters: it constricts their blood vessels, strains their hearts, and cracks their bones….
(9) HENDRIX INTERVIEW. See Kevin Kennel's video interview of author Grady Hendrix on Facebook.
Author Grady Hendrix ('Horrorstör', 'We Sold Our Souls' and more!) graciously took time out of his busy schedule for an interview with our very own library staff member Kevin Kennel, to discuss his new book, 'The Final Girl Support Group' and his experiences as a writer and author. …Please note: this video contains adult content and is an interview about an adult horror novel.
(10) VISITING UTOPIA. Kim Stanley Robinson explains the usefulness of "The Novel Solutions of Utopian Fiction" in The Nation.
… But in this world, we are never going to get the chance to start over. This was one of the reasons Karl Marx and Friedrich Engels objected to 19th-century utopias like that of Charles Fourier, the French designer of small communes living in perfect harmony: They were fantasy solutions that served only to distract people from the real work of politics and revolution. They were also in competition with Marx and Engels's own ideas, so there was the usual left infighting. But it was a legitimate complaint: If utopia isn't a political program, then what is it for?

The answer should be obvious. Utopias exist to remind us that there could be a better social order than the one we are in. Our present system is the result of a centuries-old power struggle, and it is devastating people and the biosphere. We must change it—and fast. But to what?

Utopias are thought experiments. Imagine if things ran like this: Wouldn't that be good? Well, maybe…let's live in it fictionally for a while. What problems crop up in this system? Can we solve them? What if we tweak things this way, or that? Let's tell this story and then that story, and see how plausible they feel after we spend some imaginative time in them….
(11) STEPHEN HICKMAN (1949-2021). Famed sff artist Stephen Hickman died July 16 reported his friend and colleague Ron Miller on Facebook: "Lost one of my best friends, Steve Hickman, this morning and the world lost one of its best artists and finest human beings." Hickman had over 350 book and magazine covers to his credit. He won the 1994 Best Original Artwork Hugo for his Space Fantasy Commemorative Stamp Booklet. He was a six-time Chesley Award winner.
(12) JUDI B CASTRO OBIT. Judi Beth Castro died July 15 of a sudden illness. She was 58. Her husband, author Adam-Troy Castro, announced her passing on Facebook.
The love of my life, Judi Beth Castro, lost her fight for life at 10:50 PM Thursday night. The illness was sudden, and she was always in critical danger, but between Tuesday night and Wednesday evening her numbers were improving at such a steady rate that we thought there was hope. Alas, the decline began on Thursday morning and by afternoon there was no doubt….
Her genre credits include Atlanta Nights (2005; a parody which she contributed to with many other co-authors), and the short fiction "Unfamiliar Gods" co-authored with Adam-Troy Castro.
(13) MEMORY LANE.
1953 – Sixty-eight years ago, Commando Cody: Sky Marshal of the Universe premiered as a black-and-white movie serial from Republic Pictures. It was originally going to be a syndicated television series. It was directed by Harry Keller, Franklin Adreon and Fred C. Brannon as written by Ronald Davidson and Barry Shipman. Its cast was Judd Holdren, Aline Towne, Gregory Gaye and Craig Kelly.  It would last but one season of twelve twenty-five minute episodes. And yes, it was syndicated to television on NBC in 1955. Some sources say Dave Steven based his Rocketeer character off of Commando Cody. And there's a clone trooper named Commander Cody who serves under Jedi general Obi-Wan Kenobi, an homage that Lucas has openly acknowledged as he watched the series as a child. 
(14) TODAY'S BIRTHDAYS.
[Compiled by Cat Eldridge.]
Born July 16, 1928 — Robert Sheckley. I knew that his  short story "Seventh Victim" was the basis of The 10th Victim film but I hadn't known 'til now that Freejack was sort of based of his Immortality, Inc. novel.  I've read a lot by him with Bring Me the Head of Prince Charming (written with Zelazny) being my favorite work by him. Sheckley is very well stocked on the usual suspects. (Died 2005.)
Born July 16, 1929 — Sheri S. Tepper. Nominated for an Austounding Award way back when, she had a long career, so I'm going to single out Beauty, The Gate to Women's Country, Six Moon Dance and The Companions as my favorites knowing very well that yours won't be the same. (Died 2016.)
Born July 16, 1951 — Esther Friesner, 70. She's won the Nebula Award for Best Short Story twice with "Death and the Librarian" and "A Birthday".  I'm particularly fond of The Sherwood Game and E.Godz which she did with Robert Asprin. She won the 1994 Edward E. Smith Memorial Award for Imaginative Fiction, for lifetime contributions to science fiction, "both through work in the field and by exemplifying the personal qualities which made the late 'Doc' Smith well-loved by those who knew him," presented by the New England Science Fiction Association. She's well stocked at the usual suspects. 
Born July 16, 1956 — Jerry Doyle. Now this one is depressing. Dead of acute alcoholism at sixty, his character Michael Garibaldi was portrayed as an alcoholic, sometimes recovering and sometimes not on Babylon 5. Damn. (Died 2016.)
Born July 16, 1963 — Phoebe Cates, 58. Ok, so her entire genre appearance credit is as Kate Beringer in Gremlins and  Gremlins 2: The New Batch. Yes, I'll admit that they're two films that I have an inordinate fondness for that the Suck Fairy cannot have any effect upon them what-so-ever. Update: I've discovered since I last noted her Birthday that she was in Drop Dead Fred, a dark fantasy. She also stopped acting six years ago. 
Born July 16, 1965 — Daryl "Chill" Mitchell, 56. Best remembered genre wise as Tommy Webber in the much beloved Galaxy Quest though his longest acting role was Patton Plame on the cancelled NCIS: New Orleans. 
Born July 16, 1966 — Scott Derrickson, 55. Director and Writer of Doctor Strange who also had a hand in The Day the Earth Stood Still (as Director), The Exorcism of Emily Rose (Director and Writer), Urban Legends: Final Cut (Director and Producer) and the forthcoming Labyrinth sequel (Director and Writer). 
Born July 16, 1967 — Will Ferrell, 54. His last genre film was Holmes & Watson in which he played Holmes. It won Worst Picture, Worst Director, Worst Screen Combo and, my absolute favourite Award,  Worst Prequel, Remake, Rip-off or Sequel. Wow. He was also in Land of the Lost which, errrr, also got negative reviews. Elf however got a great response from viewers and critics alike. He also was in two of the Austin Powers films as well. Oh, and he voices Ted / The Man with the Yellow Hat, a tour guide at the Bloomsberry Museum in Curious George.
(15) BANNED FROM ARGO. Larry Correia told Monster Hunter Nation readers that he's gotten his "7th or 8th" 30-day ban from Facebook. He posted screenshots from his appeal to FB's Oversight Board in "Fun With The Oversight Board -Or- Better Sign Up For The Newsletter Before I Get Perma-Banned" [Internet Archive link].
…Facebook is a time suck garbage site that exists as the propaganda arm of the DNC/Corpo-Uni-Party, to spy on you to sell to advertisers, and to steal everyone's personal information. After bamboozling all the content creators to go over there to build "community" they now hold them hostage because the content creators are scared to leave because they'll take a financial hit (The Oatmeal's got a great cartoon about it)….
(16) WE INTERRUPT THIS PROGRAM. FOREVER. Hackaday memorializes the "End Of An Era: NTSC Finally Goes Dark In America".
A significant event in the history of technology happened yesterday, and it passed so quietly that we almost missed it. The last few remaining NTSC transmitters in the USA finally came off air, marking the end of over seven decades of continuous 525-line American analogue TV broadcasts. We've previously reported on the output of these channels, largely the so-called "FrankenFM" stations left over after the 2009 digital switchover whose sound carrier lay at the bottom of the FM dial as radio stations, and noted their impending demise. We've even reported on some of the intricacies of the NTSC system, but we've never taken a look at what will replace these last few FrankenFM stations….
(17) SUSTAINABLE USE OF SPACE. [Item by SF Concatenation's Jonathan Cowie.] In this week's Science:
Last month, at the G7 Leaders' Summit in Cornwall, United Kingdom, the leading industrial nations addressed the sustainable and safe use of space, making space debris a priority and calling on other nations to follow suit. This is good news because space is becoming increasingly congested, and strong political will is needed for the international space community to start using space sustainably and preserve the orbital environment for the space activities of future generations.

There are more than 28,000 routinely tracked objects orbiting Earth. The vast majority (85%) are space debris that no longer serve a purpose. These debris objects are dominated by fragments from the approximately 560 known breakups, explosions, and collisions of satellites or rocket bodies. These have left behind an estimated 900,000 objects larger than 1 cm and a staggering 130 million objects larger than 1 mm in commercially and scientifically valuable Earth orbits.
(18) SUPERPRANKSTERS? Isaac Arthur's video "Annoying Aliens" contends, "Fictional portrayals of alien invasion or reports of alien sightings and abductions often imply motives which on inspection make little sense… unless perhaps the true purpose was mischief."
(19) DISCWORLD COMMENTARY. YouTuber Dominic Noble says he has finally overcome his "sense of loss and deep sadness at the tragically too early passing of the author [Terry Pratchett] due to Alzheimer's disease" and is planning to do videos on the Discworld books. He begins with this overview of Discworld and his appreciation for it and for Pratchett.
(20) POTTER IN PERSPECTIVE. YouTuber Eyebrow Cinema considers"Harry Potter – 10 Years Later".
It's been a decade since Harry Potter and the Deathly Hallows Part Two arrived in theaters and brought an end to JK Rowling's saga of witches and wizards. Like most 90s kids, I too read all the books and saw all the movies as a kid and teenager but have completely left the series behind since. Ten years later, how does Harry Potter hold up? In this video essay, I try to get to the heart of Harry Potter as while as examine my own relationship to the series.

No official works cited for this video, though I imagine my criticisms of Rowling's transphobia will draw some ire. I have no intention of arguing the ethics or legitimacy of Rowling's claims….
[Thanks to Mike Kennedy, Andrew Porter, Martin Morse Wooster, Joey Eschrich, Chris M. Barkley, Jennifer Hawthorne, Steven H Silver, StephenfromOttawa, SF Concatenation's Jonathan Cowie, N., Daniel Dern, JJ, Michael Toman, John King Tarpinian, and Cat Eldridge for some of these stories. Title credit belongs to contributing editor of the day Camestros Felapton.]