(1) A LONG AND WINDING ROAD TO RECOVERY. John Varley had a heart attack followed by a quadruple bypass in February, and later was hospitalized with a post-vaccination breakthrough Covid infection, all of which he's written about in "What a year this has been" posted October 26. In the midst of that he contracted pneumonia, which fortunately can be fought with antibiotics:
…I don't have the bottle near me here but to the best of my recollection the ones I'm taking now are Placeboxydrine, Oxyplaceboxicillizole, and Cryptosporidiosicil, which I was already taking. Added to that was my daily dose of Jeremiah Peabody's Polyunsaturated Quick-Dissolving Fast-Acting Pleasant-Tasting Green and Purple Pill. If those bad boys don't KO the bacteria, nothing will.

I feel pretty confident that I will survive this. I'm much less certain that I will recover my already-depleted physical faculties. But I try not to worry about that. So in that spirit I've devised a little game. Since it's beyond question (in my mind, at least) that my trials are not over, I asked my old friend Job (not Jobs) what sort of disease I might encounter next as I wend my way through this vale of tears… 
(2) KGB. Fantastic Fiction at KGB reading series hosts Ellen Datlow and Matthew Kressel present C. S. E. Cooney and Robert V.S. Redick in person on Wednesday, November 17 at 7:00 p.m. Eastern at the KGB Bar. (Address here.)
C. S. E. Cooney lives in Queens, New York. She won the World Fantasy Award for her collection Bone Swans in 2016, and her new collection, Dark Breakers comes out from Mythic Delirium in February 2022. Her forthcoming novel Saint Death's Daughter will be out with Solaris in April 2022. Currently, she and her husband, author Carlos Hernandez, are co-developing a TTRPG about "Inquisition and Aliens" called Negocios Infernales.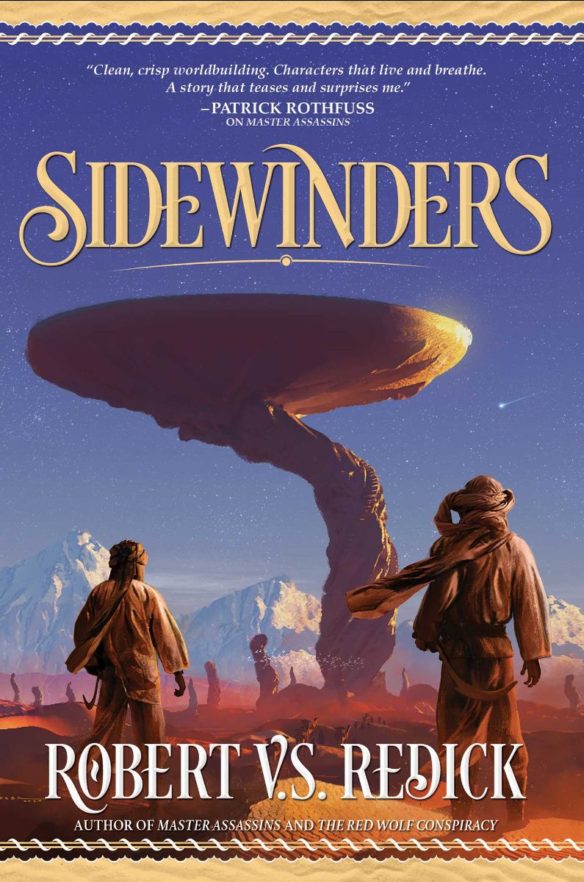 Robert V.S. Redick is a novelist, teacher, editor, and international development consultant with 30 years experience in the Neotropics and Southeast Asia. He is the author of seven novels, including The Red Wolf Conspiracy and The Fire Sacraments epic fantasy trilogy. His most recent novel Sidewinders, was published in July. He won the New Millennium Writings Award and was a finalist for the Thomas Dunne Novel Award. He lives with his partner, Dr. Kiran Asher, in Western Massachusetts.
(3) BANGED UP PUBLISHER. Wishes for a quick and full recovery to John Gregory Betancourt of Wildside Press and The Black Cat Mystery and Science Fiction Ebooks who injured himself in a fall, as he told his mailing list today in this message titled "Disaster Strikes!"
I'm afraid I tripped and took a bad fall yesterday afternoon, which injured my ankle, knee, right wrist, and some fingers on my left hand. After hours at the emergency room, I was fortunate to learn nothing was actually broken, despite the pain and grotesque swelling of my wrist, but there is a lot of soft tissue damage. I can still type a bit with three fingers on my left hand and two on the right, but it is painful and slow. Our production level is going to be down until I can use at least my hands properly again. I am hoping for under two weeks. At the very least when the wrist brace comes off.

I will be unable to email copies of Black Cat Weekly issue 10 to paid subscribers this week. Please stop by the web site, bcmystery.com, and download your copies from the paid subscribers area.  It is a good issue.

All of the material for issue 11 is here, so it should be done on schedule.

I am going to take advantage of the forced down-time to try to master voice dictation software. I am using Google Voice to write this email, but it is not good enough. It does not support quotation marks, which boggles the mind. It is fine for straight text like an email, however.
(4) GENRE OVERCOMERS. Panelists Oghenechovwe Donald Ekpeki, Jherane Patmore of Rebel Women Lit, Onyx Pages, and Alex Brown will be discussing the purpose of sff genre labels and how Black authors use or transcend them in "What's in a Genre: Black Authors and SFF" which streams on YouTube November 13 at 10:00 a.m. Pacific.
(5) HUGO UP, CLARKE DOWN. Kris V-M published the results of their survey of SF readers on Twitter, which collected 2,033 responses. Who's read the winners of various awards? Thread starts here. People mostly don't read Hugo winner They'd Rather Be Right, but there are six Clarke Award winners that fared even worse.
(6) WHO YA GONNA RECALL? The Ghostbusters: Afterlife "final trailer" dropped today. In theaters November 19.
From director Jason Reitman and producer Ivan Reitman, comes the next chapter in the original Ghostbusters universe. In Ghostbusters: Afterlife, when a single mom and her two kids arrive in a small town, they begin to discover their connection to the original ghostbusters and the secret legacy their grandfather left behind. The film is written by Jason Reitman & Gil Kenan.
(7) EVERYTHING BUT THE OINK. Bad Wolf Archives shared these Christopher Eccleston memories – and it's hard to get this last image out of my mind now.
(8) ANDREW CARNEGIE MEDALS. The shortlist for the 2022 Andrew Carnegie Medals for Excellence in Fiction and Nonfiction was unveiled today. The titles that made the finals are at the link. None of the longlisted books of genre interest made the shortlist. The two medal winners will be announced on January 23. The Carnegie Medal winners will each receive $5,000.
(9) JOCULARITY. "Big Money in Dead People" was the title of a news roundup that included this report from The Wrap: "AMC Networks Earnings: 'Walking Dead' Return Leads to 22% Rise in US Ad Sales".
AMC Networks' U.S. ad sales rose 22% year-over-year during the third quarter of 2021, when AMC's "The Walking Dead" premiered its 11th and final season, the company reported Friday.
(10) MEDIA BIRTHDAY.
2007 — Fourteen years ago, The New Mel Brooks Musical: Young Frankenstein opened on Broadway. Based rather obviously off the Brooks film, with the music and lyrics, not surprisingly, by Brooks. Who helped wrote the accompanying book. The original Broadway cast was Roger Bart as Frederick Frankenstein, Shuler Hensley as The Monster, Christopher Fitzgerald as Igor, Megan Mullally as Elizabeth, Sutton Foster as Inga and Fred Applegate as Inspector Kemp / Hermit. It began previews on October 11, 2007, and opened on the date I noted above at the Lyric Theatre (then the Hilton Theatre) and closed on January 4, 2009, after 485 performances. Reception was mixed with the Times calling it a "overblown burlesque revue" but the Post calling it "very good indeed". A few critics of course compared it unfavorably to The Producers which suggests they weren't very good critics.
(11) TODAY'S BIRTHDAYS.
[Compiled by Cat Eldridge.]
Born November 8, 1847 — Abraham "Bram" Stoker. You know that he's author of Dracula but did you know that he wrote other fiction such as The Lady of the Shroud and The Lair of the White Worm? Of course you do, being you. The short story collection Dracula's Guest and Other Weird Stories was published in 1914 by Stoker's widow, Florence Stoker. (Died 1912.)
Born November 8, 1898 — Katharine Mary Briggs. British folklorist and author who wrote A Dictionary of Fairies: Hobgoblins, Brownies, Bogies, and Other Supernatural Creatures , and the four-volume Dictionary of British Folk-Tales in the English Language, and the excellent Kate Crackernuts novel. Her The Anatomy of Puck: An Examination of Fairy Beliefs among Shakespeare's Contemporaries and Successors is a fascinating read. (Died 1980.)
Born November 8, 1914 — Norman Lloyd. Yes, those dates are right. His longest genre role was as Dr. Isaac Mentnor on the most excellent Seven Days series. He's been on Next Gen, Get Smart! in the form of the Nude Bomb film and visited The Twilight Zone, and in a fair of horror films from The Dark Secret of Harvest Home to The Scarecrow. (Died 2021.)
Born November 8, 1932 — Ben Bova. He published more than one hundred twenty books, and as the editor of Analog he won six Hugo Awards. He later worked as editorial director at Omni. Hell he even had the thankless job of SFWA President. (Just kidding. I think.) I couldn't hope to summarize his literary history so I'll single out his Grand Tour series that though it's uneven as overall, it's splendid hard sf, as well as his Best of Bova short story collections put out recently in three volumes on Baen. What's your favorite works by him?  (Died 2020.)
Born November 8, 1952 — Alfre Woodard, 69. I remember her best from Star Trek: First Contact where she was Lily Sloane, Cochrane's assistant. She was also Grace Cooley in Scrooged, and polishing her SJW creds, she once voiced Maisie the Cat in The Brave Little Toaster Goes to School. And yes, I know she's portrayed a character in Marvel Universe. I just like the more obscure roles. 
Born November 8, 1955 — Jeffrey Ford, 66. Winner of a very impressive seven World Fantasy Awards as well every other award given to writers of fantastic literature. Really there's too many to list here. He's got two Hugo nominations, one at Torcon 3 for his "Creation" short story, another at Noreascon 4 for "The Empire of Ice Cream" novelette ".  And yes, his Well-built City trilogy is amazing.
Born November 8, 1956 — Richard Curtis, 65. One of Britain's most successful comedy screenwriters, he's making the Birthday List for writing "Vincent and the Doctor", a most excellent Eleventh Doctor story. He was also the writer of Roald Dahl's Esio Trot which isn't really genre but it's Roald Dahl who's certainly is one of us some of the time, isn't he? (Please don't deconstruct that sentence.) And he directed Blackadder which is most decidedly genre.
Born November 8, 1968 — Parker Posey, 53. Doctor Smith on the rebooted Lost in Space series. I've not seen it, so how is it?  She was in a film based on based Dean Koontz's version of Frankenstein. And she shows in Blade: Trinity as well which I'll admit I liked.
(12) COMICS SECTION.
(13) GUITARDIS. [Item by Olav Rokne.] Already the only Doctor Who to have earned an Academy Award, Peter Capaldi's now set his sights on the music charts with his first album of music in 41 years. The Glaswegian actor played in a rock quartet in the 1970s, but put that aside to pursue a (highly successful) acting career. Although numerous sci-fi stars (such as William Shatner, Brent Spiner, and Milla Jojovich) have recorded pop albums in the past, I believe Capaldi will be the first lead actor from Doctor Who to have done so. So far the music critics are generally impressed with the musicianship and lyricism. The linked article includes the first single from Capaldi's album St. Christopher. "Peter Capaldi on taking centre-stage with first album for 41 years" in The Sunday Post.
…Now, 41 years later, he has returned to his first love. On November 19, Capaldi will release his debut album, St Christopher – more than four decades after The Dreamboys put out their first and only single, Bela Lugosi's Birthday, on the indie label St Vitus Dance.

The album was produced by his friend Robert Howard, better known as Dr Robert of hit 1980s band The Blow Monkeys and, discussing his passion for music, the former Time Lord spun back through the years to reminisce about the scene that first captured his imagination….
(14) AHH, THE CLASSICS. Iconic Marvel superhero stories are being published in volumes as part of the Penguin Classics Marvel Collection.
Calling all Marvel fans and Classics lovers! We are thrilled to announce that we've partnered with Marvel Comics to publish a new series, the Penguin Classics Marvel Collection. This collection of carefully curated comic book anthologies presents the original stories and seminal tales of key Marvel characters, and serves as a testament to Marvel's transformative impact on the fantasy genre and across popular culture. For the first time, these classic stories of some of the most iconic super heroes in the history of American comics, including The Amazing Spider-Man, Black Panther, and Captain America, are Penguin Classics. Learn more about the action-packed, must-read new series featuring forewords by Jason Reynolds, Nnedi Okorafor, and Gene Luen Yang!
(15) MUPPETS NEWS. Did you know that Big Bird — not the actor playing him, the character — tweeted that he had gotten vaccinated?
(16) LISTEN IN. Cat Rambo will talk about their forthcoming book release, You Sexy Thing and tell about "Three Tools For Plotting That Every Writer Needs" at the Parsec-SFF.org meeting on November 20. Register for the Zoom meeting here. It's free. Parsec is a club in Pittsburgh, PA.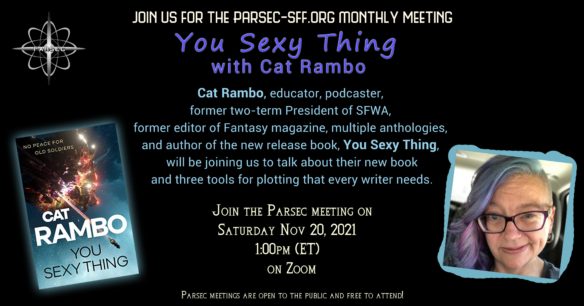 (17) REPORTING FROM THE FRONT LINES. Writer Jo Lindsay Walton, who Filers may remember as creator of the Sputnik Awards, is also a Research Fellow in Critical and Cultural Theory at the Sussex Humanities Lab, and he participated in a presentation at COP26 – "Communicating climate risk – what works and what doesn't" – which can be viewed on YouTube.
(18) THE NIGHTMARE BEFORE LANDING. [Item by Mike Kennedy.] You may recall reports last year of a man in a jet pack near LAX — sighted on two occasions by pilots approaching the airport. This was puzzling in no small part because the altitude and duration of the flight seemed to be well beyond known jet pack capabilities.
The FBI has a new theory—call it Jack the unripper. Recent pics in the LA area have surfaced of what seems to be a Jack Skellington balloon floating around. Could the erstwhile jet pack rider have been the same? One supposes it's possible such a balloon filled with helium could've reached a significant altitude without ripping. I can see it now, every Party City and Halloween Express will be asked to comb their invoices for suspicious purchases. "Jet pack sighting: FBI says 'possible jet pack man' spotted near Los Angeles International Airport may have been balloon".
[Thanks to Michael Toman, Cat Eldridge, Mike Kennedy, Olav Rokne, Martin Morse Wooster, JJ, John King Tarpinian, and Andrew Porter for some of these stories. Title credit belongs to File 770 contributing editor of the day Daniel Dern.]