(1) THE PLAY'S THE THING. "'Game of Thrones' Broadway show to be written by George R.R. Martin" – CNBC has the story. I know there's an obligatory comment expected here, but personally I'm glad there are things he wants to write.
The author behind the mega-hit "A Song of Ice and Fire" book series, which was the basis for HBO's Emmy Award-winning series "Game of Thrones," is now writing a script for a play based in the fantasy world of Westeros.

The Hollywood Reporter said Tuesday that the play will center around the Great Tourney at Harrenhal and debut in New York, London and Australia in 2023. Martin will work with playwright Duncan Macmillan ("1984") and theater director Dominic Cooke on the project.

The Great Tourney at Harrenhal is an important historical event in the world of Westeros. Occurring 16 years before the events of HBO's "Game of Thrones," the contest took place over 10 days and included tournaments of jousting, archery and combat. It is also the place where Prince Rhaegar Targaryen created a nationwide scandal for dedicating his victory to Lyanna Stark instead of his wife. This decision led to Robert's Rebellion and the Targaryens being overthrown….
(2) AUSTRALASIAN HORROR Q&A. The Redback Room is an initiative of the Australasian Horror Writers Association. Every two months, host Kyla Lee Ward will interview two horror writers from Australasia – emerging or established. In Redback Room Episode 1, Kyla talks to Australia's most awarded horror writer, Kaaron Warren, and award-winning writer and president of the AHWA, Alan Baxter.
(3) POPULAR CREATED LANGUAGES. "League of languages" helps attract attention to what is probably a marketing site for language tutoring with its articles and statistics about fictional languages – for example, Elvish and Klingon:
For decades, fantasy and sci-fi have dominated our screens and books. To fully immerse a viewer into a fictional world, language is one of the commonly used tricks to give a sense of realness.

Typically, most films and TV shows will speak gibberish or simply create just a few words or phrases that are featured in a scene. However, some of these fictional languages have evolved into fully developed languages that can be learnt and used during coherent conversations.

We analysed the top 5 most popular fictional languages and compared speakers, learners, inspirations and word count to find out which fantasy world has the best made-up language.

So whether you're looking for a new hobby, to feel part of a fandom or simply want to know more about linguistics from your favourite film or TV show, read our guide on the most popular fictional languages.
I wondered if this is really true, though:
Key Facts:
More people speak Elvish than Irish.
(4) TRADPUB HORROR. Entertainment Weekly has a conversation with "Zakiya Dalila Harris on her novel The Other Black Girl".
Three years ago, Zakiya Dalila Harris was an assistant editor at Knopf Doubleday Publishing. Now, she's the author of a novel that garnered a seven-figure book contract (after a 14-bidder auction) and an adaptation deal at Hulu. The Other Black Girl is best described as The Devil Wears Prada meets Get Out, with a little bit of Black Mirror thrown in. It follows Nella, a book-publishing assistant who clashes with the only other Black employee in her department. As things escalate (like anonymous threatening notes left on Nella's desk), she begins to suspect there's something more sinister behind their professional competition. Here, Harris, 28, offers up her process — and it's anything but beginner's luck.

Did you feel pressure to write a happy ending?

I definitely didn't want a happy ending. I was really inspired by Night of the Living Dead; I love endings that are frustrating or nerve-racking. I think I subconsciously wanted to drive home the pressures that Black people are under in corporate America — I didn't want any of the characters to be able to get out of their situations easily, because that would just reinforce the notion that it's on Black folks to resist the system, instead of on white folks to change the system.
(5) BOXING MATCH. Io9 is shocked, I tell you, by news of "Loki Charms: Marvel's Limited Edition Cereal Disney+ Tie-In".
Loki has done some horrible things in the Marvel Cinematic Universe, including murdering Phil Coulson and leading an alien invasion of Earth in which countless people died. But now the Norse god of mischief has gained control of Lucky Charms cereal, and this crime is beyond the pale….
(6) DON'T DO THE CRIME IF YOU CAN'T DO THE TIME. Meanwhile, let Vanity Fair tell you everything they know about the series: "'Loki': A Complete Beginner's Guide to Marvel's New Show".
Where Is Loki? This is where things get a little complicated but also pretty fun. The Loki series is set inside the world of something called the TVA, or Time Variance Authority. Don't worry even a little bit if you feel confused here; the Loki premiere spends plenty of time explaining the rules and regulations of this place.

Here, though, are the basics: The TVA is a futuristic bureaucratic organization tasked with cleaning up messy timeline shenanigans due to the aforementioned time travel. In the MCU, when a timeline is messed with, that timeline splits off into its own reality. As you might imagine, this makes things complicated. Loki escaping from a 2012 film a full six years before his date with death in 2018? Messy. In other words, Loki enters the show, and the TVA, as a time criminal. (Fun, right?) The TVA was created in the future, but it exists outside of time. But I'm not sure you really need to worry about that yet.
(7) MEDIA BIRTHDAY.
1974 — At DisCon II where the Toastmaster was andrew j. offutt, Arthur C. Clarke wins a Hugo for Rendezvous With Rama. (It also won a Campbell, Locus and Nebula.) It was published first in Galaxy (the September/ October 1973 issue) and had its first hardcover printing by Harcourt Brace Jovanovich, 1973. Other nominated works that year were Time Enough for Love by Robert A. Heinlein, Protector by Larry Niven, The People of the Wind by Poul Anderson and The Man Who Folded Himself by David Gerrold.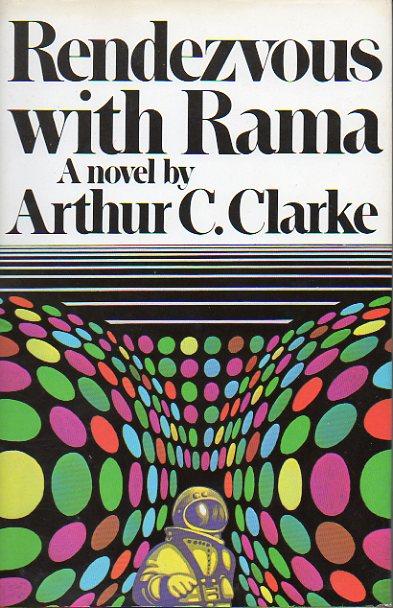 (8) TODAY'S BIRTHDAYS.
[Compiled by Cat Eldridge and John Hertz.]
Born June 7, 1844 – Robert Milne. Rediscovered by Sam Moskowitz, who helped collect RM's stories for Into the Sun. Eleven there; fifty more not yet reprinted, e.g. "The Great Electric Diaphragm", "A Dip into the Doings of the Four-Dimensional World", "What the Great Instrument in the Lick Observatory Observed". Even I found the Into the Sun stories and four more here. (Died 1899) [JH]
Born June 7, 1932 – Kit Reed. Sixteen novels for us, a hundred forty shorter stories; fourteen other novels. First published in The Magazine of Fantasy & Science Fiction under Boucher. Guggenheim Fellow. Called herself a trans-genred writer. (Died 2017) [JH]
Born June 7, 1946 – Jon White. Fanziner and bookseller. Revived Inside in 1962, brought in Leland Sapiro who renamed it Riverside Quarterly (after a famous dwelling in New York). Here is the front cover by Atom (Arthur Thomson) for vol. 1 no. 2. (Died 2004) [JH]
Born June 7, 1949 – Real Musgrave, age 72. Graphic artist who has maintained a fannish connection. Artist Guest of Honor at Westercon XLI (here (PDF) is its Program Book); exhibited at Magicon the 50th Worldcon. Here is a cover for Fantasy Review. Pocket Dragons, done as drawings, figurines, animated television series. Brother of astronaut Story Musgrave. [JH]
Born June 7, 1952 — Liam Neeson, 69. He first shows up in genre films as Gawain in Excalibur and as Kegan in Krull. He plays Martin Brogan In High Spirits, a film I enjoy immensely. Next up is the title role in Darkman, a film I've watched myriad times. He's Dr. David Marrow In The Haunting which I'd contend is loosely off of The Haunting of Hill House by Shirley Jackson. Now we get him as Qui-Gon Jinn in The Phantom Menace. Followed unfortunately by his horrid take as Ra's al Ghul in Batman Begins and as a cameo in the The Dark Knight Rises. Now he voiced Aslan with amazing dignity in The Chronicles of Narnia franchise and I hope voiced Zeus as well in the Titans franchise. (CE)
Born June 7, 1954 – Louise Erdrich, age 67. In the first class of women admitted to Dartmouth (A.B., English; later, honorary Litt. D. and Commencement speaker). Member of Turtle Mountain Band of Chippewa Indians; her grandfather was tribal chief. Nat'l Book Award for Fiction, Lib. Cong. Prize for Amer. Fiction, Amer. Acad. Poets Prize, Pushcart Prize. Love Medicine, only début novel to win the Nat'l Book Critics Circle Award for Fiction. Children's books; Scott O'Dell Award for The Game of Silence. World Fantasy Award for The Antelope Wife; three more novels in our field; interviewed in Lightspeed. [JH]
Born June 7, 1968 — Sarah Parish, 53, In "The Runaway Bride", a Tenth Doctor story, she got to play, with the assistance of extensive CGI, one of the nastiest Who villains to date, The Empress of the Racnoss, an oversized vicious spider with a human face. Great episode. It's our introduction to Donna Noble, his Companion for quite some time to come. In a much lighter role, she played Pasiphaë on BBC's Atlantis series. (CE)
Born June 7, 1969 — Anthony Simcoe, 52, Ka D'Argo in Farscape, one of the best SF series ever done. If you don't watch anything else, just watch the finale, The Peacekeeper Wars as it's reasonably self-contained. Farscape is the only SF he did. If you can find a copy, Matt Bacon's No Strings Attached: The Inside Story of Jim Henson's Creature Shop, it is a wonderful look at the creation of the creatures on the show including D'Argo facial appendages. (CE)
Born June 7, 1972 — Karl Urban, 49. He's in the second and third installments of The Lord of the Rings trilogy as Éomer. He has was McCoy in the Trek reboot franchise, Cupid on Xena: Warrior Princess and Hercules: The Legendary Journeys, John Kennex on Almost Human, Vaako in the Riddick film franchise, and Judge Dredd in Dredd. For the record, I liked both Dredd films for different reasons. (CE)
Born June 7, 1974 — David Filoni, 47. Creator and an executive producer on Star Wars Rebels, a most awesome series, for all four seasons, and was supervising director and a writer on another excellent series, Star Wars: The Clone Wars. (I like the animated series far better than the live action films.) He makes his live acting debut in The Mandalorian playing Trapper Wolf, an X-Wing pilot, in "The Prisoner" episode. It's also worth noting that he his first job was directing episodes during the first season of animated series Avatar: The Last Airbender (CE)
Born June 7, 1979 — Anna Torv, 42. She's best known for her role as FBI agent Olivia Dunham on Fringe. She also played an ITU nurse in Frankenstein, a modern adaptation of that novel. She voiced the lead of Nariko in the animated Heavenly Sword film based off the game of the same name. (CE)
Born June 7, 1990 – Adam Silvera, age 31. Four novels for us, a shorter story; three other novels. Two NY Times Best-Sellers. Has read While Mortals Sleep; Animal Farm; Know the Past, Find the Future (NY Public Lib'y centennial); The Little Prince; The Magic Shop (Wells); The Phantom Tollbooth; Fahrenheit 451. [JH]
(9) COMICS SECTION.
Grant Snider of Incidental Comics depicts his inner critic.
(10) STOP THE PRESSES! Or at least slow them down a little: "'Paddington 2' Loses Top Movie Honor Due to New Bad Review" says The Hollywood Reporter.
Not to be the bearer of bad news, but Paddington 2 has lost its recently obtained honor as the best movie of all time according to Rotten Tomatoes' freshness ratings.

You'll recall the headlines last month when Citizen Kane lost its decades-long 100 percent rating on the critic aggregation site due to a newly discovered negative review from 1941. The disruption caused fans to declare 2018's much-beloved Paddington 2 as the new best film since it now had the most reviews of any title that also had a 100 percent rating.

Now, there's been another update that changes all that.

A new review has knocked Paddington down a branch — to a 99 percent score. The review was from Film Authority and critic Eddie Harrison, who seemed to know precisely what he was doing, somewhat defensively noting, "I reviewed Paddington 2 negatively for BBC radio on release in 2017, and on multiple occasions after that, and I stand by every word of my criticism."
(11) CATCHING HELL. Calgary author Marc Watson, who has been published on flash fiction site www.101words.org, as well as comedy site www.thecorrectness.com, begins a new fantasy series with Catching Hell Part 1: Journey.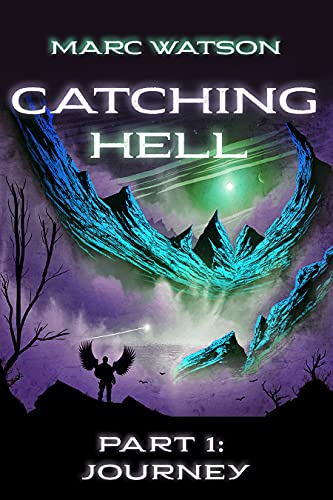 In the distant future, two young men are thrust into unknown worlds—worlds they were raised to fear.

Aryu, the Boy with Wings, enters a realm where magic rules. Guided by the conflicted phoenix Nixon Ash, a creature sent to kill him, Aryu must confront the powerful, immortal Embracers and the balance of Everything and Nothing they inhabit. Meanwhile, Johan navigates a futuristic world, seeking a means to defeat the robotic Army of the Old destructively marching across their homeland, and reunite with his best friend.
(12) WHEN IN ROME. This vending machine will turn out a pizza in the time it takes to soft-boil an egg:
It is barely a few square meters large, just enough space for three vending machines side by side. In via Catania 2, in Rome, the first store for automatic express pizza was opened. Four flavors to select from: margherita, spicy salami, bacon and four cheeses; three minutes of waiting, which can be [whiled away] by following the different stages of preparation, and that's it.
(13) LIQUID REFRESHMENT. What could sound more out of this world than a drink called Unicorn Tears– MAD TASTY – and for $30 for a six-pack, it'll have to do a lot to live up to that name.
Unicorn Tears is an exotic and mysterious blend of natural fruit flavors that is delightful on the nose and refreshing for the brain. Expand your bandwidth to conquer your day with this magical elixir.

Our Hemp-Forward Formulation
At 20 MG broad-spectrum hemp extract and less than 15 calories a can, our clean, restorative, and hydrating beverage was made to fit into any wellness routine. Our Oregon-farmed hemp is sourced and extracted for all the benefits and no earthy aftertaste. There is zero sugar or sweeteners and no complicated additives needed to mask the hemp flavor.
(14) JDA STAGES TRIUMPHAL PARADE ON THE INFORMATION SUPERHIGHWAY. Jon Del Arroz threw up a couple more videos today, one of them featuring comments by his lawyer Peter Sean Bradley. He had 42 viewers at peak — that was it.
If somebody else's blog was involved it would have been funny, So much of his screentime was meaninglessly devoted to displaying my post about the Nebula winners while he blathered in audio, then lovingly reviewed 770's comments about his settlement. How did his lawyer get a word in edgewise?
Richard Fox also dropped in to demonstrate his solidarity with JDA's ideas about racism:
And to horn in on JDA's publicity by repeating his own lies about this blog (see "Perjury, Not Piracy Is The Problem").
(15) BEZOS in SPAAAAAAAACE!The Washington Post reports "Jeff Bezos is going to space on Blue Origin's first crewed spaceflight in July".
A couple of weeks after Jeff Bezos officially steps down as CEO of Amazon, he'll leap into something more mythic: riding to the edge ofspace aboard one of his own rockets, alongside his brother, in a flight that would fulfill a lifelong dream.

The plan is that Bezos, his brother, Mark, and the winner of an online auction for Blue Origin's nonprofit foundation will be on the New Shepard on July 20 when it lifts off for a suborbital flight, the first time the spacecraft will carry passengers. The date is the anniversary of Neil Armstrong and Buzz Aldrin's Apollo 11 moon landing in 1969.The flight will mark a significant milestone for Blue Origin, which lags behind Elon Musk's SpaceX in the competition for billions of dollars in NASA and Pentagon contracts and which flies a more powerful rocket capable of taking people and supplies into orbit….
Daniel Dern comments:
One wonders whether nobody in this loop has read the last (third?) of Heinlein's The Man Who Sold The Moon (and/or the shorter followup, Requiem), where Delos D Harriman is prohibited from flying, due to a mix of health, insurance, (avoiding bad) publicity, etc.

One wonders whether his life insurance premiums are taking a brief spike. Yeah, he can afford them.

If nothing else, I'd love to see him at the launch site buying flight insurance. (I'm sure somebody will do, or already has, a video of this.)
(16) VIDEO OF THE DAY. In "Pirates of the Caribbean On Stranger Tides Pitch Meeting" on Screen Rant, Ryan George says the fourth Pirates of the Caribbean shows that, like other fourth films in franchises, the film practices "self-plagiarism, where the film goes through moments" people liked in the first three movies. There's also "hyper-specific magic with very vague backgrounds," so there's a great deal about the power of fresh mermaids' tears (old ones won't work) just to bring mermaids into the movie.
[Thanks to John King Tarpinian, Cat Eldridge, John Hertz, Mike Kennedy, Jennifer Hawthorne, Daniel Dern, Andrew Porter, Martin Morse Wooster, JJ, and Michael Toman for some of these stories. Title credit belongs to contributing editor of the day Bill.]