(1) DROP INN. [Item by Errolwi.] Upside when your house gets covered in fire retardant, house probably doesn't burn. Downside, it is now pink! Upside, you have a fun medium to present a message to the 'fireys'.
(2) #AUTHORSFORFIREYS. Check out the #AuthorsForFireys hashtag for fund-raising by authors on Twitter.
Genre authors responding include —
There's also a website supporting the auctions:
Authors For Fireys is an auction of signed books, illustrations, unique experiences, one-off opportunities and writers' services. Over 500 writers and illustrators are auctioning on Twitter from 6th Jan 2020 under the hashtags #AuthorsForFireys and #AuthorsForFiries. The auction ends on 11th Jan 2020 at 11pm (Syd/Mel time).
(3) PIXELS AUF DEUTSCH. [Item by Cora Buhlert.] kulturzeit is a German language daily cultural TV program I've been watching for a long time now. They're normally not what you'd consider SFF friendly, but today they had a report about Hopepunk. Alexandra Rowland is namechecked and quoted and they also interview a few German science fiction authors, who wrote Wasteland, the first German language hopepunk novel. The video is here. Only in German, alas.
kulturzeit's books for younger readers recommendation column also included the graphic novel West, West Texas by Hugo finalist Tillie Walden today: "'West, West, Texas' von Tillie Walden" The other recommended book, a picture book, is genre as well — the video is here. The book is Emilia and the Boy from the Sea by Dutch writer and illustratator Annet Schaap. Maybe an SFF fan joined their staff.
(4) RETRO REVIEWS. Cora Buhlert also has posted a second review of fiction eligible for CoNZealand's edition of the Retro Hugos. "Retro Review: 'The Wedge' a.k.a. "The Traders" by Isaac Asimov" discusses one of two eligible Foundation stories from 1944. She says the review for "The Big and the Little", the other 1944 Foundation story, will go up next week.
(5) EATING THE FANTASTIC. L. Penelope had a little lamb in Episode 113 of the Eating the Fantastic podcast. Host Scott Edelman tells what all is on the auditory bill of fare:
My guest for the first Eating the Fantastic episode of 2020 is Leslye Penelope — who publishes as L. Penelope. She started out as a self-published author, and her debut fantasy novel Song of Blood & Stone was so successful it was later picked up by St. Martin's Press. That book earned (among other things) the 2016 Self-Publishing EBook Award from the Black Caucus of the American Library Association, and after being republished and brought to a wider audience, named as one of TIME magazine's top fantasy books of 2018. She has since published two sequels, Breath of Dust & Dawn and Whispers of Shadow & Flame. Additional installments in the series are forthcoming.

We got together for lunch in Columbia, Maryland at The Turn House — because I'd heard about chef Thomas Zippelli, who has put in time at both the French Laundry and Eleven Madison Park, and wanted to check the place out. It turned out to be worth the visit for the porchetta alone.

We discussed why The Neverending Story was her favorite childhood movie, which Octavia Butler quote inspired one of her tattoos, why she decided to go the self-publishing route — and how her indie success resulted in her first novel getting picked up by a traditional publisher, the catalytic scene which sparked her Earthsinger Chronicles series, how she manages to meet the expectations of both fantasy readers and paranormal romance readers, her advice for breaking out of writers block, and much more.
(6) WHERE THE 'F' IS PERHAPS 'FANTASY'. [Item by Daniel Dern.] On Zoe's Extraordinary Playlist on NBC, an earthquake (the show is set in San Francisco) while she's getting an MRI results in Zoe, a programmer who's already established as listening to bunches of music along with listening to audiobooks, episodically experiencing people around her burst into song (and dance), apparently expressing their innermost thoughts.
So, lots of good singing and dancing, including great larger production numbers. E.g., on "Help!"
The NPR reviewer said the show didn't really get into gear until mid-Episode-2, I disagree, and, ahem, felt it founds its groove from the start. Recommended.
(Note, the pilot episode just ran — it's on YouTube already — but no more episodes until mid-February.)
(7) IT'S A MAGILLA. "Feds launch probe into problem-plagued $41M Hunters Point library" – the New York Post has the story.
Books aren't the only thing being checked out at this Queens library.

The feds are now probing the problem-plagued new library branch in Hunters Point, The Post has learned.

The US Attorney's Office in Brooklyn hired an architectural expert to conduct a December survey of the $41.5 million book hub to look for violations of the Americans with Disabilities Act, new Brooklyn federal court filings in a lawsuit against the library reveal.

An attorney for the city's Law Department blew the lid off the probe in documents filed for the pending suit, saying they needed more time because they're still awaiting the investigation's results.

The decade-in-the-making outpost of the Queens Public Library system was hailed by officials as a "stunning architectural marvel" when it opened in September.

But it has since come under fire for its stacks of design and construction problems — including a three-tiered fiction section, a rooftop garden and a reading space on the children's floor that are all inaccessible for people who use wheelchairs.
(8) NONE TO BEAM UP. The voyages may be continuing, but that doesn't mean the actors are — "Noah Hawley Suggests His 'Star Trek' Movie Will Include New Cast" according to The Hollywood Reporter.
In November, news broke that Fargo and Legion creator Noah Hawley would write and direct Star Trek 4, a movie said to continue the voyages of Chris Pine's Captain Kirk and his crew. But a few weeks later, star Simon Pegg turned heads when he suggested that the news had been incorrect, and that his Enterprise crew would not be returning for Hawley's movie. Now Hawley himself is suggesting that is indeed the case.

"To call it Star Trek IV is kind of a misnomer. I have my own take on the franchise as a life-long fan," Hawley told The Hollywood Reporter podcast TV's Top 5, in an interview set to bow in April.
(9) PEART OBIT. Neil Peart, drummer and primary lyricist for Rush, dead at 67 hreports the CBC.
The band was much honoured at home, including with an induction into the Canadian Music Hall of Fame in 1994, Canada's Walk of Fame in 1999; a lifetime achievement honour at the 2012 Governor General's Performing Arts Awards; and an Order of Canada — the first time that a group was chosen to receive the honour.

The trio was inducted into the U.S. Rock & Roll Hall of Fame in 2013, after years of lobbying by devoted fans.
Peart also co-authored two books in the Clockwork Angels series with Kevin J. Anderson. They also co-authored the short story "Drumbeats" in the Shock Rock II anthology.
(10) HENRY OBIT. Buck Henry died January 8. The Hollywood Reporter paid tribute —
Buck Henry, the impish screenwriter whose wry, satirical sensibility brought comic electricity to The Graduate, What's Up, Doc?, To Die For and TV's Get Smart, has died. He was 89.

Henry, a two-time Oscar nominee who often appeared onscreen — perhaps most memorably as a 10-time host (all in the show's first four years) on Saturday Night Live — died of a heart attack Wednesday at a Los Angeles hospital, his wife, Irene, told The Washington Post. He had suffered a stroke in November 2014….

Henry wrote for Get Smart and was the show'sstory editor for the first couple of seasons.

Henry, who won an Emmy (shared with Leonard Stern) in 1967 for writing the two-part episode "Ship of Spies," came up with the cone of silence shtick for the sitcom.

…For TV, Henry also created the 1967 NBC comedy Captain Nice, centered on a mild-mannered guy (William Daniels) who becomes a superhero, and the late '70s NBC sci-fi spoof Quark, which starred Richard Benjamin. Both series were short-lived.
(11) TODAY IN HISTORY.
January 10, 1967 – The Invaders made its TV premiere. Created by Larry Cohen, it aired on ABC for two seasons. Roy Thinnes stars as David Vincent is the star of the series. Gold Key Comics published four issues of an Invaders comic book based off the series. The series was a Quinn Martin production who was also responsible for A Twist in the Tale, an anthology series that did some SFF, and a film called The Aliens Are Coming.
January 10, 1997 — The Relic premiered. It was directed by Peter Hyams and based on the SFFish Relic novel written by Douglas Preston and Lincoln Child. It starred Penelope Ann Miller, Tom Sizemore, Linda Hunt and James Whitmore. Some critics really liked, some really like it and it holds a 34% rating among the frankly astounding 26,735 reviewers who took the time to give it a review. Oh and it bomb at the box office.
January 10, 1999 — Batman Beyond premiered on Kids' WB. It was created by Bruce Timm. Will Friedle as Terry McGinnis, the new Batman and you know who played the old Batman. It lasted three seasons and fifty-two episodes. The actual origin episode for Terry is to be found on Justice League Beyond in the "Epilogue" episode. The episode was originally intended to be the series finale for Justice League and the DCAU in general but they got renewed for a third season after it aired as the second season finale. If you've the DCU streaming service, all three seasons are there.
(12) TODAY'S BIRTHDAYS.
[Compiled by Cat Eldridge.]
Born January 10, 1902 — Andrew Bensen. Sometimes the time someone spends in our universe is very brief. Bensen has but one credit in SFF, the cover for Weird Tales for May 1926. Now admittedly it's a great cover even if not particularly SFFish. His cover for Real Detective Tales and Mystery Stories for August 1926 is striking in its artistic similarities. He later drew comic book stories for Dell's Roy Rogers Comics in the late 1940s, and drew a number of other Western themed projects. (Died 1976.)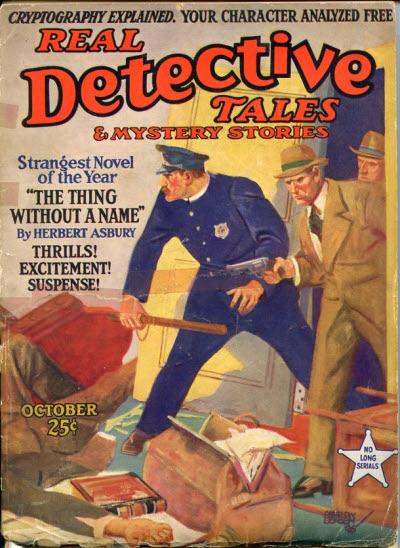 Born January 10, 1904 — Ray Bolger. The Scarecrow In The Wizard of Oz, the villainous Barnaby in Babes in Toyland, two appearances on Fantasy Island, and Vector In "Greetings from Earth" on the Seventies version of Battlestar Galactica. (Died 1987.)
Born January 10, 1908 — Bernard Lee. He's best known for his role as M in the first eleven Eon Productions James Bond films ending with Moonraker. He also portrayed Tarmut the sculptor in Terence Fisher's Hammer Horror picture Frankenstein and the Monster from Hell. And he appeared in several episodes of Danger Man. (Died 1981.)
Born January 10, 1924 — Mike Butterworth. In 1965, he became the primary script writers at Ranger magazine where he was responsible for scripting the space opera The Rise and Fall of the Trigan Empire which remains to this day one of the most popular boys' adventure strips ever published in the UK. Between Ranger and later Look and Learn, it would have a run of 854 issues in total, divided between the two magazines. (Died 1986.)
Born January 10, 1937 — Elizabeth Anne Hull, 83. Scholar, and widow of Frederik Pohl with whom she co-edited the most excellent Tales from the Planet Earth anthology. Not surprisingly, she later edited Gateways: Original New Stories Inspired by Frederik Pohl. She has been a member of the panel for the John W. Campbell Memorial Award for best SF novel since 1986.
Born January 10, 1944 — William Sanderson, 76. I remember him best as J. F. Sebastian, the possibly insane genetic designer working for Tyrell in Blade Runner, but he's had a career obviously after that film including appearing as Skeets in The Rocketeer, voicing Dr. Karl Rossum on Batman: The Animated Series, playing the character Deuce on Babylon 5 (a series I've watched through at least three times), E. B. Farnum on Deadwood (ok, it's not genre, but it's Will and Emma's favorite show so let's let it slide) and Sheriff Bud Dearborne on True Blood.
Born January 10, 1947 — George Alec Effinger. I've read his Marîd Audran series at least twice as it's an amazing series in both the characters and the setting. I never read the short stories set in this setting until Golden Gryphon Press sent me Budayeen Nights for Green Man to review. (Died 2002.)
Born January 10, 1959 — Jeff Kaake, 61. He's on the Birthday Honors list as he was Captain John Boon on the Space Rangers which lasted only six episodes. Damn. That was a fun show! He was also Thomas Cole on Viper which lasted four seasons. And he showed up in the Stormageddon film (which sounds like the name a Filer would give to a SJW Cred) as well.
(13) COMICS SECTION.
(14) IT WAS 20 YEARS AGO TODAY. Ian McKellen still has his receipts —
I am aware of the high expectations of Tolkien's fans – like myself. But, never having imagined that I would ever play any sort of wizard, I am ill-prepared. I just worked with a witch, however, a white one, whose spells are formidable. Her energy is impressive. I shall have to come to understand the nature of Gandalf's energy – what keeps him going. What keeps any of us going?
(15) FURTHER DUBLIN 2019 COVERAGE. An advance post alert has gone out for SF2 Concatenation's second conreport on the Dublin Worldcon, this one by Marcin "Alqua" Klak, one of the staff volunteers.
Marcin "Alqua" Klak is a fan form Poland who loves conventions and exploring fandom in different countries. He regularly blogs about conventions he visits and about other fannish matters on his blog: www.FandomRover.com. In 2018 he was a GUFF (Get Up-and-under Fan Fund) delegate to attend Continuum XIV in Melbourne, Australia. Currently, he chairs the SFF club in his home city of Kraków.
(16) NO TRUE SCOTSMAN. [Item by David Goldfarb.] I was watching the second game of the current "Greatest of All Time" tournament on Jeopardy!, and in the Double Jeopardy round this was the $1600 answer in the category "Pop Culture People":
Feeling regenerated in "Doctor Who", this actress confessed, "Sorry, half an hour ago I was a white-haired Scotsman"
File 770 readers should have no problem finding the right question to that one!
(17) ICONIC STYLE. At Print, Steven Heller extols "The Church Lettering Art Style".
Show card lettering artists were usually anonymous to the public. Art was a commercial service and few people signed their names or were credited for their craft. Edgar Church (1888 – 1978) was among the few who received a certain amount of acclaim – and some of that recognition today is thanks to Chuck Rozanski, an avid comics collector (drag queen) and founder of Mile High Comics. Church was one of the leading comics collectors in the 20s, 30s and 40s. The two disciplines, comics and graphic design/lettering, were intertwined — and comics splash panels certainly influenced his work.

Church maintained his art service studio in the Denver area from about 1910-1965, with the majority of his work – clichés, spot art and custom lettering, produced from 1918-1950. He also created numerous color paintings and landscapes during this time. He was hired on a freelance basis for variegated lettering styles, borders and pen and ink illustrations for ads running in the Colorado Yellow Pages. Rozanski states that Church worked "in the evenings and on weekends for literally thousands of small businesses, creating everything from letterheads, to Christmas cards, to full-page ads in local newspapers."

…His renown, however, derives from the collection of comic books that he amassed, later known as the "Edgar Church collection." Under the umbrella of the "Mile High collection", Church is most famous for his valuable stash, including between 18,000 and 22,000 early comic books….
Andrew Porter sent the link with the comment, "Gorgeous examples of his work at the link. But I bet one company later changed their name…"
(18) INSIDE STORY. The Full Lid returns from the holiday break with a look at the interesting common ground the new Master on Doctor Who has with The Witcher's own hype man, Jaskier. We also take a look at remake culture and find a very surprising musical example of how to do it right. This week's Signal Boost covers One YA A Day', a new blog series looking at the Cast of Wonders back catalog, new Leverage watch-along show The Pod Job, tour dates for the NoSleep Podcast live tour and details of the Last Fleet RPG Kickstarter. The link is: The Full Lid – 10th January 2020.
(19) VIDEO OF THE DAY. Robert Downey, Jr. runs the Dolittle – Auditions.
[Thanks to John King Tarpinian, Dann, David Goldfarb, Errolwi, Andrew Porter, Martin Morse Wooster, Mike Kennedy, JJ, Chip Hitchcock, Alasdair Stuart, SF Concatenation's Jonathan Cowie, and Cat Eldridge for some of these stories. Title credit belongs to File 770 contributing editor of the day Daniel Dern.]