(1) SUES WHATEVER A SPIDER CAN. The heirs of Steve Ditko filed to reclaim their rights to some well-known Marvel characters – now Marvel is suing to prevent them. The Hollywood Reporter looks over the filings in "Marvel Suing to Keep Rights to 'Avengers' Characters".
Disney's Marvel unit is suing to hold on to full control of Avengers characters including Iron Man, Spider-Man, Dr. Strange, Ant-Man, Hawkeye, Black Widow, Falcon, Thor and others.

The complaints, which The Hollywood Reporter has obtained, come against the heirs of some late comic book geniuses including Stan Lee, Steve Ditko and Gene Colan. The suits seek declaratory relief that these blockbuster characters are ineligible for copyright termination as works made for hire. If Marvel loses, Disney would have to share ownership of characters worth billions.

In August, the administrator of Ditko's estate filed a notice of termination on Spider-Man, which first appeared in comic book form in 1962. Under the termination provisions of copyright law, authors or their heirs can reclaim rights once granted to publishers after waiting a statutory set period of time. According to the termination notice, Marvel would have to give up Ditko's rights to its iconic character in June 2023….

If the plaintiffs win, Disney expects to at least hold on to at least a share of character rights as co-owners. The studio would have to share profits with the others. Additionally, the termination provisions of copyright law only apply in the United States, allowing Disney to continue to control and profit from foreign exploitation.
(2) LIKE PEANUT BUTTER AND CHOCOLATE. Lincoln Michel on why noir blends well with sf, at CrimeReads: "Why Noir and Science Fiction Are Still a Perfect Pairing".
… I think the answer lies first in the fact that both genres have an inherent critique of the social order. They question the state of the world, refusing to just accept the corruption, inequality, and destruction as "the way things are." Or at least saying, sure, it's the way things are, but it's still screwed up.

While other crime genres are often fundamentally a defense of the status quo—police procedurals focus on petty criminals and heroic cops, spy thrillers defeat threats to the established global order—noir presents the established order as crime. It is the rich and the powerful, and the institutions that serve them, that are the true villains. (Of course this isn't true of every single noir work, but it is of the ones that influenced SF subgenres like cyberpunk.) Take Dashiell Hammett's masterpiece Red Harvest, in which a rich man and a corrupt police force collaborate with gangs to crush poor workers. Or Chinatown, in which a business tycoon controls government institutions to choke off water supplies. This critique of the social order is why the prototypical hardboiled (anti)hero exists outside of the official law enforcement structure. They're not a police officer, FBI agent, or government spy. They're a private investigator, and sometimes even unlicensed as in the case of Walter Mosley's Easy Rawlins, and realize that the legal system is as corrupt as the organized crime it is fighting…and often in bed with.
(3) RAUM, THE FINAL FRONTIER. Cora Buhlert describes West German TV's new (in 1966) space adventure show: "[September 24, 1966] Science Fiction TV from West Germany: Space Patrol: The Fantastic Adventures of the Spaceship Orion: Episode 1: Attack From Space" at Galactic Journey.
…The series has the unwieldy title Raumpatrouille – Die Phantastischen Abenteuer des Raumschiffs Orion (Space Patrol – The Fantastic Adventures of the Spaceship Orion), which viewers have already shortened to Raumpatrouille Orion or just plain Orion.

Like the new US series Star Trek, Space Patrol Orion starts with an opening narration, courtesy of veteran actor Claus Biederstaedt, which promises us a fairy tale from the future. In the year 3000 AD, nation states have been abolished. Humanity has settled the ocean floor and colonised far-flung worlds. Starships, including the titular Orion, hurtle through space at unimaginable speeds.

An impressive title sequence and a spacy and very groovy theme tune follow, courtesy of Peter Thomas, who also supplies the music for the Edgar Wallace and Jerry Cotton movies….
(4) TANKS FOR THE MEMORIES. By George, Steve Davidson makes a good point: "Space Force Uniform Controversy" at Amazing Stories.
The Space Force, America's latest (and completely unnecessary) military branch unveiled its proposed service uniform.

A lot of fans (and fan-adjacent television watchers) have remarked that the proposed dress uniform greatly resembles those created for the entirely fictional space navy depicted in Battlestar Galactica (the completely unnecessary re-boot, to be precise).

Yes, yes it does.  However, those more familiar with real military history would probably be more inclined to think that the new digs for Space Force look more like General George S. Patton's tanker's uniform that the general proposed between world wars one and two; about the only difference between uniforms then and uniforms now is Patton's addition of a football helmet, while it is very unlikely that Space Force will adopt the recommended propeller beanie….
Comparative photos at the link.
(5) COVER SCORES. The public's choices for best covers in the Self-Published Science Fiction Competition have been announced – and the outcome was a lot close than expected.
(6) JO WALTON KICKSTARTER. A funding appeal launched at Kickstarter aims to produce a Lifelode Audiobook by Jo Walton.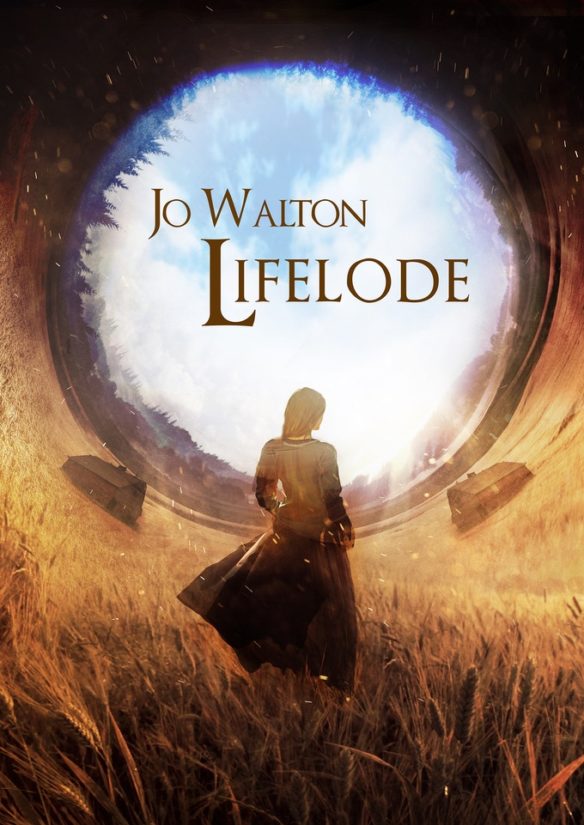 Lifelode is a Mythopoeic Award winning fantasy novel by Jo Walton that has never had an audiobook. Jack Larsen is a young man from New Zealand who has a wonderful voice for reading aloud and wants to become an audiobook reader. Together, they could be amazing…
Jo Walton writes:
The main point of this is to try to kickstart the audiobook reading career of young New Zealand fan Jack Larsen, whose wonderful reading voice has been a mainstay of the Scintillation community through the pandemic.
They will have Jack read the book in a professional studio and have it professionally edited (which is the part which costs all the money) and then sell it where all good audiobooks are sold.
At the Kickstarter site you can listen to Jack read the first chapter — click on the video there (which is just audio). Bear in mind, Jack did this demo on his phone.
As of today's writing the appeal has raised $2,457 of its $7,891 goal.
(7) FOUNDATION LAYS ITS CORNERSTONE. Camestros Felapton supplies detailed comments about the beginning of the new series: "Review: Foundation Episode 1 (Apple TV)".
2021 for all its faults, is offering fans of classic science fiction two (potential) treats: a new movie version of Dune and a TV adaptation of Isaac Asimov's Foundation series. It's interesting that of these two highly influential stories that with first you can make a good guess about what specific scenes will appear and in the second I've no idea what we will be getting….
Warning, it's spoilers all the way down from there.
(8) PARTS IS PARTS. In contrast, Rolling Stone's Alan Sepinwall isn't a believer. "New Formula for 'Foundation' Doesn't Add Up".
…Like psycho-history itself, all of these changes make sense in theory. But none of them quite accomplish what the show's creative team needs them to. This Foundation is, like the clones' palace on the capitol planet of Trantor, stunning to look at(*) but ultimately cold and sterile. Despite the cast and crew's best efforts — and what appears to be an unlimited budget, even by Apple's lavish standards — this Foundation remains an assemblage of concepts in search of a compelling TV show….
(9) LANGDON JONES (1942-2021). Author, editor and musician Langdon Jones, whose short fiction primarily appeared in New Worlds, beginning with "Storm Water Tunnel" in 1964, has died, Michael Moorcock reported on Facebook.
One of my closest, longest and best friendships was with Lang Jones, a talented composer, editor and writer, one of the most modest people I have ever known, with the sweetest nature of almost any human being I've met. He was Assistant Editor of New Worlds. He restored Titus Alone by Mervyn Peake to the edition you probably read and wrote the music for The Rhyme of the Flying Bomb.  You can hear his lively piano on The Entropy Tango.  His own collection of stories The Great Clock, remains his only published fiction.  I last saw him about two years ago, at the wonderful wedding of his daughter Isobel to Jason Nickolds, for whom he was extremely happy, and he said he had stopped writing and composing and had never felt better.  He leaves a son, Damon, as well as his daughter.  One of the few people of whom it's possible to write: Loved by all.
(10) MEDIA BIRTHDAY.
1964 – Fifty-seven years ago, Mary Poppins had its New York City premiere. (Yes, it's genre as a flying nanny is surely within our realm.) It was directed by Robert Stevenson from the screenplay by Bill Walsh and Don DaGradi as based off P. L. Travers's Mary Poppins series. It was produced by Walt Disney and starred Julie Andrews in her first screen acting role. Principal other cast were Dick Van Dyke, David Tomlinson and Glynis Johns. The film was shot entirely at the Walt Disney Studios in Burbank, California, using painted London background scenes.
It won't surprise you that the film received universal acclaim from film critics, and that Julie Andrews and Dick Van Dyke got lavish praise. Box office wise, it earned some forty five million dollars on an estimated budget of four or so million dollars (Disney never released the budget officially) and it's had at least another hundred million in box office rentals as well since then.
Audience reviewers currently at Rotten Tomatoes give it an excellent eighty-eight percent rating. A sequel, Mary Poppins Returns, was recently released and it too rates high among audience reviewers currently at Rotten Tomatoes with a sixty five percent rating. Dick Van Dyke has a new role in it.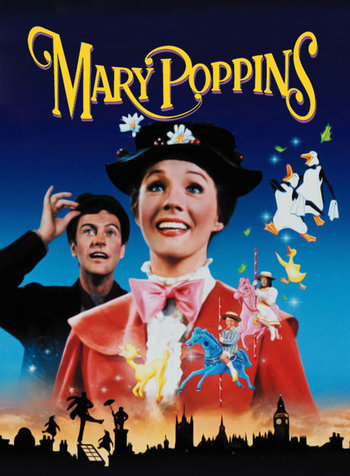 (11) TODAY'S BIRTHDAYS.
[Compiled by Cat Eldridge.]
Born September 24, 1922 — Bert Gordon, 99. Film director most remembered for such SF and horror films as The Amazing Colossal Man, Village of the Giants and The Food of the Gods (based of course on the H.G. Wells' novel The Food of the Gods and How It Came to Earth).  His nickname "Mister B.I.G." was a reference both to his initials and to his preference for directing movies featuring super-sized creatures. 
Born September 24, 1934 — John Brunner. My favorite works by him? The Shockwave Rider, Stand on Zanzibar which won a Hugo at St. Louiscon and The Sheep Look Up. I'm also fond of The Squares of The City which was nominated for a Hugo at Tricon. That was easy. What's your favorite works by him? (Died 1995.)
Born September 24, 1936 — Jim Henson. As much as I love The Muppet Show, and I've watched every show at least twice, I think The Storyteller is his best work. That's not to overlook Labyrinth, The Witches and The Dark Crystal and the first two Muppets films which are also excellent. Warning note: the three newest takes done on The Muppets suck beyond belief. Disney should be ashamed. (Died 1990.)
Born September 24, 1945 — David Drake, 76. Writer with his best-known solo work being the Hammer's Slammers series of military science fiction which are space operas inspired by the Aubrey–Maturin novels. He has also drafted story ideas that were then finished off by co-authors such as Karl Edward Wagner, S.M. Stirling, and Eric Flint. He's very, very well stocked at the usual suspects. 
Born September 24, 1945 — Ian Stewart, 76. Mathematician and  writer. He makes the Birthday Honors for the four volumes in The Science of Discworld series he wrote with Jack Cohen and Terry Pratchett. It was nominated for a Hugo at Chicon 2000. Each of the books alternates between the usually absurd Discworld story and serious scientific exposition. (All four volumes are available from the usual suspects.) He would write a number of genre novels, none of which I'm familiar with. Anybody here read his works? 
Born September 24, 1951 — David Banks, 70. During the Eighties, he was the Cyberleader on Doctor Who in all the stories featuring the Cybermen — Earthshock (Fifth Doctor story), The Five Doctors, Attack of the Cybermen (Sixth Doctor story), and Silver Nemesis (Seventh Doctor story). In 1989, he played the part of Karl the Mercenary in the Doctor Who: The Ultimate Adventure stage play. There were two performances where he appeared as The Doctor as he replaced Jon Pertwee who had fallen ill.
Born September 24, 1957 — Brad Bird, 64. Animator, director, screenwriter, producer, and occasionally even a voice actor whom I'm going to praise for directing The Iron Giant (nominated for a Hugo at Chicon 2000), The Incredibles (winner of Best Dramatic Presentation, Long Form at Interaction), Incredibles 2 and Tomorrowland. He's the voice of Edna Mode in both the Incredibles films. 
Born September 24, 1965 — Richard K. Morgan, 56. The Takeshi Kovacs novels are an awesome series  which are why I haven't watched the Netflix series. His fantasy series, A Land Fit For Heroes, is on my TBR, well my To Be Listened To pile now. And yes I read Thin Air, the sequel first and it's quite excellent. 
(12) COMICS SECTION.
A meeting with the shrink is the subject of today's Wulffmorgenthaler-239 at Politiken. Lise Andreasen supplies the translation from Danish:
So … You left him, you killed his aunt and uncle, you blew up his sister's planet, you chopped his hand off … and NOW you want him to consider you a father figure and join you "on the dark side". How do you think Luke feels about it?
(13) TRUTH OR CONSEQUENCES. Or both… Shat might be on his way to space after all these years — "Beam me up? TMZ says William Shatner will take Blue Origin suborbital space trip".
The next crewed suborbital spaceflight planned by Amazon founder Jeff Bezos' Blue Origin space venture — which could launch as early as next month — is due to carry Star Trek captain William Shatner, according to the TMZ celebrity news site.

If the report based on unnamed sources is true, that would make Shatner the oldest person to fly in space at the age of 90, besting the record set by 82-year-old aviation pioneer Wally Funk during the first crewed flight of Blue Origin's New Shepard suborbital spacecraft in July….
(14) THE WARMED-UP EQUATIONS. "'Astronauts check our scripts!': inside the new age of sumptuous sci-fi TV". The Guardian tells how we got here.
…The current renaissance can be traced to Moore's groundbreaking 2004 reimagining of hokey 70s space odyssey Battlestar Galactica. Updating the premise for a post-9/11 TV landscape, he turned a niche sci-fi story into mainstream watercooler TV. "Whether you liked sci-fi or not, you found yourself binging all these seasons," says Ben Nedivi, one of Moore's co-creators on For All Mankind. 

While Star Trek, too, is thriving in the current sci-fi landscape, with no less than five series currently in production, it seems unlikely to cross the final frontier into the halls of prestige sci-fi. For Nunn, this comes down to one thing: aliens. 

While the golden age shows of the 90s relied heavily on prosthetics – and, in the case of Farscape, puppets – to present characters from other worlds, today's sombre offerings dwell solely on human problems. "With Battlestar Galactica, you've got robots, but you haven't got aliens," Nunn points out. "And The Expanse is similar. So they can be read as science fiction but also dystopias, whereas Star Trek and Babylon 5 and Farscape, even Stargate, all had alien life-forms at their core."…

… For Shankar, a great strength of The Expanse is that it uses space as more than just a backdrop. "This is a show that turns space into a character," he says. With a PhD in applied physics, he served as Next Generation's official science adviser. "On Star Trek it was really about maintaining continuity with the fake science, making sure you used the phasers when you were supposed to, and not the photon torpedoes," he says. "The technical manual [for the Enterprise] was quite detailed, but it wasn't real. In The Expanse we use real physics to create drama. There's a sequence in the first season where the ships are turning their engines on and off so you're shifting from having weight to weightlessness. Two characters suddenly lose gravity and can't get back to where they need to be, and the solution is conservation of momentum."

This absolute commitment to accuracy is shared by the team behind For All Mankind. "We have an astronaut who reads our scripts," explains co-creator Matt Wolpert. "He'll tell us when we come up with ideas that are against the laws of physics."…
(15) TED TALK. Ted White has two books out – one fiction, one non-…. Both were designed by John D. Berry, and published with the assistance of Michal Dobson's Dobson Books. White is former editor of Amazing® and Heavy Metal® magazines and a past Best Fan Writer Hugo winner.
He'd been set up. Someone (and "independent consultant" Ray Phoenix was pretty sure who) had filed a phony stolen car report. When a freak bus accident allows him to escape into the woods, Ray lands in an entirely new world of trouble – small-town cocaine dealing, counterfeit money, and a web of strange and violent relationships that will take all of Ray's considerable skills to unravel.
In 1986, legendary science fiction writer and editor Ted White went to jail for possession and sale of marijuana. A prolific correspondent, Ted kept up a steady stream of letters during his confinement that vividly and powerfully detail everyday life behind bars, from relationships with other prisoners and guards to living in cells and common rooms – not to mention the fine jailhouse cuisine. (Seriously, don't mention it.) Ted White's letters make you feel like you're really in jail…and really glad you're not.
(16) DISCONTENT. [Item by David Doering.] I caught this piece on TechDirt today. It appears that Sony's art department enjoyed this fan artist's rendering of She-Venom so much they included it in their official poster. Too bad they didn't acknowledge that or offer to pay for it. I certainly see more than just coincidence here. Even if Sony/others have the rights to the character, the similarities are too striking to not say the Sony version owes something to the fan artist. The comments debate both sides. "Sony Pictures, Defenders Of The Creative Industry, Appears To Be Using Fan Art Without Giving Credit"
… You can say the images don't match up precisely if you like, but they're certainly very damned close. As mentioned about similar past cases, this likely isn't a copyright infringement issue; the fan artist doesn't own any rights to the character he drew. But, again, if the copyright industries are going to do their maximalist routine under the guise of protecting those that create content, well, fan art is content….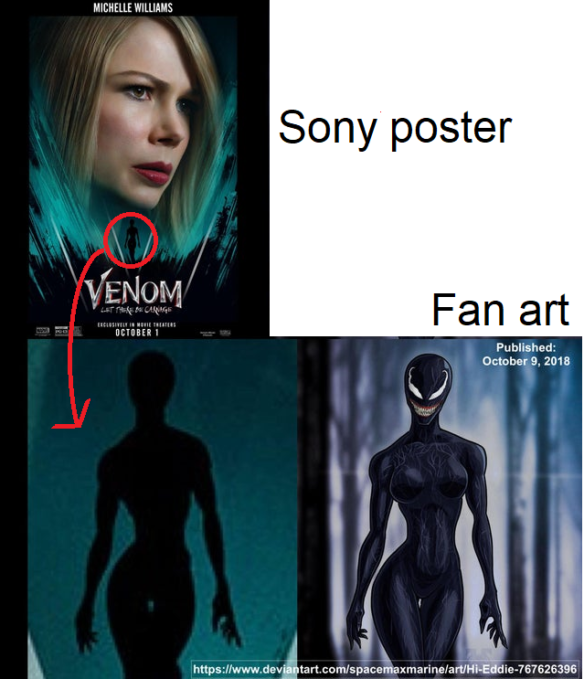 (17) EVADING THE SURVEILLANCE SOCIETY. [Item by SF Concatenation's Jonathan Cowie.] BBC Radio 4's The Digital Human episode "Faceless" notes that it's becoming harder to hide from facial recognition technology and asks what does this means for people who protest against political systems … So we are SF fans and know all about Orwell's 1984, William Gibson's novels etc.  Or do we?  It looks like things are getting worse, but there are ways to fight back…. Digital Human looks at the issues with examples from a non-political English teacher becoming a wanted terrorist on the run in 12 days, to counter-measures.
Johnathan Hirshon works in PR and marketing and describes himself as 'The Faceless man' because he's managed to keep his face off the internet for over twenty years. This may seem extreme but Neda Soltani explains how one online photo of her face, meant she had to leave her family, country and profession. Artist and curator, Bogomir Doringer whose archived and curated thousands of faceless images off the internet talks about how technology is not only choreographing the way we use our faces but persuading us to hand over our biometric data with our use of apps that change the way we look. .

Artist Zach Blas is interested in queer culture and has created masks using biometric data from minority groups, to push back on the possibility of people being categorised by biometrics. Zach uses masks to show that facial recognition technology can be disrupted. Stephen has been trying to do just that. Stephen is from Hong Kong and spent the summer protesting against the Extradition bill. He and his fellow protesters wore masks to evade identification from the police and Hong Kong's smart lamp posts. The remit of the protest grew when the wearing of masks by protesters was banned. Stephen believes that by using facial recognition technology on the streets of Hong Kong the authorities in Hong Kong and China are creating a sense of 'white terror'. Stephen is now protesting in the UK but still feels this 'white terror'. While protesting people from mainland China have been taking photos of him and other protesters. He knows that photos can go global and by using facial recognition tech he could be easily identified. Is it becoming impossible to escape recognition even when we would like to hide?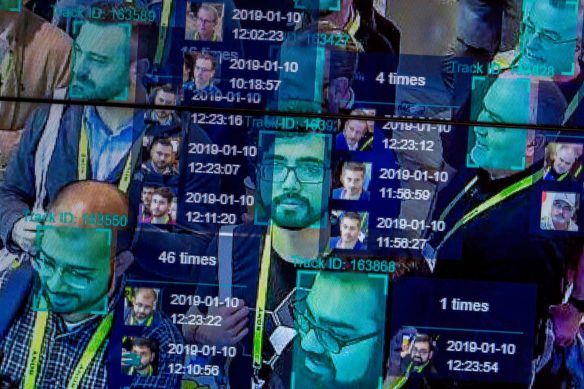 (18) HE BLABBED. Tom Hiddleston tells Loki stories: Untold: Tom Hiddleston.
(19) AN ADVENTURE WITH COMPANIONS. Yes! Another excuse to watch David Tennant! "Around the World in 80 Days" will air on PBS.
David Tennant stars as literature's greatest explorer Phileas Fogg in a thrilling new adaptation of Jules Verne's classic adventure novel coming to MASTERPIECE on PBS. (Air date to be announced.)
[Thanks to Mike Kennedy, Andrew Porter, Martin Morse Wooster, JJ, Lise Andreasen, David Doering, SF Concatenation's Jonathan Cowie, Michael Toman, John King Tarpinian, and Cat Eldridge for some of these stories. Title credit belongs to contributing editor of the day Jack Lint.]