(1) NEW MARKET, NEW MONEY. SF magazine Hard Universe is taking submissions. The attention-grabbing part is how writers will get paid:
Payment for authors will be SFWA profession rates of 6 cents a word.  Payment will be made at the time of publication and be made in cryptocurrency equivalent to 6 cents a word at the time of publication.
The cryptocurrency involved is described by their sponsor at the Thought Network.
Rob Furey, speaking for Hard Universe, told Facebook readers:
Cat Rambo informed me that cryptocurrency will be viewed as any other foreign currency and valued at the exchange rate on the day of payment.

Authors will be given a link to open a secure personal wallet The cryptocurrency will be deposited in there. After that you can do with it as you like.
This is the kind of fiction they're looking for:
Welcome to Hard Universe, where the math is strong, the science both lifts and limits, and the theories are robust.  In the coming pages we will provide science fiction based on plausibility and humanity, on the stand-up potentials of the human spirit faced with the finite yet unbounded qualities of the Universe's inbuilt rules.
At the onset, Hard Universe will be quarterly.  Each issue will launch from a classic science fiction tale to inspire modern stories in the same vein.
(2) INSPIRED BY LE GUIN. Larry Clough spotted this sign at Saturday's protests in Washington, DC and posted it on Facebook.
(3) BEWARE BATMAN SPOILER. This is the first time I've had to ROT-13 a headline – and don't read the permalink of io9's article either if you want the surprise to be preserved: "Jryc, Ybbxf Yvxr QP Pbzvpf Fcbvyrq Ongzna naq Pngjbzna'f Jrqqvat va gur Arj Lbex Gvzrf".
SPOILER WARNING
(Did I make that sufficiently clear??)
The New York Times has published an article whose very headline is a major spoiler for fans of the DC universe (and followers of Batman in particular). Quoting the article:
If you're invested in Batman's romantic life, you might want to steer cleer of the paper of record today.

Gbqnl, gur Arj Lbex Gvzrf ena n fgbel pnyyrq "Vg Whfg Jnfa'g Zrnag gb Or, Ongzna" juvpu vf nobhg gur hcpbzvat Ongzna #50, qhr bhg Jrqarfqnl jvgu jevgvat ol Gbz Xvat naq neg ol Zvxry Wnava, jvgu pbybef ol Whar Puhat naq yrggrevat ol Pynlgba Pbjyrf, nybat jvgu n oril bs thrfg negvfgf. Va vg, gur negvpyr erirnyf jung gur urnqyvar znxrf cerggl pyrne: Ongzna vfa'g trggvat zneevrq guvf Jrqarfqnl. Ongzna naq Pngjbzna, gur yrtraqnel ureb/nagv-ivyynva cnvevat, vf abg zrnag gb or. Ng yrnfg abg va gur pnaba QP Havirefr, gung vf.
(4) STAN LEE. The Los Angeles Times tries to sort out what's happening: "As Marvel movies soar, Stan Lee sees his private life crumble, with allegations of elder abuse".
If the life of Stan Lee were turned into a superhero movie, it would be difficult to tell the good guys from the bad.

A battle over the Marvel Comics legend's legacy is underway, featuring a cast of characters whose competing agendas make the plot of "Avengers: Infinity War" look simple by comparison. A man who says he is Lee's manager and caretaker was arrested this month in Los Angeles on suspicion of filing a false police report and is being investigated over alleged elder abuse, according to court filings. A court has placed Lee, 95, under the temporary guardianship of an attorney, who has received a restraining order against the manager.

Since his wife, Joan, died last year at age 93, Lee has found himself surrounded by people with unclear motives and intentions, friends and colleagues say. The decline of his private life stands in stark contrast to the soaring success of Marvel, the brand he helped to create five decades ago. The blockbuster movie adaptations released by Disney's Marvel Studios are perennial box-office winners that have helped to keep Lee's influence thriving among new generations.

At the center of the current dispute is Lee himself — no longer able to see or hear well, but still active enough to attend red-carpet premieres and make cameo appearances in Marvel movies. On one side is Keya Morgan, a 42-year-old memorabilia collector and dealer who became close to Lee and served as his manager and de-facto gatekeeper. On the other side is Lee's 68-year-old daughter, J.C. Lee, and her attorney, Kirk Schenck, who have battled Morgan over access to her father and his money.
(5) AVOIDING ELDER ABUSE. At Comicbook.com, "Casey Kasem's Daughter Addresses Elder Abuse Claims Surrounding Stan Lee"
Anti-elder abuse advocate Kerri Kasem, daughter of legendary Scooby-Doo voice actor and American Top 40 host Casey Kasem, has detailed the warning signs of elder abuse that could be affecting famed Marvel Comics legend Stan Lee.

"In the last year of my father's life, his wife [Jean Kasem] isolated him, keeping him away from us kids, all family members, his own brother, co-workers, friends — nobody could get a hold of him," Kasem told USA Today.

"We called the police and they couldn't help us, and we called Adult Protective Services, and they couldn't help us, why? There are no laws allowing adult children to see their ailing parents in this country. Soon as you turn 18, you have no rights to see your parents — unless of course you have the Kasem Cares Visitation Bill in your state — and I've been working for the last five years on changing the laws in this country so that adult children have rights to see their parents."

The Kasem Cares Visitation Bill, signed into law in 2017, allows a child to petition a court for visitation of their parent without going through a lengthy trial. Per the official website, the bill has been passed in 12 states, including California, where Lee resides.
(6) TREK GRADUATES. In "Star Trek Trek Directors' School: Rick Berman", an interview on StarTrek.com, ST:TNG/DS9/V/E executive producer Rick Berman discusses how so many actors from these series ended up directing.  The interview opens with:
Q: How, when, and why did the so-called directors' school come about?

A: Jonathan Frakes, who I was very close to, personally and professionally, was very interested in directing. This was around season two. My theory on that was it was a slippery slope. There were a lot of potential pitfalls. What do you do if their episode is mediocre? On the other hand, actors were extremely good candidates for episodic directing simply because they lived their lives on the sets. They saw everything that went on, technically. Being actors, they knew everything that was going on dramatically, they spoke actor-ese and they'd see the technical elements of production and camera work going on. They seemed, in a sense, better candidates for potential directors than technical people. If a cameraman or an assistant director wanted to direct – and there are exceptions to this rule — they know the technical elements, but they don't speak the actor-ese. They don't understand how, necessarily, to deal with actors and to deal with character work. It's much easier for an actor who's directing to talk to the director of photography or sound man or production designer, and get information of a technical nature than it is for an assistant director to have somebody to discuss, "How do I talk to an actor about his performance?" So, actors always seemed to me to be decent candidates for directing.

However, what I said to Jonathan was, "You need to spend some time shadowing other directors. You need to spend time going through the whole process, going through the script, going through pre-production and all the prep a director does, spending time with directors on the stage, spending time with the director as he's prepping each day's work and spending time with the director in editing." This was not always easy, because these actors were busy. They didn't have time to necessarily do that because they were working. So, they had to find time. And my feeling was if they really had a passion to do this, they'd make it their business to find time. At some point, whether it was Jonathan or me or somebody else, it became known as "going to school" prior to getting a directing assignment. Jonathan spent numerous episodes, when he was light in an episode, going to school. Even when he was busy and had a full load of pages on a specific episode, he'd find time, whether it was lunch hours, before work, after work, scenes he wasn't doing, to do all the things I mentioned before.
StarTrek.com also promises follow ups with some of the "graduates" of this "directors' school," beginning with Jonathan Frakes.
(7) FIRST CONTACT. Buzz Dixon sent the link to his reminiscence: "Harlan".
…I met him in person at Filmation Studios back in 1978, but before then we had encountered each other on the pages of Dick Geis' Science Fiction Review.

Let me backtrack and explain.

Harlan would approve….
(8) GRIFFIN OBIT. Helen Griffin (? – 2018): British actress, playwright and anti-war activist, died 29 June, aged 59. Genre appearances; Doctor Who (two episodes, 2006), The Machine (2013).
(9) FIRMIN OBIT. Peter Firmin (1928-2018): British producer, writer and director, died 1 July, aged 89. Genre work includes the animated series Noggin the Nog (1959 and 1979) and The Clangers (1969 and 2015).
(10) YOUNG PEOPLE. James Davis Nicoll turns on the radio and has his panel listen to Ray Bradbury's "The Veldt". Unbelievably, we here at All Bradbury All The Time are linking to a post that starts with this sentence:
I am not particularly fond of Ray Bradbury's fiction but I know lots of people are. Logically, he seems like a safe bet when introducing young people to old SF in its various forms. The Veldt in particular was adapted to radio on a number of occasions. Paranoia about children was a common theme in the early Baby Boom years and The Veldt seems to be a prime example of the subgenre. I don't see the attraction myself but I know I am in the minority where Bradbury was concerned. But will my young people agree with the majority or agree with me?

The X Minus One adaptation of The Veldt is here.
(11) BEHIND A PAYWALL. In the June 23 Financial Times, Nilanjana Roy discusses the successes of Marlon James and Toni Adeyemi in selling fantasy novels and how more people of color ought to be writing sf and fantasy.
Growing up in India, I read fantasy and sf classics by the dozen, 'translating' as I devoured The Wizard of Oz, The Lord of thee Rings, 2001, and other books.  It was easy enough to Imagine Tolkien's orcs as similar to Indian rakshasas, or to mentally shift Dorothy to an Indian jungle where lions and monkeys travelled the Yellow Brick Road.  But rural Kansas was exotic to me.  And it was impossible to imagine writing a novel that might be read in the US or the UK where the hobbits were Indian, the Shire a version of the Punjab countryside…

…Speculative fiction is, by definition, about casting wide the net of the imagination.The excitement that James, Adeyemi, Liu Cixin and others have generated is also an index of how much richer SF could be in the future; speaking up to 'diversity' simply means creating more, and richer, fictional worlds to explore.  Somewhere on this planet, I hope there's a teenager who dreams of becoming an sf writer–the next Rowling or Tolkien, yes, but also the next Adeyemi, the next (N.K.) Jemisin.
(12) KGB. Fantastic Fiction at KGB reading series hosts Ellen Datlow and Matthew Kressel present Brooke Bolander and Angus McIntyre on Wednesday, July 18, 7 p.m. at the KGB Bar.
Brooke Bolander
Brooke Bolander writes weird things of indeterminate genre, most of them leaning rather heavily towards fantasy or general all-around weirdness. She attended the University of Leicester studying History and Archaeology and is an alum of the 2011 Clarion Writers' Workshop at UCSD. Her stories have been featured in Lightspeed, Tor.com, Strange Horizons, Uncanny, and various other fine purveyors of the fantastic. She has been a repeat finalist for the Nebula, the Hugo, the Locus, and the Theodore Sturgeon, much to her unending bafflement. Follow her at brookebolander.com or on Twitter at @BBolander
Angus McIntyre
Angus McIntyre is the author of the novella The Warrior Within, published by Tor.com. His short fiction has appeared in Abyss & Apex Magazine, and in several anthologies including Humanity 2.0, Swords & Steam, Mission: Tomorrow, and Black Candies: Surveillance, Visit him online at https://angus.pw/ or follow him on Twitter at @angusm.
The KGB Bar is at 85 East 4th Street (just off 2nd Ave, upstairs) in New York, NY.
(13) ASTRONAUT HONORED. On the day of the Summer Solstice, Ohio honored their late native John Glenn with the official opening of the John Glenn Astronomy Park. The facility is located in Hocking Hills (40 miles outside of OH capital, Columbus) and is surrounded by 10,000 acres of forest which shields it nicely from light pollution. A story on CNBC — "Ohio honors late space icon and native son John Glenn with an astronomy park—here's a look inside" — includes photos of some of the features and events at the Park.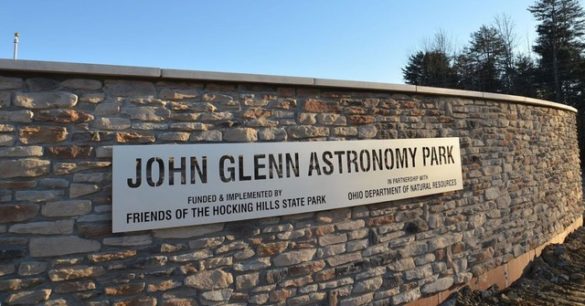 (14) THANKS, INTERNET. John Scalzi did a follow-up: "More Things I Don't Miss".  I love this one:
Having to wait to listen/hear music. So, when I was 13, there was this song that came on the radio that I immediately fell in love with, but I missed the title of it, and it was electro-pop and all my friends listened to heavy metal so they were no help, and there was nothing I could do but wait to see if the radio station would play it again, and they did, but I missed the intro and they didn't identify the song at the end, so I had to wait again for them to play it, and it wasn't like a hugely popular hit in the US at the time, and I had to go to school and all, so it took a week before I learned the song was called "Only You" by this group called Yaz, and the album it was on wasn't in stock at my local music store, not that I really had the money to buy it anyway, so it took another week of me skulking by the radio in my room waiting for it to come on again so I could lunge at the tape recorder I had set up when it started, which meant that for a couple of years the only version of the song I had was one missing the first ten seconds and an interlude where my mom came in and told me dinner was ready.
(15) TO SLEEP, PERHAPS. BBC reports a "Hi-tech dreamcatcher defeats sleep amnesia". Chip Hitchcock sent the link with a comment: "A neat idea in theory, but the wake-people-up-just-in-time notion reminds me of Brunner's 'Such Stuff'; i.e., will people get enough dreaming done to stay sane?"
"The idea that you can take something concrete – a technology – that can help you access that poetic and metaphorical side of your own cognition is really exciting."

To achieve this he has invented a hand-worn device he calls Dormio.

It collects biosignals that in turn track transitions in sleep stages – such as a loss of muscle tone, heart rate changes, and alterations in skin conductance.

The goal is to study a particular stage of sleep – the period between wakefulness and deep sleep, known as hypnagogia.
(16) BIRD WITH A BIG BILL. You couldn't make this up: "Polish charity gets huge phone bill thanks to stork". Someone stole the SIM card from a bird tracker and abused it.
According to official broadcaster Radio Poland, the environmental EcoLogic Group placed a tracker on the back of a white stork last year to track the bird's migratory habits.

It travelled some 3,700 miles (6,000kms), and was traced to the Blue Nile Valley in eastern Sudan before the charity lost contact.

EcoLogic told the Super Express newspaper that somebody found the tracker in Sudan, removed the sim card and put it in their own phone, where they then racked up 20 hours' worth of phone calls.

Radio Poland says that the organisation has received a phone bill of over 10,000 Polish zloty ($2,700; £2,064), which it will have to pay.
(17) GAME OVER.
[Thanks to Buzz Dixon, Mike Kennedy, John King Tarpinian, Carl Slaughter, JJ, Andrew Porter, Chip Hitchcock, Martin Morse Wooster, Cat Eldridge, and Steve Green for some of these stories. Title credit goes to File 770 contributing editor of the day Peer.]