(1) HIPY PAPY BTHUTHDTH THUTHDA CTHULHU. Scott Lynch noticed that Pooh entered the public domain on New Year's Day. Thread starts here.
He's not the only creator to hit the ground running: "'Winnie-the-Pooh' just entered the public domain. Here's what that means for fans" in the Washington Post.
Luke McGarry began drawing a nude Pooh Bear as soon as he heard the news. The original, nearly 100-year-old "bear of very little brain" from the Hundred Acre Wood had rung in this new year by entering the public domain. Now quite humbly, McGarry's creative appetite felt rumbly.

The Los Angeles-based artist sat and penned his Winnie-the-Pooh idea in four panels, announcing the 1926 character's free-for-all status as of Jan. 1, with a winking if satirically speculative interpretation: "Disney still owns their version of me. … But as long as I don't put a little red shirt on, I can do as I like" — a reference to how the character's attire regularly began to be depicted beginning in the 1930s.McGarry waited a day to post his colorful cartoon on social media. Later he checked his accounts: "I didn't think it was going to blow up like it did." On Twitter alone, the illustration received nearly 40,000 likes. The artist realized his Pooh toon could bring some cash flow. "Had I anticipated there being any demand, I would've probably had prints done in advance."…
(2) SPIDER-MAN CRUSHING IT. Spider-Man: No Way Home is still breaking box office records. Having grossed $1.53 billion worldwide, it's now the eighth-highest grossing movie ever globally (not adjusted for inflation) reports Variety.
In the U.S. the film sits in sixth place, having just passed James Cameron's Titanic, and Deadline estimates it is around $10 million away from overtaking Avengers: Infinity War ($678.8 million) as the fifth-highest grossing movie ever stateside.
(3) BUTLER ADAPTATION SERIES ORDERED. "FX Picks Up 'Kindred' Series Based on Octavia E. Butler Novel" – The Hollywood Reporter has details.
FX is moving ahead with its adaptation of Octavia E. Butler's Kindred.

The Disney-owned outlet has given a series order to Kindred, which comes from FX Productions and writer and showrunner Branden Jacobs-Jenkins (Watchmen). It's based on the influential 1979 novel by Hugo Award winner and MacArthur Fellow Butler, following a young Black woman in Los Angeles who finds herself pulled back and forth in time.

FX ordered a pilot for Kindred in March 2021. Janicza Bravo (Zola) directed the pilot episode. The series stars newcomer Mallori Johnson, Micah Stock, Ryan Kwanten, Gayle Rankin, Austin Smith, Antoinette Crowe-Legacy and David Alexander Kaplan.
(4) DAW: THE FIRST TEN YEARS. At Dark Worlds Quarterly, G.W. Thomas begins a series on Donald A. Wollheim: "Donald A. Wollheim Part 1: 1934-1945".
When you say the name "Donald A. Wollheim" you have to say which one you are referring to. Is it the force behind ACE Books or the creator and publisher of DAW Books? Or the Avon editor who tried to combine comics and Pulps? Or the editor of The Avon Fantasy Reader? Is it the editor who published the unauthorized edition of The Lord of the Rings and created the modern fantasy boom? Is it the fanzine editor who published H. P. Lovecraft, C. L. Moore, Robert E. Howard, A. Merritt and Frank Belknap Long? Is it the editor without any budget who cobbled together Pulps with the help of the Futurians? Or is it the writer who so often appeared under a pseudonym like Martin Pearson, Millard Verne Gordon or Lawrence Woods? Donald A. Wollheim was all of them in his career spanning over fifty years….
(5) THE JAWS THAT CATCH. G.W. Thomas would also like to tell you about big bugs, zillions of 'em! "Giant Ants of the Pulps" at Dark Worlds Quarterly.
Giant Ants of the Pulps seems like a no-brainer, right? Of course the Pulps were crawling with mad scientists creating giant bugs, or ones that comes from other planets, or are encountered when we arrive on jungle planets. A fascination with the formic race goes back to writers like H. G. Wells, who despite the film versions, never actually did giant ants. What he did do was write the first giant monster novel in The Food of the Gods (Pearson's, December 1903-June 1904) but he chose giant bees over ants. Later he wrote "The Empire of the Ants" (The Strand, December 1905), in which he supposed an intelligent race of army ants that begin to take over the world. These critters have weapons but are not gigantic in size. Hollywood combined the two along with Joan Collins.
(6) OPEN SESAME. [Item by Daniel Dern.] Watch The Door into Summer on Netflix:
A pioneering roboticist awakens in 2025 after decades in cryosleep. To change the past and reunite with his adopted sister, he seeks a way back to 1995.
I saw somebody's Facebook post out this earlier today (and I see that sundry more are posting/commenting. We just finished watching it. This was one of the Heinlein sf novels I grew up reading/re-reading (when they're short and one-offs, and not competing with a Borges-level Mount Can't-Read-Em-All, it's easier), and they dun good. (I could drop a cheap shot at Starship Troopers here, but I'll refrain.) There are sundry differences in details, but the core plot remains intact (including Petronius The Arbiter, aka Pete, our protagonist's credential).
The dialogue is all in Japanese, with subtitles available (often harder-to-read than I would have liked when the background was mostly white). (If there was a change subtitle settings, we didn't see it.)
We didn't see Heinlein's name in the credits — although, it might have been lurking in the untranslated credits… but the Netflix listing includes:
Kento Yamazaki ("Alice in Borderland") stars in this science fiction tale adapted from the novel by Robert A. Heinlein.
(7) GIZZARD-FI. The Odyssey Writing Workshop Blog has posted an interview with graduate Larry Hodges.
You're a 2006 graduate of the Odyssey Writing Workshop. What made you decide to attend? What insights did you gain into your own work?

I did some research and asked around, and Odyssey seemed the most recommended workshop. (Having Robert J. Sawyer as a "Writer in Residence" that year greatly helped!) Probably the biggest insight I learned about my own work was that I'm an "idea" and "humor/satire" writer who needs to focus on character and other aspects equally. I also went in knowing that I had little feel for description, and so have spent years working to overcome that. One thing that helped: Robert and Odyssey Director Jeanne Cavelos suggested writing a story that was all about description, and so I wrote and sold "In the Belly of the Beast," where the whole story takes place in the belly of a dragon that has swallowed a bunch of people, including a wizard who creates a field to protect them in the dragon's stomach—and much of the story revolved around vivid descriptions of the "venue." It also became a character story about the wizard….
(8) THE INFLUENTIAL LE GUIN. Tor.com's Vanessa Armstrong has a recommendation: "New Crafting with Ursula Podcast Has Writers Like Becky Chambers Delving Into Ursula K. Le Guin's Work".
… This series, called Crafting with Ursula, stems from David Naimon's long-running Between the Covers podcast. In each episode, Naimon will talk with an author about how specific works of Le Guin have influenced aspects of their own creative process.

The first episode, which is available now, has Becky Chambers (Wayfarers series, A Psalm for the Wild-Built) discussing the craft of creating aliens and alien cultures, something Chambers has beautifully done in her own stories. …
(9) MEDIA BIRTHDAY.
1969 — [Item by Cat Eldridge.] Fifty-three years ago this evening, Star Trek's "Let That Be Your Last Battlefield" first aired on NBC. It was the fifteenth episode of the third season. It written by Oliver Crawford who also penned "The Galileo Seven" as based on a story by Gene L. Coon who was writing under his pen name "Lee Cronin" due to contractual reasons. Coon was the showrunner for the series through most of the second season and was responsible for such major elements as the Klingons and the naming of the United Federation of Planets and Starfleet Command. 
The cast stars here were Frank Gorshin as Commissioner Bele and Lou Antonio as Lokai. Gorshin would be known in this period for his recurring role on Batman as The Riddler. Lou Antonio did a few genre one-offs.
The episode has since been rated as one of the best of the Trek series with Collider, Hollywood Reporter, PopMatters, SciFi and ScreenRant all rating it among the best episodes produced.
Spock's comment that "Change is the essential process of all existence" which remains one of the most memorable lines of dialogue ever said on Trek comes from this episode.
The original version when Beale and Lokai run through the Enterprise shows the burning cities of World War II Europe. The remastered version shows the Cheron cities still burning from space. (That scene was done because the episode was running short.)
(10) TODAY'S BIRTHDAYS.
[Compiled by Cat Eldridge.]
Born January 10, 1904 — Ray Bolger. Best remembered obviously as The Scarecrow In The Wizard of Oz. He also showed as the villainous Barnaby in Babes in Toyland, two appearances on Fantasy Island, and as Vector In "Greetings from Earth" on the classic version of Battlestar Galactica. He narrated a version of Peter and The Wolf which certainly is genre. (Died 1987.)
Born January 10, 1924 — Mike Butterworth. In 1965, he became the primary script writer at Ranger magazine where he was responsible for scripting the space opera The Rise and Fall of the Trigan Empire, which remains to this day one of the most popular boys' adventure strips ever published in the UK. Between Ranger and later Look and Learn, it would have a run of 854 issues in total, divided between the two magazines. (Died 1986.)
Born January 10, 1937 — Elizabeth Anne Hull. She has served as the President of the Science Fiction Research Association and editor of its newsletter. She has been a member of the panel for the John W. Campbell Memorial Award for best SF novel since 1986. With her husband Frederik Pohl, Hull edited the Tales from the Planet Earth anthology. She is also the editor of the Gateways: Original New Stories Inspired by Frederik Pohl anthology. She has co-authored three short stories with him, "Author Plus", "The Middle Kingdom" and "Second Best Friend". (Died 2021.)
Born January 10, 1944 — Jeffrey Catherine Jones. She was an artist providing more than a hundred and fifty covers for many different types of genre books through the mid-Seventies including the Ace paperback editions of the Fafhrd and Gray Mouser series. Among her work was also Flash Gordon for Charlton Comics in the Sixties and the Conan Saga for Marvel Comics in the late Eighties. (Died 2011.)
Born January 10, 1944 — William Sanderson, 78. I remember him best as J. F. Sebastian, the possibly insane genetic designer working for Tyrell in Blade Runner. but he's had a career obviously after that film including appearing as Skeets in The Rocketeer, voicing Dr. Karl Rossum on Batman: The Animated Series, playing the character Deuce on Babylon 5 (a series I've watched through at least three times), E. B. Farnum on Deadwood (ok, it's not genre, but it's Will and Emma's favorite show so let's let it slide) and Sheriff Bud Dearborne on True Blood.
Born January 10, 1947 — George Alec Effinger. I've read his Marîd Audran series at least three times as it's an amazing series in both the characters and the setting. I never read the short stories in this setting until Golden Gryphon Press sent me Budayeen Nights for Green Man to review and they were quite excellent as well. I really should listen to the stories soon to see how they work that way. (Died 2002.)
Born January 10, 1959 — Fran Walsh, 63. Partner of Peter Jackson, she has contributed to all of his films since the late Eighties when she started out as co-writer of Meet the Feebles, and as producer since The Fellowship of the Ring which won a Hugo. Need I note the next two films won Hugos as well? Huh The Hobbit films did not win Hugos.
Born January 10, 1958 — Jeff Kaake, 64. He's on the Birthday Honors list as he was Captain John Boon on the Space Rangers which lasted only six episodes. Damn. That was a fun show! He was also Thomas Cole on Viper which lasted four seasons but really isn't genre. And he showed up in the Stormageddon film (which sounds like the name a Filer would give to a SJW Cred) as well which is genre.
(11) MARK YOUR BALLOT "X". The polls are open! Marvel is asking fans to help select the newest X-Men team once again. As with last year's X-Men election, the second annual event to choose the newest protectors of Krakoa will run until 11:59 p.m. EST on Thursday, January 13. Participants can vote at marvel.com/xmenvote.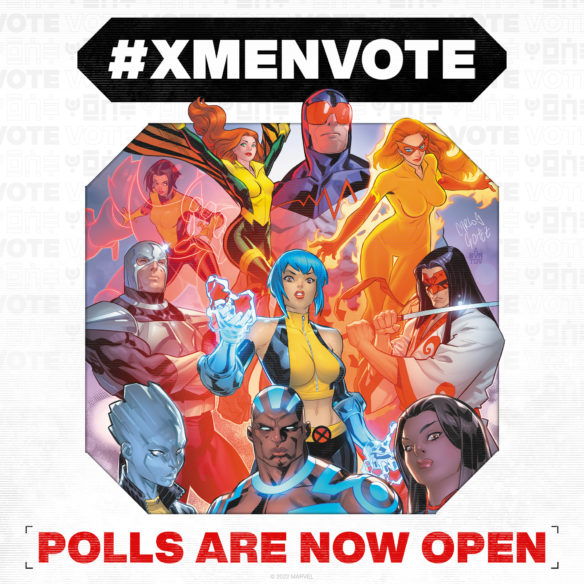 In 2021, True Believers everywhere voted in the first-ever X-Men election. They shaped X-Men history by choosing Polaris to star in Gerry Duggan and Pepe Larraz's X-Men. Throughout the election, fans campaigned for their favorite candidates resulting in "X-MEN VOTE" trending worldwide on Twitter and ultimately changed the future of all mutantkind!

Several nominations have been accepted to determine the final member of one of the most iconic teams in the Marvel Universe. Now, the last member of this new X-Men team is in YOUR hands! Each person can only cast one vote, so read about each nominee below and make your decision carefully!
X-Men Ballot Nominations:
ARMOR: Hisako Ichiki can create a powerful psionic force field around herself, giving her superhuman strength and durability. She planted the first Krakoan flower on Mars, and as a member of the New Mutants aided her brethren across the globe.
AVALANCHE: A long-standing member of the Brotherhood, Dominikos Petrakis used his seismokinetic powers against the X-Men. Though he was killed by the Red Skull, he was one of countless mutants to be resurrected on Krakoa, where he became an agent of S.W.O.R.D.
BLING!: A former member of Gambit's Chevaliers squad at the Xavier school, Bling! has more recently teamed up with Psylocke and her team to defend Krakoa despite still questioning the new mutant nation's motives. She possesses a diamond-hard body, superhuman strength and the ability to fire crystalline projectiles.
FIRESTAR: Angelica Jones is a veteran super hero, boasting former memberships in the Avengers, New Warriors, Young Allies, and the X-Men themselves – in addition to being one of Spider-Man's most amazing friends. Despite her codename, her powers are microwave-based, allowing her to ignite, melt, or otherwise superheat whatever she targets. She has yet to claim Krakoan citizenship…
GENTLE: The first X-Man to hail from the nation of Wakanda, Nezhno Abidemi now calls Krakoa his home. His mutant power allows him to exponentially increase his musculature, giving him almost limitless strength and invulnerability.
GORGON: Like the mythical creature of his namesake, Tomi Shishido's gaze can turn anyone who meets it into stone. Although he possesses many other superpowers, Gorgon's proficiency with swords is his greatest strength. Due to his skill with a blade, he was able to turn the tide at a crucial moment during the Contest of Swords in Otherworld. Unfortunately, he died doing so and came back… different.
MICROMAX: A British mutant, Scott Wright has served as an agent of various agencies of the Crown including MI13 and F.I.6. In the past, he was also briefly a member of Excalibur – and controversially O*N*E* – when he came into conflict with many of his fellow mutants.
PENANCE: Monet St. Croix touts herself as a near-perfect mutant specimen, with a wide range of powers and talents. Also, though she once considered it a burden, Monet is now capable of shifting to and from her deadly Penance form at will. She currently is the co-CXO of X-Corp.
SIRYN: The daughter of lauded X-Man Banshee, Theresa Cassidy made a name for herself as a member of X-Factor, making use of the same sonic powers as her father. The current X-Factor team was finally able to free her from the influence of the divine being known as Morrigan, to whom she'd sacrificed to save a fellow mutant.
SURGE: One of the most powerful electrokinetics on Krakoa, Noriko Ashida can produce devastating blasts of lightning and move at incredible speeds. She's poised to team-up with her fellow New X-Men alums to protect the next generation of mutantdom.
Election results, along with the full X-Men team, will be unveiled during the Hellfire Gala in Marvel comics this June.
(12) SUPERMAN IS FEELING BETTER. Kevin Smith chats with Yahoo! Entertainment about his efforts to write a Superman movie in the 1990s. "Kevin Smith's Superman movie that never was: Filmmaker revisits bonkers '90s project that nearly starred Sean Penn".
…Smith's unfiltered critique and suggestions for for a different direction ultimately landed him an audience with then-studio boss Lorenzo di Bonaventura, who in turn hired Smith to write a new screenplay. Based on DC's 1992-93 crossover comic event The Death of Superman, the film would be revamped with the title Superman Lives.

But Smith would have to collaborate on the project with producer Jon Peters — and that's where things got really interesting. Peters had quite a Hollywood trajectory, starting as Barbra Streisand's hairdresser then becoming her lover and then producing her films, eventually becoming a veritable power player (he's currently portrayed by Bradley Cooper via a madcap performance in Paul Thomas Anderson's Licorice Pizza, to give you one perspective on him). In the early '90s, Peters acquired the film rights to Superman from Warner Bros. and he would have the final say on the new movie.

Smith recalled various visits to Peters's "gigantic f**king house" where the eccentric producer told Smith they'd make a great Superman movie together because they were "from the streets" (as Smith points out, neither Superman nor Peters nor Smith was from the streets) and insisted Smith read aloud his entire script drafts to Peters while the producer parked himself on a nearby couch….
(13) JEOPARDY! Andrew Porter tuned into tonight's Jeopardy! where an entire category was devoted to a familiar subject.
Category: Hugo Awards

$1000 clue

This author, Hugo nominated in his 20s for "Babel-17," has the middle initial "R" for "Ray." He won a few years later.

Photo shows Delany in whitest photo I've ever seen of him.

No one could ask, "Who is Samuel R. Delany?"
(14) AS LONG AS WE'RE IN THE NEIGHBORHOOD. James Davis Nicoll ponders "Five Hypothetical Reasons Aliens Would Bother Visiting Earth".
…A question that may well occur to our hypothetical aliens: "If humans are willing to use nuclear weapons on each other, what will they do to beings who are not related to them at all?" The worst-case scenario is that the aliens will conclude it's safest not to find out. That possibility is explored in works like Greg Bear's The Forge of God, in which what initially appears to be benign first contact very rapidly is revealed as an effort to expunge humans and all our works from the universe before we become a menace to other species….
(15) RUTLAND WEEKEND TELEVISION. "Ichthyosaur: Huge fossilised 'sea dragon' found in Rutland reservoir" – BBC News has the story.
Rutland is more than thirty miles from the coast, but 200 million years ago higher sea levels meant it was covered by a shallow ocean.

When water levels at the Rutland reservoir were lowered again in the late summer of 2021, a team of palaeontologists came in to excavate the remains. Special attention was paid to the removal of the huge skull.

A large block of clay containing the ichthyosaur's head was carefully dug out before being covered in plaster and placed on wooden splints.

The block, weighing almost a tonne, was raised out of the mud and will now be examined further.

"It's not often you are responsible for safely lifting a very important but very fragile fossil weighing that much," said Nigel Larkin, palaeontological conservator and Visiting Research Fellow at Reading University. "It is a responsibility, but I love a challenge."
(16) VIDEO OF THE DAY. Marvel is ready for its closeup: "All of the Trick Arrows in Marvel Studios' Hawkeye!"
All of the trick arrows up close and personal! Greg Steele, VFX Supervisor of Marvel Studios' Hawkeye talks to Lorraine Cink about how they created all of the arrows in the show, and how they work with the Stunt and Special Effects department to make the show come together.
[Thanks to John King Tarpinian, Andrew Porter, P J Evans, Chris Barkley, Bill, Elektra Hammond, Jon F. Zeigler, Danny Sichel, SF Concatenation's Jonathan Cowie, Michael Toman, Cat Eldridge, Mike Kennedy, Martin Morse Wooster, and JJ for some of these stories. Title credit belongs to File 770 contributing editor of the day Greg Hullender.]