(1) THE REALLY FINAL FRONTIER. This is where the ashes of Nichelle Nichols, Gene Roddenberry, and Douglas Trumbull are going: "Enterprise Flight | Memorial Spaceflights" offered by Celestis. For $12,500 you can send your late loved one along. "Remaining space aboard this Voyager Flight is limited. Reservations close on: August 31, 2022."
The Celestis Enterprise Flight ™ will launch from planet Earth and travel beyond the Earth-Moon system, beyond the James Webb telescope, and into interplanetary deep space – where it will join the other planets, moons, comets, and asteroids in our solar system on a never-ending journey through the cosmos.

Upon completion of its powered burn and coast phase, the Enterprise Flight will become Enterprise Station™ – the most distant permanent human repository outpost and a pathfinder for the continuing human exploration of space.

The Enterprise Flight, carrying specially manufactured and inscribed individual flight capsules containing cremated remains, complete human genome individual DNA samples, and names and messages of well-wishers from around the globe will be launched aboard a United Launch Alliance Vulcan Centaur rocket from Cape Canaveral, Florida.

Aboard Enterprise, fittingly, will be the creator and several cast members of the original Star Trek television series, as well as an Apollo-era astronaut, together with people from all walks of life, interests, and vocations. Enterprise is truly a once-in-a-lifetime, exclusive opportunity for you or your loved ones – or both – to join an incredible mission of purpose alongside the most recognizable personas in space exploration, real or imagined.

The history-making Enterprise Flight is expected to be sold out well in advance. Contact us today to ensure your or your loved one's participation in this mission!
(2) LABOR INTENSIVE. Kameron Hurley's latest Get To Work Hurley podcast — a monthly rant about the hustle of making a living as a writer of All of the Things – is Episode 23, in which —
Ursula Vernon (aka T. Kingfisher) joins us for questions from Twitter and a game of "Name of a Plant OR Name of a Britpop musician."
Available from Apple Podcasts, Stitcher, and Spotify (NOTE: Patreon subscribers get access to the video version of the podcast).
(3) IMAGINARY PAPERS DELIVERED. Issue 11 of Imaginary Papers from ASU's Center for Science and the Imagination features an essay by the urban planner and futurist Lafayette Cruise on the 2002 animated film Treasure Planet, and another on the fiction and films of Colombian writer and philosopher René Rebetez, by Azucena Castro. There's also a writeup on the new Ursula K. Le Guin Prize for Fiction. If you missed previous issues, read them here.
(4) IN SCANDINAVIA. Rudy Rucker shares photos of a trip he took with his wife to Finland: "Helsinki Math & Art".
…Sylvia is from Hungary, and the Finnish and Hungarian languages are said to be related. These Finno-Ugric languages are not at all like any of the familiar European languages which are in the Indo-European group, which include the Romance, Slavic, Germanic and other categories. Finnish and Hungarian are total outliers. And, as Sylvia's expression testifies here, the two are not very much like each other after all. It was fun to see such incomprehensible signs….
(5) TURN UP THAT DIAL. Classical music radio host Dr. Laura Brodian returns to the air August 29 on KMOZART FM-AM in Los Angeles she announced on Facebook today. Her show will run Monday thru Friday between 12 noon and 5pm.
Doctor Laura Brodian Freas was a voiceover artist and classical music personality on radio station KMZT in Los Angeles, and was also the voice of Delta Symphony and Delta Jazz for Delta Airlines. A past President of the Southern California Early Music Society, she earned a doctoral degree in Music, but also attended art classes at Indiana University's School of Fine Arts and at the California Art Institute. Her cover and interior artwork has been published by, among others, TSR, The Easton Press, Analog Magazine of Science Fiction/Fact, Weird Tales, and Marion Zimmer Bradley's Fantasy Magazine. Laura was a co-recipient [with Frank Kelly Freas] of The Association of Science Fiction and Fantasy Artists [ASFA]'s Chesley Award for Best Cover of the Year. Laura has also served as ASFA's Western Regional Director. Laura is a Judge in the L. Ron Hubbard "Illustrators of the Future Contest."

One of her passions is costuming. She is a former Director[1]at-Large of Costumer's Guild West and a WesterCon Masquerade winner and a WorldCon Masquerade Judge. She also founded the Collinsport Players performing troupe the when she was the MC at the first annual Dark Shadows Festival. Another of her passions is English Regency Dancing, which she also teaches. Laura founded the San Francisco Bay Area English Regency Society and the San Fernando Valley Area English Regency Society. A member of the International Association of Astronomical Artists, Laura is the widow of science fiction's favorite illustrator, Frank Kelly Freas, with whom she co-edited the fourth volume of his collected works, FRANK KELLY FREAS: AS HE SEES IT in 2000. A new comprehensive Kelly Freas artbook is in development with artist Bob Eggleton. In 2012 she married school teacher Steven Beraha.
(6) FIRST WORLDCON IN LOS ANGELES. In "What Can We Learn From the 1946 Pacificon Program Book?", First Fandom Experience continues its exploration of fandom in 1946 with a chronicle of the fourth Worldcon, the first held in LA. How much were memberships in those days? One dollar!
(7) WHAT DO FISH, SNEETCHES, AN ELEPHANT, AND A MOUSE HAVE IN COMMON? "Licensing: Netflix Has Five Dr. Seuss Projects in the Works" according to Publishing Perspectives. Descriptions of all five shows are at the link.
Dr. Seuss Enterprises and Netflix are in development on five Seuss titles, planned for preschool-audience animated series and specials….

The new Dr. Seuss line-up is to anchor Netflix's expanded focus on preschool, the estate says. "Introducing concepts of foundational learning, this new slate of programming will explore themes of diversity and respect for others," the company says, clearly looking to counter the less felicitous impressions left when it took those six titles out of circulation.
(8) TAKE A LETTER TO ELROND. Ars Technica explains why "Lord of the Rings mechanical keyboards are perfect for people who speak Elvish".
Middle-earth has seen more than its share of trials and challenges, but perhaps none more pressing today than a lack of mechanical keyboards that any of its various peoples can actually read. For ages, everyone from elves to dwarves had to make do with keyboards carrying legends of unknown languages. Today, keyboard and audio brand Drop released two prebuilt mechanical keyboards to rule them all—or at least speakers of Elvish and Dwarvish.

The Drop + The Lord of the Rings Dwarvish and Elvish Keyboards ($169) are the first to gain official Lord of the Rings licensing, Drop said in its announcement today. The keyboards build on Drop's November release of The Lord of the Rings keycap sets, also written in Elvish and Dwarvish, and follow Drop's Lord of the Rings artisan keycaps made from resin….
(9) MEMORY LANE.
2007 – [By Cat Eldridge.] Let's us converse of Djinn, specifically, those G. Willow Wilson wrote of in two vastly different works, Cairo, a graphic novel she did with M.K. Perker for Vertigo and the later Alif the Unseen novel.
G. Willow Wilson is Islamic which she first converted to and practiced in Cairo according to The Butterfly Mosque, her autobiography. So it's not at all surprising that she has a fascination with the djinn.
Cairo is set in version of contemporary Cairo, and follows a number of characters, human and really not human, as they are drawn into a complex tale surrounding a stolen hookah of great importance, and a box that looks simple but actually contains something of mythical status. I like the story because the characters are drawn from myth, (Djinn; the Devil Himself; A spirit inhabiting the city's ruins) all feel very real. See I've given nothing away, have I?
The artwork by Perker is stellar. His full name is Mustafa Kutlukhan Perker and he's from Istanbul. He would later do the absolutely impressive Air series with her.
Dealing with the djinn once was not enough, so six years after Cairo, her first novel Alif the Unseen was released in 2007. It was, I think, a much more intimate novel. It is also a very political novel that likely caused many a leader in the Middle East not to be very happy.
SPOILERS
Alif the hacker discovers that his love interest Intisar is entering an arranged marriage with another man. That man is head of the State in a repressive government in an unnamed Middle Eastern state. Alif gets in deep crap with said Bad Person person but, this being a fantasy, is along with his neighbor rescued by two djinn: Vikram and his sister Azalel.
(Ok, she likes djinn a lot. And she treats them as just existing within the framework of everyday life. Now she needs to do an opera with them as the central characters.)
Eventually the Very Bad Person is assassinated, and all is well. Some really odd science involving djinn coding and quantum tech ensues before that.)
END OF SPOILERS
It won a much-deserved World Fantasy Award.
I'm going to quote but one review and you'll see why I'm quoting that review. Salon led off its review this way: "Arthur C. Clarke famously said that "any sufficiently advanced technology is indistinguishable from magic," which may explain why fantasy narratives have enjoyed a resurgence of popularity in this age of wondrous gadgets. In G. Willow Wilson's equally wondrous 'Alif the Unseen,' the connection between the two is more than just metaphor, although as far as this book is concerned, metaphor itself is a kind of technology."
Everything I've read by her is stellar from these books to her run on the Vixen series — not to overlook the Ms. Marvel work. May she continue to write for a very long time.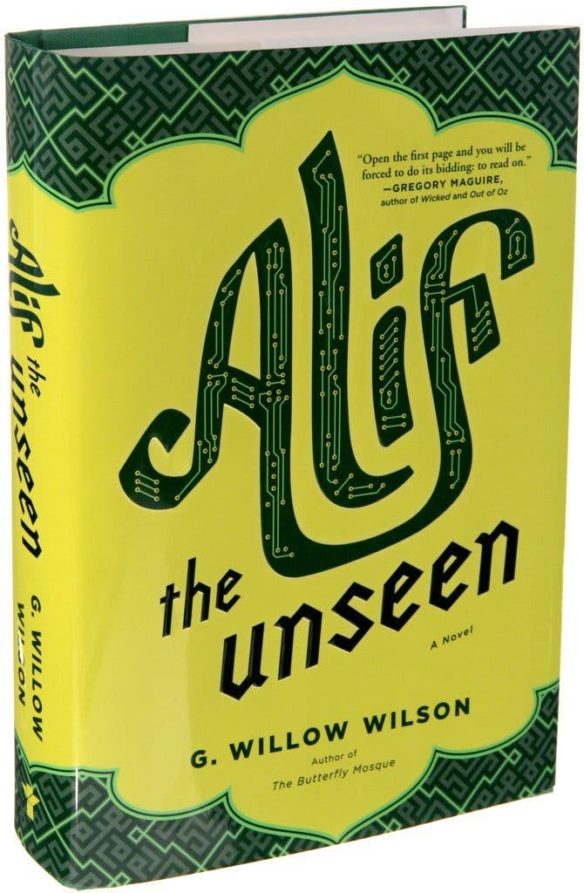 (10) TODAY'S BIRTHDAYS.
[Compiled by Cat Eldridge.]
Born August 26, 1911 — Otto Oscar Binder. He's best remembered as the co-creator with Al Plastino of Supergirl and for his many scripts for Captain Marvel Adventures and other stories involving the entire Marvel Family. He was extremely prolific in the comic book industry and is credited with writing over four thousand stories across a variety of publishers under his own name. He also wrote novels, one of which was The Avengers Battle the Earth Wrecker, one of a series created by writer-editor Stan Lee and artist and co-plotter Jack Kirby. (Died 1974.)
Born August 26, 1912 — Gerald Kersh. He wrote but one genre novel, The Secret Masters, and two genre stories in his Henry the Ghost series. So why's he here, you ask? Because Harlan Ellison declared "you will find yourself in the presence of a talent so immense and compelling, that you will understand how grateful and humble I felt merely to have been permitted to associate myself with his name as editor." (Died 1968.)
Born August 26, 1938 — Francine York. Her last genre performance was on Star Trek: Progeny. Never heard of it? Of course not, as it was yet another fan project. It's amazing how many of these there are. Or were before the lawyers at Paramount and their Hell Hounds descended upon them and ate their ability to create anything. Before that, she appeared in Mutiny in Outer Space, Space Probe Taurus and Astro Zombies: M3 – Cloned. (Died 2017.)
Born August 26, 1949 — Sheila E Gilbert, 73. Co-editor-in-chief and publisher of DAW Books with Elizabeth R (Betsy) Wollheim. For her work there, she has also shared the Chesley Awards for best art director with Wollheim twice, and received at MidAmeriCon II and Worldcon 76, Hugo Awards for Best Professional Editor — Long Form.
Born August 26, 1950 — Annette Badland, 72. She is best known for her role as Margaret Blaine on Doctor Who where she was taken over by Blon Fel-Fotch Pasameer-Day, a Slitheen. This happened during "Aliens of London" and "World War Three" during the Era of the Ninth Doctor. Her story would conclude in "Boom Town".
Born August 26, 1970 — Melissa McCarthy, 52. Yes, I know she was in the rebooted Ghostbusters. I'm more interested in Super Intelligence in which she plays a character that has an AI who has decided to take over her life. It reminds me somewhat of Kritzer's "Cat Pictures Please" premise except a lot darker. (And we are not talking about her The Happytime Murders. Really we are not.)
Born August 26, 1980 — Chris Pine, 42. James T. Kirk in the Star Trek reboot series. He also plays Steve Trevor in both Wonder Woman films and Dr. Alexander Murry in A Wrinkle in Time. He's also Cinderella's Prince in Into the Woods. Finally, he voices Peter Parker / Ultimate Spider-Man in Spider-Man: Into the Spider-Verse which won a Hugo at Dublin 2019: An Irish Worldcon.
(11) COMICS SECTION.
Brewster Rockit has a strange idea about the relationship between books and bookshelves.
(12) CREATING TOGETHER. Tim Griffin shared a photo on Facebook of Steven Barnes, Larry Niven, and Jerry Pournelle from the Seventies demonstrating their collaborative writing process. Guess which one is wielding the ax?
(13) KOREAN SF MOVIE. "'Alienoid' Review: Sorcerers, Alien Prisoners and Much, Much More" says the New York Times.
This Korean film starts in the 14th century with an alien creature trying to escape from the human body inside which it has been imprisoned. Thankfully, a hole in the sky opens and an SUV materializes, carrying the interstellar lawman Guard (Kim Woo-bin) and his robot sidekick.

And that's just the first five minutes: The rest of Choi Dong-hoon's movie then escalates into even more bananas territory.

Hopscotching between the present day and 1391, "Alienoid" somehow works a crystal thingumajig called the Divine Blade into its narrative, as well as car chases, aerial wire-aided fights, medieval gunslinging, time travel, magic battles and Transformers-like mayhem, with dashes of comedy and romance for good measure.
(14) CRICKETS. A trailer for the Walt Disney Studios version of Pinocchio coming to Disney+ on September 8.
Academy Award® winner Robert Zemeckis directs this live action retelling of the beloved tale of a wooden puppet who embarks on a thrilling adventure to become a real boy. Tom Hanks stars as Geppetto, the wood carver who builds and treats Pinocchio (Benjamin Evan Ainsworth) as if he were his own son.
(15) SPLISH-SPLASH. [Item by Mike Kennedy.] Paging Kevin Costner and Jeanne Tripplehorn. Paging Kevin Costner and Jeanne Tripplehorn. Please report to TOI-1452 b. Bring your bathing suits. "Scientists discovered a beautiful ocean world 100 light-years from Earth" at BGR.
Scientists have discovered a beautiful ocean world that looks like it was ripped out of the Star Wars prequels. The exoplanet TOI-1452 b was discovered just 100 light-years from Earth. A new paper on the discovery says that the entire planet is covered by a thick layer of water and that it's located far enough from its star to possibly support life.

The ocean world was discovered by a team of researchers at the Université de Montréal. Charles Cadieux, the team leader, announced the discovery this week. Cadieux is also a member of the Institute for Research on Exoplanets (iREx)….
(16) JWST SCOPES OUT JUPITER. "'Never seen Jupiter like this': James Webb telescope shows incredible view of planet" in the Guardian. Photos at the link.
The world's newest and biggest space telescope is showing Jupiter as never before, auroras and all.

Scientists released the shots on Monday of the solar system's biggest planet.

The James Webb space telescope took the photos in July, capturing unprecedented views of Jupiter's northern and southern lights, and swirling polar haze.

Jupiter's Great Red Spot, a storm big enough to swallow Earth, stands out brightly alongside countless smaller storms. One wide-field picture is particularly dramatic, showing the faint rings around the planet, as well as two tiny moons against a glittering background of galaxies….
(17) VIDEO OF THE DAY. [Item by Martin Morse Wooster.] In "Honest Game Trailers: The Mortuary Assistant," Fandom Games says you shouldn't be hired by this mortuary because "You come in for an interview–and come out a demon" and the game is the fictional equivalent of "having a mindless job so you can keep your crappy apartment." No matter how bad your job is, it has to be better than purging demons form corpses with "demon Drano." Content warning for suicide or self-harm. Click the link to view on YouTube.
[Thanks to John King Tarpinian, Andrew Porter, Chris Barkley, Jeffrey Smith, Joey Eschrich, SF Concatenation's Jonathan Cowie, Michael Toman, Cat Eldridge, Mike Kennedy, Martin Morse Wooster, and JJ for some of these stories. Title credit belongs to File 770 contributing editor of the day John A Arkansawyer.]