(1) HUGO VOTER PACKET. Members can access the 2018 edition: "2018 Hugo Awards Voter Packet Now Available".
Worldcon 76 has issued the 2018 Hugo Awards Voter Packet, a collection of finalists for the 2018 Hugo Awards made available to members of Worldcon 76 to assist them in making informed decisions when voting on this year's Hugo Awards. The packet is available for download from the Worldcon 76 Hugo Awards website in the "Hugo Voter Packet" section. Members of Worldcon 76 can sign in using their Hugo Award voting credentials that were sent to them when the final Hugo Award ballot was issued.

Only members of Worldcon 76 can access the 2018 Hugo Award Voter Packet and vote on the 2018 Hugo Awards.

…Worldcon 76 will shortly send an announcement regarding the availability of the Hugo Voter Packet to all members who registered their e-mail address with the convention. This mailing will include a copy of the member's voting credentials (membership number and voting PIN). Members can request a copy of their credentials using the 2018 Hugo Awards PIN lookup page.
A 1943 Retro-Hugo Voter Packet is in preparation.
(2) "SNAPE" MEMORABILIA TO AUCTION. You Alan Rickman fans should get ready to empty your money belts. Taryn Ryder, in the Yahoo! Entertainment story "Alan Rickman's frustrations playing Snape in 'Harry Potter' revealed in personal letters" says the actor's archive is about to be auctioned off by Neil Pearson Rare Books for 950,000 pounds, which includes many Harry Potter collectibles, including Rickman's annotated copies of Potter scripts, as well as scripts for other films and plays Rickman was in, like Die Hard.
Rickman — who died of cancer in 2016  — helmed the role in all eight films from 2001 to 2011.

One letter is from producer David Heyman, who sent Rickman a thank-you note after 2002's Harry Potter and the Chamber of Secrets. "Thank you for making HP2 a success," it reads. "I know, at times, you are frustrated but please know that you are an integral part of the films. And you are brilliant."
Alan Rickman's fan mail.https://t.co/piFuSXLIoI pic.twitter.com/zSshhR0yJY

— Neil Pearson (@RareNeilPearson) April 17, 2018
(3) MORE ON WISCON. From S. Qiouyi Lu. Thread starts here:
like, wiscon does not dole bans out lightly, and I have been in the audience for and have heard of so much bullshit that we let go because, well, sometimes people have bad takes that don't necessarily rise to the level of abuse, mostly just cluelessness

— S. Qiouyi Lu ?? ??? ?? your epicene boyfriend (@sqiouyilu) May 29, 2018
(4) CODES OF CONDUCT ELSEWHERE. According to Business Insider, "Programmers are having a huge debate over whether they should be required to behave respectfully to each other". A lot of the objections are still current events in the Vox Popoli comment section, but not in most parts of fandom.
Last week, a software engineer publicly quit a very popular open-source project, setting off a firestorm of debate within the programming world.

Programmers are arguing about whether they should have to agree to a community code of conduct that requires them to behave respectfully.

They are also arguing about whether programs that aim to increase participation from underrepresented groups are "racism."

The debate began on Wednesday when a developer named Rafael Avila de Espindola quit the LLVM Compiler Infrastructure Project, to which he had been a major contributor over the past decade.

Avila outlined several of his frustrations with the group but said he quit because it was requiring him to agree to a community code of conduct to attend its conference.

That code of conduct basically says the group is open to people from all walks of life and expects its members to be courteous.

Avila also said he was unhappy that the project had decided to accept an intern from a group called Outreachy, which offers paid internships to women, LGBTQ folks, African-Americans, people with Hispanic or Latin heritage, and those with indigenous American ancestries.

In other words, the internships are for people in underrepresented gender and racial groups in the programming/open-source worlds; white men and Asian men are the two groups best represented in tech, diversity reports have found.

…Despite that kind of rancor, large open-source communities and conferences are increasingly adopting community codes of conduct.

And for good reason — the open-source world has a reputation for aggressive, rude, and intimidating behavior.

In 2013, Linus Torvalds, the creator of Linux and the god of open-source programming, was called out for profanity-laced rants on the Linux email lists, which set the tone for the open-source world.

He and the Linux community did an about-face — sort of — in 2015, telling members that their work would be criticized but asking them to "be excellent to each other" and to feel free to report abuse.
(5) ERASURE FIGHTER. James Davis Nicoll's personal Episode VII appears on Tor.com — "Fighting Erasure: Women SF Writers of the 1970s, Part VII".
At this stage of James' Tour of Disco-Era Women SF Authors, we have reached M. Certain letters are deficient in authors whose surnames begin with that particular letter. Not so M. There is an abundance of authors whose surnames begin with M. Perhaps an excess. In fact, there are more authors named Murphy than the authors I listed whose names begin with I….

Sondra Marshak is best known for her Star Trek-related activity. Star Trek, an American science fiction television show akin to Raumpatrouille—Die phantastischen Abenteuer des Raumschiffes Orion, was cancelled after seventy-nine episodes in the mid-1960s. An anthology of original stories commissioned a decade after a show's cancellation seems unthinkable and yet in 1976, Marshak and Myrna Culbreath's co-edited collection, Star Trek: The New Voyages, was published by Bantam Books, soon followed by Star Trek: The New Voyages 2. This suggests that the show's fandom managed to survive the show's demise. Perhaps some day there will be a revival of this venerable program—perhaps even a movie!—although I must caution fans against getting their hopes up…

Fans of John Scalzi's Redshirts may find the New Voyages story "Visit to a Weird Planet Revisited" of interest, as yet another example of science fiction authors independently hitting on very similar ideas.
(6) KGB. Fantastic Fiction at KGB reading series hosts Ellen Datlow and Matthew Kressel present Mary Robinette Kowal and Lawrence C. Connolly on Wednesday, June 20, 7 p.m. at the KGB Bar (85 East 4th Street, just off 2nd Ave, upstairs) in New York.
Mary Robinette Kowal
Mary Robinette Kowal is the author of historical fantasy novels: Ghost Talkers, and The Glamourist Histories series and the forthcoming Lady Astronaut duology. She is also a three time Hugo Award winner and a cast member of the podcast Writing Excuses. Her short fiction appears in The Magazine of Fantasy and Science Fiction, Tor.com, and Asimov's. Mary, a professional puppeteer, lives in Chicago. Visit her online at maryrobinettekowal.com.
Lawrence C. Connolly
Lawrence C. Connolly is one of the writers for the anthology film Nightmare Cinema, premiering next month at the Fantasia Film Festival in Montreal. Produced by Mick Garris, the movie goes into wide release later this year. Connolly's books include the Stoker finalist Voices (scheduled for re-release this summer), This Way to Egress, and Veins. More at LawrenceCConnolly.com.
(7) FUNDRAISER. Tessa B. Dick is trying to raise $5,000 through YouCaring to "Keep my home". She's got $4,205 in contributions as of this writing. Her May 28 update said:
I really need your help, or I am not going to make it. I don't know how to explain that I can't sleep because every time I close my eyes, I see that gang banger with a knife to a boy's throat. I can't go anywhere because every time I walk out the door, I see his gangster buddies coming after me because my testimony put their buddy in prison. I got crisis counseling and I coped for twelve years, but I can't cope any more. I went through major forest fires in 2003 and 2008, a severe burn to my foot in 2007, a head injury in 2010, a broken leg in 2012, and more stress than I can describe. I got a settlement for the head injury that didn't even cover my medical bills, which is why I had to go bankrupt.

I should qualify for disability, based on my severe weight loss alone, but they keep turning me down. My only hope is to get this house in good enough shape to get a reverse mortgage.
(8) GAME MAN. Rich Lynch was tuned into tonight's Jeopardy! In the category "Award Winning Books" one of the answers was: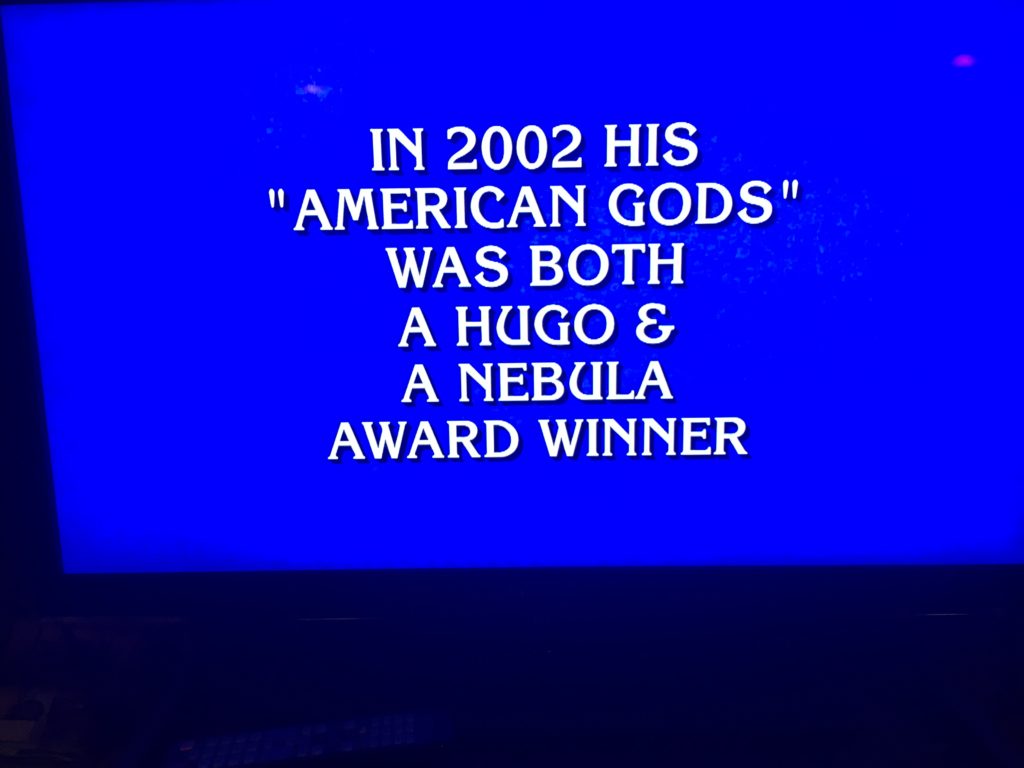 (9) TRIVIAL TRIVIA.
Crayola crayons' distinctive smell — ranked 18th in a list of the 20 most identifiable  smells in a 1982 Yale University study — is largely due to the stearic acid used to make the waxy consistency. Stearic acid is a derivative of beef fat.

Source: Mental Floss
(10) TODAY'S BIRTHDAY
Born May 29, 1906 — T.H. White, best known for his Arthurian novels including The Sword in the Stone
(11) COMICS SECTION.
JJ finds Tolkien and Middle-Earth deconstructed in Existential Comics' "Council of Elrond".
John King Tarpinian found one voter's party preference was not all that surprising in Bizarro.
(12) THE OLD STOMPING GROUNDS. ExCeL, the site of the 2014 London Worldcon (aka Loncon 3), was the host site of MCM Comic Con this past weekend (25–27 May 2018). Newham Recorder has the story: "Superheroes and spandex squeeze into ExCeL for MCM London Comic Con"
Tens of thousands of pop culture buffs took a pilgrimage to the ExCeL this bank holiday weekend for the UK's largest comic book convention.

…Monolithic entertainment brands seemed keen to continue cashing in on the nerd demographic, wheeling out a long list of stars for the event, including Black Panther's Letitia Wright, The Defenders' Rosario Dawson and Khary Payton and Cooper Andrews from zombie series The Walking Dead.
(13) MAINSTREAMING FAN REFERENCES. Karl-Johan Norén found a "Sign that the Hugo awards and sf fandom is, or at least is becoming, mainstream: we are used in a joke but not as the butt of it" in NewsThump's headline "UK Brexit proposals nominated for Hugo Award in Fantasy category".
(14) FINGERPRINTS ALL OVER IT. BBC reports "Fortnite sued for 'copying' rival game PUBG".
The makers of Fortnite, one of the world's most popular video games, have been accused of copying rival title PlayerUnknown's Battlegrounds (PUBG).

The studio behind PUBG has asked a court in South Korea to determine whether Epic Games copied its intellectual property.

Fortnite and PUBG have both attracted millions of gamers with their huge "last player standing" online battles.

Epic Games has not yet commented on the lawsuit.

PUBG was first released in March 2017. It was inspired by the Japanese thriller film Battle Royale, in which a group of students is forced to fight to the death by the government.

In PUBG, up to 100 players parachute on to an island, search for weapons and kill one another until only one player remains.

Fortnite was first released in July 2017 but its Battle Royale mode was not added until September 2017.
(15) WARPED TRUTH. The Defense Intelligence Agency (DIA) recently released a 2010 study document entitled "Warp Drive, Dark Energy, and the Manipulation of Extra Dimensions" [PDF file]. The report was originally marked Unclassified, but For Official Use Only (U/FOUO) and was publicly posted by (among others) by KLAS-TV, the Las Vegas NBC affiliate ("I-Team: Documents prove secret UFO study based in Nevada").
So, does the document provide a roadmap to a working warp drive engine? Probably not, according to at least one physicist. Quoting a Science Alert article "The US Military Has Released a Mysterious Report on 'Warp Drives'. Here's What Physicists Think About It":
The authors suggest we may not be too far away from cracking the mysteries of higher, unseen dimensions and negative or "dark energy," a repulsive force that physicists believe is pushing the universe apart at ever-faster speeds.

"Control of this higher dimensional space may b? ? source of technological control ?v?r the dark energy density and could ultimately play ? role in the development of exotic propulsion technologies; specifically, ? warp drive," the report says, adding: "Trips to the planets within our own solar system would take hours rather than years, and journeys to local star system would be measured in weeks rather than hundreds of thousands of years."

However, Sean Carroll, a theoretical physicist at Caltech who studies and follows the topics covered by the report, had a lot of cold water to pour on the report's optimism.

"It's bits and pieces of theoretical physics dressed up as if it has something to do with potentially real-world applications, which it doesn't," Carroll said.

"This is not crackpot. This is not the Maharishi saying we're going to use spirit energy to fly off the ground – this is real physics. But this is not something that's going to connect with engineering anytime soon, probably anytime ever."
(16) THE VASTY FIELDS OF GALLIFREY. Io9's James Whitbrook advises everyone about "The Best Stories to Watch During Twitch's Absurdly Ginormous Classic Doctor Who Marathon".
Today, Twitch begins a seven-week endurance run/celebration of all things old-school Doctor Who, live streaming over 500 episodes worth of adventures in Time and Space. Unless you happen to have seven weeks of free time starting imminently (in which case, I envy you), you likely can't sit down and watch all of it. So here's a few must-watch storylines to dive in for….
(17) ANOTHER BUYING OPPORTUNITY. From Mental Floss we learn: "An Original Doctor Who TARDIS Is Hitting the Auction Block".
If you've ever wondered if there's really something to this whole "dimensional transcendentalism" thing, a.k.a. the explanation given as to why Doctor Who's TARDIS is so tiny on the outside but enormous on the inside, now's your chance to find out for yourself. A TARDIS created for Peter Cushing for the 1965 film Dr. Who and the Daleks is getting ready to hit the auction block at Ewbank's as part of its "Entertainment & Memorabilia" auction, which kicks off on May 31.
(18) DIVIDENDS. Absolutely true.
Holy carp-on-a-stick.

As I was reading through the Hugo packet, it suddenly occurred to me that I contributed to a Hugo Finalist Fanzine last year (https://t.co/r2df5vmY2b). So in a very tiny way, I've been nominated for a Hugo. https://t.co/r2df5vmY2b

— Laura Gjovaag (@realtegan) May 29, 2018
(19) INSTANT CLASSIC. Applause for Matthew Johnson's latest filk in comments:
Also, for the Nick Lowe/Johnny Cash fans among us:

The beast of squees
Obsessed with old, forgotten Bonds
And whichever one you like
Is one of which he isn't fond
God help the beast of squees

The beast of squees
Knows more than you on Doctor Who
Which host was better on Blue's Clues
And in the twinkling of an eye
Might declare a Mary Sue
God help the beast of squees

Sometimes he tries to kid me
That he's just a normal fan
Or even that he's run right out of things to pan
I feel pity when I can
For the beast of squees

That everybody knows
They've seen him out in fannish clothes
Patently unclear
If it's A New Hope or New Year
God help
The beast of squees
[Thanks to Mike Kennedy, John King Tarpinian, JJ, Rich Lynch, Cat Eldridge, Bill, Chip Hitchcock, Martin Morse Wooster, Carl Slaughter, James Davis Nicoll, Matthew Kressel, and Andrew Porter for some of these stories. Title credit goes to File 770 contributing editor of the day Soon Lee.]