(1) CLARION WEST ONLINE LEARNING. Clarion West is offering a large number of Online Classes & Workshops over the next three months. Here are just a few examples.
Are you interested in writing and submitting fiction to both "literary" and "speculative" markets? This class will cover submission practices and expectations for both fields, and will discuss key differences and similarities. Along with resources on how to find journals and magazines to submit to, the class will also discuss career-related topics such as MFA programs, speculative writing workshops, and how to apply for writing residencies, grants, awards, and conferences.
The struggle of every short story is time. How can anyone tell a gripping, heart-wrenching story in so few words?

One way is to create emotionally engaging characters—someone who will pull the reader into the story and won't let go, even after the story ends.

In this class, we will discuss how to create these types of characters in the space of a short story. We will cover topics such as voice, empathy, and reliable narration, as well as what characters can get away with in short fiction that they could not in a novella or novel.
If you've listened to an audiobook or a podcast, then you're familiar with how audio as a medium can truly transform a story, adding new dimensions and intricacies to what is "on the page." Relatedly, audiobooks, audio dramas, and podcasting have seen an explosion in growth over the last decade in publishing. Still, the ways in which we experience oral storytelling have remained largely static, even if platforms have changed rapidly. This moment presents a unique opportunity for writers to expand their stories into a market hungry for audiobooks, including short-form stories, novels, and everything in between.

In this workshop, Zelda Knight will cover step-by-step instructions on what to do and what not to do, common pitfalls, great resources, recommendations for distribution, and an overall insider's look at how to transform your stories into audio with immersive SFX and narration.
From Lord of the Rings to Star Wars, trilogies are a tried and true way to tell an extended story, and it seems a majority of current science fiction and fantasy series follow the rule of three. However, writing a trilogy isn't quite as simple as extending the principle of the three act structure. We'll talk about how to set up your novel for trilogy potential and what to do when your publisher says, "We want a trilogy." We'll examine lessons from successful and unsuccessful trilogies and consider when a trilogy is and isn't appropriate for the story you want to tell. We'll then discuss how to plan out a story across three books, how to create satisfying narrative arcs within each book as well as over the entire trilogy, and what each book needs to accomplish. And we'll also cover common pitfalls, such as how to avoid "second book syndrome," how to create a sense of epic scale without losing focus, how to cover large time jumps, and more.
(2) AN AMAZING EDITOR IN EVERY WAY. [Item by Cora Buhlert.] Brian Murphy, author of Flame and Crimson – A History of Sword and Sorcery, shares his appreciation for Cele Goldsmith Lalli, the underrated editor Amazing Stories and Fantastic in the 1960s who rescued Fritz Leiber's Fafhrd and Gray Mouser from oblivion, discovered John Jakes and Roger Zelazny (and David R. Bunch) and helped to usher in the sword and sorcery boom of the 1960s: "The Fantastic S&S contributions of Cele Goldsmith" at The Silver Key.
…Goldsmith had a reputation for bucking commercial trends throughout her career and so published Leiber's less-fashionable S&S. In so doing she improved the climate and conditions that allowed sword-and-sorcery to reach full flower later in the decade with the publication of the unauthorized The Lord of the Rings, the republication of Edgar Rice Burroughs' A Princess of Mars, and the publication of the Lancer Conan Saga….
(3) FUTURE TENSE. "'Beauty Surge', a new short story by Laura Maylene Walter" — "What if your college dorm analyzed your sewage to find out if you're pregnant or on drugs?" – is the latest story in the Future Tense Fiction series from Future Tense and Arizona State University's Center for Science and the Imagination about how technology and science will change our lives.
Nora shut herself in the dorm suite's bathroom, the inhaler clutched in her fist. Once she was within range of the ProtectFlo toilet sensor, her eight-digit campus identification code flashed across its display. The light flared from yellow to green, where it would remain until Nora exited. There was no way to circumvent the system unless, of course, one peed outside, maybe in the campus woods, but that would render vital health data inaccessible.
And there's a response essay by Rolf Halden, director of the Biodesign Center for Environmental Health Engineering. "Are You Entitled to Privacy Over Your Pee and Poop? An expert on wastewater-based epidemiology responds to Laura Maylene Walter's 'Beauty Surge'".
…But there always are those questions we need to ask, again and again: What information is OK to collect? How many people's human waste needs to be mixed to make the data we collect anonymous? Who owns the data, and who deserves to learn about what it says? If a changing climate or global tourism bring new pathogens into your city and neighborhood, we work to be the first to tell you.

Powerful tools are neither good nor bad; it just depends how they are applied. Wastewater-based epidemiology and other health monitoring tools are no exception….
(4) LOOKING BACKWARD. Cora Buhlert's new Retro Review is for "'The Green Huntsman' by Dorothea Gibbons", who is better known as Stella Gibbons, author of Cold Comfort Farm.
…The name Dorothea Gibbons will not mean anything to most people. However, Dorothea Gibbons is a very well known author, probably one of the most famous mainstream authors ever to publish in Weird Tales next to Tennessee Williams as a sixteen-year-old debut author (and I should really review his debut story some day). For Dorothea Gibbons was none other than British novelist, poet and journalist Stella Gibbons, author of Cold Comfort Farm (which is absolutely genre, even if most people don't realise it). …
(5) HIJACK THE STARSHIP AGAIN. Rescheduled from 2019 – a live performance of 1971 Best Dramatic Presentation Hugo finalist Blows Against the Empire will take place October 23 at The Newton Theater in New Jersey.
The Airplane Family & Friends reunites Jefferson Airplane, Jefferson Starship, Hot Tuna, Grateful Dead, Bob Weir's Rat Dog & David Crosby alumni to perform the 50th Anniversary of Paul Kantner / Jefferson Starship masterpiece "Blows Against the Empire", in celebration of the late Hall of Fame musician's birthday-next March. The album was recorded in San Francisco in 1970, the results derive from a period of cross-collaboration during late 1969 through 1971 by Jefferson Airplane, Grateful Dead & Crosby, Stills, Nash & Young recording at the time in the city.

The credit to Jefferson Starship reflected many things: the ad-hoc all-star line-up; the album being an evolutionary progression from Jefferson Airplane; and finally the narrative concept that tells the story of a counter-culture revolution against the oppressions and a plan to steal a starship from orbit and journey into space in search of a new home. It was the first album to ever be nominated for literary science fiction's Hugo Award in the category of Best Dramatic Presentation.
(6) ALIEN CHOW CALL. "Science fiction writer Eli Lee dips into her imagination to create fictional worlds and fantastical, quotidian meals of the future." "Writing for science fiction: Eating unfamiliar food in a familiar world", a recording available at KCRW.
…In a piece for Vittles, Lee takes inspiration from writer Ursula Le Guin, whose work "Always Coming Home" anchors her fanciful cuisine to the hyperrigional dishes of her native Northern California upbringing. In her first novel "A Strange and Brilliant Light," Lee delves into her past to create foods in her invented world. Referencing her beekeeper mother's honey, Lee describes her imaginary dulac cake, allowing the reader to attach their own personal food history and emotions to her fiction.
(7) WALDROP TO THE SCREEN. "The Cooters Are Coming!" announces "The Big Cooter" George R.R. Martin, at Not A Blog. He's helped produce a film based on a Howard Waldrop story.
…The producers of NIGHT OF THE COOOTERS — in no particular order — are Vincent D'Onofrio, Justin Duval, Joe Dean, Taylor Church, Martin Sensmeier, L.C. Crowly, Greg Jonkajtys, Elias Gallegos, Lenore Gallegos, Amy Filbeck, Joe Lansdale, and Howard Waldrop His Own Self.

And me… though I rather think I may credit myself as The Big Cooter.

When and where will you be able to see NIGHT OF THE COOTERS?

Well, that's hard to say. We shot everything on green screen, so the post production process is going to be a lengthy one. The ball has now been passed to our friends at Trioscope, who will supply the backgrounds and special effects. We are thinking the final cut won't be ready until early next year. And once the film is complete… well, alas, I doubt it will be showing at a multiplex near you. It's a short film, as I said, and shorts just don't get the distribution of full-length features. They hardly get any distribution at all, sad to say. I expect we will enter COOTERS in some film festivals here and there. Maybe some streamer will pick it up. Maybe we can release it on DVD or Blu-Ray. Maybe we can make a few more Waldrop movies and assemble them all into an anthology of sorts, like CREEPSHOW or TWILIGHT ZONE. One thing I can promise: we will be having a premiere somewhere down the line at the Jean Cocteau Cinema in Santa Fe.

Howard never made much money off his stories. I expect his film won't make much money either. But that's not point.

Some stories just need to be told. Some movies just need to be made. Call it a labor of love.
(8) COMIC-CON MUSEUM. Held back by the pandemic, the "San Diego Comic-Con Museum to open in November" says the San Diego Union-Tribune.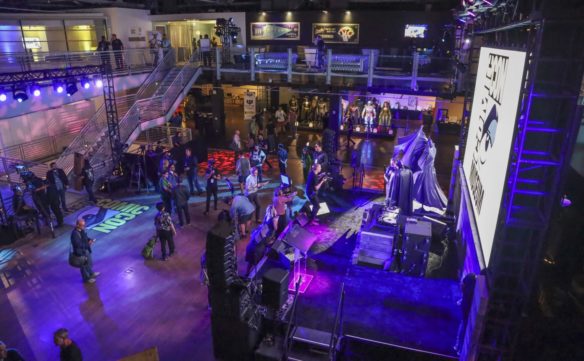 … COVID-19 did more than delay the museum — it also canceled the in-person Comic-Con two years in a row. Not only was it a hit to the pocketbook of the nonprofit that runs the convention, but also San Diego's tourism industry. The launch of the museum is welcome news to many in the community.

"With the museum's construction under way," San Diego Mayor Todd Gloria said in a statement, "we're closer than ever to welcoming a global audience to get a taste of the Comic-Con experience in the middle of our city's crown jewel, Balboa Park."

Visitors to the new museum Thanksgiving Week will be only seeing the first phase of the project, which will include exhibits of comic book art, part of an education center, an atrium and artwork from past conventions. Other parts of the three-floor museum, which Comic-Con said will be completed by July 2022, will be worked on as the museum stays open….
(9) MEMORY LANE.
1998 – Twenty-three years ago, The New Addams Family premiered on Fox Family. It's considered a revival of the Sixties series The Addams Family. (To date, it is the last Addams Family television series done, with only a computer-animated feature following it twenty years later.) With the exception of Ellie Harvie who portrayed Morticia Addams here and later was Dr. Lindsey Novak in Stargate SG-1 and Stargate Atlantis, the cast will not be familiar to you. (Though John Astin would show up in a guest role as Grandpapa Addams.) She won two Leo Awards, given out by the British Columbia film and television industry for her work on this series. It would last two seasons, consisting of seventy-eight thirty-five minute episodes in total.
(10) TODAY'S BIRTHDAYS.
[Compiled by Cat Eldridge.]
Born August 28, 1916 — Jack Vance. I think I prefer his Dying Earth works more than anything else he did, though the Lyonesse Trilogy is damn fine too. And did you know he wrote three mystery novels as Ellery Queen? Well he did. And his autobiography, This Is Me, Jack Vance!, won the Hugo Award, Best Related Book at Aussiecon 4. He won two other Hugos, one for his short story "The Dragon Masters" at DisCon 1, another at NyCon 3 for "The Last Castle" novelette." (Died 2013.)
Born August 28, 1917 — Jack Kirby. Responsible for a goodly part of modern comics from Captain America and the X-Men to Challengers of the Unknown and the New Gods. I'm very much looking forward to the New Gods film being worked on now that delayed by the Pandemic. He would have been up for a Retro Hugo at MidAmeriCon II for Captain America Comics #1 but it was ineligible, not having been published in 1940, but in 1941. (Died 1994.)
Born August 28, 1948 — Vonda N. McIntyre. I've read a number of her works including Dreamsnake and The Moon and the Sun which are all phenomenal. Dreamsnake won a Hugo at Seacon '79 as well a Locus Award for Best SF Novel and a Nebula nomination. The Moon and the Sun which won a Nebula was based on a short story of hers done has a faux encyclopaedia article "The Natural History and Extinction of the People of the Sea," that was illustrated by Le Guin. Way cool. (Died 2019.)
Born August 28, 1949 — Charles Rocket. A memorable recurring role on Max Headroom as the sleazy corporate executive Grossberg. His genre appearance otherwise are extensive and include Quantum Leap, Wild Palms, Lois & Clark: The New Adventures of Superman, Star Trek: Voyager, X-Files and a lot of voice work including the Batman franchise of course. (Died 2005.)
Born August 28, 1951 — Barbara Hambly, 70. Author of myriad genre works including the James Asher, Vampire Novels, The Windrose Chronicles, and the Sun Wolf and Starhawk series. Some Trek work. Her only Award was a Locus Award for Best Horror Novel for Those Who Hunt the Night. She was married for some years to George Alec Effinger.
Born August 28, 1965 — Amanda Tapping, 56. She's best known for portraying Samantha Carter on Stargate SG-1 and Stargate Atlantis. She also starred as Helen Magnus on Sanctuary which I never managed to see. Anyone seen it? She was in The Void which also starred Adrian Paul and Malcolm McDowell.
Born August 28, 1978 — Rachel Kimsey, 43. She voices Wonder Woman on Justice League Action, yet another series that proves animation, not live, is the DC film strong point. Here's a clip of her voice work from that show. She was Zoe, the old imaginary friend of Frances, on Don't Look Under The Bed, a supposed horror film that ran on Disney. Disney, horror? And she was a zombie in the "Don't Let Her Pull You Down" musical video by New Found Glory.
(11) COMICS SECTION.
(12) DUNE WHAT COMES NATURALLY. The Guardian asks: "Will Denis Villeneuve's Dune finally succeed where others failed?" Videos of the 3 versions at the link.
What kind of fool of a film-maker would proceed with part one of a major fantasy epic without first establishing that the studio backing it will stump up the cash for part two? That was the position Ralph Bakshi found himself in when his divisive 1978 animated take on JRR Tolkien's Lord of the Rings failed to wow critics, and it's the one Denis Villeneuve finds himself in with regard to his forthcoming take on Frank Herbert's space fantasy Dune, which arrives in cinemas and on the streaming service HBO on 22 October.

There is no doubt that the first big-screen take on this tale of interstellar rivalries since David Lynch's 1984 misfire has hype in spades. Early trailers featuring Timothée Chalamet as the messianic Paul Atreides, as well as a stellar cast including Zendaya, Rebecca Ferguson, Oscar Isaac, Josh Brolin, Stellan Skarsgård, Charlotte Rampling and Javier Bardem, wowed sci-fi fans. But then, Villeneuve's previous sci-fi spectacular, Bladerunner 2049, was similarly a fan favourite and earned rapturous reviews, yet ended up with a middling box-office take. All talk of a third movie swiftly evaporated….
(13) WRITER'S CHANGE OF VENUE AFFECTS A MENU. "H.P. Lovecraft Writes Olive Garden's Dinner Menu" by Sam Woods at McSweeney's Internet Tendency.
Fried Calamari

Tendrils crusted in grit assail my palate. Begotten of the sea, yet containing the essence of a carnival….
(14) A TWELVE YEAR MISSION. Which is a bit longer than Trek officers are ordinarily involved with: "'Star Trek' star Tim Russ helps detect asteroid for NASA's upcoming mission" reports USA Today.
Tim Russ, who played Lieutenant Commander Tuvok on the sci-fi show "Star Trek: Voyager" is going back to his space roots. On his latest mission, he's helping detect asteroids for NASA.

Russ and five other citizen astronomers contributed to the detection of Patroclus, an asteroid orbiting Jupiter.

The purpose of detecting the asteroid is to serve NASA's upcoming mission in October where it will launch a probe named Lucy into space, according to Russ. NASA said in a statement posted to their website that Lucy will complete a 12-year journey to eight different asteroids: a Main Belt and seven Trojans.

"These Trojan asteroids were captured in Jupiter's orbit, probably from farther out in the solar system, so they're more rare and more pristine in terms of what information they might have in their chemical makeup," Russ tells USA TODAY.

According to NASA, the Trojan asteroids are "stabilized by the Sun and its largest planet in a gravitational balancing act. …These primitive bodies hold vital clues to deciphering the history of the solar system, and perhaps even the origins of organic material on Earth."

Russ helped detect Patroclus using a Unistellar eVscope and eQuinox telescope, a computerized telescope with a built-in GPS that connects to any cellphone.

"It will simply find a starfield on its own and it will figure out where it is. You just punch in the object you want to go see," Russ says.
(15) LOONEY OR NOT? NASA wants to know if a 3D printer can print useful objects from moon dust — Digital Trends has the story. "NASA Tests 3D Printer That Uses Moon Dust to Print in Space".
When a Northrop Grumman Cygnus cargo spacecraft arrived at the International Space Station (ISS) this week, it carried a very special piece of equipment from Earth: A 3D printer that uses moon dust to make solid material.

NASA is testing out the printing system from company Redwire for use in its upcoming Artemis moon missions, hoping to make use of the moon's dusty soil (technically known as regolith) as raw material for printing. The idea is to use readily available materials on the moon to make what is required instead of having to haul lots of heavy equipment all the way from Earth.

Engineers have been considering how to 3D print using moon regolith for some time and have demonstrated the process on Earth. But sending a 3D printer into the microgravity environment of the ISS for testing is a big new step in getting the technology ready to use….
(16) VIDEO OF THE DAY. Empire introduces the "Full Trailer For Trippy Alan Moore-Penned Noir Thriller The Show" –
We've been monitoring the progress of the Alan Moore/Mitch Jenkins brain-bender The Show for nearly a year now. And, as it finally secures a release date, the full trailer for the trippy film has arrived….
[Thanks to Andrew Porter, Martin Morse Wooster, JJ, Rob Thornton, Lise Andreasen, Michael J. Walsh, Cora Buhlert, Michael Toman, John King Tarpinian, Cat Eldridge, and Mike Kennedy for some of these stories. Title credit belongs to contributing editor of the day Ingvar.]