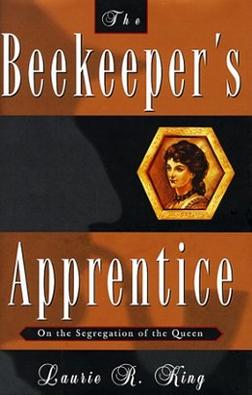 Mystery Writers of America (MWA) announced several special awards today. They have selected Laurie R. King as the 2022 Grand Master. The Raven Award recipient is book reviewer Lesa Holstine. And the Ellery Queen Award has been given to publisher Juliet Grames. All winners will accept their awards at the 76th Annual Edgar Awards Ceremony on April 28, 2022.
MWA's Grand Master Award represents "the pinnacle of achievement in mystery writing." Laurie R. King's 30 novels and other works include the Mary Russell-Sherlock Holmes stories, beginning with The Beekeeper's Apprentice (named "One of the 20th Century's Best Crime Novels" by the IMBA.) The series' A Monstrous Regiment of Women won The Nero Wolfe award for best novel.
Using the pseudonym "Leigh Richards", King also has published a science fiction novel, Califia's Daughters (2004). 
The Raven Award, which "recognizes outstanding achievement in the mystery field outside the realm of creative writing," goes to librarian, a blogger, and book reviewer Lesa Holstine. She is in the 18th year of writing her award-winning blog, Lesa's Book Critiques, has been the blogger for Poisoned Pen Bookstore for over four years, and reviews mysteries for Mystery Readers' Journal and Library Journal, where she was named Reviewer of the Year in 2018.
Soho Press svp, associate publisher Juliet Grames was awarded the Ellery Queen Award, which is given to "outstanding writing teams and outstanding people in the mystery-publishing industry."