(1) NOT MY CUPPA. The Traveler at Galactic Journey found the January 1961 issue of Galaxy filled with well-done short stories that didn't personally appeal to him. Of course, he was younger in those days.
[Jan. 12, 1961] Will *you* like the new Galaxy? It's a matter of taste… https://t.co/tvEqQ1C6n4 #sciencefiction pic.twitter.com/nBOpxWDp0O

— Galactic Journey (@journeygalactic) January 13, 2016
(2) MISS FIT. Liwella at Astounding Yarns was enjoying the Cosmonauts exhibition at the Science Museum right up to the moment she discovered their souvenir t-shirts weren't available in a women's fit.
I loved the exhibition so much that I wanted to take home some souvenirs.  Particularly one of the range of awesome tshirts that were for sale, given that I love wearing geeky tshirts.  I wear them round the house with jeans.  I wear them with skirts and funky tights when I'm out and about.  Perhaps I should buy one featuring the first woman in space, Valentina Tereshkova.  Or one inspired by those glorious Russian propaganda posters, with their instantly recognisable design aesthetic.  But it turns out that the Science Museum only offered one tshirt in a woman's fit – a rather dull design based on a spacewalk motif.  When I asked the assistant on duty if there were any woman's fit tshirts available he seemed surprised I'd even asked.
(3) KEEP YOUR MONEY HANDY. "Hasbro, Disney Launching new Rey 'Star Wars' Toys" reports the Wall Street Journal.
"One of the biggest surprises that filmmakers wanted to keep under wraps was that the Force awakens in Rey and she carries a lightsaber," said Paul Southern, head of licensing for Lucasfilm. "We always planned a second wave of product after the movie's release that would include secrets revealed in the movie."

Hasbro's new Rey toys will be based more on her action scenes later in the film, including a climactic one in which she wields a lightsaber.

There have been products including toys, T-shirts and costumes featuring Rey available for months, but to date virtually all have featured her only as she appears in the movie's earliest scenes.

Nonetheless, some fans were upset about three toys in which the Rey character was notably absent, including the Monopoly game and a set of action figures, sold exclusively at Target, that excluded her entirely.

The movie's director, J.J. Abrams, has supported those fans.

"It seems preposterous and wrong that the main character of the movie is not well represented in what is clearly a huge piece of the 'Star Wars' world in terms of merchandising," he said that the Television Critics Association's press tour Saturday, according to Entertainment Weekly.
(4) BALMORAL-ICAN GRAFITTI. J. K. Rowling celebrated the ninth anniversary of finishing Deathly Hallows with a tweet, says Mashable.
Rowling placed the finishing touches on the seventh Harry Potter book at the Balmoral Hotel in Edinburgh, the city where she lives. After finally completing her manuscript, she indulged in a little friendly vandalism to commemorate the occasion, a photo of which she tweeted Monday.
Finished Hallows 9 yrs ago today. Celebrated by graffiti-ing a bust in my hotel room. Never do this. It's wrong. pic.twitter.com/HsqQKydY68

— J.K. Rowling (@jk_rowling) January 11, 2016
(5) AXANAR UPDATE. Now Alec Peters has written his own FAQ – "Captain's Log – Jan. 7th, 2016".
Q:  How can you be non-profit and pay salaries?

A:  Non-profit does not mean "volunteer".  Just like the CEO of The Red Cross gets $400K a year in salary, non-profits can pay salaries.  Payroll is an expense.

Q:  Why did Alec Peters get paid $ 38,000 as noted in the annual report?

A: Because Alec (as well as Diana) worked full time at Axanar, certainly 60 hours a week not including conventions on the weekends.  That means Alec and Diana probably got paid minimum wage.  And Diana deferred all her salary.  Now go compare that to any Hollywood studio exec putting out medicore content, and tell us Alec and Diana were paid too much!  That doesn't even cover their expenses.  We don't expect full time employees to work for free.

Q:  Is Ares Studios a for-profit studio?

A:  Ares Studio is the term we use to describe the warehouse we have built our sound stage to make Axanar.  There is no profit being made, and in fact Alec personally guaranteed the 3 year lease, so the last two years are a $ 250,000 liability he is responsible for.  Axanar Productions has been paying for the building while we build sets and prepare the make the movie.  Would we like to make movies after Axanar?  Sure would, but that is all speculative.  We don't have any revenue from the studio and so such talk is nonsense.
(6) MAJOR TOM. Bowie lyrics on the marquee of the closed Rialto Theatre in South Pasadena.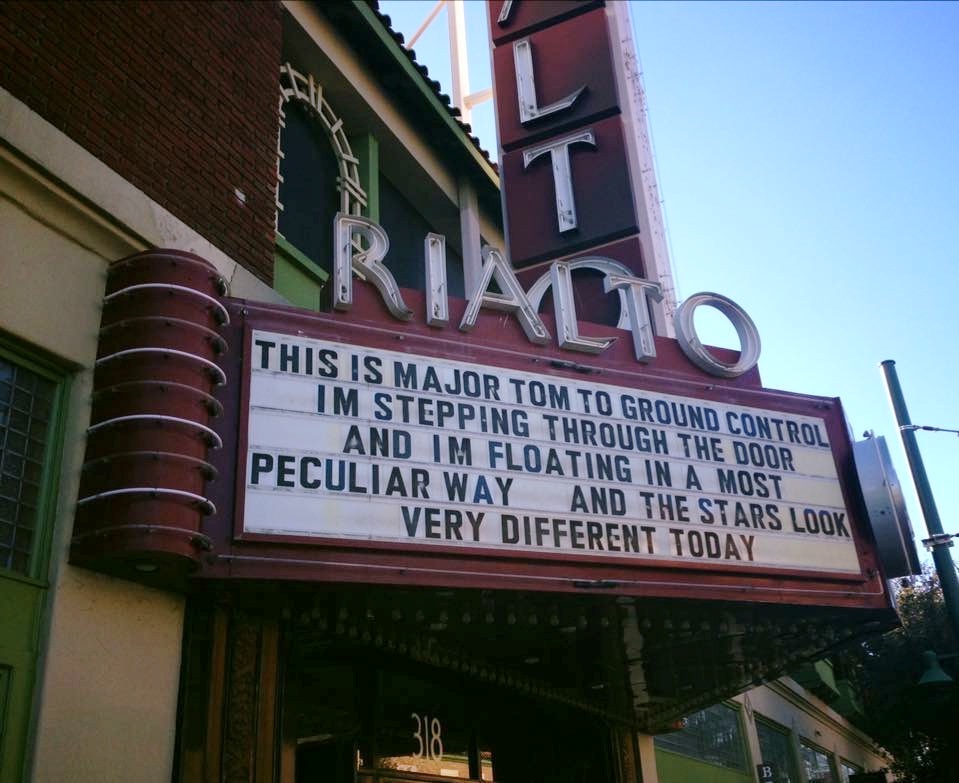 (7) DANGEROUS. Forbes writer Ron Salkowitz analyzes "David Bowie's Dangerous Visions: Sci-Fi Touchpoints For The Thin White Duke".
Much of Bowie's work throughout his career is a dialogue with New Wave SF, refracting it through his own sensibility and bringing the concepts to a mass audience via the medium of rock and roll. As I've been listening to the Bowie catalog for the past day, I'm reminded of a few specific connections and patterns of inspiration.

The Jerry Cornelius Novels (Michael Moorcock). Moorcock, the quintessential New Wave author, is better known for his sword and sorcery character Elric, but in 1968, he unleashed the sexually ambiguous secret agent Jerry Cornelius on an unsuspecting public in a novel called The Final Programme. An acid-drenched mashup of James Bond and Doctor Who, the dapper Cornelius hopscotches around space and time foiling plots against reality, assuming new identities and dazzling people with his avant gard aesthetics as he goes. Three further novels followed, each stranger than the next. Jerry Cornelius is less a specific inspiration for Bowie's work than a template for his entire persona.
(8) GREETINGS GATES. The passing of David Bowie prompted Mental Floss to remind fans that "Gates McFadden (Dr. Crusher) Choreographed 'Labyrinth'". A photo and video clips there, too.
Most geeks like me know Gates McFadden as Dr. Beverly Crusher from Star Trek: The Next Generation. But before her Trek role, McFadden was Director of Choreography and Puppet Movement on a bunch of Jim Henson films, including The Dark Crystal, Labyrinth, and even The Muppets Take Manhattan. As a choreographer, she's typically credited as Cheryl McFadden — Cheryl is her first name, Gates is her middle name.
(9) DRAWN THAT WAY. The Slipper says farewell to David Bowie the comics reader and reproduces many images that characterized him or were influenced by his appearance.
(10) TODAY IN HISTORY
(11) TODAY'S BIRTHDAY BOY
In 1695, aged 67, he wrote Tales and Stories of the Past with Morals, a series of moral tales designed to prompt the reader to reflect on the dilemmas presented to the protagonist, which were well-known from folklore even then.

The volume contained the story now known as Mother Goose, alongside perrenially recognised titles such as Puss in Boots, Blue Beard and Cinderella, and less famous stories Ricky of the Tuft and Little Thumb
(12) MEESA QUITS. You won't have Jar-Jar Binks to kick around anymore. Try not to let it get to you.
Issa bad news from Naboo… Ahmed Best, the actor who played Jar Jar Binks will never return to the 'Star Wars' movies, even if he was asked, adding 'I've done my damage'.

Binks, perhaps the most reviled character in all of 'Star Wars' history, was the Gungan soldier know initially for his cack-handed clumsiness, and then, appropriately, his latter career as a politician in George Lucas's prequel movies.

But in a rare interview, Best said that he has no intention of ever reprising the character.
(13) HUGO CAMPAIGNER. Robin Wayne Bailey would hate for you to miss a chance to vote his story a Hugo. On Facebook, he'll tell you how to get a free copy.
Last month, November, saw the release of the very excellent science fiction anthology, MISSION: TOMORROW, edited by Bryan Thomas Schmidt. The anthology is chock-full of great stories, and my own "Tombaugh Station," I'm honored to say, leads it all off.

I believe strongly that "Tombaugh Station" is one of the best science fiction stories I've ever written, strongly enough that I'd love to see it make the 2016 Hugo Awards ballot next August right here in my own hometown.

However, that November release, late in the year and only a month before the ballot was released (a week ago) is the very definition of what's known in this business as an "end of the year handicap," that is, few voters will have had the chance to see the story before voting begins. Now, I don't particularly want to quietly fall victim to that handicap.

So I've just asked and received permission from Baen Books to give my story away. That's right — I'm actively campaigning for a place on the 2016 Hugo ballot. I used to frown on such shenanigans, but that stigma obviously has melted away.
LOL! Sure, it's understandable why a Baen Books author might think that…
(14) AFROFUTURISM & OTHER TOPICS. "The State of Black Science Fiction Convention" will be held June 11-12 in Atlanta, GA.
Early Registration for #SOBSFicCon is now open! https://t.co/wY1KmGisab #afrofuturism #blackscifi #scifi #Atlanta pic.twitter.com/hxND23sqt0

— Balogun Ojetade (@Baba_Balogun) January 11, 2016
(15) SHERRY'S LONGLIST. Joe Sherry has posted "My 2016 Hugo Awards Longlist Recommendations" at Adventures In Reading, which is both interesting in its own right, and as an index of where recused creators and works might belong.
With all of the shenanigans regarding groups putting together slates to directly influence what gets on the final ballot, what I'm going to do instead is post a growing long list of stuff I thought was awesome in 2015. This list will likely grow and change as I continue to discover stuff published in 2015 that I likewise think is awesome. I'm listing everything alphabetically either by title or author, so don't view anything listed at the top of a category as being my ranked order. It's not.
(16) INSIDE BASEBALL. Lesley Conner's guest post at Far Beyond Reality tells how several stories got selected for Best of Apex Magazine: Volume 1.
From Slush Pile to Magazine to Anthology: The Making of Best of Apex Magazine: Volume 1

I came on board as the managing editor of Apex Magazine in October, 2014. I'd been involved with Apex for a while before that, but it wasn't until then that I was let into the shadowed world of the slush pile and started sifting through to find stories to bring into the light. Because of this, and the fact that Best of Apex Magazine: Volume 1 covers the first six years of Apex Magazine, I missed that magical moment of discovery for many of the stories that ended up in the anthology. But not all of them.

Today I'd like to give you a peek behind the publishing curtain and share the journey that some of the stories in Best of Apex Magazine took from the slush pile to the anthology.
(17) IT'S A MYSTERY. Vox Day says the count is now up to four of people following his author page who have been banned from Goodreads. What the rest of their Goodreads activity consisted of he doesn't say.
(18) BB-8. Here are two videos starring science fiction cinema's latest Small Cute Robot.
Unlike some, BB-8 is too shy to come out of its shell…
[Thanks to John King Tarpinian, Will R., and James H. Burns for some of these stories. Title credit goes to File 770 contributing editor of the day Daniel Dern.]