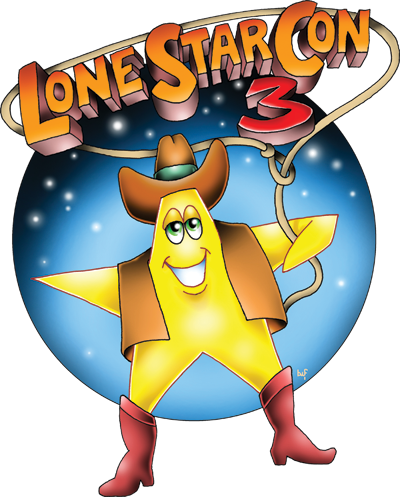 The Texas bid for the 2013 Worldcon was officially declared the winner at Renovation's Saturday business meeting. It had been essentially unopposed and received 694 of the 760 votes cast, with 14 other choices receiving votes.
Co-chairs Laura Domitz and Bill Parker announced the con will be called LoneStar Con 3 and will be held in San Antonio from August 29-September 2, 2013.
The guests of honor will be James Gunn, Norman Spinrad, Darrell K. Sweet, Ellen Datlow, and Willie Siros. Toastmaster will be Paul Cornell. There also will be two Special Guests, Leslie Fish and Joe R. Lansdale.
At this time a new adult attending membership costs $160, young adult (under 21) $110 and Child $75.   
The detail of Site Selection voting is: Texas 694, None of the Above 14, and write-ins — Xerpes 6, Minneapolis in '73 5, Denton, the Happiest Place on Earth 4, Boston 2020 Christmas 3, and the following each received 1 vote, Antartica, Babylon 5, BSFS Clubhouse, Chicago, Cincinnati, Fred Duarte's House, Peggy Rae's House, Spuzzum, Unalakleet (AK). There were also 14 invalid ballots submitted.
The full press release follows the jump.
[Thanks to Patrick Molloy for a copy of the voting stats.]