(1) MARCHING WITH SHERMAN. [Item by Martin Morse Wooster.] I listened to this podcast Leonard and Jessie Maltin did with songwriter Richard Sherman, which they did in 2016 but recently reposted because Richard Sherman turned 92. Maltin on Movies: "Revisiting Richard Sherman".
Leonard Maltin knows a lot about all aspects of cinema but what he really knows a great deal about is the history of animation and Disney films. Much of this podcast is devoted to the idea that Walt Disney really was as nice as he presented himself on Sunday nights on "The Wonderful World of Disney." Sherman says Disney liked being called "Walt" and if he liked an idea said, "That'll work!" He also said that P.L. Travers, author of the Mary Poppins novels, was as fiercely protective of her intellectual property as portrayed in Saving Mr. Banks, and he has 16 hours of tapes with Travers to prove it. She insisted the tapes be made as a record of her conversations.
Most of the conversation here is about Mary Poppins, which earned Sherman and his brother Robert Sherman two Oscars. He only briefly mentions Chitty-Chitty Bang Bang, which had songs by Sherman and his brother and was in effect the James Bond people trying to do a Disney musical. He does mention that he was working on an album containing songs for two unmade fantasy films: Sir Puss-N-Boots and The 13 Clocks, based on the James Thurber novel. These songs were released in 2016 by castalbums.org.
Fun fact: Voice actor Paul Winchell not only voiced Tigger, but also invented an artificial heart valve.
Disney fans will enjoy this hour.
(2) THE STRANGER THINGS EXPERIENCE. Delish brags, "We Tried All The Food At Stranger Things: The Experience".
We're beyond excited for part 2 of Stranger Things season 4. To get into the spirit, Team Delish traveled to the new Stranger Things: The Experience in Brooklyn. With locations in New York, San Francisco, and London, the hour-long immersive adventure transports visitors straight to Hawkins, Indiana.

As much as we loved fighting Demogorgons with Eleven and the gang, our favorite part was obviously the food! Once you finish the experience, you enter Mix-Tape, an '80s-themed area with some of the show's iconic locations. Guests can play vintage arcade games, sit in the Byers' living room, and snack on the character's favorite treats.

… If you need a drink to wash everything down, head to the Upside Bar for some cocktails inspired by the show. Our favorite is the Demogorgon, which Agbuya describes as "smoky-sweet version of an Old Fashioned with a twist." The drink is made with bourbon, maple syrup, and Angostura Bitters, but the main attraction is when the bartender uses a flavor blaster gun to blow a giant bubble. Then you puncture it with a stroopwafel and it releases citrus-scented smoke over the drink.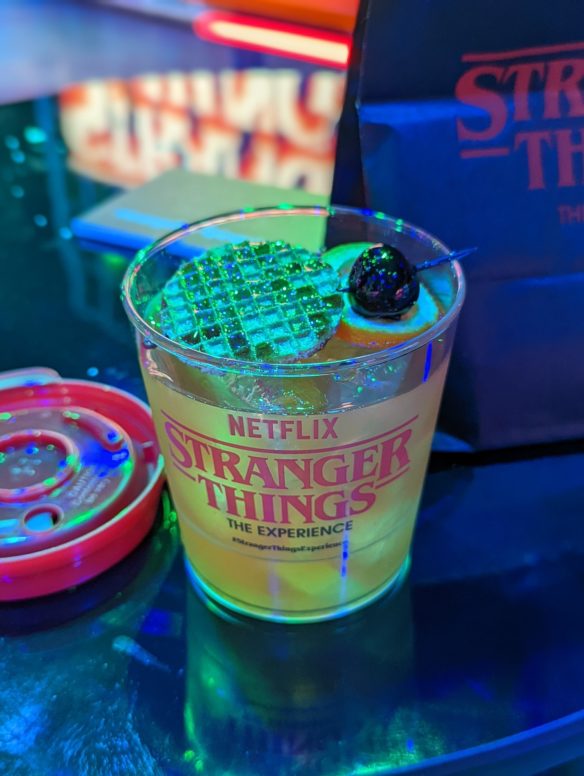 (3) MEDALIST. At The Heinlein Society blog (where "Right click is disabled!") you can read a "Balticon 56 Report" that's focused on personally presenting David Gerrold with his Heinlein Award.
(4) AFTER-SCHOOL ACTIVITIES. Bill sends along a clipping of something by Robert A. Heinlein's second wife, Leslyn.  This was after she had divorced Robert and remarried, but refers to the place they had lived on Lookout Mountain Ave.  It's from the July 1956 issue of Ladies Home Journal.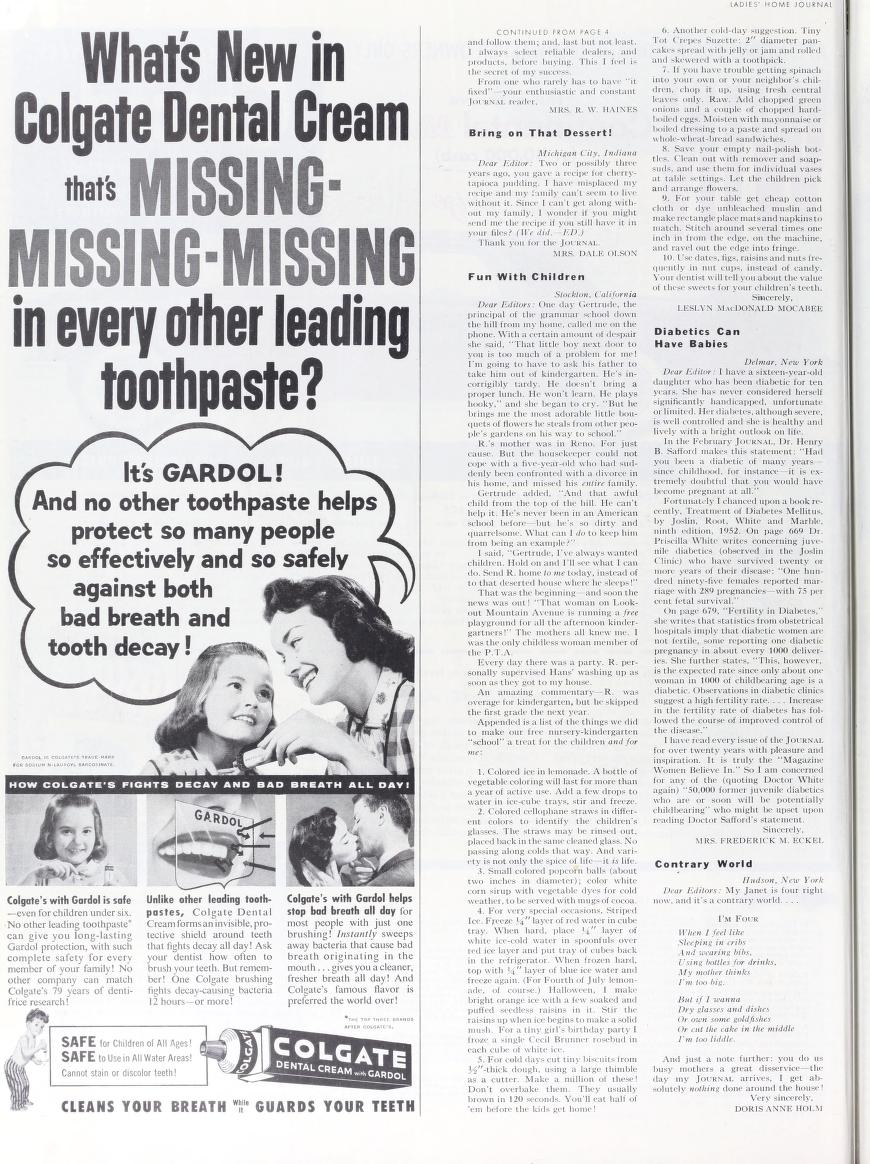 (5) THE SMITHSONIAN RECOMMENDS OCTAVIA BUTLER. [Item by Darrah Chavey.] In the June issue of the Smithsonian, in the column "Ask Smithsonian", a reader asked "Who is a science fiction writer you hold in high esteem?" Their answer:
Octavia Butler was an Afrofuturist author who was born in 1947 and died in 2006. In her "Patternist" novels, published during the 1970s and '80s, she foresaw many aspects of our current era–climate change, pandemics, ethical questions about genetic engineering, struggles for racial justice–yet she struck a chord of hopefulness, especially for Black and women readers, her body of work, which is featured in Smithsonian's current FUTURES exhibit, grapples deeply with what it means to be human and inspires us to build a more equitable future, no matter what obstacles lie in the way."
(6) A LOT ON HIS PLATE. "What Makes Taika Waititi Run and Run and Run?" The New York Times asks, but the subject isn't sure!
Even when your job is to dream up the interplanetary adventures of a Norse god, you might still want to run off and play pirates.

So during the weeks he was editing "Thor: Love and Thunder," the Marvel movie that opens on July 8, Taika Waititi, its director and co-writer, would occasionally take weekends off for a different journey.

He would get outfitted in a flowing gray wig, matching facial hair and temporary tattoos, and don deliciously fetishistic leather gear to portray Blackbeard, the swashbuckling, loin-kindling buccaneer of the HBO Max comedy series "Our Flag Means Death."

This is admittedly not a bad way to spend your spare time, though Waititi did occasionally fret over the trade-offs. As he explained recently, "Sometimes you're pissed off at life and you're like, 'Why did I say yes to everything? I don't have a social life — I'm just working.' But then the thing comes out, you see where the hard work goes and it's really worth it."

On TV, Waititi, 46, has had a hand in the FX comedies "Reservation Dogs" (as a co-creator) and "What We Do in the Shadows" (a series based on a movie he co-wrote and co-directed), as well as a "Shadows" spinoff, "Wellington Paranormal." At the movies, you can hear him voice a good guy in "Lightyear" or see him play a bad guy in "Free Guy."

Waititi is also editing "Next Goal Wins," a soccer comedy-drama that he co-wrote and directed for Searchlight. He's writing a new "Star Wars" movie for Lucasfilm, a "Time Bandits" series for Apple TV+. He's preparing two Roald Dahl projects for Netflix and adapting a graphic novel by Alejandro Jodorowsky and Moebius for a feature film.
(7) HIDDEN BEAUTY. Book Riot probes beneath the surface in its article "Underneath It All: Books Where The Hardcover Has a Clever Design Beneath Its Dust Jacket".
WHAT MAKES THE BEST DESIGN UNDER THE DUST JACKET?

Let me tell you, YA really shines in this category of book beauty. While many adult hardcovers had wonderful color combinations, I was looking for them to have a design under the dust jacket that stood out. The science fiction and fantasy section did a bit better with their designs under the dust jacket, but proportionally, did not hold a candle to the sheer number of books in YA with interesting reveals. I wanted to cast a broad net and hoped to reel in a fine set of books across genres. These are the final 15 books.

Three main categories drew my eye when it came to the design under the dust jacket. First, we have the embossed stamp design, where designers created a clever design pressed into the hardcover and perhaps added some foil to enhance the contrast. Next, we have the flat graphic design, where the cover has some kind of drawn, painted, or printed image that lays flat on an almost silky cover underneath the dust jacket. Finally, we have a small but visually impressive group, the repeating print design, with a pattern that creates a textile-like pattern.
One example is the cover of this novel by the redoubtable T. Kingfisher.
NETTLE & BONE BY T. KINGFISHER

Jacket art by Sasha Vinogradova

When you wait long enough for someone to save you and no one comes, you learn how to save yourself. Marra, the third-born daughter, has seen the way the prince abuses her older sisters and is determined to kill him, once and for all. A series of legendary companions help her perform the three tasks that will free everyone from a prince too cruel to live. The golden embossed skeleton creature pops against the vibrant green cover, daring you to read the first page.
(8) MEMORY LANE.
1956 – [By Cat Eldridge.] "Presumably I'm the condemned man and obviously you're the hearty breakfast." —from Diamonds are Forever
Let's us talk about Fleming's Diamonds are Forever novel whose first part was published in the Daily Express on April 12, 1956 and heralded by an article by Ian Fleming on how he wrote the novel and that readers were invited to "meet James Bond, secret agent, meet M, his boss, and get ready to meet the girl you won't forget". It was the first novel that the Daily Express did but hardly the last as they would go to do all of them.
Fleming wrote the story at his Goldeneye estate in Jamaica, inspired by a Sunday Times article on diamond smuggling.
The book was first published by Jonathan Cape in the United Kingdom on March 26, 1956. It was the fourth novel featuring Bond.
The Daily Express publication was in abridged firm, and interestingly, they followed it, by adapting into as a graphic comic series.
As you all know, it would be adapted into the seventh Bond film which was the last Eon Productions film to star Sean Connery as Bond. Both the novel and the film were considered to be very good. That is not that all British critics loved it as Julian Symons of The Times Literary Supplement thought it was the "weakest book so far". On the other hand, Raymond Chandler, yes that writer, said for the Sunday Times said "Mr. Fleming writes a journalistic style, neat, clean, spare and never pretentious".
It has, like all Bond novels, been in-print ever since it was first published.
(9) TODAY'S BIRTHDAYS.
[Compiled by Cat Eldridge.]
Born July 3, 1898 — E. Hoffmann Price. He's most readily remembered as being a Weird Tales writer, one of a group that included Lovecraft, Robert E. Howard, and Clark Ashton Smith. He did a few collaborations, one of which was with H. P. Lovecraft, "Through the Gates of the Silver Key". Another work, "The Infidel's Daughter", a satire on the Ku Klux Klan, angered many Southern readers. (Died 1988.)
Born July 3, 1926 — William Rotsler. An artist, cartoonist, pornographer and SF author. Well that is his bio. Rotsler was a many time Hugo Award winner for Best Fan Artist and one-time Nebula Award nominee. He also won a Retro Hugo for Best Fan Artist for 1946 and was runner-up for 1951. He is responsible for giving Uhura her first name. He wrote "Rotsler's Rules for Costuming". (Died 1997.)
Born July 3, 1927 — Tim O'Connor. He was Dr. Elias Huer in Buck Rogers in the 25th Century for much of its run. (I really, really liked that series.) Other genre appearances were on The Six Million Dollar Man, The Twilight Zone, The Outer Limits, Wonder Woman, Knight Rider, Next Gen and The Burning Zone. (Died 2018.)
Born July 3, 1927 — Ken Russell. Film director whose Altered States based off of Paddy Chayefsky's screenplay is certainly his best remembered film. Though let's not overlook The Lair of the White Worm which he did off Bram Stoker's novel, or The Devils, based at least in part off The Devils of Loudun by Aldous Huxley. (Died 2011.)
Born July 3, 1937 — Tom Stoppard, 85. Playwright of Rosencrantz and Guildenstern Are Dead. He co-wrote the screenplays for Brazil (with Terry Gilliam) and Shakespeare in Love (with Marc Norman). He's uncredited but openly acknowledged by Spielberg for his work on Indiana Jones and the Last Crusade.
Born July 3, 1943 — Kurtwood Smith, 79. Clarence Boddicker in Robocop which was nominated for a Hugo atNolacon II, Federation President in Star Trek VI: The Undiscovered Country, and voiced Kanjar Ro in the most excellent Green Lantern: First Flight. He's got series appearances on Blue Thunder, The Terrible Thunderlizards (no, I've no idea what it is), The X-Files, Star Trek: Deep Space Nine, Star Trek: Voyager, Men in Black: The Series which I got wrote up, 3rd Rock from the Sun, Todd McFarlane's Spawn, Justice League, Batman Beyond, Green Lantern, Beware the Batman, Agent Carter and Star Trek: Lower Decks. His last genre role is Dr. Joseph Wanless on the Netflix remake of Firestarter.
(10) COMICS SECTION.
Junk Drawer shows that when it comes to alien abduction, many are called but few are chosen.
Bizarro shows an exasperated jury foreman who can't deliver a verdict.
(11) BACK IN THE USSR. From the Sidewise Award-winning author of the acclaimed Clash of Eagles trilogy comes an alternate 1979 where the US and the Soviets have permanent Moon bases, orbiting space stations, and crewed spy satellites supported by frequent rocket launches. Hot Moon: Apollo Rising Book One by Alan Smale will be released July 26.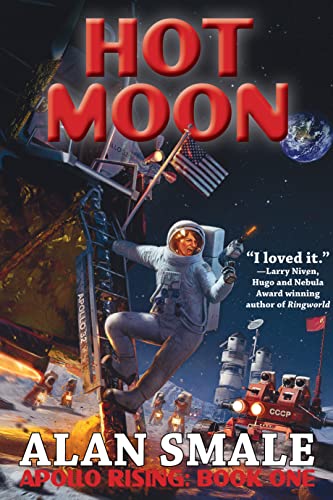 Apollo 32, commanded by career astronaut Vivian Carter, docks at NASA's Columbia space station en route to its main mission: exploring the volcanic Marius Hills region of the Moon. Vivian is caught in the crossfire as four Soviet Soyuz craft appear without warning to assault the orbiting station. In an unplanned and desperate move, Vivian spacewalks through hard vacuum back to her Lunar Module and crew and escapes right before the station falls into Soviet hands.

Their original mission scrubbed, Vivian and her crew are redirected to land at Hadley Base, a NASA scientific outpost with a crew of eighteen. But soon Hadley, too, will come under Soviet attack, forcing its unarmed astronauts to daring acts of ingenuity and improvisation.

With multiple viewpoints, shifting from American to Soviet perspective, from occupied space station to American Moon base under siege, to a covert and blistering US Air Force military response, Hot Moon tells the gripping story of a war in space that very nearly might have been.
Available for preorder at Amazon and Amazon.ca.
Larry Niven says, "I loved it. Great 'hard' science fiction with convincing space battles." Robert J. Sawyer declared, "Alan Smale is one of the brightest stars in the hard-SF firmament, and Hot Moon is his best novel yet. Enjoy!"
Alan Smale writes alternate and twisted history, and hard SF. His novella of a Roman invasion of ancient America, A Clash of Eagles, won the Sidewise Award. Alan grew up in Yorkshire, England, and earned degrees in Physics and Astrophysics from Oxford University. By day he performs astronomical research into black holes and neutron stars at NASA's Goddard Space Flight Center, with over a hundred published academic papers; by night he sings bass with high-energy vocal band The Chromatics.
(12) WET WORK. "Filmmakers of Sci-Fi Thriller 'Vesper' on Finding Hope in Grim Future" in Variety.
…The sci-fi-fantasy thriller, which takes place after the collapse of the earth's eco-system and centers on a 13-year-old girl caring for her paralyzed father, who must use her wits and bio-hacking abilities to fight for survival and the possibility of a future, has proved a popular item for sales agent Anton. They have announced distribution deals in the U.S. (IFC Films), UK (Signature Entertainment), Germany (Koch Media), Italy (Leone Film) and Japan (Klockworx). IFC plans to release the film in U.S. theaters and VOD on Sept. 30….

The live-action scenes were shot in natural locations, mainly around Vilnius. Finding the fairytale forest that they wanted took nearly a year. But shooting outdoors came with its own set of problems. Samper confesses that one of the most challenging elements of the shoot was the spring weather in Lithuania. He says, "One day we had snow, storm, rain, hail and finally sunshine in the same shooting day."…
(13) HIS AUDITION WAS A BUST. Didn't he hear, "Don't do the crime if you can't do the time"? "Florida Man Posing as Disney Worker Charged in Removal of R2-D2 at Hotel" in the New York Times.
A Florida man who said he applied for a security job at Walt Disney World in Florida wanted to impress his would-be bosses.

So, to highlight what he said was the company's lax oversight, the man, David Proudfoot, donned the gray T-shirt, beige pants and Disney name tag worn by employees of a Disney resort, the Swan Reserve, and removed an R2-D2 "Star Wars" droid as well as an unidentified game machine, the authorities said.

R2-D2 might have been the droid he was looking for, but Mr. Proudfoot's test of Disney's security backfired: He was charged with grand theft and obstruction by false information, according to an arrest report dated May 31.

Mr. Proudfoot, 44, of Kissimmee, Fla., admitted to investigators that he moved the droid, which was valued up to $10,000, and the game machine, Deputy Christopher Wrzesien of the Orange County Sheriff's Office wrote in the report.

Deputy Wrzesien wrote that Mr. Proudfoot had "temporarily moved" the droid from the third floor of the hotel to an unknown location. As for the game machine, Mr. Proudfoot told deputies that he had no intention of moving it off the property, according to the report.

He told investigators "he had an application for Walt Disney World Security pending and was moving the items to show weaknesses in the security of the resorts in the hope of securing a better-paying job at WDW," the report said….
(14) HOME IS WHERE YOU HANG YOUR HAT. "Resident Alien: Season Two Return Date Announced" at SYFY Wire.
Resident Alien fans don't have long to wait for the return of the science fiction comedy-drama series. Season two kicked off on Syfy in January and ran for eight episodes before going on hiatus. The remaining eight installments of the season will begin airing on August 10th.

Based on the Dark Horse comics, the Resident Alien series stars Alan Tudyk, Sara Tomko, Corey Reynolds, Elizabeth Bowen, Alice Wetterlund, Levi Fiehler, and Judah Prehn. The story follows an alien (Tudyk) who has come to Earth with a mission to kill humans, but he finds life on this planet is more than he planned.
(15) CURIOSITY. BBC knows you can't resist watching video of the "World's smallest cat".
A rusty spotted cat, the world's smallest cat, explores his forest home in Sri Lanka, but his natural curiosity is destined to get him into a spot of trouble.
[Thanks to Cat Eldridge, Mike Kennedy, Martin Morse Wooster, JJ, Bill, Darrah Chavey, John King Tarpinian, Andrew Porter, Chris Barkley, Michael Toman for some of these stories. Title credit belongs to File 770 contributing editor of the day Jack Lint.]