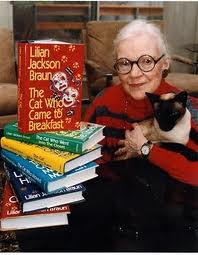 Mystery Writers of America has announced a new Lilian Jackson Braun Award for the best full-length, contemporary cozy mystery published by an MWA-approved publisher. The annual award comes with a $2,000 prize as the result of a generous endowment to MWA by the late Lilian Jackson Braun, who died in 2011 at the age of 97. Braun was the New York Times bestselling author of the "The Cat Who…" series of amateur sleuth mysteries which spanned 29 books published between 1966 and 2007. Featuring clever Siamese cats Koko and Yum Yum, who lived with grumpy newspaper reporter James Qwilleran, her books sold millions of copies and were published in 16 languages.
"Lilian Jackson Braun is a legend in the mystery community," stated Greg Herren, the Executive Vice-President of Mystery Writers of America. "Her incredibly generous bequest to MWA was a very pleasant surprise and will enable us to fund some exciting new projects and programs to benefit our membership. It felt appropriate to honor her career and her legacy in this way."
"I'm thrilled that MWA is finally recognizing the cozy mystery as the powerhouse literary sub-genre that it is," said Diane A.S. Stuckart, author of the NYT bestselling Black Cat Bookshop Mystery series written as Ali Brandon. "I grew up reading "The Cat Who" books, and my inspiration to write cozy mysteries came directly from my enjoyment of Lilian Jackson Braun's work."
Debra H. Goldstein, chair of the MWA committee that created the LJB award and author of Kensington's Sarah Blair cozy mystery series explained that "In crime fiction, the cozy sub-genre often is compared to the Ginger Rogers/Fred Astaire movies because like Rogers doing everything backwards and in heels, cozy mysteries must stick the whodunit with a solid plot and characters without putting the blood and gore on the page. Consequently, Mystery Writers of America's honoring of the cozy mystery demonstrates its understanding of the importance and complexity of the sub-genre."
Honoring Braun's legacy, any book submitted for consideration for the LJB award must be a contemporary cozy mystery with a current day setting and the story emphasis on solving a crime, usually a murder. As with Braun's work, eligible stories will be light in tone, often humorous. While the book may reference serious themes or subject matter, it does so in a non-heavy-handed manner. The crime itself must be solved in a satisfactory manner by the end of the story.
Judging will be done by an MWA-appointed committee of cozy mystery authors, and the winner will be announced at the annual Edgar Award banquet in New York City each Spring. Rules for eligibility and submission may be found here.
[Based on a press release.]