(1) STUCK INSIDE. BBC's Doctor Who site has posted a new short story by Paul Cornell, "The Shadow Passes". The setup is —
… She'd been thinking that when Graham had found the sign. It had said, the letters wobbling a little in the way that indicated the TARDIS was translating for them, 'This way to the shelters'.

'Am I over-reacting,' Graham had said, 'or is that just a tiny bit worrying?'

Which was how they'd ended up in a bare room, one hundred feet underground, sitting in a circle, with the names of famous people stuck to their foreheads….
(2) BOUCHERCON CANCELLED. The annual mystery convention, which was to have been held in Sacramento, CA in October has been cancelled. Provisions will be made for the Anthony Awards and some other components of the con.
We're terribly sad to tell you this, but out of an abundance of caution and concern for the health and safety of our community, we are canceling Bouchercon 2020.

We have no way of knowing what the balance of this year holds for groups of people gathering, nor can we tell what the state of travel will be.

While we are canceling the actual Bouchercon convention, we are working to develop a different format for some of the Bouchercon events and activities such as the Anthony Awards, the short story anthology and the General Membership meeting. Nominations will continue to be open until June 5 for the Anthony Awards. As we work to develop other ways to present a traditional Bouchercon experience, we'll keep in touch with you.
(3) VINTAGE ROLL. Via Shelf Awareness, a photo from the owners of a Sewickley, PA bookstore: "Toilet Paper Shortage Update: Penguin Bookshop".
I inherited this 25-year-old roll of penguin toilet paper when I bought the Penguin in 2014. And darn it! Come hell or high water (or no more tp) we aren't going to use it now.
Jim Freund said online, "I think The Penguin Shop, formerly headquartered in Brooklyn and with a physical store at the South Street Seaport called 'Next Stop, South Pole' used to carry that TP. 25 years ago sounds about right, so they may well have gotten it from there."
(4) PAINT YOUR STARSHIP. At Galactic Journey, The Traveler finds women sff authors in 1965 – but it isn't easy: "[Apr. 16, 1965] The Second Sex In Sff, Part VIII". Six are named in this post.
It's been almost two years since the last edition of our The Second Sex in SFF series came out. In that time, women have only gotten more underrepresented in our genre. Nevertheless, new women authors continue to arrive on the scene, and some who produced under gender-ambiguous names have become known to me…
(5) WHY THE FUTURE IS COVERED IN KUDZU. Geoff Manaugh, in "Tax Incentives and the Human Imagination" on Bldgblog, says that the landscape of horror films often depends on which state or country offers the biggest tax deductions, including such obscure ones as the amount of expenses caterers can deduct.
…My point is that an entire generation of people—not just Americans, but film viewers and coronavirus quarantine streamers and TV binge-watchers around the world—might have their imaginative landscapes shaped not by immaterial forces, by symbolic archetypes or universal rules bubbling up from the high-pressure depths of human psychology, but instead by tax breaks offered in particular U.S. states at particular moments in American history.

You grow up thinking about Gothic pine forests, or you fall asleep at night with visions of rain-soaked Georgia parking lots crowding your head, but it's not just because of the aesthetic or atmospheric appeal of those landscapes; it's because those landscapes are, in effect, receiving imaginative subsidies from local business bureaus. You're dreaming of them for a reason….
(6) READ A KIJ JOHNSON STORY. Us in Flux is a new series of short stories and virtual gatherings from the Center for Science and the Imagination that explore themes of community, collaboration, and collective imagination in response to transformative events. The project's second story launched today: "An Attempt at Exhausting My Deck," by Kij Johnson.
On Monday, April 20 at 4 p.m. Eastern, they'll have a virtual event on Zoom with Kij in conversation with Jessie Rack, an ecologist and coordinator for the Supporting Environmental Education and Communities program at the University of Arizona.
Programming Note: They'll have two more weekly installments (stories by Chinelo Onwualu and Tochi Onyebuchi), then continue publishing on a biweekly schedule.
(7) DENNEHY OBIT. Actor Brian Dennehy has died at the age of 81. His genre work included the movie Cocoon (1985), the Masters of Science Fiction episode "The Discarded" (2007) – based on a Harlan Ellison story, and voice work in Ratatouille (2007).
(8) TODAY IN HISTORY.
April 15, 1955 — Science Fiction Theatre aired "Time Is Just A Place" as the second episode of the first season. It's from Jack Finey's "Such Interesting Neighbors" (published in Collier's, 1951) which would later form the basis of the March 20, 1987 adaptation of the story under its original title for Amazing Stories. The story is that neighbors are increasingly suspicious of the inventions of Mr. Heller, who claims to be an inventor, who uses a robotic vacuum cleaner and a flashlight that beams x-rays. It starred Don DeFore, Warren Stevens and Marie Windsor. You can watch it here.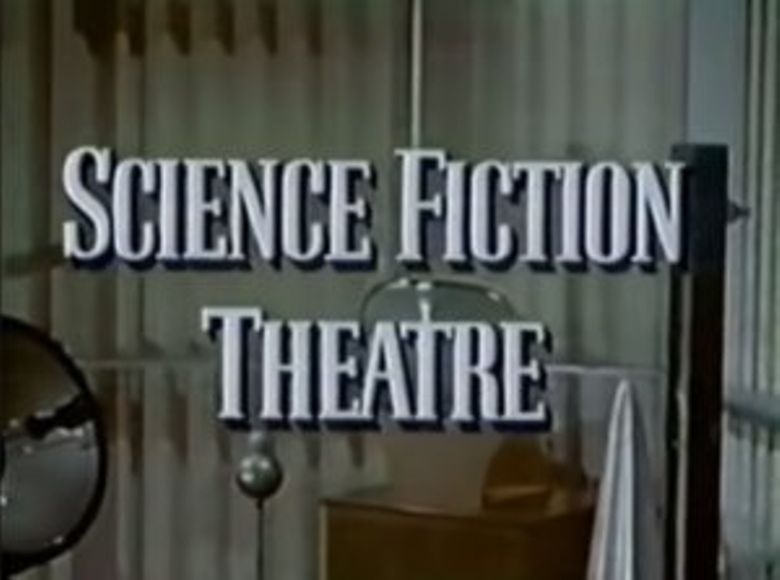 (9) TODAY'S BIRTHDAYS.
[Compiled by Cat Eldridge.]
Born April 16, 1913 — Lester Tremayne. Between 1953 and 1962, he appeared in these in these genre films: The War of the Worlds, Forbidden Planet, The Monolith Monsters, The Angry Red Planet and Kong vs. Godzilla. He'd later appear in Voyage to the Bottom of the Sea, My Favorite Martian, My Living Doll (yes, it's SF) and Shazam! (Died 2003.)
Born April 16, 1918 — Spike Milligan. Writer and principal star of The Goon Show which lampooned a number of genre works such as H. Rider Haggard's She, Orwell's Nineteen Eighty-Four, James Hilton's Lost Horizon and Quatermass and the Pit. You can find these scripts in The Goon Show Scripts and More Goon Show Scripts. (Died 2002.)
Born April 16, 1921 — Peter Ustinov. He had a number of genre appearances such as being in Blackbeard's Ghost as Captain Blackbeard, in the animated Robin Hood by voicing both Prince John and King Richard, as simply The Old Man In Logan's Run, Truck Driver In The Great Muppet Caper, and in Alice in Wonderland as The Walrus. He wrote The Old Man and Mr. Smith: A Fable which is clearly genre. (Died 2004.)
Born April 16, 1922 — Kingsley Amis. So have you read The Green Man? I'm still not convinced that anything actually happened, or that rather everything including the hauntings were really in Maurice Allington's decayed brain. I'm not seeing that he did much else for genre work other outside of The Alteration but he did write Colonel Sun: a James Bond Adventure under the pseudonym of Robert Markham and his New Maps of Hell: A Survey of Science Fiction sounds fascinating published in the late Fifties, he shares his views on the genre and makes some predictions as there'll never be a SF series on the boob tube. (Died 1995.)
Born April 16, 1922 — John Christopher. Author of The Tripods, an alien invasion series which was adapted into both a radio and television series. He wrote a lot of genre fiction including the Fireball series in which Rome never fell, and The Death of Grass which I mention because it was one of the many YA post-apocalyptic novels that he wrote in the Fifties and Sixties that sold extremely well in the U.K. (Died 2012.)
Born April 16, 1962 — Kathryn Cramer, 58. Writer, editor, and literary critic. She co-founded The New York Review of Science Fiction in 1988 with David G. Hartwell and others, and was its co-editor until 1991 and again since 1996. She edited with her husband David G. Hartwell Year's Best Fantasy one through nine and Year's Best SF seven through seventeen with him as well. They did a number of anthologies of which I'll single out The Hard SF Renaissance and The Space Opera Renaissance as particularly superb.
Born April 16, 1963 — Scott Nicolay, 57. Navajo writer whose "Do You Like to Look At Monsters?" was honored with the World Fantasy Award for Best Short Story. It's found in his Ana Kai Tangata: Tales of the Outer the Other the Damned and the Doomed collection. He hosts The Outer Dark, a weekly podcast about weird fiction.
Born April 16, 1983 — Thomas Olde Heuvelt, 37. He won a Novelette Hugo at Sasquan for "The Day the World Turned Upside Down" (translated by Lia Belt). He's best for HEX, a horror novel, and "You Know How the Story Goes: A Tor.com Original" is his other English language story.
(10) BIRTHDAY QUIZ. And via Lise Andreasen (translated from this tweet):
Who am I?
One of my names is þórhildur.
I appear on stamps from Greenland.
One of my ancestors was Harald Bluetooth.
I illustrated Tolkien under the pseudonym Ingahild Grathmer.
I turn 80 today.

Answer: The Danish queen.
(11) CAN YOU DO THIS? Wil Wheaton publicized an opportunity for 3D makers to help frontline workers: "Gamers vs. COVID-19". Contact info at the link.
My upcoming eSports competition show, Gamemaster, has been delayed like everything else, but the people involved wanted to use the resources they had already mustered for production to do some good at a moment in time when it's so desperately needed.

So we're organizing to 3D print what we can for our frontline healthcare workers!
(12) REFERENCE DIRECTOR! Anna Nemtova, in "Chernobyl Is Burning and a Sci-Fi Cult Is Blamed" on The Daily Beast, says that there are substantial fires in Ukraine near Chenobyl (closed to all visitors because of the coronavirus) and authorities blame "stalkers," devotees of the Arkady and Boris Strugatsky novel Roadside Picnic, who are living on refuse left behind in the new sealed-off region, just like the "stalkers" in the Strugatsky brothers' novel were scavengers who lived on refuse left behind by alien visitors.
…The Ukrainian state agency monitoring radiation levels has reported toxic lithium in the air, but the health minister reportedly says radiation levels are normal. Meanwhile, winds have brought the smoke in the direction of Kyiv, making hundreds of thousands of people under COVID-19 quarantine think twice before opening windows.

As often happens with wildfires, the cause of the blaze is not entirely clear. But in a truly strange twist, many in the region blame people who call themselves "stalkers," inspired by characters in the classic science-fiction novel Roadside Picnic published back in 1972, in the Soviet era, by authors Arkady and Boris Strugatsky.

It's a story of how people on Earth deal with a visit by aliens who seem to have stopped off, paid little attention to the inhabitants, and, like irresponsible picnickers, left a lot of their junk lying around in half a dozen "Zones" on the planet. The aliens' discarded refuse has enormous potential to change life on the planet, if only humans can figure out what it's for.

Most of the present-day stalkers are respectful of the Exclusion Zone around Chernobyl and some have even fixed up abandoned apartments in the abandoned town of Pripyat. But there are also criminals, and there are constant conflicts with what had been booming legal tourism in the area before coronavirus lockdowns began March 16.

"They hate us tourist guides and our tourists," Olena Gnes from Chernobyl Tour told The Daily Beast. "Now, when no tourists can travel to Chernobyl's zone, the ghost city and the villages around belong to them."

"The fire started right on the paths, where stalkers normally walk," said Yaroslav Emelianenko, director of the Chernobyl Tour group, who saw the fire and visited burned villages Sunday, then returned to Kyiv to collect generators, respirators, and other aid for firefighters….
(13) SILVER SLATE. To make sure the Dragon Awards continue to enjoy the reputation they have today, Superversive SF signal boosted "Silver Empire's Slate for the 2020 Dragon Awards". Silver Empire publisher Russell Newquist's stable includes all of these authors, plus John C. Wright and more.
Silver Empire's Slate for the 2020 Dragon Awards
Best Sci Fi: Overlook by Jon Mollison
Best Fantasy (incl. Paranormal): Victory's Kiss by Bokerah Brumley
Best YA: The Unbearable Heaviness of Remembering by L. Jagi Lamplighter Wright
Best Mi-SF: Justified by Jon Del Arroz
Best Alt History: This Deadly Engine by (Philip) Matt Ligon
Best Horror: Deus Vult by Declan Finn
(14) RHETORIC…ARISTOTLE…SOMETHING. Five years later (!), Chris Nuttall is still trying to reshape what the Sad and Rabid Puppies did into an argument he can win: "The Right to be Wrong".
…For example, a few years ago, I attended a panel at a convention that touched on the Sad Puppies controversy. One of the panellists put forward an argument that went a little like this: "Vox Day supports the Sad Puppies, Vox Day is a fascist bastard, therefore the Sad Puppies are evil." Quite apart from the sheer number of inaccuracies in the statement, it misses the fundamental point that [whatever] is not rendered right or wrong by whoever says it. Just because Vox Day said something doesn't make it automatically wrong. That argument leads to logical fallacies like "Hitler was a vegetarian and openly promoted the lifestyle, therefore vegetarians are evil." I'm pretty sure that every last vegetarian would find that fallacy offensive.

The Sad Puppies affair does show, on a small scale, the problems caused by bad faith arguments. No one would have objected to a statement that started "the Sad Puppy books are not Hugo-worthy" and gone on to give a calm and reasonable argument. Even if the arguments were unconvincing, they would not have the corrosive effects of bad faith arguments like the one I mentioned above and many more. …
(15) AT THE CORE. "Astronomers saw a star dancing around a black hole. And it proves Einstein's theory was right" – CNN has the details.
… Isaac Newton's theory of gravity suggested the orbit would look like an ellipse, but it doesn't. The rosette shape, however, holds up Einstein's theory of relativity.

"Einstein's general relativity predicts that bound orbits of one object around another are not closed, as in Newtonian gravity, but precess forwards in the plane of motion," said Reinhard Genzel, in a statement. He is the director at the Max Planck Institute for Extraterrestrial Physics in Garching, Germany.

…Sagittarius A* is the supermassive black hole at the center of our galaxy. It's 26,000 light-years from the sun. Our solar system exists on the edge of one of the Milky Way's massive spiral arms.

Dense stars can be found around the black hole. One of them, the star known as S2 in this observation, passes closest to the black hole within less than 20 billion kilometers.

It's one of the closest stars to be found orbiting the black hole.

And when it nears the black hole, the star is moving at 3% the speed of light. It takes 16 Earth years for the star to complete an orbit around the black hole.

"After following the star in its orbit for over two and a half decades, our exquisite measurements robustly detect S2's Schwarzschild precession in its path around Sagittarius A*," said Stefan Gillessen, who led the analysis of the measurements at the Max Planck Institute for Extraterrestrial Physics.
(16) PYRAMID IN THE SKY. "Europe's Cheops telescope begins study of far-off worlds".
Europe's newest space telescope has begun ramping up its science operations.

Cheops was launched in December to study and characterise planets outside our Solar System.

And after a period of commissioning and testing, the orbiting observatory is now ready to fulfil its mission.

Early targets for investigation include the so-called "Styrofoam world" Kelt-11b; the "lava planet" 55 Cancri-e; and the "evaporating planet" GJ-436b.

Discovered in previous surveys of the sky, Cheops hopes to add to the knowledge of what these and hundreds of other far-flung objects are really like.

…Kelt-11b has provided a good early demonstration. This is a giant exoplanet some 30% larger than our own Jupiter that orbits very close to a star called HD 93396. Kelt-11b is a seemingly "puffed up" world with a very low density – hence the comparison with expanded foam.

From the way the light from the star dips when Kelt-11b moves in front to make its transit, Cheops' exquisite photometer instrument is able to determine the planet's diameter to be 181,600km (plus or minus 4,290km). This measurement is over five times more precise than was possible using a ground-based telescope.
(17) MATTER OF IMPORTANCE. BBC reports "Biggest cosmic mystery 'step closer' to solution".
Stars, galaxies, planets, pretty much everything that makes up our everyday lives owes its existence to a cosmic quirk.

The nature of this quirk, which allowed matter to dominate the Universe at the expense of antimatter, remains a mystery.

Now, results from an experiment in Japan could help researchers solve the puzzle – one of the biggest in science.

It hinges on a difference in the way matter and antimatter particles behave.

…During the first fractions of a second of the Big Bang, the hot, dense Universe was fizzing with particle-antiparticle pairs popping in and out of existence. Without some other, unknown mechanism at play, the Universe should contain nothing but leftover energy.

"It would be pretty boring and we wouldn't be here," Prof Stefan Söldner-Rembold, head of the particle physics group at the University of Manchester, told BBC News.

So what happened to tip the balance?

That's where the T2K experiment comes in. T2K is based at the Super-Kamiokande neutrino observatory, based underground in the Kamioka area of Hida, Japan.
(18) VACCINE RESEARCH. "Global race to a COVID-19 vaccine" — a bit Harvard-centric, but a lot of detail on various approaches.
In Dan Barouch's lab, many researchers have not taken a day off since early January, and virtually all are working nearly seven days week to develop a vaccine that could help end the coronavirus pandemic.

"Everybody wants to contribute to this global crisis as best they can," said Barouch, director of the Center for Virology and Vaccine Research at the Beth Israel Deaconess Medical Center and professor of medicine at Harvard Medical School.

The team hopes their work will be worth it. There is cause for optimism.

The lab developed a vaccine in collaboration with Janssen Pharmaceutical Cos., the drug-making arm of Johnson & Johnson. It plans to launch clinical trials in the fall as part of a joint $1 billion collaboration agreement announced by the U.S. government and Johnson & Johnson on March 30…..
(19) ALGOLRITHIM AND BLUES. "Coronavirus: Facebook alters virus policy after damning misinformation report".
Facebook is changing how it treats Covid-19 misinformation after a damning report into its handling of the virus.

Users who have read, watched or shared false coronavirus content will receive a pop-up alert urging them to go the World Health Organisation's website.

A study had indicated Facebook was frequently failing to clamp down on false posts, particularly when they were in languages other than English.

Facebook said the research did not reflect the work it had done recently.

The California tech firm says it will start showing the messages at the top of news feeds "in the coming weeks".

The messages will direct people to a World Health Organisation webpage where myths are debunked.

The changes have been prompted by a major study of misinformation on the platform across six languages by Avaaz, a crowdfunded activist group.

Researchers say millions of Facebook users continue to be exposed to coronavirus misinformation, without any warning on the platform.

The group found some of the most dangerous falsehoods had received hundreds of thousands of views, including claims like "black people are resistant to coronavirus" and "Coronavirus is destroyed by chlorine dioxide".
(20) WHAT GOES AROUND. The coronavirus has turned this bus into the "Dave Kyle says you can't sit here" Express. (Reference explained at the link.)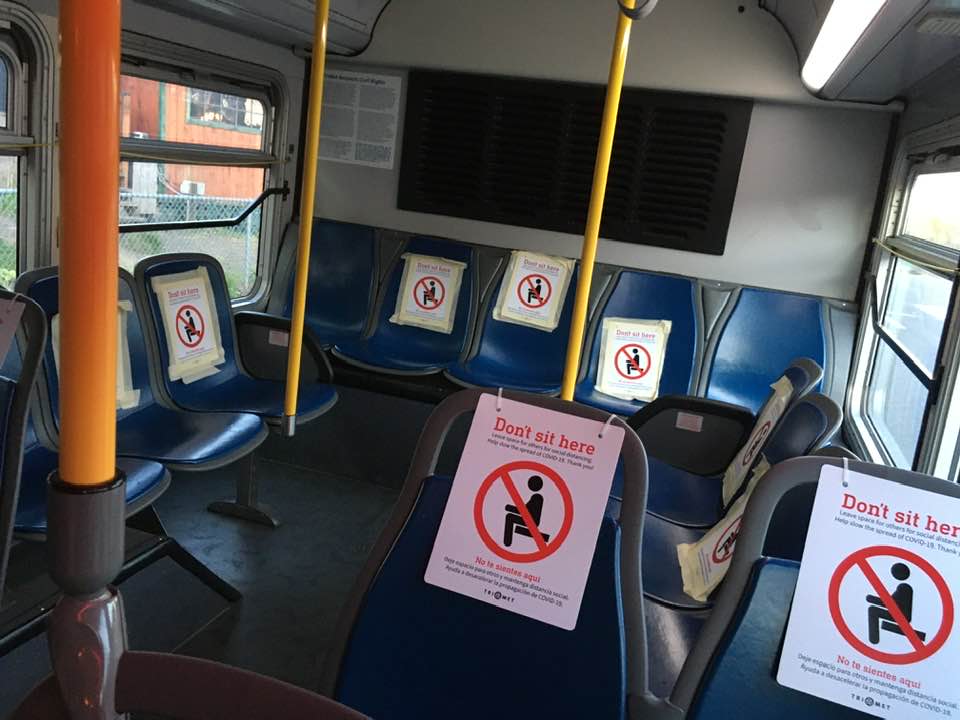 (21) KEEP THEM DOGIES ROLLIN'. Digital Trends tells how "Stanford's shape-shifting 'balloon animal' robot could one day explore space".
The cool thing about balloon animals is that, using the same basic inflatable building blocks, a skilled person can create just about anything you could ask for. That same methodology is what's at the heart of a recent Stanford University and University of California, Santa Barbara, soft robotics project. Described by its creators as a "large-scale isoperimetric soft robot," it's a human-scale robot created from a series of identical robot roller modules that are mounted onto inflatable fabric tubes. Just like the balloon animals you remember, this leads to some impressive shape-shifting inventiveness….
[Thanks to Contrarius, Mike Kennedy, Michael Toman, John King Tarpinian, Cat Eldridge, Chip Hitchcock, JJ, Martin Morse Wooster, and Andrew Porter for some of these stories. Title credit goes to File 770 contributing editor of the day Cliff (this is the other half of a suggestion, the first part of which ran last year on June 15).]