(1) THE ORVILLE DOCKS AT HULU. You didn't know it was moving? I guess Fox was surprised, too — "'The Orville' Is Moving To Hulu For Season 3".
During today's The Orville panel at San Diego Comic-Con, show creator and star Seth MacFarlane made big news, announcing the show is hopping from the Fox Broadcasting Network to the Hulu streaming service.

The move is a surprise, as Fox had already announced a third season renewal for The Orville in May. According to MacFarlane, moving to Hulu is something he felt would be best for the show, allowing it more flexibility.
(2) IN THE FRAME. Editor Ellen Datlow has posted the table of contents for her anthology Final Cuts, with all new stories of movie horror. She has turned in the book and it will come out in summer 2020.
Table of Contents
Introduction
Das Gesicht by Dale Bailey
Drunk Physics by Kelley Armstrong
Exhalation #10 by A. C. Wise
Scream Queen by Nathan Ballingrud
Family by Lisa Morton
Night of the Living by Paul Cornell
The One We Tell Bad Children by Laird Barron
Snuff in Six Scenes by Richard Kadrey
Insanity Among Penguins by Brian Hodge
From the Balcony of the Idawolf Arms By Jeffrey Ford
Lords of the Matinee by Stephen Graham Jones
A Ben Evans Film by Josh Malerman
The Face is a Mask by Christopher Golden
Folie à deux, or The Ticking Hourglass by Usman T. Malik
Hungry Girls by Cassandra Khaw
Cut Frame by Gemma Files
Many Mouths to Make a Meal by Garth Nix
Altered Beast, Altered Me by John Langan
(3) BUJOLD SERIES CONTINUES. Penric 7, "The Orphans of Raspay," a novella by Lois McMaster Bujold, was released July 17. Bujold has set up "The Orphans of Raspay spoiler discussion space" at Goodreads. Bujold told fans there —
Note: These novellas don't get much push from me beyond a few blog and chat-space posts, so getting the word out is pretty much up to their readers. Amazon always gets plenty of reviews, so appropriate mentions and reviews out-and-about elsewhere on the Net extend the reach more. Do please pass the word, if you are so moved.
(4) ANOTHER REVOLUTION. Journey Planet 45 – The Matrix dropped yesterday, assembled by guest editor John Coxon with Chris Garcia and James Bacon. The stunning cover is by Meg Frank. Download the issue here.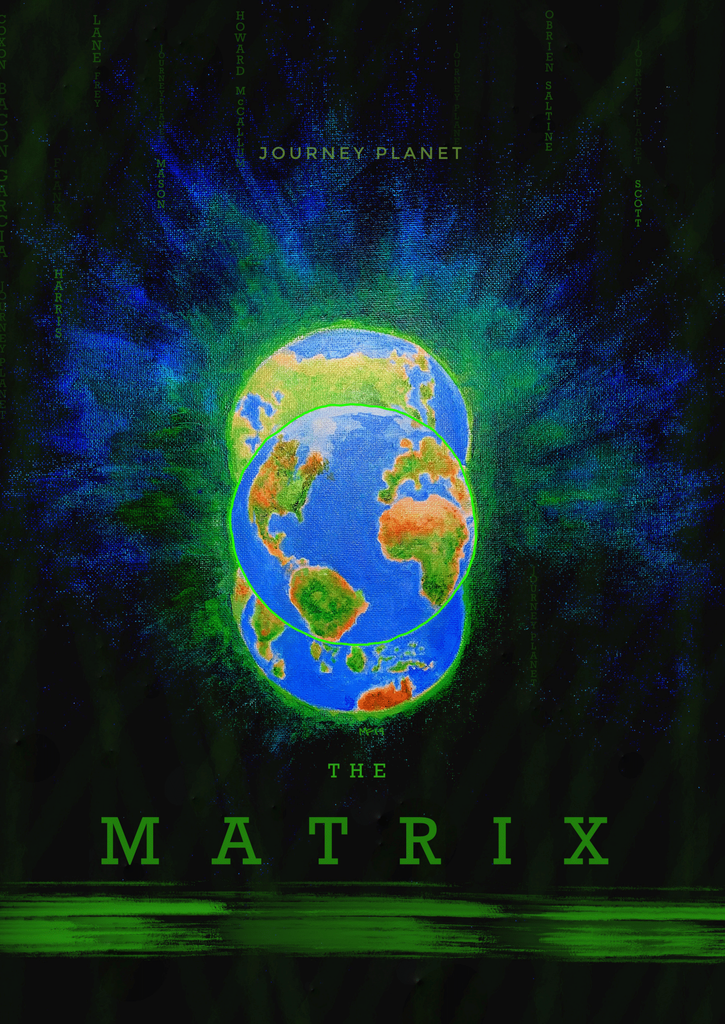 Twenty years ago, The Wachowski sisters brought a groundbreaking film to fruition that not only bent the rules in regard to production but became the most memorable film of 1999 far eclipsing easily forgotten movies or disastrous disappointments.  

The contributors to this issue ask many questions, discuss a variety of angles and consider the work now with ample time for reflection and digestion.  

Contributors include, Emma Harris, Warren Frey, España Sheriff, Jenn Scott, Dave Lane, Ulrika O'Brien, Peppard Saltine, Helena MacCallum, Pete 'Cardinal' Cox, Bill Howard and CiteUnScene AI. 

Art contributors include España, Chris, OzynO, Dark Ronin, Helianmagnou, Dark Tox1c, Frederikz, L0lock and ShaqueNova.

The Matrix spawned sequels, comics, animation and a considerable amount of books, thinking about concepts it set out.  

Join us as you realize that 20 years have slipped by, and remind yourself of how you felt and what you thought about this fantastic film.  
(5) AUDIO YES, VISUAL MAYBE. Andrew Liptak provides more details about the controversy: "Publishers are pissed about Amazon's upcoming Audible Captions feature" in The Verge.
Audible tells The Verge that the captions are "small amounts of machine-generated text are displayed progressively a few lines at a time while audio is playing, and listeners cannot read at their own pace or flip through pages as in a print book or eBook." Audible wouldn't say which books would get the feature, only that "titles that can be transcribed at a sufficiently high confidence rate" will be included. It's planning to release the feature in early September "to roll out with the 2019 school year."

Penguin Random House, one of the world's five biggest publishers, told The Verge that "we have reached out to Audible to express our strong copyright concerns with their recently announced Captions program, which is not authorized by our business terms," and that it expects the company to exclude its titles from the captions feature.
(6) FRED PATTEN NEWS. Together with Stan Lee and other notables, Fred Patten was commemorated by San Diego Comic-Con's in memoriam list, shown last night during the Eisner Awards ceremony. Fanbase Press tweeted photos:
Sherrill Patten, his sister, says Fred's final two books are available to order.
FurPlanet has just published Fred's last furry fiction anthology, the Coyotl Awards Anthology.
McFarland Books now shows the cover of Furry Tales – A Review of Essential Anthropomorphic Fiction in their online FALL catalog. Copies can be pre-ordered.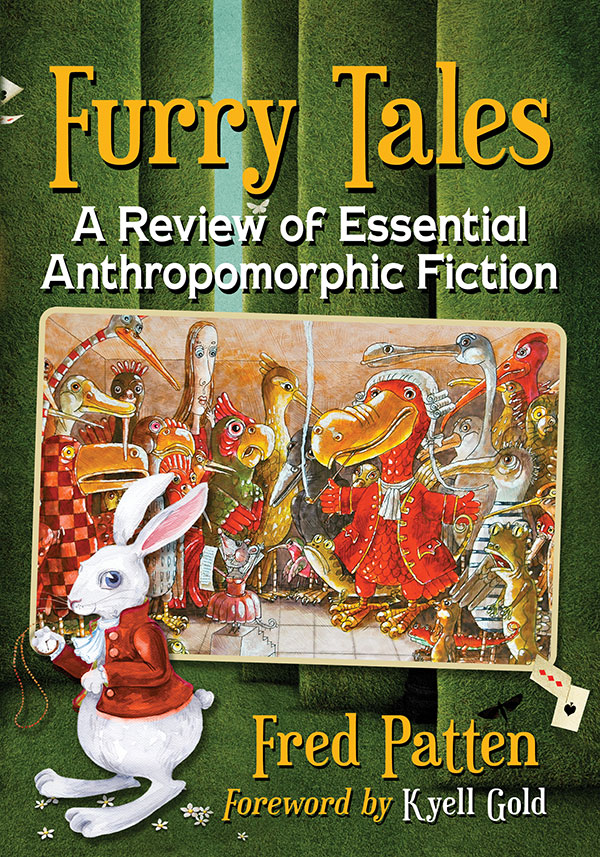 Tales featuring anthropomorphic animals have been around as long as there have been storytellers to spin them, from Aesop's Fables to Reynard the Fox to Alice in Wonderland. The genre really took off following the explosion of furry fandom in the 21st century, with talking animals featuring in everything from science fiction to fantasy to LGBTQ coming-out stories.

In his lifetime, Fred Patten (1940–2018)—one of the founders of furry fandom and a scholar of anthropomorphic animal literature—authored hundreds of book reviews that comprise a comprehensive critical survey of the genre. This selected compilation provides an overview from 1784 through the 2010s, covering such popular novels as Watership Down and Redwall, along with forgotten gems like The Stray Lamb and Where the Blue Begins, and science fiction works like Sundiver and Decision at Doona.
(7) REMEMBRANCE. Now online is Dublin 2019's In Memoriam list, which shows the names of sff people who have died since the last Worldcon.
(8) TODAY'S BIRTHDAYS.
[Compiled by Cat Eldridge.]
Born July 20, 1924 — Lola Albright. Though she's best remembered best known for playing the sultry singer Edie Hart, the girlfriend of private eye Peter Gunn, she did do some genre performances. She's Cathy Barrett, one of the leads in the Fifties film The Monolith Monsters, and television was her home in the Fifties and Sixties. She was on Tales of Tomorrow as Carol Williams in the "The Miraculous Serum" episode, Nancy Metcalfe on Rocket Squad in "The System" episode, repeated appearances on the various Alfred Hitchcock series, and even on The Man from U.N.C.L.E. in the episodes released as the feature length film The Helicopter Spies. She was Azalea. (Died 2017)
Born July 20, 1930 — Sally Ann Howes, 89. She is best known for the role of Truly Scrumptious in Chitty Chitty Bang Bang. She was in Brigadoon as Fiona McLaren at New York City Center Light Opera Company, and in Camelot as Guenevere at St. Louis Municipal Opera. She was even in The Hound of the Baskervilles as Laura Frankland which has a certain Starship Captain as George Stapleton. 
Born July 20, 1931 — Donald Moffitt. Author of the Baroness thriller series, somewhat akin to Bond and Blaise, but not quite. Great popcorn literature. Some SF, two in his Mechanical Skyseries, Crescent in the Sky and A Gathering of Stars, another two in his Genesis Quest series, Genesis Quest and Second Genesis, plus several one-offs. (Died 2014.)
Born July 20, 1938 — Diana Rigg, née Dame Enid Diana Elizabeth Rigg, 81. Emma Peel of course in The Avengers aside Patrick Macnee as a John Steed. Best pairing ever. Played Sonya Winter in The Assassination Bureau followed by being Contessa Teresa "Tracy" Draco di Vicenzo Bond on On Her Majesty's Secret Service. By the Eighties, she's doing lighter fare such as being Lady Holiday in The Great Muppet Caper and Miss Hardbroom in The Worst Witch, not to mention The Evil Queen, Snow White's evil stepmother in Snow White. Now she would get a meaty role in Game of Thrones when she was Olenna Tyrell. Oh and she showed up recently in Dr. Who during the Era of the  Eleventh Doctoras Mrs. Winifred Gillyflower in the "The Crimson Horror" episode. 
Born July 20, 1949 — Guy H. Lillian III, 70. Letterhack and fanzine publisher notable for having been twice nominated for a Hugo Award as best fan writer and rather amazingly having been nominated twelve straight times without winning for the Hugo for best fanzine for his Challenger zine.  As a well-fan of Green Lantern, Lillian's name was tuckerized for the title's 1968 debut character Guy Gardner.
Born July 20, 1959 — Martha Soukup, 60. The 1994 short film Override, directed by Danny Glover, was based on her short story "Over the Long Haul". It was his directorial debut. She has two collections, Collections Rosemary's Brain: And Other Tales of Wonder and The Arbitrary Placement of Walls, both published in the Nineties.  She won a Nebula Award for Best Short Story for "A Defense of the Social Contracts". "The Story So Far" by her is available as the download sample on iBooks in Schimel's Things Invisible to See anthology if you'd liked to see how she is as a writer. 
Born July 20, 1977 — Penny Vital, better known as Penny Drake, 42. Uncredited role as Old Town Girl in Sin City, Sox in Zombie Strippers (which also stars Robert Englund and Jenna Jameson), Astrid in Star Chicks, Sabula in Monarch of the Moon and Annette DeFour in Dreamkiller which I think is genre.
(9) COMICS SECTION.
Lio is surprised by a carnivore at the library.
(10) CAKE RE-ENACTMENT. Yessir, don't we all love gray frosting? Other than that, impressive!
(11) HARD SCIENCE. The latest issue of IEEE Spectrum — Project Moon Base – contains fifteen excellent articles about getting to the moon, building a base there, long-term stays on the moon, and a bit of history. Greg Hullender says, "Highly recommended to anyone interested in lunar exploration, particularly anyone thinking of writing a story set in a future moonbase."
One of the items is an interview — "Kim Stanley Robinson Built a Moon Base in His Mind".
IEEE Spectrum: You invented a completely new technology for landing on the moon. It seems to combine a maglev train, a railgun, and a hyperloop. Can you briefly describe how that works and how you came up with it?

Kim Stanley Robinson: I got the idea from a lunatic friend of mine. It's basically the reverse of the magnetic launch rails that have been postulated for getting off the moon ever since the 1930s: These take advantage of the moon's light gravity and its lack of atmosphere, which allow a spaceship to be accelerated to a very high speed while still on the surface, after which the ship could just zoom off the moon going sideways, because there is no atmosphere to burn up in on the way out. If you just reverse that process, apparently you can land a spaceship on the moon according to the same principle.

It blew my mind. I asked about the tolerance for error; how precise would you have to be for the system to work? My friend shrugged and said it would be a few centimeters. This while going about 8,000 miles an hour (12,900 kilometers per hour)! But without an atmosphere, a landing can be very precise; there won't be any winds or turbulence, no friction. It was so fantastic a notion that I knew I had to use it. 
(12) COLLECTIBLE. Montegrappa prices this beautiful fountain pen at 6,750 Euros.
Moon Landing L.E.

A giant leap for mankind
In 1969 Neil Armstrong, Buzz Aldrin, Michael Collins captivated the world. Supported by a cast of thousands, their supreme achievement continues to set the bar for how big boyhood dreams can be. Developed in close coordination with NASA, a marvel of engineering in miniature transforms the act of writing. Allow your ideas to go where no-one has gone before. The Eagle has landed!

(13) ROCKET MAN. The historic anniversary prompts the Boston Globe to remember: "Buzz Aldrin took a tiny book on his historic voyage to the moon. Here's the backstory".
When Buzz Aldrin embarked 50 years ago on his historic voyage to the moon aboard Apollo 11, he packed a tiny, credit-card-sized book, "The Autobiography of Robert Hutchings Goddard, Father of the Space Age."

Goddard, who was a physics professor at Worcester's Clark University, launched the first liquid-fueled rocket in Auburn in 1926 and is generally considered the father of modern rocketry.

For Aldrin, who was the second man to set foot on the moon, there was also a personal connection.

Goddard had taught Edwin Aldrin Sr., Buzz's father. Buzz never met Goddard but cherished his father's connection with the professor, said Fordyce Williams, a coordinator of archives and special collections at Clark, where the book is on display.
(14) GAME OF THRONES PANEL AT SDCC. SYFY Wire: "Stolen keepsakes, secret futures, and the truth about Grey Worm: Game of Thrones cast looks back at SDCC panel".
The cast of HBO's recently concluded Game of Thrones took the stage at San Diego Comic-Con Friday night to reflect on their time on the long-running fantasy series, and revealed a few secrets about their characters.  
A spoiler warning followed that opening paragraph. Tons of spoilers followed the warning.
So, you have now been warned twice. (Or is it thrice?)
(15) UNDER COVER. ScreenRant profiles "The Most Popular Actor You've Never Actually Seen."
Doug Jones is a highly respected and acclaimed actor who has appeared in over 150 acting jobs to his name to this day. However, chances are you never realized who Doug Jones was unless you're a hardcore cinephile. That's because many of Jones' roles require him to be covered in extensive makeup and costumes that hide his natural visage. Jones is the man behind such iconic characters as the Lead Gentleman in Buffy the Vampire Slayer's best episode, "Hush", the monster in The Shape of Water, Saru in Star Trek Discovery and Abe in Hellboy, the latter of which took seven hours in makeup everyday just to bring the character to life. Jones got his start not by acting, but as a mime for his University's mascot.
(16) FAN MAIL FROM A FLOUNDER. The surprising thing about Richard Paolinelli is not that he wants to be insulting, but that he only repeats insults someone else thought up first. Which probably informs potential readers what to expect from his fiction.
(17) BERKELEY OUTLAWS PART OF THE QUEEN'S ENGLISH. Snopes warns: "Forget 'Manmade': Berkeley Bans Gender-Specific Words".
There will be no manholes in Berkeley, California. City workers will drop into "maintenance holes" instead.

Nothing will be manmade in the liberal city but "human-made." And students at the University of California, Berkeley, will join "collegiate Greek system residences" rather than fraternities and sororities.

Berkeley leaders voted unanimously this week to replace about 40 gender-specific words in the city code with gender-neutral terms — an effort to be more inclusive that's drawing both praise and scorn….
(18) JEOPARDY! Andrew Porter was tuned in to Jeopardy! on Friday and witnessed this:
Category: African-American Authors.

Answer: In the "African Immortals" series by Tananarive Due, vampire-like beings from this Horn of Africa country prey on the living.

Incorrect questions: "What is Somalia?" and "What is Cape Horn?"

Correct question: "What is Ethiopia?"
[Thanks to Mike Kennedy, John King Tarpinian, JJ, Cat Eldridge, Chip Hitchcock, Martin Morse Wooster, Michaeline Duskova, Carl Slaughter, and Andrew Porter for some of these stories. Title credit goes to File 770 contributing editor of the day Rob Thornton.]