(1) TRIPLE TIP. What he tells you three times is true: "Hand Holding" by Mark Lawrence.
This is a blog-post about hand holding. The previous sentence was hand-holding, since the title and the image below make it obvious what the blog-post is about. 

Fantasy stories can be complicated beasts. They're potentially confusing even if we forget all the technicalities and twistiness of battles, wars, duels, mysteries, espionage, lies etc that might well bedevil other genres….

…And the question through all of this is how much hand-holding the author does. Does the writer put the pieces of the puzzle in front of the reader and assume they'll put them together? Does the writer put the pieces together for them then repeat the answer for the reader three times in three different ways?

Before I was published I used to share short stories on the now vanished Yahoo Groups. During that time I developed through observation and experience, what I called The Rule of Three.

The Rule of Three: If you want 90% of your readership to take onboard an important fact then you need to repeat it three times in the text….
(2) IAFA'S NEW LEADER. Dr. Pawel Frelik is the next President of the International Association for the Fantastic in the Arts.
A two-term Division Head of the IAFA, Pawe? Frelik is Associate Professor and the Leader of Speculative Texts and Media Research Group at the American Studies Center, University of Warsaw, Poland. His teaching and research interests include science fiction, speculative visualities, and video games. He has published widely in these fields, serves on the boards of Science Fiction Studies (USA), Extrapolation (USA/UK), and Journal of Gaming and Virtual Worlds (UK), and is the co- editor of the New Dimensions in Science Fiction book series at the University of Wales Press. In 2013-2014, he was President of the Science Fiction Research Association, the first in the organization's history from outside North America. In 2017, he was the first non-Anglophone recipient of the Thomas D. Clareson Award. Within IAFA, he has served as Science Fiction Division Head since 2017. Dr. Frelik will assume the presidency at the end of the 43rd ICFA in March.
(3) DISCUSS RING SHOUT. The Gunn Center for Science Fiction Virtual Book Club will meet February 25 and Director Giselle Anatol invites you to the meeting.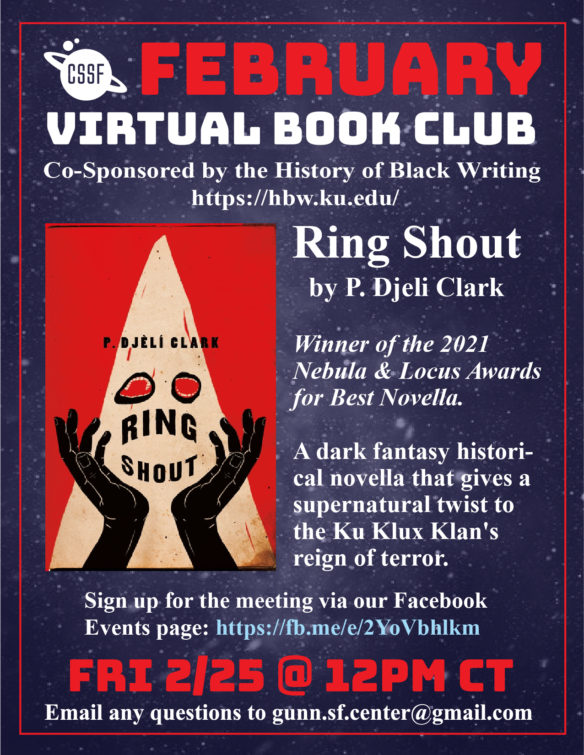 (4) WIDE LOAD. Reddit's r/printSF raised the question, "Are sci-fi books much longer than they used to be? If so, any idea why?" John Scalzi contributed a detailed reply which begins:
Novel lengths in science fiction and fantasy are essentially dictated by methods of publication *and* distribution.

For example, during the "golden age" of science fiction, the main publishing action of SF/F was in the short fiction arena, with novels (many of which were "fix-ups" of previously published shorter work) largely printed as cheap paperbacks which were fitted into racks at drug stores, groceries and other such places. Because distributors (and publishers!) wanted to fit a larger number of books into each rack, novel lengths were commensurately shorter — 40,000 to 60,000 words on average….
(5) BACK TO THE FUTURAMA. "'Futurama' Revived at Hulu" – The Hollywood Reporter says they've lined up the creators and the cast.
Nearly 10 years after it signed off, Futurama has been revived for a 20-episode run on Hulu, the third platform for the animated comedy from creators Matt Groening and David X. Cohen.

The series that aired its first five seasons on Fox before being revived for three more at Comedy Central will return to production this month for a 2023 premiere. Following an extended deal-making period, original stars Billy West (Fry) and Katey Sagal (Leela) along with ensemble players who voiced multiple characters Tress MacNeille, Maurice LaMarche, Lauren Tom, Phil LaMarr and David Herman will all return. John DiMaggio, who provided the voice behind the wise-cracking robot with the "shiny metal ass" Bender, is finalizing a deal to return as well though a deal has not yet closed.
(6) SCIENCE PLUS. The National Book Foundation Science + Literature Program "identifies three books annually, steered by a committee of scientific and literary experts, to deepen readers' understanding of science and technology with a focus on work that highlights the diversity of voices in scientific writing. The selected titles will act as a catalyst to create discourse, understanding, and engagement with science for communities across the country." Authors will receive a $10,000 prize. The inaugural winners are:
(7) IMAGINARY PAPERS 9. The latest issue of Imaginary Papers, ASU's quarterly newsletter on science fiction worldbuilding, futures thinking, and imagination, features an essay by science fiction and global futures scholar Bodhisattva Chattopadhyay on the oft-forgotten science fiction docudramas of the filmmaker George Haggerty, and CSI staffer Bob Beard on Richard Linklater's 2006 PKD adaptation A Scanner Darkly and the dramas of self-presentation. There's also a writeup of the "Speculating the Future" essay series from the Olaf Stapledon Centre for Speculative Futures. "Imaginary Papers, Issue 9".
The Films of George Haggerty, Parts 1 and 2 (1975-1994)

What exactly counts as a "forgotten future"? One can google George Haggerty, the director, whose six docufiction films are presented in two anthology DVDs, released in 2017 by Screen Edge and MVDvisual. All six films—Hamburger Hamlet (1975), Mall Time (1988), Robotopia (1990), Home on Wheels (1992), LA Requiem (1993), and Cyberville (1994)—were produced by Mike Wallington, but searching that reveals little about the director or the films. It was the sleeve descriptions, which make Haggerty appear a maverick outsider figure, that first drew my attention to these anthologies. The films are unreservedly about the future, even as they operate at the interstices of the vanishing past and present. As a documentary producer and SF researcher, there is something disconcerting about finding a set of films that one is unable to locate easily in the developing history of the medium. (Drew Barrymore even appears in one of the films, but the title is absent from her IMDb profile.)…
(8) PEEK EXPERIENCE. Leonard Maltin says this was "Douglas Trumbull's greatest visual effect" in "Remembering Douglas Trumbull" at Leonard Maltin's Movie Crazy.
Sometime in the late 1980s my wife and I were invited to a warehouse-type building in Marina del Rey for a demonstration of Douglas Trumbull's Showscan. A new film format from the man who was largely responsible for the incredible look of Stanley Kubrick's 2001: A Space Odyssey and the modern era of visual effects? The same guy who directed Silent Running? Who could turn down an invitation like that? …
(9) MAKING TIME. GQ is convinced that "The Lazarus Project is your next sci-fi TV obsession" – at least for those in the UK who can access Sky.
Archie recruits him for the clandestine Lazarus Project: an organisation composed of people with the same vanishingly rare ability with which George finds himself stuck. They harness the time-bending power to prevent global catastrophes and apocalyptic scenarios (as a famous philosopher once said: "With great power, comes great…") But when Sarah, the love of George's life, is involved in a car accident, the ethics of such an extraordinary gift take centre stage — and what is George willing to sacrifice?
(10) TOM DUPREE (1949-2022). Writer, critic, and editor Tom Dupree died February 7. He was employed as the line editor for Star Wars novels with Bantam Spectra from 1992-1997. He was charged with handling the X-Wing series of novels. The character names "Dupas Thomree" (in Assault at Selonia and Showdown at Centerpoint by Roger MacBride Allen) and "Ree Duptom" (in Hard Merchandise by K.W. Jeter) are playful nods to him.
He had around a dozen published short stories. "With a Smile" (from Mob Magic, 1998) received an Honorable Mention in Gardner Dozois' Year's Best.
He co-wrote John Maxwell's critically acclaimed one-man show based on the life of William Faulkner (filmed in 2006).
(11) MEDIA BIRTHDAY.
1966 — [Item by Cat Eldridge] Fifty-six years ago this evening, the thrilling sight of Lost In Space's "War Of The Robots" first happened. In one corner of this fight, we have Robby the Robot from Forbidden Planet. And in the other corner of the ring (metaphorically speaking), we have B-9 from Lost in Space.
Aired as the twentieth episode of the first season, the story is that while returning from a fishing trip, Will and B-9 find a deactivated Robotoid. Against the wishes of B-9, Will proceeds to repair and restore the Robotoid which apparently becomes a humble servant of the Robinson family. Sure.
The best part of this episode is the slow motion rock 'em, sock 'em battle between the robots. And yes it's a very, very silly battle indeed as you can see from the image below.
Lost in Space is available to stream on Hulu and Netflix.
(12) TODAY'S BIRTHDAYS.
[Compiled by Cat Eldridge.]
Born February 9, 1928 — Frank Frazetta. Artist whose illustrations showed up damn near everywhere from LP covers to book covers and posters. Among the covers he painted were Tarzan and the Lost Empire, Conan the Adventurer (L. Sprague de Camp stories in that setting) and Tarzan at the Earth's Core. He did overly muscular barbarians very well! Oh, and he also helped Harvey Kurtzman and Will Elder on three stories of the bawdy parody strip Little Annie Fanny in Playboy. Just saying. In the early 1980s, Frazetta worked with Bakshi on the feature Fire and Ice. He provided the poster for it as he did for Mad Monster Party? and The Fearless Vampire Killers, or Pardon Me, But Your Teeth Are in My Neck, two other genre films. He was inducted into both Will Eisner Comic Book Hall of Fame and the Jack Kirby Hall of Fame. (Died 2010.)
Born February 9, 1935 — R. L. Fanthorpe, 87. He was a pulp writer for UK publisher Badger Books during the 1950s and 1960s during which he wrote under some sixty pen names. I think he wrote several hundred genre novels during that time but no two sources agree on just how many he wrote. Interestingly nothing is available by him digitally currently though his hard copy offerings would fill a wing of small rural library. He'd be perfect for the usual suspects I'd say.
Born February 9, 1936 — Clive Walter Swift. His first genre appearance was as Snug in that version of A Midsummer Night's Dream (1968). Several years thereafter he was Dr. Black in "A Warning to the Curious" (based on a ghost story by British writer M. R. James).Then he's Ecto, whoever that character is, in Excalibur. He shows up next in the Sixth Doctor story, "The Revelation of a The Daleks" as Professor Jobel. (Died 2019.)
Born February 9, 1940 — David Webb Peoples, 82. Screenwriter of Blade Runner, Ladyhawke, Leviathan, and Twelve Monkeys which is not a full listing. He's also been writing for the Twelve Monkeys series .
Born February 9, 1942 — Marianna Hill, 80. Doctor Helen Noel in the excellent "Dagger of The Mind" episode of the original Trek. (This episode introduces the Vulcan mind meld.) She also had roles on Outer Limits (in the Eando Binder's "I Robot" story which predates Asimov's story of that name), Batman (twice as Cleo Patrick), I-Spy, The Wild Wild West, Mission: Impossible and Kung Fu (ok, the last one has to be least genre adjacent, isn't it?). 
Born February 9, 1951 — Justin Gustainis, 71. Author of two series so far, one being the Occult Crimes Unit Investigations series which he's written three superb novels in so far, and the other being the Quincey Morris Supernatural Investigations series which has seven novels and which I've not read yet. Who's read the latter series? 
Born February 9, 1956 — Timothy Truman, 66. Writer and artist best remembered in my opinion for his work on Grimjack (with John Ostrander), Scout, and the reinvention of Jonah Hex with Joe R. Lansdale. His work with Ostrander is simply stellar and is collected in Grimjack Omnibus, volumes one and two. For the Hex work, I'd say Jonah Hex: Shadows West which collects their work together. He did do a lot of other work and I'm sure you'll point out what I've now overlooked… 
Born February 9, 1981 — Tom Hiddleston, 41. Loki in the Marvel film universe. And a more charming bastard of a god has never been conceptualised by screenwriters. Outside of the MCU, I see he shows up in Kong: Skull Island as Captain James Conrad and The Pirate Fairy as the voice of James Hook as well in a vampire film called Only Lovers Left Alive as Adam. 
(13) COMICS SECTION.
Close to Home illustrates a friend who doesn't quite get it.
Tom Gauld free associates.
(14) VERBATIM. The Comics Journal has posted the "Transcript of the McMinn County Board of Education's Removal of Maus". It's been extensively discussed here in comments, but may still be news for others.
On January 10, 2022, the McMinn County Board of Education in Tennessee voted unanimously to remove Art Spiegelman's Maus from its eighth-grade language arts curriculum, citing its use of profanity and depictions of nudity. This public document represents the unedited minutes of that Board's meeting, presented as a service to all impacted parties.
(15) DAY-OLD NEWS. Someone – probably Upstream Review's Michael Gallagher in "A Whitewashed Tomb: SFWA's Best Can't Sell Books" – got what you get when you poke the bear.
(16) POKÉMON TIME TRIP. "Pokémon Legends: Arceus review: breathing new life into Pokémon" promises The Verge.
…Which is what makes Pokémon Legends: Arceus so refreshing: it's genuinely surprising. It does this by shifting the timeline back to long before the modern games in the series, during a period when pokémon were still barely understood. Instead of a world where humans and pokémon live in harmony, and anyone can buy an electronic device full of information on hundreds of species, players are thrust into a wild, untamed region where people are just doing their best to survive while surrounded by largely unknown and seemingly dangerous creatures….
(17) NEGATORY, GOOD BUDDY. If you're sensitive to robotic (and other violence), do not watch the trailer for the game Atomic Heart. No, no, no.
(18) LONG MEMORY. Beckett's "History of the Obscene 1977 Topps Star Wars 207 C-3PO" includes the interesting note that unlike most collectibles that have to be withdrawn, it's easier to find the original version of this trading card than the censored replacement edition.
"C-3PO (Anthony Daniels)" is about a mundane caption as you can get.

To those working on the set at Topps and the licensor, nothing seemed to stand out.

Once the cards were out there, it didn't take long for people to notice that something definitely was.
(19) BLOWN AWAY. BBC News reports "SpaceX loses 40 satellites to geomagnetic storm a day after launch".
SpaceX has lost dozens of satellites after they were hit by a geomagnetic storm a day after launch, causing them to fall from orbit and burn up.

Such solar "storms" are caused by powerful explosions on the sun's surface, which spit out plasma and magnetic fields that can hit the Earth.

The company, owned by billionaire Elon Musk, said up to 40 of 49 satellites from last week's launch were hit.

They had been due to join its Starlink satellite internet project.

Starlink is Mr Musk's bid to provide high-speed internet using thousands of orbiting satellites….
(20) ROCK AROUND THE CLOCK. "Asteroid sharing Earth's orbit discovered – could it help future space missions?" asks The Conversation.
Research has shown that the Earth trails an asteroid barely a kilometre across in its orbit about the Sun – only the second such body to have ever been spotted. It goes round the Sun on average two months ahead of the Earth, dancing around in front like an excited herald of our coming.

This object, known as 2020 XL?, was first spotted in December 2020 using Pan-STARRS telescopes on the summit of Haleakala on the Hawaiian island of Maui. But determination of its orbit required follow-up observations using the 4.1-metre SOAR (Southern Astrophysical Research) telescope in Chile….
(21) VIDEO OF THE DAY. [Item by Martin Morse Wooster.] In "Honest Trailers: Arcane:League of Legends," the Screen Junkies find an animated series based on a video game that "taught your 13-year-old cousin all his favorite slurs" is actually pretty good. The series features "cyberpunk, steampunk. skatepunk, and Punky Brewster" and is in a world where "magic is like science, and science is like Crossfit."
[Thanks to Andrew Porter, Michael Toman, Cat Eldridge, Jennifer Hawthorne, Chris Barkley, Rob Thornton, Joey Eschrich, Mike Kennedy, Martin Morse Wooster, JJ, and John King Tarpinian for some of these stories. Title credit belongs to File 770 contributing editor of the day Rob Thornton.]