(1) STORIES TO NAVIGATE BY. WIRED editor Scott Dadich introduces their first all-science-fiction issue: "Science Fiction Helps Make Sense of an Uncertain Future".
Why fiction? Glad you asked. We live in uncertain times. One of this publication's most important jobs is to see the big trends, spot important business models, and chronicle landmark innovations that show us where we're going. But right now, that is hard to do. In this rapidly changing, aggressively agitated moment, it's very difficult to discern what the future holds.

So we decided to consider things a little more obliquely. Sometimes to get a clearer sense of reality, you have to take some time to dream.

To this end, we reached out to a number of our favorite fiction authors and gave them a simple mission: Pick a plausible innovation or change in the world and spin out a near-term scenario. Don't stick to the current moment. See where your mind goes. Imagine. Have fun.

That's not to say the stories themselves are all about fun. Many are quite dystopic. N. K. Jemisin—whose novel The Fifth Season won the 2016 Hugo award—spins a cautionary tale about resource depletion and interplanetary relations. The duo that goes by the pen name James S. A. Corey, creators of The Expanse, imagines a world with a universal basic income—and what we are left wanting. Charles Yu, who writes for HBO's Westworld, examines what life will be like when machines can read our thoughts. Etgar Keret, the celebrated Israeli fiction author, writes about … well, just read it. And in his refreshing "review," Glen David Gold, the author of Carter Beats the Devil, shows us what we will have to endure in the movie theater someday in the future.
(2) DOWN WITH FAKE NEWS, Craig Newmark, the founder of Craigslist, has donated $1 million to The Poynter Institute. The gift will support a five-year program at Poynter that focuses on verification, fact-checking and accountability in journalism.
The Craig Newmark Foundation, the charitable organization established by Craigslist Founder Craig Newmark, is giving Poynter $1 million to fund a faculty chair in journalism ethics.

The gift will support a five-year program at Poynter that focuses on verification, fact-checking and accountability in journalism. It's the largest donation Poynter's ever received from an individual foundation.

The Newmark Chair will expand on Poynter's teaching in journalism ethics and develop certification programs for journalists that commit to ethical decision-making practices. The faculty member will also organize an annual conference on ethics issues at Poynter and be a regular contributor to Poynter.org.

Poynter will begin accepting applications for the job in January.

"I want to stand up for trustworthy journalism, and I want to stand against deceptive and fake news," Newmark, founder of Craigslist and the Craig Newmark Foundation, said in a statement. "And I want to help news organizations stand and work together to protect themselves and the public against deception by the fake media. Poynter's the right place to do this work because the Institute has long been very serious about trustworthy news and committed to both training journalists and holding media organizations accountable."
(3) THIS IS, APPARENTLY, REAL NEWS. Blastr's Cher Martinetti scoffs at the UN stripping Wonder Woman of her honorary title.
Wonder Woman's role as an honorary ambassador to the UN has come to an abrupt end less than two months after receiving the designation, due to the backlash the appointment received. Some felt that the character's sexualization was sending the "wrong message" to young girls, and in a move that was every bit the opposite of empowerment, protested and petitioned the character as a symbol for gender equality. Because nothing says women are equal and empowered more than other women slut-shaming them.

The 45,000 signatures that signed the petition against Wonder Woman's honorary title, and those who protested the event a couple months back, are a sobering reminder of how we, as women, can't get out of our own way when it comes to equality and progress. We're taught at a young age to be shameful of our bodies, that our sexuality should be oppressed, and that other women are our competition and, at times, the enemy. We're trained to look for the flaws in other females first and weaponize them to take them down. For those 45,000-plus people, of course their only focus was the imagined over-sexualization of a character who was so progressive that she graced the cover of the very first issue of Ms. magazine. You know, since Gloria Steinem is wont to praise women who aren't empowered….
(4) HE BLINDED US WITH SCIENCE. Camestros Felapton has invented the tool we've all been waiting for – "The Thermodynamic Model for Distinguishing Fictional Science from Fictional Magic".
Oh, the age old problem! Any sufficiently fictional technology is indistinguishable from fictional magic. Faster than light drives? Going really fast magic! Psychic powers? Mind magic with a sciency name. Teleportation? Vanishing magic! Robots? Golems! Viral zombies? Actual zombies!

Well a crack team has been working on this problem here at Felapton Towers and we've come up with the Thermodynamic Model for Distinguishing Fictional Science from Fictional Magic.
(5) MIND TRICKS FOR THE EYES. The Washington Post has a review by David Betancourt of Pablo Hidalgo's "Star Wars Propaganda: A History of Persuasive Art in the Galaxy." It's a book of propaganda posters for both the Empire and the Rebel Alliance and is really good commercial art. The publisher is Harper Design.
"Propaganda" takes key incidents from "Star Wars" and politicizes them through art. Turning these pages, you'll see appeals to creatures of the Dark Side and to disciples of the Force. Every opinion on the battle is represented. Some of these posters want you to believe the Death Star is the worst thing ever; others claim those pesky Jedi are the real menace.

Guided by the words of official Star Wars expert Pablo Hidalgo, "Propaganda" is a galactic history lesson, offering even the most devoted fans a deep dive into corners of the George Lucas films they may not have known.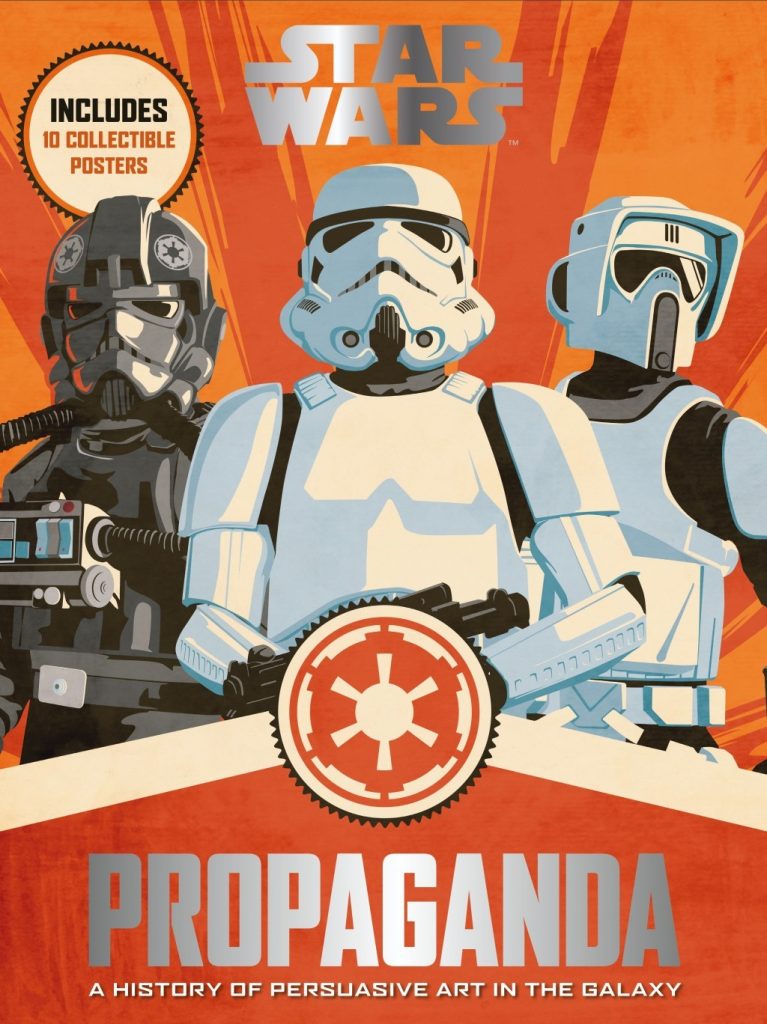 (6) TODAY'S BIRTHDAY BOY
Born December 13, 1925 – Dick Van Dyke, of Mary Poppins and Chitty-Chitty-Bang-Bang fame.
(7) RAVE ABOUT YOUR FAVE. RedStarReviews has named its favorite book of 2016. Don't be fooled by the graphical structure of the post, Ancillary Justice is not that book. It is —
Jeffrey Alan Love for his book: Notes From The Shadowed City!

This book is AMAZING! It is an illustrated tale of a man who has forgotten who he is while finding himself inside a magical city filled with dark and dangerous wonder. I love the artwork and was completely captivated by the story. This is a book to fire up the imaginations of the readers! A fantasy that introduces you to some of the lessor known magical swords hidden away within the Shadowed City. This beat Passage At Arms, The Incorruptibles, Children Of Fire and all others to carry away the award this year!
(8) HINES BENEFIT AUCTION #15. The fifteenth of Jim C. Hines' 24 Transgender Michigan Fundraiser auctions is for an autographed copy of Lyda Morehouse's Resurrection Code. She'll be sending a copy to each of the top three bidders, which is pretty cool.
Today's auction is a little different. Lyda Morehouse will be sending an autographed trade paperback of her book RESURRECTION CODE to the top three bidders! That's right, we have three copies to give away, which means triple the chances to win!

About the Book:

Where were you the day the Aswan dams broke? It's the question that defines my generation. Me, I was stuck in British School al-Rehab hundreds of kilometers from the destruction that plunged North Africa into darkness and drowned twenty million people as massive floods reclaimed the ancient Nile valley. We watched the privileged and the sane abandon Egypt to the criminals, prostitutes, and a mysterious murderous cult of Osiris known as the Deadboys. Not much of the capitol remained, and my life really went to hell.

But that's not where my story really starts.

My story starts the day I, Christian El-Aref, distinguished myself from the thousands of Cairo street rats and became the Mouse. And I had that dead UN soldier whose body that I, quite literally, stumbled over to thank for it all. Now, if only I can keep myself from getting murdered…

Also included: Morehouse's AngeLINK-related short story, "ishtartu," from the Lambda Award-nominated collection Periphery.
(9) BEWARE, GOD-SPOILERS! Fletcher Vredenburgh praises P.C Hodgell's work at Black Gate – "Last of a Series… For Now: The Sea of Time by P.C. Hodgell"
Lastly, all those things I called out Hodgell for including, they're all good — I wanted more pages, not less stuff. The Kencyrath and Rathilien are two of the most developed creations in any fantasy books I've ever read. For over a thousand pages now, Hodgell has been exploring the whys and wherefores of Kencyrath society and beliefs. The same thing goes for Rathilien. Each book has raised new questions and she's never seen fit to leave them unaddressed. Doing that, she's made her invented world and its inhabitants come to life, invested with brio and never seeming untrue.
Here are links to his previous reviews — God Stalk, Dark of the Moon, Seeker's Mask, To Ride a Rathorn, Bound in Blood, and Honor's Paradox.
(10) SEQUEL STALK! He also reminds us that author Hodgell says Baen will bring out the next book in her series in July 2017.
A couple of readers have asked me about this, and I just realized that I hadn't generally announced it:  Baen tells me that The Gates of Tagmeth is due out next July.  At that point they will have had the ms in their hands for 14 months.  Why the delay?  I don't know.  Sorry about that. My agent is working on a contract for the return to Tai-tastigon novel.  I'm a bit nervous about revisiting the city after all of these years.  For one thing, my style has changed a lot since God Stalk.  I think that, technically, I'm a better writer now.  However, I don't think I still have the youthful bounce that made GS so much fun.  After all, for me it's been 30+ years.  It will be different for Jame too.  A lot has happened in her life too although it's only been about 4 years.  That will be an issue:  how much has she changed?  Then too, the city is in a bit of a mess.  So we'll see.  I've carried this extended story in my mind for a long, long time.
(11) GAMERS AND SFWA. The Science Fiction & Fantasy Writers of America has posted an update to its game-writing membership qualifications.
After long deliberation, the Board has voted to change the qualifications, and the motion has passed. I welcome feedback on this iteration; I consider these things something that changes and adapts on an ongoing basis as the publishing world changes.

The complaints we heard were about the exclusion of salaried writers, the limit on number of collaborators, since collaboration in games is a different model than stories or novels, and the exclusion of game mechanics.

Here are the new qualifications:

Games in any medium may be used for qualification so long as the game has a narrative element, is in English, and in the science fiction, fantasy, horror or related genres.

Prospective members working on games may qualify by showing a sale or income in one of three ways:

By making at least one paid sale of a minimum of 40,000 words to a qualified market, or three paid sales to qualified markets totaling at least 10,000 words. Game publishers may be designated as qualified markets using the already established process and criteria used to qualify fiction markets.
By showing they have earned a net income of at least $3,000 from a game that includes at least 40,000 words of text over the course of a 12-month period since January 1, 2013. Income can be in the form of advance, royalties, or some combination of the three.
If no word count is possible, such as work done for a video game, prospective members can qualify based on one professionally produced full-length game for which they were paid at least $3,000.

Money from crowd-funding campaigns can be used as part or all of the required income once the game has been delivered to backers, but the amount that can be claimed cannot be more than the net income from the number of games produced and delivered to backers (calculated by the number of backers multiplied by the minimum tier which receives a copy of the game.)
(12) UPROAR OF THE DAY. Yes, there are so many tweetstorms a reader can't even tell which one triggered this comment:
Radical opinion: If your tweet storm is over 20 tweets long, you're writing an essay. Put it in essay format somewhere else, please.

— John Scalzi (@scalzi) December 13, 2016
(13) LUCY IN THE SKY WITH DIAMONDS. Quick, somebody write this. Oh, somebody already has? But Kepler data says it's happening in real life — "Scientists think they've found a planet with weather so hot, its clouds are vaporized jewels".
But on a planet as hot as HAT-P-7b, clouds are likely made of materials that have a much higher melting and boiling point; at those temperatures, most compounds would be permanently in their gaseous states. "Something that has the right sort properties is called corundum," says Armstrong. On Earth, where temperatures are much lower, corundum is found in rocks—the mineral, when combined with the right elements, forms rubies and sapphires. On HAT-P-7b, the mineral might be forming clouds. "It's a very good possibility that these clouds are made of corundum, and we're seeing essentially big condensed clouds of minerals being blown across the planet," says Armstrong.

Scientists can't tell for sure that these are gem-based clouds because they're making observations from billions of miles away; they'd need a sample to analyze to confirm.
(14) EVIL IS LOVE SPELLED WRONG. David Ayer and Margot Robbie will be working together again on the all-female DC villains movie Gotham City Sirens.
David Ayer is back in the business of DC comics villains.

The filmmaker, who directed Warner Bros.' all-bad guy comic book movie Suicide Squad, is reuniting with that film's star, Margot Robbie, for Gotham City Sirens, a feature project that will showcase the top female villains from the DC stable, The Hollywood Reporter has learned.

Ayer will direct and produce the project with Robbie reprising her role as Harley Quinn, the part-time girlfriend of the Joker who is currently DC's most popular female character. Robbie is also executive producing.

Sirens was a recent comic series from DC that focused on the popular villainesses from Batman's rogue gallery. Among them were Quinn, Catwoman, Batman's sometime love interest, and Poison Ivy, who uses plants and their toxins to get what she wants.
(15) BUGS, MR. POTTER! A newly-discovered spider said to resemble the Sorting Hat has been given a Harry Potter-esque name – eriovixa gryffindori.
There the scientists, along with colleague Sumukha J. N., found their own "fantastic beasts," including one spider that looked like a lady bug and another tiny arachnid that brought their love for Harry Potter full circle.

It was shaded brown, triangular shaped and, Ahmed and Khalep agreed, looked identical to Rowling's mischievous Sorting Hat.

The hat is a staple at the Hogwarts School of Witchcraft and Wizardry, where Harry Potter and his pals spend most of their time throughout the seven books. Brown and tattered, it is placed on the head of each first year student and, through a slit in the aged brim folds, shouts out the child's house assignment after a period of pondering.
As you'll recall, Godric Gryffindor was the original owner of the Sorting Hat.
(16) MARTIAN BLAME GAME. The Washington Post has an interview by Vicky Hallett of Stephen Petranek, whose 2015 book How We'll Live Life on Mars is the basis for the National Geographic Channel series Mars.  In "Are we really going to land and live on Mars?", Petranek talks about how he tried to make the TV miniseries as factually accurate as possible and how we had the capacity to go to Mars for 25 years if we hadn't burned so much money on the space shuttle.
Q: Why has going to Mars seemed so impossible to the public?

A: Part of it is because we didn't continue to be a space-exploring species after Apollo. There was no particularly good reason to go to the moon. We proved we could do it. Then we didn't do anything after that. In the 1970s, scientist Wernher von Braun was running around the halls of Congress saying, "I can get humans on Mars." For at least 30 years, we've had the technology. All we did was fly 135 space shuttle missions with nowhere to go. We built the International Space Station, but we weren't significantly exploring space. People got bored. The only time people paid attention to the space shuttle is when it killed a whole crew. It was supposed to be cheap and reusable, but it cost $1.4 billion every time it went up. We spent $150 billion. If we had one-fourth of that money, we would have had a viable outpost on Mars, and we would have had it for a while.
[Thanks to Cat Eldridge, John King Tarpinian, JJ, Martin Morse Wooster, and Andrew Porter for some of these stories. Title credit goes to File 770 contributing editor of the day Paul Weimer.]