(1) UNAUTHORIZED. Marina Lostetter illustrates her points about authorship with ancient and contemporary examples in "Le Morte d'Author: on Aggregate Storytelling and Authorial Hope" at Stone Soup.
…When aggregate storytelling is done unofficially, we call it "transformative work," of which fan fiction is a major part.

An especially intriguing example of modern-day aggregate storytelling — from both an official and unofficial standpoint — is the TV show Supernatural, about two monster-hunting brothers and the found-family they make along the way. The show has enjoyed a voracious fanbase, which kept the series alive for fifteen seasons and spawned thousands and thousands of fan works (as of this writing, there are 243,690 entries related to Supernatural on Archive of Our Own alone. This is to say nothing of Tumblr, Twitter, etc.).

Starting with the season four episode "The Monster at the End of this Book," the show began engaging with fan reactions through self-referential stories. Sam and Dean literally read fan fiction about themselves on screen, and the characters used vernacular created by the Supernatural fanbase throughout.

The fans didn't simply consume the story. They changed the way the story was told. It would be difficult to argue that the author(s) should be considered as good as dead in terms of critical consideration when the author(s) were still actively creating in tandem with the audience's reception…
(2) ESCAPE POD'S BLACK FUTURE MONTH. The Escape Pod original science fiction podcast is taking submissions for Black Future Month.
Escape Pod is pleased to announce a new special project for 2021: Black Future Month, a month-long celebration of Black voices in science fiction, guest edited by Brent Lambert of FIYAH Magazine. Episodes will air in the month of October and feature two original works of short fiction as well as two reprints.

NOTE: For this special event, we are only accepting submission from authors of the African diaspora and the African continent. This is an intersectional definition of Blackness, and we strongly encourage submissions from women, members of the LGBTQIA community, and members from other underrepresented communities within the African diaspora.

Pay rate, format, and content will follow Escape Pod's regular guidelines, with two exceptions:
Manuscripts do not need to be anonymized for this submissions portal.
Stories must be between 1,500 – 5,000 words.
(3) SFF POSTAGE STAMPS COMING. The UK's Royal Mail has announced that on March 16 the Legend of King Arthur stamps will be released. This set will be followed by an April 15 issue celebrating classic science fiction. As of today, no images from either set have been posted. Norvic Philatelics speculates what might be commemorated in the Classic Science Fiction set:
This issue consists of pairs of 1st class, £1.70 and £2.55 stamps – with the usual additions of a presentation pack first day cover, and postcards.

Some research reveals that this is the 75th anniversary of the death of the author H G Wells, and the 70th anniversary of the publication of John Wyndham's The Day of the Triffids", so it seems likely that one of Wells' books will feature on one stamp and Wyndham's will appear on another.
(4) GOODBYE, MR. CHIP. The trailer dropped for HBO Max's Made for Love. It's sf, right? At least for another few minutes.
The classic story of boy meets girl, boy implants high-tech surveillance chip in girl's brain… Featuring Cristin Milioti, Ray Romano, Noma Dumezweni, and Billy Magnussen, Made for Love is coming to HBO Max this April.
(5) IT'S GOING TO BE A BUMPY RIDE. Kristin Cashore shares my high opinion of this novel: "Bells and Echoes: The Craft of DOOMSDAY BOOK by Connie Willis". The last time I praised the book here it caused an uproar. (And a few other consequences, one of which got nominated for a Hugo.)
…. Before I dive deep into Willis's construction of parallel characters, I want to speak more generally about the potential for parallels — echoes — inside a book, when that book takes place in multiple timelines. Many books do take place in more than one timeline, of course, whether or not they involve time travel! And there's so much you can do with that kind of structure. As you can imagine, life in Oxfordshire in 1348 is dramatically different from life in Oxford in 2054. But Willis weaves so many parallels into these two stories, big and small things, connecting them deftly, and showing us that some things never really change. I suppose the most obvious parallel in this particular book is the rise of disease. The less obvious is some of the fallout that follows the rise of disease, no matter the era: denial; fanaticism; racism and other prejudices; isolationism; depression and despair; depletion of supplies (yes, they are running out of toilet paper in 2054). She also sets these timelines in the same physical location, the Oxfords and Oxfordshires of 1348 and 2054 — the same towns, the same churches. Some of the physical objects from 1348 still exist in 2054. She sets both stories at Christmas, and we see that some of the traditions are the same. She also weaves the most beautiful web between timelines using bells, bellringers, and the significance of the sound of bells tolling.

Simply by creating two timelines, then establishing that some objects, structures, and activities are the same and that some human behaviors are the same across the timelines, she can go on and tell two divergent plots, yet create echoes between them. These echoes give the book an internal resonance….
(6) YOU ARE THERE. Follow Kevin Standlee and Lisa Hayes on their "Atomic Tour in the Nevada Outback".
Lisa and I have been getting increasingly antsy and wanting to get out of the house and go see things, but with no sign of a vaccine being available for us mere under-65s, we wanted something that would be away from other people and was close enough to be able to get back home the same day. So we decided to go see the site of the atomic test in our backyard….

I know it's unlikely that anyone else will come visit this spot, but if somehow your travels take you across "The Loneliest Road," you might consider a relatively short side trip to one of the few atomic bomb test sites you can visit on your own.
(7) FREE HWA ONLINE PANEL. The Horror Writers Association will present a free Zoom webinar, "Skeleton Hour 7: Writing Horror in a Post-Covid World" on Thursday, April 8, 2021 at 6 p.m. Pacific. Panelists will include: Richard Thomas (moderator), Sarah Langan, Usman T. Malik, Josh Malerman, A.C. Wise, and Lucy A. Snyder. Register here.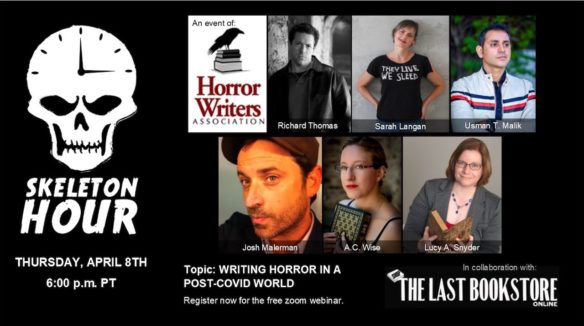 (8) TIME TO TURN ON THE VACUUM OF SPACE. James Davis Nicoll sweeps together "Trashy Tales: Five Stories About Space Garbage" at Tor.com. In his collection is —
Terminal Alliance by Jim C. Hines (2017)

The Krakau found an Earth that has been overrun by the bestial survivors of a planetary plague. Still, better half a glass than an empty glass. The benevolent aliens retrieved suitable candidates from the raving hordes and applied suitable cognitive corrective measures. Lo and behold, humans were transformed from wandering monsters to trustworthy subordinates. Although perhaps not all that trustworthy. Humans are relegated to menial tasks.

Marion "Mops" Adamopoulos is in charge of Earth Mercenary Corps Ship Pufferfish's Shipboard Hygiene and Sanitation team. Chief janitor, in other words. Not command crew. Except that an unexpected attack eliminates her Krakau commanders while most of Pufferfish's humans revert into beasts. Mops has no choice but to take command of a ship neither she nor the remaining non-bestial humans know how to operate.
(9) DARE YA. The upcoming online classes at the Rambo Academy include one with this irresistible description: "Breaking the Rules with Rachel Swirsky".
Tell, don't show. Dump your information. Write in second person. Write in passive voice. Use adverbs. To heck with suspense.
Rules mark what's difficult, not what's impossible. There's a whole range of exciting storytelling possibilities beyond them. Not every story needs to be in second person, but when it's the right voice for the right story, it can be magic. The right information dump, written perfectly, can become a dazzling gymnastic feat of beauty, fascination, or humor.
"Break the Rules" will teach you inspirations and techniques for rowing upstream of common knowledge. You can break any rule–if you do it right.
Join award-winning speculative fiction writer Rachel Swirsky for a workshop in which she teaches you how and why to break the rules. Next class date: Sunday, April 4, 2021, 1:00-3:00 PM Pacific Time.
(10) MEDIA BIRTHDAY.
March 8, 1978 — The Hitch-Hiker's Guide to the Galaxy was first broadcast forty-three years ago today on BBC Radio 4. It was written by Douglas Adams with some material in the first series provided by John Lloyd. It starred Simon Jones, Geoffrey McGivern, Mark Wing-Davey. Susan Sheridan and Stephen Moore. It was the only radio show ever to be nominated for a Hugo in the 'Best Dramatic Presentation' category finishing second that year to Superman at Seacon '79. It would spawn theater shows, novels, comic books, a TV series, a video game, and a feature film.
(11) TODAY'S BIRTHDAYS.
[Compiled by Cat Eldridge and John Hertz.]
Born March 8, 1859 — Kenneth Grahame. Author of The Wind in the Willows which it turns out has had seven film adaptations, not all under the name The Wind in the Willows. (Did you know A.A. Milne dramatized it for the stage as Toad of Toad Hall?) Oh, and he did write one other fantasy, The Reluctant Dragon which I've never heard of. Have any of y'all read it? (Died 1932.) (CE)
Born March 8, 1899 – Eric Linklater. The Wind on the Moon reached the Retro-Hugo ballot; it won the Carnegie Medal. Three more novels, nine shorter stories for us; two dozen novels all told, ten plays, three volumes of stories, two of poetry, three of memoirs, two dozen of essays & history. Served in both World Wars. Commander of the Most Excellent Order of the British Empire, Fellow of the Royal Society of Edinburgh. (Died 1974) [JH]
Born March 8, 1922 – John Burke. Co-edited The Satellite and Moonshine (not Len Moffatt's fanzine, another one). A score of books including novelizations of Chitty Chitty Bang Bang and Those Magnificent Men in Their Flying Machines (okay, call it adjacent), fourscore shorter stories, for us; a hundred fifty novels all told. Correspondent of The Fantast, Zenith, and at the end Relapse, which I wish Sir Peter Weston hadn't retitled from Prolapse, but what do I know? (Died 2011) [JH]
Born March 8, 1928 — Kate Wilhelm. Author of the Hugo–winning Where Late the Sweet Birds Sang. She also won a Hugo for Best Related Book and a Locus Award for Best Nonfiction for Storyteller: Writing Lessons and More from 27 Years of the Clarion Writers' Workshop. SFWA renamed their Solstice Award the Kate Wilhelm Solstice Award. She established the Clarion Workshop with her husband Damon Knight and writer Robin Scott Wilson. (Died 2018,) (CE)
Born March 8, 1932 – Jim Webbert, age 89. Among our better auctioneers – we raise money that way, few would pay what con memberships really cost. Collector of books, other art, model rockets. HO model railroader. Chemist. Three decades in the Army Reserve, often teaching. Often seen at LepreCon. Fan Guest of Honor at TusCon 1, CopperCon 9, Con/Fusion, Kubla Khan 20 (all with wife Doreen). [JH]
Born March 8, 1934 — Kurt Mahr. One of the first writers of the Perry Rhodan series, considered the largest SF series of the world. He also edited a Perry Rhodan magazine, wrote Perry Rhodan chapbooks and yes, wrote many, many short stories about Perry Rhodan. He did write several other SF series. Ok, what's the appeal of Perry Rhodan? He runs through SF as a genre but I've not read anything concerning him. (Died 1993.) (CE)
Born March 8, 1939 — Peter Nicholls. Writer and editor. Creator and co-editor of The Encyclopedia of Science Fiction with John Clute which won a Hugo twice. He won another Hugo for the Science Fiction Encyclopedia. His other publications were Science Fiction at Large, The Science in Science Fiction edited by Nicholls and written by him and David Langford, and Fantastic Cinema. He became the first Administrator of the United Kingdom based Science Fiction Foundation. He was editor of its journal, Foundation: The Review of Science Fiction, from 1974 to 1978. (Died 2018.) (CE)
Born March 8, 1948 – Jackie French Koller, age 73. Four novels, six shorter stories, for us; three dozen books all told. Watercolorist. Makes gingerbread houses. Her Website. [JH]
Born March 8, 1973 – Daniel Griffo, age 48. Lives in La Plata (a Silver Age artist?), Argentina, with wife, son, and two pets named Indiana and Jones. I am not making this up. Comics, lettering, 3-dimensional activity books, My Visit to the Acupuncturist (I'm not; why shouldn't there be a children's book about that?), two about Dragon Masters – here's one of them, Future of the Time Dragon. Website. [JH]
Born March 8, 1976 — Freddie Prinze Jr., 45. I'm fairly sure his first genre role was in Wing Commander as Lt. Christopher Blair followed by the animated Mass Effect: Paragon Lost in which he voiced Lieutenant James Vega. Speaking of animated endeavors, I've got him in Kim Possible: A Sitch In Time voicing Future Jim / Future Tim followed by being in all in all four seasons of the animated Star Wars Rebels as Kanan Jarrus. And that's a series which I highly recommend as it may well be the best Star Wars fiction ever done. (CE)
Born March 8, 1978 – Samanta Schweblin, age 43. Another Argentine, this one living in Berlin, writing in Spanish. Two novels, two shorter stories for us; three collections. Casa de las Americas Award. Juan Rulfo Prize. Tigre Juan Award, Shirley Jackson Award for Distancia de rescate, in English Fever Dream. [JH]
(12) COMICS SECTION.
The Far Side reveals the tragic conclusion of a nursery rhyme.
(13) FOUR-POSTER. Marvel Studios' The Falcon and The Winter Soldier today released four new character posters for Sam Wilson (Falcon), Bucky Barnes (Winter Soldier), Sharon Carter and Helmut Zemo as they near their March 19 premiere on Disney+.
(14) ON BOARD. [Item by Martin Morse Wooster.] In the March 3 Financial Times, gaming columnist Tom Faber looks at the appeal of board games during the pandemic.
For those who fancy themselves not Victorian engineers or colonial settlers but fantasy warriors and space explorers, games such as Twilight Imperium and Terraforming Mars hold more appeal. You can learn the rules of most within an hour or two, but there are some more elaborate offerings such as dungeon crawler Gloomhaven, which weighs 10kg and currently sits at the top of the ratings on the authoritative site BoardGameGeek. Games have grown in beauty as well as sophistication–see Wingspan, with its 180 gorgeous bird illustrations and pleasing tokens in the shape of pastel-shaded eggs.

As the games themselves have become more desirable, board game cafes such as Draughts in London and Snakes and Lattes in Toronto have sprung up and help legitimise board gaming, At the same time, the internet has facilitated the discovery of new games and willing opponents, as well as enabling the rising trend of board game crowdfunding–Frosthaven, the followup to Gloomhaven, raised almost $13m on Kickstarter."
(15) PSA FROM WJW. Walter Jon Williams has shared "My Mask Policy" on his blog:
After having endured the horrors of Oklahoma and Kentucky, I've decided that I should announce my mask policy. I'm not a head of state or a governor, I'm just a guy, so there is no way to enforce my preferences on the world— except, of course, by way of sarcasm and mockery.

Just remember that I'm the guy that came up with several rules for living, including Williams' First Law: Assholes Always Advertise.

So here goes:

While there is very little scientific data about how effective mask use is in preventing COVID, the wearing of masks in public is (at the very least) a courtesy to others, particularly those most vulnerable to the disease.

So if you're in public and not wearing a mask, I'm not going to assume that you're a brave iconoclastic thinker challenging accepted dogma, I'm going to assume that you are a complete asshole. And not only are you an asshole, you're advertising yourself as such.
(16) EXPLORING THE DEBRIS. At Amazing Stories, "Veronica Scott Reviews NBC's 'Debris' Episode One". BEWARE SPOILERS.
…On the positive side, I love the concept of the alien spaceship disintegrating as it enters the solar system. I'm frankly fascinated by the backstory of that, which sadly, in episode one at least, the series shows no signs of exploring, versus the "what does each piece of debris do this week" storytelling. I liked the way the program began, with the tiny shard of debris transporting an unfortunate maid from high up in a hotel to her death in the dining room, without marring any of the ceilings or floors she falls through. Grabbed my attention!

But there was very little about the alien technology or curiosity on anyone's part about the aliens themselves or what destroyed the ship. No discussion about whether the debris is actually some kind of invasion or what might happen next. No one here seems to care if there was an FTL drive to be had. I frankly wished this was a series about going to explore what's left of the hulk in space, rather than these cut and dried, solved in an hour individual cases….
(17) A LITTLE LIST. At the Hugo Book Club Blog, Olav Rokne has compiled a list of "Screen adaptations of Hugo-shortlisted works". There are 47 so far. (The list excludes Retro Hugo awards as well as all Graphic Novels and comic book adaptations.)
(18) SEUSSWATCH. Adina Bresge, in the Canadian Press story "Canadian libraries reassess Dr. Seuss books pulled from publication for racist images" says that a lot of Canadian libraries are checking to see if they have the six books Dr. Seuss Enterprises has withdrawn from circulation and some of them have pulled the books from the shelves.
The scrutiny also prompted some public libraries to review their Dr. Seuss collections.

A group of librarians across Toronto Public Library's system will evaluate the titles in question and issue recommendations, according to a spokeswoman.

"Occasionally, children's books written some time ago are brought to our attention for review," Ana-Maria Critchley said in an email.

"If the review determines there are racial and cultural representation concerns the committee will recommend to either withdraw the book from our library collections or move the book from children's collections to another location, such as a reference collection for use by researchers."

The Vancouver Public Library is also launching reviews of each of the six Dr. Seuss titles.

Scott Fraser, manager of marketing and communications, said this process is usually initiated by a request from a patron, but the library made an exception given the "extremely unusual" decision by a rights holder to suspend publication.

Copies of the books will remain on the shelves while the review is underway, Fraser said, and officials will then decide whether to keep a title in the collection, change its classification or remove it from the stacks.

Vancouver Public Library previously reviewed "If I Ran the Zoo" in 2014 in response to a complaint about stereotypical depictions of Asians. A caption in the book describes three characters as "helpers who all wear their eyes at a slant."

The library decided to keep the book on the shelves, but stop reading it at storytime, and only promote it as an example of how cultural depictions have changed….
(19) GALE WARNING. "Scientists Discover Massive 'Space Hurricane' Above Earth" – Vice has the story.
…Prior to this discovery, Zhang and his research group had been pondering the possible existence of space hurricanes for years. The team's research focus lies in the interactions between the ionosphere, an atmospheric layer that extends some 50 to 600 miles above Earth's surface, and the magnetosphere, the region shaped by our planet's protective magnetic field. At the poles, these interactions generate the magical and dazzling auroras that are popularly known as the Northern and Southern Lights.

Tropical hurricanes are driven in part by the movements of heavy air masses that generate strong winds; Zhang and his colleagues suspected a similar mechanism might be at work in the outer space environment close to Earth. In the case of space hurricanes, the solar wind, a stream of charged particles that flows from the Sun, slams into Earth's upper atmosphere and transfers its energy into the ionosphere, driving the cyclone formation.
(20) VIDEO OF THE DAY. In "WandaVision Pitch Meeting" on ScreenRant, Ryan George explains that Marvel fans will be frustrated by the slow drip of revelations about how WandaVision connects to the MCU that they'll become really frustrated by the phrase "Please Stand By."
[Thanks to Andrew Porter, John Hertz, Martin Morse Wooster, Michael Toman, John King Tarpinian, Cat Eldridge, JJ, and Mike Kennedy for some of these stories. Title credit goes to File 770 contributing editor of the day Brian Z.]