(1) CHANGE TO AURORA AWARDS BALLOT. Aurora Awards administrator Clifford Samuels has removed short story nominee "So You Want to be a Honeypot" by Kelly Robson from the 2021 Aurora Award Ballot.
Samuels' explanation is quoted with his permission:
The story was removed about a week ago, June 14th. I got feedback that it was felt it was not genre. I had a number of the board members read it and we agreed it was a spy thriller story but had no SF, Fantasy or Horror elements. I read other reviews of it online and a number of people were confused that Uncanny Magazine had published it. I suspect it was a story by a respected genre author.

I contacted Kelly and she said it was very loosely fantasy and she had no hard feeling if we removed it from the ballot. I could not see any fantasy elements. There were no hints that it was in an alternate world. As I read it I kept hoping it would have some "Black Widow" type elements but I could not see anything like that.

This is the first time we've ever had to do this but it is important that only genre works are on the ballot. With Kelly's background in genre stories and with the story being published in a genre magazine we had no expectation it would not qualify. It would have been a problem if a non-genre work won an Aurora Award.
The administrator emphasizes that the story was only removed because it was non-genre — " it was a good story but was not something that should be on an Aurora ballot" — and that they contacted Robson and got her okay before doing this. Normally there's only 5 items on the Aurora Award ballot; there were 6 short story finalists this year because of a tie, so the Robson entry will not be replaced by another story.
(2) CHENGDU WORLDCON BID COVERAGE. China.org.cn published an English-language article about the Chengdu in 2023 Worldcon bid on June 23: "Chengdu gears up to bid for 2023 Worldcon".
A brief explanation of the Worldcon is followed by the introduction of the bid's co-chairs, and a quote from the bid filing documents:
With the support of the Chinese sci-fi industry and sci-fi fans, Chengdu, capital of China's Sichuan province, has put in a formal bid to host the 81st World Science Fiction Convention (Worldcon) in 2023.

Worldcon is the annual convention of the World Science Fiction Society (WSFS) and was founded in 1939. Its Hugo Awards are one of the world's most prestigious sci-fi award. China's Liu Cixin won the 2015 Hugo Award for best science-fiction novel for "The Three-Body Problem."

Wang Yating, co-chair of the bidding committee and deputy secretary-general of the Chengdu Science Fiction Society, told China.org.cn that now they were working hard to prepare for organizing and presenting 2023 Worldcon as best as they can. Chengdu is aiming to become the first Chinese city to host the high-profile sci-fi convention.

"Chengdu is the science fiction capital of China, and a mecca for Chinese sci-fi fans. The science fiction periodical – Science Fiction World – is headquartered in the city," wrote Wang and Xia Tong, another co-chair of the bidding committee and the film development director of Chinese sci-fi brand Eight Light Minutes, in a letter to William Lawhorn, co-chair of the 2021 Worldcon in Washington, D.C. in February of this year. "Over the past four decades, Chengdu has nurtured generations of science fiction writers and fans. Now, Chengdu is looking forward to a chance to welcome sci-fi fans from all over the world."
(3) RULES FOR A BETTER STORY ABOUT AN AWFUL WORLD. Science fiction author Marissa Levien shares her "3 Rules for Writing a Better Dystopian Novel" at Writer's Digest.
1. Prioritize Story, Not Concept

Confession: In my dystopian novel, I didn't start out writing a dystopia at all. I was fascinated by a character learning, ahead of the rest of the world, about an oncoming catastrophe. That lead me to ask: Who is first to know that a major catastrophe is coming? Answer: those at the very top and very bottom of the societal chain. So, I decided to write a character who was a servant. From there, I concentrated more on what my character was after, and as I did, the world grew on its own. The nature of the catastrophe demanded a certain kind of setting. The character and story demanded a flawed class system. I didn't start the writing process thinking, "I want to tell a story about the evils of class systems." I thought, "I want to tell a story about this character and how she fights to get what she wants."…
(4) THE HOPE OF HUMANITY. Netflix Anime dropped this trailer for "Mobile Suit Gundam Hathaway" on June 10.
After Char's rebellion, Hathaway Noa leads an insurgency against Earth Federation, but meeting an enemy officer and a mysterious woman alters his fate.
(5) ON THE FRITZ. Haven't had enough fandom drama yet? Let's borrow some from the history of ERBdom! "Nobody remembers this today,…" from Not Pulp Covers.
Nobody remembers this today, but there was immense fandom drama in the 1960s in the Edgar Rice Burroughs fanzines like ERBdom, the Oparian, and Burroughsania.

Yes, this legendary fandom brawl was all because a bright eyed and bushy tailed young go-getter fanzine writer named Fritz Leiber wrote about how Burroughs was inspired by and used tons of visual imagery and concepts from Theosophy, a strange offshoot of the spiritualist movement popular in the 1890s to the 1950s. Tons of ERB imagery, Lieber argued, particularly the John Carter of Mars books and elements of the wilder Tarzan novels, came from Theosophy, like four armed men who hatch from eggs, universal planetary telepathy, mental astral projection to other planets, and Atlantean societies with both Neanderthal and evolved modern men….
(6) DREAM FOUNDRY CONTESTS. Dream Foundry is getting people ready for their Writing Contest and Art Contest. The judges of the Writing Contest will be Premee Mohamed and Vajra Chandrasekera. This year's art contest judges will be Juliana Pinho and Charis Loke. Guidelines at the link.
Submissions for the Writing Contest open on 10 August 2021 and will close 11 October 2021, with the finalists announced mid-November. Then, our judges will announce winners in early December.

Submissions for the Art Contest open on 1 September 2021 and will close on 1 November 2021.

There are no submission fees and we are pleased to announce that the prizes for both the art and writing contests each include $1000 for first place, $500 for second place, and $200 for third place. The first place prize of the Art Contest is awarded as part of the Monu Bose Memorial Prize, established in fond memory of Monu Bose by her children, Rupa Bose and Gautam Bose. Monu Bose was a lover of art of all kinds, and a graduate of Lucknow University and the College of Arts and Crafts. This Prize is to honor the legacy she opened up for us.
(7) DREAM FOUNDRY VIDEOS. More videos from this year's Flights of Foundry have been released on the Dream Foundry YouTube channel.
(8) MEDIA BIRTHDAY.
June 24, 1987 — On this day in 1987, Spaceballs premiered. It was, as y'all know co-written, produced and directed by Mel Brooks. The film stars Bill Pullman, John Candy and Rick Moranis, with the supporting cast comprising Daphne Zuniga, Dick Van Patten, George Wyner, Lorene Yarnell, and the voice of Joan Rivers. With production costs and marketing, it didn't make a penny. Critics were decidedly mixed on it with the consensus on it that Brooks had done much better earlier on in his career. It has since become a cult film with audience reviewers at Rotten Tomatoes currently giving it an outstanding rating of eighty-three percent.
(9) TODAY'S BIRTHDAYS.
[Compiled by Cat Eldridge.]
Born June 24, 1925 — Fred Hoyle. Astronomer of course, but also author of a number of SF works including October the First Is Too Late which I think is among the best genre novels done. I'm also fond of Ossian's Ride which keep its SF elements hidden until late in the story. (Died 2001.)
Born June 24, 1937 — Charles Brown. Editor of Locus from 1969 to 2009, a fanzine and a semiprozine at various times. Winner of many a Hugo, actually a record 29 Hugo Awards. Though he died before he could attend, he was still listed as one of the guests of honor at Renovation.  (Died 2009.)
Born June 24, 1947 — Peter Weller, 74. Robocop obviously with my favorite scene being him pulling out and smashing Cain's brain, but let's see what else he's done. Well there's The Adventures of Buckaroo Banzai Across the 8th Dimension, a film I adore. And then there's Leviathan which you I'm guessing a lot of you never heard of. Is it of the Naked Lunch genre? Well, Screamers based on Philip K. Dick's short story "Second Variety" certainly is. Even if the reviews sucked.  And Star Trek Into Darkness certainlyqualifies. Hey he showed up in Star Trek: Enterprise! 
Born June 24, 1950 — Mercedes Lackey, 71. There's a line on the Wiki page that says she writes nearly six books a year.  Impressive. She's certainly got a lot of really good series out there including the vast number that are set in the Valdemar universe. I like her Bedlam's Bard series better. She wrote the first few in this series with Ellen Guon and the latter in the series with Rosemary Edghill. The SERRAted Edge series, Elves with race cars, is kinda fun too. Larry Dixon, her husband, and Mark Shepherd were co-writers of these. 
Born June 24, 1950 — Nancy Allen, 71. Officer Anne Lewis in the Robocop franchise. (I like all three films.) Her first genre role was not in Carrie as Chris Hargensen, but in a best forgotten a film year earlier (Forced Entry) as a unnamed hitchhiker. She shows up in fan favorite The Philadelphia Experiment as Allison Hayes and I see her in Poltergeist III as Patricia Wilson-Gardner (seriously — a third film in this franchise?). She's in the direct to video Children of the Corn 666: Isaac's Return as Rachel Colby. And she was in an Outer Limits episode, "Valerie 23", as Rachel Rose. 
Born June 24, 1961 — Iain Glen, 60. Scots actor who played as Ser Jorah Mormont in Game of Thrones, he's also  well known for his roles as Dr. Alexander Isaacs/Tyrant in the Resident Evil franchise; and he played the role of Father Octavian, leader of a sect of clerics who were on a mission against the Weeping Angels in "The Time of Angels" and "Flesh and Stone", both Eleventh Doctor stories.
Born June 24, 1982 — Lotte Verbeek, 39. You most likely know her as Ana Jarvis, the wife of Edwin Jarvis, who befriends Carter on Agent Carter. She got interesting genre history including Geillis Duncan on the Outlander series, Helena in The Last Witch Hunter, Aisha in the dystopian political thriller Division 19 film and a deliberately undefined role in the cross-world Counterpart series. 
Born June 24, 1994 — Nicole Muñoz, 27. You'll perhaps best remember her for role as Christie Tarr (née McCawley) in the Defiance series. Her first role was playing a Little Girl in Fantastic Four. Likewise she was A Kid with Braces in The Last Mimzy, and yes, Another Girl, in Hardwired. The latter was written by Michael Hurst, and has apparently nothing to with the Walter Jon Williams novel of the same name.
(10) COMICS SECTION.
(11) SEE NEW SPIDER-MAN CYCLE ON FREE COMIC BOOK DAY. Yesterday's Spider-Man teaser led up to this info in today's follow-up press release:
Kelly Thompson, Saladin Ahmed, Cody Ziglar, Patrick Gleason, and Zeb Wells will team up on the thrice-monthly title to shake up the Spider-Man mythos in ways no one will see coming… The saga will kick off in AMAZING SPIDER-MAN #75 where Ben Reilly will return to take back the mantle of Spider-Man. Backed by the Beyond Corporation, the captivating clone of Peter Parker is determined to be the best version of Spider-Man there ever was. And as yesterday's teasers showed, this could have fatal consequences for Peter Parker…

Fans will be able to get their first glimpse at what's to come on August 14th in FREE COMIC BOOK DAY 2021: SPIDER-MAN/VENOM. Check out artwork below and stay tuned for an upcoming announcement revealing which incredible artists will be joining this talented group of writers in what promises to be one of the most unpredictable runs in Spider-Man history…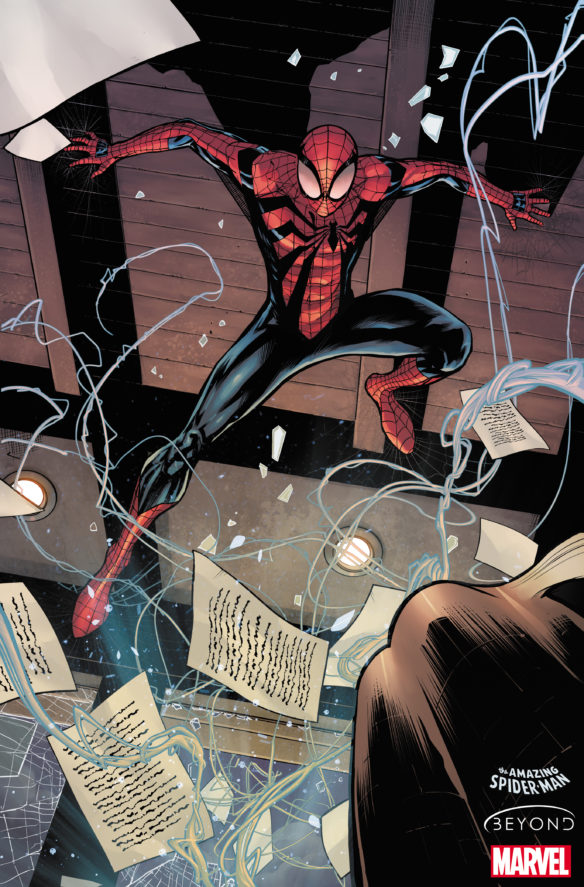 (12) SOCK IT TO ME. Why is a 78-year-old guy filming a fight scene? Yahoo! Entertainment reports "Harrison Ford Injured While Filming 'Indiana Jones 5'".
…The extent of Ford's injury is unknown, though it's hardly the first time he's hurt himself while making a movie. In the past, Ford suffered a serious back injury on "Indiana Jones and The Temple of Doom" and endured leg trauma on "Star Wars: The Force Awakens."

"Indiana Jones 5" began production earlier this month in the U.K. Plot details for the sequel haven't been announced yet, though the 78-year-old Ford is reprising his iconic role as the fedora-wearing, swashbuckling archaeologist.
(13) VAUGHN'S THEME PARK TURNED DEADLY. "The Battle of Four Armies: Carrie Vaughn's Questland" – a Paul Weimer review at Tor.com.
…The writing style is exactly what fans of Vaughn's writing have come to expect, on all levels. It's been a number of years since I've read Vaughn's Kitty Norville novels, but the familiarity with her easy and immersive style was quick and very welcome. Her previous novels may have had geeky references, and this novel doesn't lean on those so much as making them a supporting pillar of the plot, characters, setting and writing. This is a novel that shows how a commercialized, mainstream ultra-immersive theme park experience can and would meet the beating heart of geekdom. How well, and how badly those forces would interact is a lot of how this novel runs, and Vaughn has clearly spent a lot of time on the idea….
(14) JEOPARDY! Andrew Porter witnessed tonight's Jeopardy! contestants overwhelmed by an answer about a book I like to think of as science fiction anyway.
Category: American Authors

Answer: "Camelot", "The Pilgrims", and "A postscript by Clarence" are chapters in a classic novel by this author.

Wrong questions: "Who is Harriet Beecher Stowe?" and "Who is Nathaniel Hawthorne?"

Correct question: Who is Mark Twain (in "A Connecticut Yankee in King Arthur's Court")
(15) OCTOTHORPE. John Coxon, Alison Scott, and Liz Batty are live from Punctuation 2 in "We Are All Filing Cabinet", episode 34 of the Octothorpe podcast.
Liz and Alison made John put a warning at the start of the episode. We discuss Winnipeg, ConSpire, and scavenger hunts! Listen here:
(16) FAST AND THUNDEROUS. SYFY Wire sets up the clip: "Jurassic World: Dominion teases special IMAX teaser to play before F9".
…Serving as a prologue to the main action of Colin Trevorrow's trilogy capper (out next summer), the extended look is set millions of years in the past when dinosaurs freely roamed the Earth without the presence of those pesky bipeds called humans. It also features music from Jurassic World composer Michael Giacchino, as well as seven new species of dinos never before seen in the prehistoric franchise (life finds a way, right?). Right off the bat, though, we recognize some of the usual suspects like Pterosaurs and Ankylosauruses….
[Thanks to Mike Kennedy, Andrew Porter, Martin Morse Wooster, Danny Sichel, John Coxon, JJ, Michael Toman, John King Tarpinian, and Cat Eldridge for some of these stories. Title credit belongs to contributing editor of the day Paul Weimer.]