(1) KGB. Fantastic Fiction at KGB reading series hosts Ellen Datlow and Matt Kressel will have Karen Lord & A.C. Wise on the line August 18.
The YouTube livestream starts August 18 at 7 pm. EDT. Link to come – will be posted here.
Barbadian writer Karen Lord is the award-winning author of Redemption in Indigo, The Best of All Possible Worlds, The Galaxy Game, and Unraveling, and the editor of the anthology New Worlds, Old Ways: Speculative Tales from the Caribbean.
A.C. WISE
A.C. Wise is a multiple-award finalist for her science fiction, fantasy, and horror short fiction. Her debut novel, Wendy, Darling, was published by Titan Books in June 2021. Born and raised in Montreal, she currently lives in the Philadelphia area with her spouse, two adorable corgis, and a small cat who is clearly in charge of everyone.
(2) IN SPACE NO ONE CAN HEAR YOU TIPTOE. James Davis Nicoll identifies "Five Strategies for Sneaking Stealthy Space Hijinks Into SF" at Tor.com.
No doubt you are all so familiar with the reasons why stealth in space is very difficult to carry off that I need not explain… Here are five methods authors have used.

1: Ignore the science

This is perhaps the most popular solution, occasionally venturing into vigorous denial. After all, in a genre where such fundamentals such as relativity can be handwaved away for narrative convenience, why not simply handwave stealth in space and go full speed ahead?

An example that comes to mind is Chris Roberson's 2008 novel The Dragon's Nine Sons which sets a China that never suffered the Century of Humiliation against a malevolent Mexic Empire. The rivalry extends into the Solar System, which provides the pretext for a reprise of The Dirty Dozen…IN SPACE! Also, IN AN ALTERNATE HISTORY! Stealth being a key part of sneaking up on an enemy base, Roberson deals with the issue by ignoring it. Indeed, detecting other space craft, even ones at very short range, appears so difficult that it may be best to assume space is entirely filled with a very dense fog….
(3) DRINKING WITH AUTHORS. Joshua Palmatier's interview series continues: "Drinking With Authors: Marshall Ryan Maresca" – an unlocked Patreon post and YouTube video.
It's another "Drinking With Authors" interview! This time with Marshall Ryan Maresca. He's best known for his twelve book set of interconnected trilogies called the "Maradaine Saga," but he's here today to talk about a standalone novel called THE VELOCITY OF REVOLUTION. Join us as we discuss what we're drinking, his latest novel (go buy it right now!), and worldbuilding! And don't miss his worldbuilding podcast. Enjoy!
(4) VOICE OF EXPERIENCE. The Odyssey Writing Workshop blog interviews "Graduate Arley Sorg".
Arley Sorg is co-editor-in-chief at Fantasy Magazine, senior editor at Locus Magazine, associate editor at both Lightspeed and Nightmare Magazines, and a columnist for The Magazine of Fantasy and Science Fiction…. 

As Co-Editor-in-Chief of Fantasy Magazine and Senior Editor of Locus Magazine, you have the opportunity to read a lot of fiction. Where do you see short fiction going in the next ten years?

I see short fiction as the place where real experimentation happens. Not just in terms of form (which can sometimes be "gimmick" or "trend") but also in terms of meaning, subject, content. Right now we are seeing more inclusivity. I hope that in ten years a lot of the narratives that are essentially arguments for the basic human rights of different kinds of people, or the beginnings of inclusivity of perspectives, shift baseline assumptions. This will allow a progression of stories from there.

The concerns of some stories are outside the lived experiences of some editors. They may not understand how good a story is because they don't understand what the story is actually saying. Hopefully in ten years the things that many editors don't get and need explained will be more broadly absorbed—and, the demographics of editors and publishers will be more diverse—again, allowing the conversations to progress.

I think there will be more experimentation in form, as well—including things I can't predict. We see stories based on video games, messaging, Twitter. There's interactive fiction, platforms that attempt different ways to make this work, including phone apps. Accessibility will be part of the key to proliferation, and technological shifts can open the way for new ideas. In the past, there were stories experimenting with hyperlinks. Maybe in the future there will be hybrids of text and audio, or other kinds of sensory input.

At the same time, the core elements that hit people in the feels seem to be somewhat timeless… so I think more "traditional" story structures will probably still be around….
(5) BRAM STOKER WINNER RETURNS. Lipstick Asylum is the next novel by Nzondi (pronounced En-Zon-Dee), an American urban fantasy and horror writer whose Oware Mosaic won a 2020 Bram Stoker Award for Superior Achievement in Young Adult fiction.
The Scream Teens are hired to raise the dead as the necro-tainment for a zombie cruise, and the eighteen-year-old animator, Cozy Coleman, is bitten by a shapeshifting she-wolf. To Cozy's surprise, she survives and with the aid of her friends, helps the government stop a human-extinction virus from spreading. Unfortunately, Cozy uncovers a secret so haunting, that her death is only the beginning of her problems.
Omnium Gatherum will release the book September 10.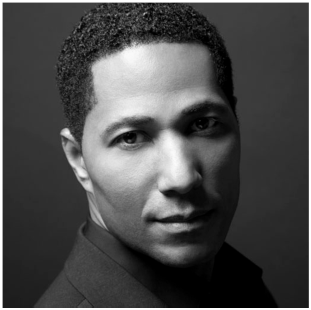 (6) STICKING WITH IT. First Fandom Experience pieces together "Early Chicago Fandom, In Pictures" with a bit of detective work.
…The fanzine survived for nine issues, the last appearing in late Spring 1937. While some individual club members remained active, others pursued diverse interests. The Binder brothers relocated to New York to promote their writing careers. Fortunately for history, the final Fourteen Leaflet gives us a rare pictorial glimpse of early fandom.

Prior to the wider availability of lithography, photographs in fanzines required the inclusion of actual photo prints. This was beyond the capability and budget of most amateur publishers. In the rare instances where this was undertaken, it was common for the prints to be glued to a page. If the page has managed to survive, very often the glue has not. This decreases the likelihood that the photo continues to travel with the page.

In their fanzine's 1937 swansong, Dellenback and his cohort undertook to publish nineteen separate photographs, all tiny prints attached to a single page…. 
(7) SPOTS DANCING BEFORE YOUR EYES. [Item by Martin Morse Wooster.] In the Washington Post, Karen Heller looks at Boston Dynamics's doglike robot Spot and asks several experts (including Ed Finn of Arizona State's Center for Science and the Imagination) if being doglike would influence the public's acceptance of robots. "Spot is the $74,500 robot dog of our dystopian dreams".
…Why is a robotic dog frightening to so many? Possibly because the Venn diagram intersection of robots and dogs remains whippet slim. Humans are irrational about both. Also, entirely reductive. Robots = Terrifying. Dogs = Goodness incarnate.

Dr. Frankenstein's creature, a monster of man's own making, is more than 200 years old, a response to the threat of the industrial revolution that machines might well replace us, making human existence seem utterly disposable and meaningless. The term "robot" is a century old, dating to Czech writer Karel Capek's science-fiction play "R.U.R.," in English short for "Rossum's Universal Robots."

How does the drama end? Not well.

Robots in our collective imagination have tended towardmenace, rapacious will and allegiance to none. With few exceptions (C-3PO, R2-D2, the Jetsons' aproned Rosey), robots in popular culturetend to be Terminators possessed with the soul of HAL 9000.

Whereas our affection for dogs is overly sentimental, resulting in a fathomless ocean of slobbery drool. We never fear dogs will replace us. We believe they're here to comfort and adore us unconditionally, despite what some have done to mail carriers. Spot challenges us to hold two opposing thoughts in one $74,500 place….
Heller also steered me to this video from June, in which Boston Dynamics celebrated being taken over by Hyundai Motor.
(8) BRIANT OBIT. The International Costumers Guild reports Bruce Briant has died. He was involved in the UCSD science fiction club in the Eighties. An active convention masquerader, he was part of the group that took Best in (Novice) Class at the 1993 Worldcon for "Chess: The Elegant Game of War," and Best Journeyman at the 1995 Westercon with "Superhero Wedding," and part of the vast group that won a Retro Master Award at the 1996 Worldcon for "The Wedding on Klovia," just to name three appearances. He was Dean of the Costume Colleges of 1996 and 1997.
(9) TODAY'S DAY.
(10) MEDIA BIRTHDAY.
1996 – On this date in 1996, John Carpenter's Escape from L.A. as it was stylised on screen premiered fifteen years after Escape from New York came out. It was co-written, co-scored, and directed by John Carpenter, also co-written by Debra Hill who  produced it with Kurt Russell, with Russell again starring as Snake Plissken. It also co-stars Steve Buscemi, Stacy Keach, Bruce Campbell, and Pam Grier.  Reception was definitely a lot more mixed than Escape from New York with most critics thinking the script was uneven, the film bombed at the box office, and audience reviewers at Rotten Tomatoes currently give it a thirty nine percent rating as opposed to seventy seven percent for the first film.  Carpenter has said that, "Escape from L.A. is better than the first movie. Ten times better." He might be the only one that holds that view.  
(11) TODAY'S BIRTHDAYS.
[Compiled by Cat Eldridge.]
Born August 9, 1914 — Tove Jansson. Swedish-speaking Finnish artist wrote the Moomin books for children, starting in 1945 with Småtrollen och den stora översvämninge (The Moomins and the Great Flood). Over the next decades, there would a total of nineteen books. Currently Moominvalley, the new animated series is playing, on Netflix. And Terry Pratchett in "My family and other Moomins: Rhianna Pratchett on her father's love for Tove Jansson" credits her for him becoming a fiction writer. (Died 2001.)
Born August 9, 1920 — Jack Speer. He is without doubt was one of the founders of fandom and perhaps the first true fan historian having Up to Now: A History of Science Fiction Fandom covering up to 1939 as well as the first Fancyclopedia in 1944. Filking and costume parties are also widely credited to him as well.  Mike has a proper remembrance here. (Died 2008.)
Born August 9, 1927 — Daniel Keyes. Flowers for Algernon was a novel that I read in my teens. Two of the teachers decided that SF was to be the assigned texts for that school year and that was one of them. I don't now remember if I liked it or not (A Clockwork Orange was another text they assigned along with something by Heinlein that I don't remember) nor have I ever seen Charly. I see he has three other genre novels, none that I've heard of. (Died 2014.)
Born August 9, 1944 — Sam Elliott, 77. Weirdly, the source for this Birthday thought he'd only been in one genre role, General Thaddeus E. "Thunderbolt" Ross in the 2003 Hulk film, but he's got many other roles as well. His first was Duke in Westworld followed by being Luke Peck in Time Bandits, Flik Whistler in The Thing and Lock in The Adventures of Buckaroo Banzai Across the 8th Dimension. He's the Phantom Rider in Ghost Rider and Lee Scoresby in The Golden Compass. His latest genre is as the lead in The Man Who Killed Hitler and Then the Bigfoot as Calvin Barr. Not even vaguely genre adjacent, but he's in the exemplary Tombstone as Virgil Earp.
Born August 9, 1947 — John Varley, 74. One of those authors that I've been meaning to read more of. I read both The Ophiuchi Hotline and Titan, the first novels respectively in his Eight Worlds and the Gaea Trilogy series, but didn't go further. (See books, too many to read.) If you've read beyond the first novels, how are they as series? Worth pursuing now?
Born August 9, 1954 — Victor Koman, 67. Three time winner of the Prometheus Award, his short stories have appeared in such publications as The Magazine of Fantasy & Science Fiction, Galaxy and Fred Olen Ray's Weird Menace. Kings of The High Frontier which won of those Prometheus Awards also was on the long list for a Nebula. 
Born August 9, 1956 — Adam Nimoy, 65. Son of Leonard Nimoy and the actress Sandra Zober. His wife is Terry Farrell.  He's directed episodes of Babylon 5, Next Generation, The Outer Limits (he directed his father in the "I, Robot" episode), and Sliders. He's responsible for For the Love of Spock, the documentary about his father. 
Born August 9, 1968 — Gillian Anderson, 53. The ever-skeptical (well, most of the time) Special Agent Dana Scully on X-Files. she played Media on the now cancelled American Gods. And she played Kate Flynn in Robot Overlords. Did you know she's co-authored a X-File-ish trilogy, The EarthEnd Saga, with Jeff Rovin? 
(12) KEEP SOMEONE'S MT. TSUNDOKU FROM ERUPTING. Newcon Press publisher Ian Whates is running a "Make Room! Make Room! Sale" through August 15. Here's why —
I'm hoping Helen and I can beg a small favour.

You see, once upon a time I had a library. It was my pride and joy, with a lifetime's collection of books proudly displayed…

Then I became a publisher.

My collection is now largely inaccessible, hidden behind walls of cartons containing NewCon Press books. With over 150 titles and counting to our credit, the library has burst its seams, and stock has started to amass ominously in my office. I fear that soon we may not be able to reach the computer to work, or indeed the door…

In a desperate attempt to avert this disaster and reclaim our home, we have launched our biggest ever sale; for the next week, prices have been slashed on over 80 titles, including signed limited edition hardbacks and paperbacks, with prices starting as low as £1.00. In some instances we have plenty of stock remaining, in others just a few copies; when they're gone, they're gone.

Any assistance you could provide in boosting word of the sale on social media, blogs, etc, would be greatly appreciated…

Thank you. This has been a public service announcement on behalf of a beleaguered independent publisher.
(13) MARK BOOK. If not for his career as a steamboat pilot, that might have become his name instead. The Mark Twain House will host "Clemens Conversations: Mark Twain in the Margins" on Wednesday August 11 at 3 PM EDT. Register here.
Mark Twain had a lifelong habit of writing in the margins of the books he read – and it did not always matter whether the book actually belonged to him. He commented acerbically on the authors and their work – "by an ass" was a favorite phrase – and made other, longer comments that tell us about the man and his thoughts. His marginalia are his "conversations" with the books he was reading, and there are many examples of this in the library collection of The Mark Twain House & Museum.
(14) WAILING. Verlyn Klinkenborg recites a "Requiem for a Heavyweight" at The New York Review of Books. Most of the article is behind a paywall – sorry.
…Were those two whales, mother and calf, aware of us? Yes, I'd say, though surely without the elation we humans felt. Just how they might have been aware of us—what awareness might look like in a whale—is an undecided question having to do with cetacean physiology and the complexities of the aquatic environment, including its acoustic properties. (The most discernible thing about us may have been the thrum of our motor.) How human awareness works is also an undecided question, and not only because the price we often pay for consciousness is inattention. Since that encounter in Mozambique, I've found myself wondering: What happens when creatures from separate species become aware of each other? Is there something there, something shared or shaped between them? Or do their sensoriums simply overlap—like car alarms setting each other off—in isolation, without reciprocity?…
(15) IF YOU COOK IT THEY WILL COME. "Guy Fieri, Chevy sell Apple Pie Hot Dog at MLB Field of Dreams" reports The Takeout. Will those hot dogs be made from pork?I've been to Dyersville, and driving to the ballpark I remember passing a pen filled with hogs that looked the size of Volkswagens, so it would only be appropriate if the meat was local.
This Thursday, a very special and long-awaited baseball game will take place: the MLB at Field of Dreams. The White Sox will play the Yankees at the filming location for the 1989 film Field Of Dreams in Dyersville, Iowa, a site that still draws a strong contingent of tourists each year. While it will count as a home game for Chicago, this will be the first Major League Baseball game ever to be played in the state of Iowa, and a momentous milestone like that calls for a momentous ballpark snack for spectators to gnaw on from their shiny new stadium seats built just for the occasion. Enter Guy Fieri, Chevrolet, and the (Fieri-tastic) Apple Pie Hot Dog.

According to a press release sent to The Takeout, the Apple Pie Hot Dog is a play on an old Chevrolet ad from 1975, which heralds a bunch of comically patriotic imagery: baseball, hot dogs, apple pie and Chevrolet "go together in the good old U.S.A.," asserts the jingle.
They better have Doc Graham standing by, too, in case any of those hot dogs go down the wrong way.
(16) REAL FUNKO POP. How long has there been Funko Soda?
(17) TRAILER TIME. Netflix will air JoJo's Bizarre Adventure STONE OCEAN in December.
2011, United States, Florida — When Jolyne Cujoh and her boyfriend get in an accident while out on a drive, she is framed for the crime and sentenced to 15 years in prison. Will she ever be free from this prison — this stone ocean? The final battle in the century-spanning, intertwining fate of the Joestar family and DIO begins!
[Thanks to JJ, Michael Toman, John King Tarpinian, Paul Di Filippo, Cat Eldridge, Mike Kennedy, Andrew Porter, and Martin Morse Wooster for some of these stories. Title credit belongs to contributing editor of the day Daniel Dern.]