(1) NEW WFA TROPHIES ON THE WAY. Kim Williams, chair of the 2016 World Fantasy Con, told readers of WFC's Facebook page that last year's WFA winners, given certificates at the 2016 award ceremony in Columbus, OH will soon be receiving copies of the new statuette created by Vincent Villafranca.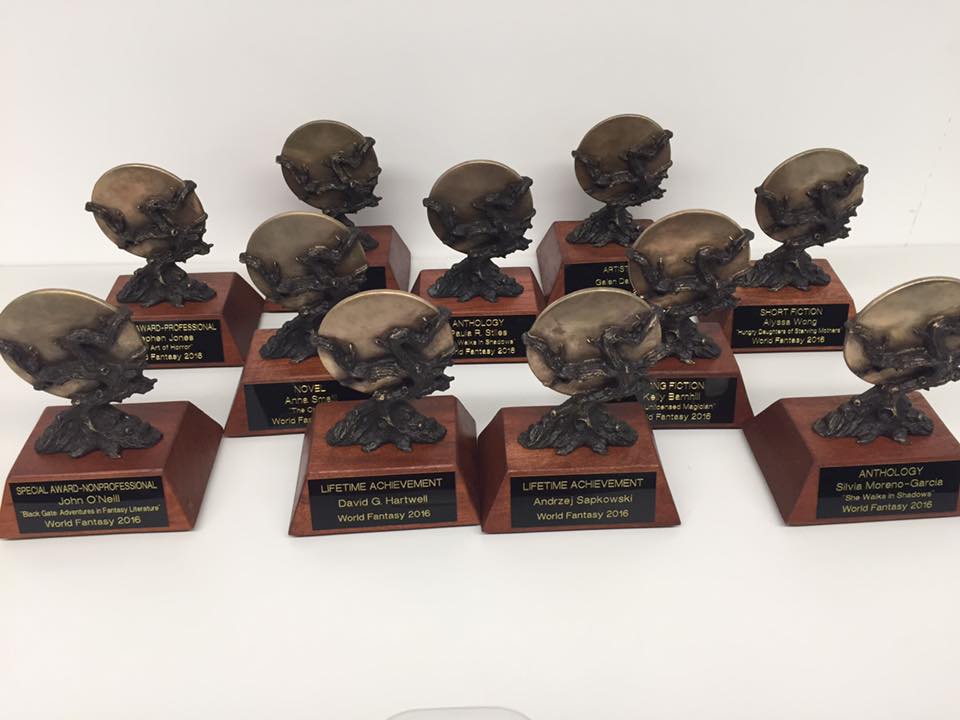 Vincent Villafranca's design was chosen to replace the Lovecraft bust trophy by the World Fantasy Awards Administration and the Board of the World Fantasy Convention following a year-long public competition.
(2) OMNI REBOOTS AMID RIGHTS LITIGATION. Penthouse Global Media, on July 10, announced the acquisition of OMNI magazine and that its upcoming issue is slated for print publication in late October.
"As Penthouse Global Media enters its second year under new ownership, our driving principle is to put all of the pieces of the brand back together again.  As a result of decades of neglect, much of this company's brilliant legacy was lost…until now," stated Penthouse CEO Kelly Holland. "I am proud to announce that one of those casualties, OMNI—the magazine of science and science fiction, heralded as one of Guccione's most iconic brands—is once again a part of the Penthouse family where it belongs.  Thanks in large part to Pamela Weintraub, one of OMNI's original editors, who had the foresight to bring the brand back to life by re-registering the trademarks and launching a digital site, she, along with many of the original OMNI staff, will deliver the award-winning magazine to newsstands once again."
Only days ago, to protect its intellectual property, Penthouse Global Media sued Jerrick Media, and various other defendants including Jerrick Media Holdings Inc., Jeremy Frommer, and actor Jared Leto, for copyright infringement, trademark infringement, unfair competition and false advertising, among other claims.
The lawsuit states:
Despite the fact that an application for registration of the OMNI Marks in connection with magazines had already been filed with the USPTO by Penthouse's predecessor in interest, signaling to the world that the OMNI Marks were not available for use by Defendants, in 2013, Defendants Frommer and Schwartz again willfully and blatantly disregarded the intellectual property rights of others and began planning to publish an online science and science fiction magazine using the OMNI Marks and to republish and sell archival material from the original OMNI magazine. 29.

On or about June 27, 2013, Defendant Jerrick Ventures, LLC filed an application for registration of the purported trademark OMNI REBOOT (Serial No. 85,972,230), which registration was refused by the United States Patent and Trademark Office because of a likelihood of confusion with a registered OMNI Mark. On or about May 31, 2016, Jerrick Ventures, LLC filed a cancellation  proceeding before the Trademark Trial and Appeal Board ("TTAB") seeking to cancel the OMNI Mark (Cancellation No. 92063829). Because Penthouse General Media seeks a declaration in the present action that its registered OMNI Marks are valid and should not be cancelled, it will seek to have the cancellation proceeding  before the TTAB stayed pending the judgment in this action. 30.

Despite knowing of the existence of the registered OMNI Marks, and despite being denied registration of Omni Reboot, Defendants nonetheless  proceeded to willfully and blatantly infringe on the OMNI Marks by operating an online magazine at https://omni.media, which it refers to as OMNI Reboot, that not only uses the OMNI Marks in connection with the publication of an online magazine featuring science and science fiction topics, but also contains archival material from the original OMNI magazine, including magazine articles and reproductions of OMNI magazine covers, all without the permission or consent of Penthouse.
Jeremy Frommer's claims to the rights are allegedly based on an auction purchase:
Frommer bought at an auction erotic photography, films and historical documents, among other things associated with Guccione and Penthouse. He then began reselling those and other related items online, according to the complaint, and allowing the public to view Caligula for a fee. That triggered the first round of this fight in bankruptcy court in 2013, but the parties mutually dismissed their claims without prejudice.
Penthouse's Holland minimizes that claim:
"We at Penthouse don't believe a person can acquire the rights to a brand simply by stumbling upon some of its products," Holland said. "If you buy a DC comic book at a garage sale it doesn't give you the rights to make a 'Wonder Woman' movie, nor does one have a right to our legacy because they found an old Omni magazine."
(3) PUBLICLY CHOSEN GARGOYLE. The Washington Post's Marylou Tousignant found some items of fannish interest at the Washington National Cathedral.
Washington National Cathedral, the sixth-largest cathedral in the world, has 215 stained-glass windows. The most popular holds a piece of moon rock brought back by the Apollo 11 astronauts in 1969.

Another must-see is Darth Vader, carved into the cathedral's north side. The "Star Wars" villain was one of four winning designs by middle-schoolers in a 1985 contest. Vader is one of 1,242 weird creatures staring down from the cathedral's neck­stretching exterior.
(4) EYECATCHING. Marvel Comics will release lenticular covers for Marvel Legacy.
The biggest stories and most epic team-ups come to MARVEL LEGACY this fall, and now you can hold the past and the future in your hands! Today, Marvel is proud to announce that all of the Marvel Legacy homage variants will be available as lenticular covers – a true celebration of Marvel's history and expansive universe!

As seen on Newsarama, all of Marvel Legacy's homage variants were previously unveiled, showcasing the new Marvel Legacy line-up and classic covers of the past. Don't miss your chance to own a part of Marvel history – enhance your collection with all of Marvel Legacy's lenticular covers, coming to comic shops this fall.
(5) DID YOU WONDER? What will the next Wonder Woman movie be about? " Rumor of the day: Diana will face off against the USSR in Wonder Woman 2″.
With Russia in the news so much these days, The Wrap has said in an unsourced report that Wonder Woman 2 will take place during the 1980s and feature Diana of Themyscira going head-to-head with agents of the Soviet Union.

That means that like its predecessor, Wonder Woman 2 will be a period piece — only not as far in the past as the World War I setting of Diana's first standalone adventure.

Although Patty Jenkins is not officially confirmed to return as director, she is said to be developing the script for Wonder Woman 2 with DC Entertainment co-president Geoff Johns. And while the story will allegedly feature the USSR in an antagonistic capacity, there's no word on whether other villains from Wonder Woman's published history will appear as well.
(6) THE PAYOFF. Marvel says Secret Empire #9 will reveal Steve Rogers' secret. On sale August 23.
When Steve Rogers was revealed to be an agent of Hydra due to the manipulations of Red Skull, the Marvel Universe was rocked to its core. Now, it's the moment fans have been waiting for – and you're not going to want to miss this reveal!

What is the secret of Steve Rogers? And how will it affect the Marvel Universe as we know it?
(7) WHY IT'S HARDER TO FIND GOOD REVIEWS. Speculiction's Jesse Hudson, in "And the drop is due to",  charts the site's declining number of book reviews against his rising familiarity with PlayStation 3 games. He is in awe of the current gaming technology.
It's no secret that modern video games are exponentially more realistic and immersive than their pixel and dot forebears.  For the unaware, the degree of realism and immersion in today's video games is essentially one degree removed from cinematics—a gap that will be covered in the next few years, for sure.  What this means is that game creators are able to put players, as much as is possible, into the shoes of the characters running around the imagined worlds on screen.  Being a detective, mighty warrior (or warrioress), or space marine is this close.  Game developers have done all the work to give you agency in what are essentially silver screen experiences.  Instead of watching a movie, you become part of the movie, directing the character, depending on the game, through the story.  I still fully appreciate novels for retaining the distance between sensual and imagined reality—for forcing the reader to use their imagination.  But I also appreciate what modern gaming is doing to virtually eliminate this distance; if the game's world and gameplay are well-developed and unique, then so too can be the experience.
(8) THOUGHTS THUNK WHILE THINKING. Nancy Kress tells about her Big Idea for Tomorrow's Kin at Whatever.
Your mind does not work the way you think it does.

You probably assume that you consider data and come to rational conclusions. But all too often, people don't take into account such pesky tendencies as confirmation bias ("This fact confirms what I already believe so it gets more weight") Or polarization ("This situation is all good/bad"). Or emotionalism ("I feel this so it must be true"), a need for control ("I'm looking at what I can change and nothing else"), presentism ("The future will be like the present only maybe a little more so"), or scapegoating ("If this isn't as I wish it to be, someone must be to blame!")

When I set out to extend my novella "Yesterday's Kin" into the novel Tomorrow's Kin, which takes the story ten years farther along, I wanted to write about these distortions in your thinking. Oh, not you in particular (how do I know what you're thinking as you read this—maybe it's "She doesn't mean me. I'm different.") What interested me—especially in the current political climate—is the public mind as it relates to science and the perception of science….
(9) CROWLEY'S TIME HAS COME. Tor.com's Matthew Keeley has published a brief profile of John Crowley, "Predicting the Future and Remembering the Past with John Crowley", an author he notes is best known for his book Little, Big, but regrets is still not very well-known outside writing circles. The article aims to change this situation:
At Readercon a few years ago, I attended a panel on favorite science fiction and fantasy books. One author, one of the best working today, talked about the near-impossibility of writing a book so perfect as John Crowley's Little, Big. There were wistful sighs from writers in the audience and nodded agreements from other panelists. Everyone in the room at that most bookish convention recognized that competing with Crowley was impossible.

Yet in many fan circles Crowley remains unknown. This literary master of the hermetic, hidden, and esoteric has for too long been as hidden as the obscure histories, gnostic theorists, and addled visionaries that populate his work. Despite the many awards; despite the praise of luminaries both inside the genre community, like Ursula K. Le Guin and Thomas Disch, and outside it, like Harold Bloom; despite his inclusion in both Bloom's Western Canon and Gollancz's Fantasy Masterworks, most fantasy readers don't read him. Perhaps this is the year that changes.
(10) MARTINELLI OBIT. Italian-born actress Elsa Martinelli died of cancer in Rome on July 8. She was 82. Her genre work included The 10th Victim (1965), based on the Robert Sheckley novel.
(11) TODAY IN HISTORY
July 11, 1997 — On this day in 1997, Carl Sagan's Contact entered theatres.
July 11, 2014 – Dawn of the Planet of the Apes premiered theatrically.
(12) TODAY'S BIRTHDAY BOYS
Born July 11, 1899 – E.B. White
Born July 11, 1913 — Paul Myron Anthony Linebarger — better known by his pseudonym, Cordwainer Smith
(13) JEOPARDY! CONTESTANT. On the July 11 episode of Jeopardy!, Kelly Lasiter, from the St. Louis area, admitted she's an SF fan who attends conventions in the area, and went to the 2016 Worldcon in Kansas City.
She won the game, with $22,800, and will play again on Wednesday.
(14) WHERE THE GEEKNERDS ARE. Examined Worlds' Ethan Mills praises a convention's community building in "CONvergence 2017 Report".
The deeper thing that CONvergence taught me back in the early-mid 2000's was the value of cons as a space for community, something I've discussed before with regard to other cons.  While being a geek/nerd is not as uncool as it used to be, it's still great to have a place where you can let your geek flag fly proudly.  No matter how intense your nerdery is, someone at con is nerdier.  You may be wearing Vulcan ears, but someone else may have a full Starfleet uniform and android-colored contacts to dress up as Data from Star Trek: The Next Generation (an actual costume I saw at CONvergence).

The openness of a place where people can love what they love without derision or judgment is a beautiful thing.  This aspect of fandom seems to be unappreciated by small but annoying parts of fandom like the Rabid Puppies and Gamergaters, but it's safe to say that for the vast majority of fans, this is precisely what fandom is all about….
(15) WHERE TO SELL. Now available: the "SFWA Market Report for July" compiled by David Steffen.
(16) A DAY AT THE PLANT. At Amazing Stories, Adam Roberts is interviewed about his contribution to an anthology,
Gary Dalkin for Amazing Stories: 'Black Phil', your story in Improbable Botany, packs a huge amount into 20 pages. It combines the scientific, the political and the personal in a way which is ultimately very moving, and does so while gradually revealing to the reader a startlingly imagined near future earth. There is a lot of specific detail in the story and I'm wondering what your approach to writing a piece like this is, how much do you have planned out before you begin writing, and how much comes to you through the writing process? I'm asking this in part because I'm wondering how quickly you write, given you are a prolific author of highly imaginative, intricately constructed novels and have a day job as a professor of literature as well.

Adam Roberts: My approach to writing has changed, I suppose. When I was starting out as a writer I would generally plan things out fairly carefully; now I have more technical fluency, and can trust my hands to produce more of what's needed if I let them loose on the keyboard. Not entirely though. It's a balance, as with so much of life. If a writer maps every beat of every chapter in a detailed plan before she ever writes a word, the danger is that the actual writing turns into a chore, merely filling in the blocks in the grid, and if the writer gets bored writing then that tends to communicate itself to the reader. On the other hand, simply diving in with no sense of where you're going or how the story is going to unfold, in my experience, will result in something too baggy and freeform, understructured and messy. So the praxis for me is threading a path between those extremes: having a sense of the overall shape of the thing, and which spots I definitely want to hit as I go, but working out some of the specifics as I write the first draft, to keep at least elements of it fresh. With short stories the process is a little different to novels: plot is constrained by the shorter space, so there's a greater need for other things to hold the whole together – a governing metaphor, for instance, that can be unpacked and explored, provided it's eloquent enough. In 'Black Phil' I was working with blackness as a colour and blackness as a mood, which meant that the story needed to make a certain kind of emotional sense, and the other elements were rather subordinated to that.
(17) IF YOU WANT TO GIVE HER A MISS. Canberra sff author Gillian Polack puts a different spin on the typical convention schedule announcement in "How to avoid me at Worldcon 75".
This is the post you've been waiting for. Now you can plan your Helsinki visit knowing you can avoid me. You'll also know that I can't redeem myself with chocolate, for I have tiny scraps of Australia to give everyone instead. Ask me nicely and you could take home some opal or Australian turquoise or fool's gold. (When I say 'scraps of Australia' I mean it quite literally.) Asking me politely would, of course, mean not avoiding me.

I can only be at a small bit of the auction, but I'm bringing Tim tams, a blow-up kangaroo and other exciting things to add to the bidding frenzy. This emans I'll be there … sort of…for some of the time and my luggage will represent me the rest of the time….
(18) GOOD REVIEWS. The other day I said someone's Hugo nominee reviews were lacking who hadn't completely read most of the stories. Now, at the opposite end of the spectrum, I've encountered the hyperfeasance of Garik16 who claims, "I managed to read every nominee this year before the nominations were announced except for A Closed and Common Orbit (Yes I know I'm hipster bragging here lol)."
More importantly, his post, "Reviewing the Hugo Nominees: Best Novel", is rich in analysis and substantive comments.
Ninefox Gambit by Yoon Ha Lee

Review on twitter here:

Disclaimer: I've just finished this books sequel (Raven Strategem, review forthcoming next week), and will try to separate the two books since its fresh in my mind. Ninefox Gambit is a book that is Challenging to read.  Whereas other books might try to infodump explanations of how extremely complicated made up SF or Fantasy worlds work, Ninefox Gambit just drops you right in the world, made up terminology and all, and trusts you to figure it out on your own.  It's probably a bit too far in this direction honestly – a short story in the same universe for example explains a little bit more and there's no reason this book couldn't have done the same – but if you can get past it, the result is just phenomenal.

This is a universe where calendars followed are of maximum importance, where mathematical calculations allow for armies to create devastating attacks on a battlefield, and where immortality may be very possible.  This book deals largely with the efforts of a mathematical genius but otherwise standard infantry soldier getting stuck with an undead general in her head – an undead general who is both brilliant and known for massacreing his own forces.  The interplay between them, as well as how the world works around them, results in a truly fantastic book.

This is one of those books that will have you going back after your first reread to find out things you might have missed, and to see how things read after the reveal later in the book. The book isn't light in tone – the dominant government relies on ritual torture to keep its technology working for example – but it is absolutely gripping if you can get past the terminology at the start and contains some pretty strong themes of the values of freedom, justice and sacrifice.

I suspect it'll come in 2nd in voting, but this has my vote.
And for bonus reading, here's what Garik16 thinks about the Hugo nominated novellas, novelettes, and short stories.
[Thanks to John King Tarpinian, JJ, Cat Eldridge, Andrew Porter, Rob Thornton, Rich Lynch, and Martin Morse Wooster for some of these stories. Title credit goes to File 770 contributing editor of the day Xtifr.]