(1) HOPE IS ON THE WAY. There's a brand new podcast, If This Goes On (Don't Panic), themed around hopepunk. The first episode is hosted by Cat Rambo and Alan Bailey, interviewing Alexandra Rowland, who coined the term "hopepunk."
In this episode, Cat and Alan discuss the concept of Hopepunk with Alexandra Rowland, coiner of the term. Other topics include the hopeful nature of Lord of the Rings, why there has to be a protagonist in fiction, and why sometimes you have to sell out.

Alan also reviews the second season of The Witch Who Came in From the Cold published by Serialbox
(2) FREE DOWNLOAD. Elizabeth Bonesteel just released a free ebook of her short fiction Survival Tactics:
(3) ARROWVERSE EXPANDS. CBR.com thinks "Stargirl: The CW's Newest Series Could Be Its Best Yet".
The next TV series based on a DC Comics property is Stargirl, which is receiving a dual release on both The CW and the DC Universe streaming app. While this might be a drawback for DC Universe, which could benefit from the show's exclusivity, it could be a boon for The CW.

The network's lineup of Arrowverse shows continues to grow, something that will only continue now that the groundbreaking "Crisis on Infinite Earths" crossover has come and gone. Despite their seeming popularity, the shows have their fair share of detractors and common criticisms. Since it's technically a DC Universe show, however, Stargirl may just be able to avoid those pitfalls, and thus become the best superhero series on The CW yet.
(4) CAPTIONS CASE CLOSED. Publishers Lunch tells readers "The Audible Settlement Is Finally Public".
The case brought by seven publishers against Audible over their planned Captions feature is now formally concluded, with Judge Valerie Caproni's signature in place on the permanent injunction barring the audiobook company from displaying text from e-books without the permission of copyright holders. Audible will pay each litigating publisher an undisclosed sum, after which both parties will file final documentation to the court.
(5) DOES THIS MEAN GETTING FOUND IN SPACE? ComicBook.com brings the shocking news that "Lost in Space Cancelled After Season 3 on Netflix".
[Showrunner Zack] Estrin revealed that the plan for Lost in Space was always meant to be told in three parts, so this ending really is a conclusion of the story rather than a cancellation by Netflix.

"From the beginning, we've always viewed this particular story of The Robinsons as a trilogy," Estrin said. "A three part epic family adventure with a clear beginning, middle and end. It's also worth noting that, with what these characters go through just trying to survive each episode — if anyone deserves to catch their breath before their next mission — it's Will, Penny, Judy, Maureen, John, Don West, Dr. Smith… and The Robot. And, of course, Debbie the Chicken. So while this chapter of Lost In Space is coming to a rousing conclusion, I'm excited about continuing to explore new stories with my friends at Netflix, and for all of the incredible possibilities that lie ahead."
(6) SHERYL LERNER. Condolences to Lofgeornost's faned Fred Lerner, who sent out this message today:
I am sorry to report that my wife Sheryl died last night. Many of you will have met her at various conventions, or read about her in my Lofgeornost trip reports. Although she did not read much science fiction, she enjoyed convention programming and the conversations we had with Lofgeornost readers.
(7) VON SYDOW OBIT. Actor Max Von Sydow died March 9. He was the only male Swedish actor to be nominated for an Academy Award. The New York Times tribute is here: "Max von Sydow, Star of 'Seventh Seal' and 'Exorcist,' Dies at 90".
Mr. von Sydow, widely hailed as one of the finest actors of his generation, became an elder pop culture star in his later years, appearing in a "Star Wars" movie in 2015 as well as in the sixth season of the HBO fantasy-adventure series "Game of Thrones." He even lent his deep, rich voice to "The Simpsons."

By then he had become a familiarly austere presence in popular movies like William Friedkin's "The Exorcist," Steven Spielberg's "Minority Report," Woody Allen's "Hannah and Her Sisters" and, more recently, Julian Schnabel's "The Diving Bell and the Butterfly."

But to film lovers the world over he was most enduringly associated with Bergman.

If ever an actor was born to inhabit the World According to Bergman, it was Mr. von Sydow. Angular and lanky at 6-foot-3, possessing a gaunt face and hooded, icy blue eyes, he not only radiated power but also registered a deep sense of Nordic angst, helping to give flesh to Bergman's often bleak but hopeful and sometimes comic vision of the human condition in classics like "The Seventh Seal" and "The Virgin Spring."
The National Review reminded readers about a few of his other popular roles:
Sydow was 44 when portraying the wizened old priest [in The Exorcist] whose stalwart faith combats the film's antagonistic demonic presence; he reportedly required more makeup to appear old than Linda Blair required to appear possessed in the role of Regan MacNeil.

King Osric in the underappreciated Conan the Barbarian. Sydow, along with James Earl Jones (as the villain Thulsa Doom) was brought onto the production of the 1982 John Millius film in the hope that their stately presence would inspire the mostly novice crew of actors (including Arnold Schwarzenagger, in one of his first major productions) to greater heights.
He also played emperor Ming the Merciless in Flash Gordon (1980), and Ernst Stavro Blofeld in the James Bond film Never Say Never Again (1983).
(8) TUCCI OBIT. Actor Nicholas Tucci died March 3 — The Hollywood Reporter has the story: "Nicholas Tucci, 'You're Next' and 'Channel Zero' Actor, Dies at 38".
Nicholas Tucci, an actor who appeared in the horror film You're Next and SyFy's Channel Zero, died Tuesday after battling an unspecified illness, according to his father, who shared the news on Facebook. Tucci was 38.
(9) NEELY OBIT. Mystery author Barbara Neely, named Mystery Writers of America's 2020 Grand Master just last December, has passed away. USA Today profiles her career: "Barbara Neely, author of first black female series sleuth Blanche White, dies at 78".
Award-winning mystery writer Barbara Neely, who created the first black female series sleuth in mainstream American publishing, died last week after a brief illness, according to her publisher, Brash Books. She was 78.

Neely is perhaps best known for her four-book Blanche White series, which had at its center a nomadic amateur detective and domestic worker who uses the invisibility inherent to her job as an advantage in pursuit of the truth.
(10) TODAY IN HISTORY.
March 1933 –This month was when the first Doc Savage novel was published. The Man of Bronze was by Lester Dent writing under the house name Kenneth Robeson. It would publisher in the March issue of the Doc Savage magazine. It was the basis of the Doc Savage: The Man of Bronze film that starred Ron Ely. You can see the film here. The Man of Bronze is available at the usual digital publishers.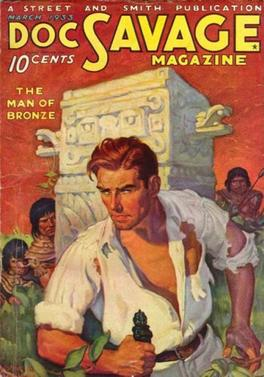 March 9, 2011 — Dynamite Entertainment published the first issue of Warlord of Mars: Dejah Thoris. It was set on the world of Barsoom 400 years before John Carter went there, with her being of the focus of the story.Arthur Adams and Joe Jusko were the writers, with Paul Renaud, and Alé Garza being the artists.
(11) TODAY'S BIRTHDAYS.
[Compiled by Cat Eldridge.]
Born March 9, 1918 — Mickey Spillane. His first job was writing stories for Funnies Inc. including Captain Marvel, Superman, Batman and Captain America. Do note these were text stories, not scripts for comics. Other than those, ISFDB lists him as writing three genre short stories: "The Veiled Woman" (co-written with Howard Browne),  "The Girl Behind the Hedge" and "Grave Matter" (co-written with Max Allan Collins).  Has anyone read these? (Died 2006.)
Born March 9, 1930 — Howard L. Myers. Clute over at EofS positively gushes over him as does here of Cloud Chamber:" attractively combines Cosmology, Antimatter invaders of our Universe, Sex and effortless rebirth of all sentient beings in a wide-ranging Space Opera".  I see he had but two novels and a handful of short stories. They're available, the novels at least, from the usual digital sources. (Died 1971.)
Born March 9, 1939 — Pat Ellington. She was married to Dick Ellington, who edited and published the FIJAGH fanzine. They met in New York as fans in the Fifties. After they moved to California, she was a contributor to Femizine, a fanzine put out by the hoax fan Joan W. Carr. (Died 2011.)
Born March 9, 1940 — Raul Julia. If we count Sesame Street as genre, his appearance as Rafael there was his first genre role. Yeah, I'm stretching it. Ok, how about as Aram Fingal In Overdrawn at the Memory Bank, a RSL production off the John Varley short story? That better?  He later starred in Frankenstein Unbound as Victor Frankenstein as well. His last role released while he was still living was in Addams Family Values as Gomez Addams reprising the role he'd had in The Addams Family.  (Died 1994.)
Born March 9, 1945 — Robert Calvert. Lyricist for Hawkwind, a band that's at least genre adjacent. And Simon R. Green frequently mentioned them in his Nightside series. Calvert was a close friend of Michael Moorcock.  He wrote SF poetry which you read about here. (Died 1988.)
Born March 9, 1955 — Pat Murphy, 65. I think her most brilliant work is The City, Not Long After. If you've not read this novel, do so now. The Max Merriwell series is excellent and Murphy's 'explanation' of the authorial attributions is fascinating.
Born March 9, 1959 — Mark Carwardine, 61. In 2009, he penned Last Chance to See: In the Footsteps of Douglas Adams. This is the sequel to Last Chance to See, the 1989 BBC radio documentary series and book which he did with Douglas Adams. In 2009, he also worked with Stephen Fry on a follow-up to the original Last Chance to See. This also was called Last Chance to See. 
Born March 9, 1965 — Brom, 55. Artist and writer whose best work I think is Krampus: The Yule Lord and The Child Thief. The Art of Brom is a very good look at his art. He's listed as having provided some of the art design used on Galaxy Quest. 
Born March 9, 1978 — Hannu Rajaniemi, 42. Author of the Jean le Flambeur series which consists of The Quantum Thief, The Fractal Prince and The Causal Angel. Damn if I can summarize them. They remind a bit of Alastair Reynolds and his Prefect novels, somewhat of Ian Mcdonald's Mars novels as well. Layers of weirdness upon weirdness. 
(12) COMICS SECTION.
Macanudo creates a clever image for what sff fans think of as the multiverse.
Free Range points out a challenge of producing the 1960s Batman TV show that's obvious if you think about it…
Off The Mark has a very amusing library gag.  
Grant Snider's Incidental Comics:
(13) MONSTER ART COLLECTION. Lonely Planet shows where "Metallica fans can visit Kirk Hammett's traveling sci-fi and horror art collection".
… Organized by the Peabody Essex Museum (PEM) in Salem, Massachusetts, its final stop is at the Columbia Museum of Art (CMA) in Columbia, South Carolina, where it runs from 15 February to 17 May, 2020 and includes an interactive guitar experience and programming schedule with appearances by Hammett himself.

…On display are 135 works from twentieth century cinema including posters, rare art by master artists and related memorabilia such as electric guitars, lobby cards, film props and costumes. As described by his biographer Stefan Chirazi, Hammett was a self-described shy kid obsessed with monsters, ghouls, toys, movies and guitars; he first connected with Boris Karloff's Frankenstein followed by Godzilla, the Mummy and other terrifying creatures that tap into our psychological response to fear. He admits it's his collection that has primarily sparked his creativity over the years. "The stuff of horror has a mojo that always works on me," he says. "I start producing ideas…they just flow like liquid."
(14) PRESCRIPTION ROBOT. "Former MythBuster's adorable Baby Yoda robot will cheer up sick kids" – CNET has a Q&A with the designer.
Baby Yoda captured hearts everywhere when it debuted on Disney Plus Star Wars live action series The Mandalorian. Count former MythBusters cast member Grant Imahara among the fans. He thinks the character's so cute he built his own life-like animatronic Baby Yoda to cheer up sick kids. 

Imahara currently works as a consultant for Disney Research and a mechanical designer at Spectral Motion. He helped build Disney's animatronic Spider-Man that will be flying over the upcoming Marvel Campus in Disney's California Adventure.

"Pleased to present my newest creation: a fully animatronic Baby Yoda," Imahara posted on his Facebook on Friday. "It's been three months of hard work and countless revisions. I did all the mechanical design, programming, and 3D printed the molds. He's currently running a continuous sequence, but soon I'll be able to trigger specific moods and reactions, as well as incorporate sound."

To find out more about how this adorable moving animatronic Baby Yoda was created, I chatted with Imahara about what went into building it. Here is a lightly edited transcript of our conversation. 

Q: How did the idea come about to build an animatronic Baby Yoda?
After the third episode of The Mandalorian, I knew I had to make my own Baby Yoda. I was an animatronics engineer in the ILM model shop before MythBusters, and worked on the Star Wars prequels as well as the Energizer Bunny, so I had the required skill set. And it could be a character I could bring to children's hospitals for charity work, which is something I've been committed to doing.
(15) GIBSON BOOK REVIEWED. Thomas J. Millay explains "How I Learned to Stop Worrying and Love a Superintelligent AI: On Wiliam Gibson's 'Agency'" at LA Review of Books.
NEUROMANCER, COUNT ZERO, Mona Lisa Overdrive; Virtual Light, Idoru, All Tomorrow's Parties; Pattern Recognition, Spook Country, Zero History: William Gibson works in threes. Agency is the second novel of what is almost certainly going to be a trilogy. The first novel, titled The Peripheral, was a New York Times best seller notable for its heady mixture of drone manipulation, time travel, apocalypse, and alternate history, all these devices being combined in a narrative prose precise in its physical and technological descriptions. Given the novel's formal innovations and literary qualities, it is the pace of The Peripheral that is most remarkable, with Gibson moving readers rapidly toward the novel's utopian conclusion, in thriller-like fashion….
(16) ZONING OUT. When you live near a radio telescope, it turns out you have to give up certain things. The New York Times takes you there: "No Cell Signal, No Wi-Fi, No Problem. Growing Up Inside America's 'Quiet Zone'".
…Welcome to Green Bank, population 143, where Wi-Fi is both unavailable and banned and where cellphone signals are nonexistent.

The near radio silence is a requirement for those living close to the town's most prominent and demanding resident, the Green Bank Observatory, home to the world's largest fully steerable radio telescope. To protect the sensitive equipment from interference, the federal government in 1958 established the National Radio Quiet Zone, a 13,000-square-mile area near the state's border with Virginia.

The observatory's telescope "could detect your phone on Saturn in airplane mode," states a sign outside its science center building, but is rendered much weaker if anyone uses electronics that emit radio waves. For those who live within 10 miles of the observatory, the limitations also include a ban on Bluetooth devices and microwaves, unless they are contained in a metal box, known as a Faraday cage, which blocks electromagnetic fields.

Nearly 15 million Americans live in sparsely populated communities where there is no broadband internet service at all, a stark digital divide across America between those with access to uber-fast connections and those with none.
(17) COUNTRIES REJECT 'ONWARD' OVER GAY CHARACTER. BBC reports "Pixar's Onward 'banned by four Middle East countries' over gay reference".
Pixar's latest animation Onward has been banned by several Middle Eastern countries because of a reference to lesbian parents, according to reports.

The family film will not be shown in Kuwait, Oman, Qatar and Saudi Arabia, Hollywood media have reported.

Police officer Specter, voiced by Lena Waithe, has been heralded as Disney-Pixar's first openly gay character.

Her lines include: "It's not easy being a parent… my girlfriend's daughter got me pulling my hair out, OK?"

Other Middle East countries like Bahrain, Lebanon and Egypt are showing the film.

And according to Deadline, Russia censored the scene in question by changing the word "girlfriend" to "partner" and avoiding mentioning the gender of Specter, who is a supporting character.

Speaking to Variety, Waithe explained that the line about "my girlfriend" was her idea.
And Variety's story about it is here.
(18) MMM-MMM-BAD? BBC inquires "Why plastic is a deadly attraction for sea turtles".
Scientists have new evidence to explain why plastic is dangerous to sea turtles: the animals mistake the scent of plastic for food.

Thus, a plastic bag floating in the sea not only looks like a jellyfish snack, but it gives off a similar odour.

This "olfactory trap" might help explain why sea turtles are prone to eating and getting entangled in plastic, say US researchers.

…Garbage patches

Once plastic has been released into the ocean, microbes, algae, plants and tiny animals start to colonise it and make it their home. This creates food-like odours, which have been shown to be a magnet for fish and possibly sea birds. The new research suggests sea turtles are attracted to plastic for the same reason.
(19) LOOK UP AND SAY CHEESE. "Space radar movies track motion on Earth's surface" – the BBC coverage features several short sample clips.
Satellite operator Iceye is now making videos that can show the Earth's surface through cloud and at night.

The short, 20-second movies are an extension of the standard still radar images it already produces.

In the examples released by the Finnish company on Monday, planes are seen taxiing across Britain's Heathrow airport and heavy plant vehicles are observed working in a Utah mine.

The videos are said to be a first for a commercial space operator.

Synthetic aperture radar (SAR) technology is already appreciated for its ability to "see" the ground irrespective of the weather or lighting conditions. Retrieving motion in a scene literally now gives Iceye's products another dimension, says CEO Rafal Modrzewski.
(20) WHO NEEDS GOOGLE? Patrick Stewart answers the web's most searched questions for WIRED.
"Star Trek: Picard" star Patrick Stewart takes the WIRED Autocomplete Interview and answers the internet's most searched questions about himself. How did Patrick Stewart and Ian McKellen meet? Was Patrick in Harry Potter? How many awards has he won? Does he own a vineyard? Sir Patrick answers all these questions and much, much more.
[Thanks to Standback, Cat Eldridge, Rich Horton, John King Tarpinian, Martin Morse Wooster, Chip Hitchcock, JJ, Andrew Liptak, Mike Kennedy, and Andrew Porter for some of these stories. Title credit goes to File 770 contributing editor of the day Daniel Dern.]