(1) HUGO VOTING LYRICS. The midnight (Pacific) deadline is imminent, inspiring 770's reference to "I'm Getting Married in the Morning" in a post today — which Goobergunch celebrated by creating new words for the song.
There's books and 'zines all over town
And I've got to track 'em down
In just a few more hours….
I'm Hugo voting in the morning
That silver rocket's gonna shine
Put up a racket
Download the packet
But make sure I go vote online
(2) EATING THE FANTASTIC. Scott Edelman, like so many others, won't be getting to New Zealand this summer, so – "It's time for a long-distance lunch and dinner with award-winning writer Lee Murray". Listen in, at the Eatng the Fantastic podcast.
At the urgings of some of my Patreon supporters, I've decided to break bread anyway with some of the creators I'd intended to record with had I made there, only with 16 hours and thousands of miles separating us. So last night, I had dinner with writer Lee Murray, while she had lunch the following day.
Lee is a three-time Bram Stoker Awards finalist, and is also New Zealand's most awarded writer and editor of fantastic fiction, having won two Australian Shadows and a dozen Sir Julius Vogel Awards. Her novels include The Battle of the Birds (2011), Dawn of the Zombie Apocalypse (2019), as well as Into the Mist (2016), Into the Sounds (2018), Into the Ashes (2019), and others.   She's edited fourteen anthologies, including Baby Teeth: Bite-Sized Tales of Terror (2013), Hellhole: An Anthology of Subterranean Terror (2018), and others.  Her first collection, Grotesque: Monster Stories, will be published July 24.

We discussed how she crafted her first short story collection, the importance of mentoring our next generation of genre writers, why we're unlikely to ever go spelunking together, whether she prefers her zombies fast or slow, the unique awards club of which we're both members, the way her use of New Zealand culture might be perceived differently by readers in and out of her country, the difficulties some seem to have with stories written in the present tense, the thrill of being the first New Zealander to appear in Weird Tales magazine, how the experiences of reading aloud The Hobbit and The Lord of the Rings differ, and much more.
(3) GHOST STORY. Step into the booth and hear Maya Kaathryn Bohnhoff's "Confessions of a Ghost Writer: When to Hold an Exorcism" at Book View Café.
I recently had to exorcise, er, fire a client. One I'd been working with for years. I have written three complete novels for this fellow, rewritten a fourth and outlined a fifth. The novel we were working on when we parted company was one we had been at for roughly six years from the time when he turned over a research binder, a long, detailed, Harvard-style outline, and a number of drafted chapters and scenes.

I freely admit that I allowed the situation to go on too long, but I really dislike quitting, and I have first hand evidence of the efficacy of the Golden Rule. I know that if you treat even contrarians with kindness and friendliness, you will end up with a good friend….
(4) BRONY DOCUMENTARY. Jenny Nicholson narrates The Last Bronycon: a fandom autopsy
(5) COSPLAYER GALLERY. A San Diego Union-Tribune photographer thought it would be a shame to let all that talent go to waste. "Comic-Con 2020: All dressed up and nowhere to go".
With this week's Comic-Con International moving online because of the coronavirus pandemic, there's a whole world of cosplayers with a lot of creativity to show off. Since they can't strut their stuff in the Gaslamp District, photographer K.C. Alfred asked them to suit up and show us their powers at various spots around San Diego County….
(6) COMIC CON ALTERNATIVE. John King Tarpinian tells me "We don't need no stinkin' San Diego" because this weekend they're still going to hold the Casper Comic Con. No, it's not for ghosts – yet, anyway. It's happening in Casper, Wyoming.
The 2020 Casper Comic Con will be held INSIDE of the Casper Events Center. Mask are highly recommended. 
Guest appearance by FLASH GORDON Sam J. Jones
(7) SIZEMORE OBIT. Paranormal romance author Susan Sizemore died July 20 at the age of 69. She wrote fan fiction set in the Star Trek universe. She later began writing original romance novels and when she was about 40, she won the 1991 Romance Writers of America Golden Heart Award, presented to a previously unpublished author. And soon after she sold her debut novel, a time-travel romance called Wings of the Storm. Later in her career, she was asked to write a media tie-in novel Forever Knight: A Stirring of Dust based on the television series. She created two original series about a vampire world, Laws of the Blood, and Primes. According to her friend Jody Lynn Nye, Sizemore was active in the Society for Creative Anachronism, where she was known as Sibeol the Sinister (she was left-handed). 
(8) MEDIA BIRTHDAY.
July 22, 1959 — Hercules Unchained premiered nation-wide. An Italian-French production, it was directed by  Pietro Francisci, and produced by Bruno Vailati. Screenplay was by Ennio De Concini and Pietro Francisci with the latter also writing the story. It is claimed that the story is based off of Oedipus at Colonus by Sophocles and Seven Against Thebes by Aeschylus. Primary cast was Steve Reeves, Sylva Koscina, Primo Carnera and Sylvia Lopez. Critics in general though it was better than the predecessor film Hercules and it was the third most popular movie at the British box office in 1960. Audience reviewers at Rotten Tomatoes really don't like it and give it a 20% rating.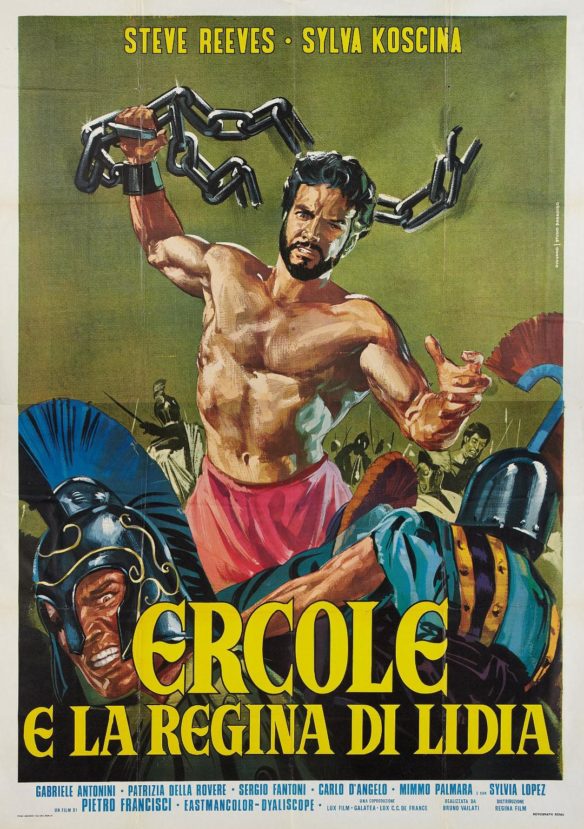 (9) TODAY'S BIRTHDAYS.
[Compiled by Cat Eldridge and John Hertz.]
Born July 22, 1881 – Margery Williams.  Wrote The Velveteen Rabbit.  Lovecraft's "On The Thing in the Woods by Harper Williams" is about one of her books: HW a pseudonym.  Another novel, twenty shorter stories, for us, often with James Bowman; many others.  Forward, Commandos! (1944) has a black soldier, rare in literature then.  Translations from French and from Norwegian (with Dagny Mortensen).  Newbery Honor.  (Died 1944) [JH]
Born July 22, 1889 — James Whale. He is best remembered for these Thirties horror films: Frankenstein, The Old Dark House, The Invisible Man and Bride of Frankenstein which are all considered classics. He also made during this period, The Man in the Iron Mask, which surely is genre adjacent. (Died 1957.) (CE)
Born July 22, 1898 – Stephen Vincent Benet.  "The Devil and Daniel Webster" leaps to mind.  Three dozen short stories, seven dozen poems, touching SF.  Guggenheim Fellowship.  Judged Yale's Young Poets Competition ten years.  Three O. Henry awards (don't minimize him either).  Member, Amer. Acad. Arts & Letters.  Fellow, Amer. Acad. Arts & Sciences.  Pulitzer Prize.  Look for him.  (Died 1943) [JH]
Born July 22, 1898 – Alexander Calder.  This edition of two Calvino stories has a Calder cover.  But AC's relation to us is higher, or deeper, or something.  His mobiles (he invented them) and stabiles show an extraordinary joining of reality and fantasy — and science.  Here is Two Moons.  Here is Homage to Jerusalem.  He worked flat, too; here is a lithograph Black Sun.  (Died 1976) [JH]
Born July 22, 1932 — Tom Robbins, 88. Author of such novels as Even Cowgirls Get the Blues and Another Roadside Attraction. ISFDB lists everything he's done as genre and who am I to argue with them? Now Jitterbug Perfume, that's genre! (CE)
Born July 22, 1936 — Angus Allan. British comic strip writer responsible for such strips asThe Six Million Dollar Man, Logan's Run and DangerMouse. As the in-house writer for the Anderson's TV Century 21, he provided the newspaper "news story" scripts for Fireball XL5, Stingray, Thunderbirds and Captain Scarlet and the Mysterons.  He also wrote the novelization of Thunderbirds Are Go. (Died 2007.) (CE)
Born July 22, 1939 — Dean McLaughlin, 81. His best-known work is "Hawk Among the Sparrows" which was short-listed for both a Hugo and Nebula Award for Best Novella. He's also written Dawn, a novel based off of Asimov's "Nightfall" novelette. He was won for Analog Awards for Best Novella or Novelette. (CE)
Born July 22, 1941 – Vaughn Bodé.  The equipment won't show his name as he wrote it; over the "e" shouldn't be an accent acute (which is what you see), but a macron (horizontal line), i.e. indicating a long vowel, not emphasis: it doesn't rhyme with "okay".  I never heard him say it; I spent years thinking it was like body, but maybe it's like Commando Cody.  Anyhow, he gave us Cheech Wizard – and lizards – and much else.  Here is a cover for Galaxy.  Here is one for Amazing (with Larry Todd).  (Died 1975) [JH]
Born July 22, 1944 — Nick Brimble, 76. His first genre role was in Lust for a Vampire as the First Villager. He next shows up in Roger Corman's Frankenstein Unbound as The Monster. He's Sir Ectot in A Knight's Tale which I really like be it genre adjacent or not. His lastest film genre role is as Dr. Zellaby in Soulmate, and he's the voice of Owsla in the Watership series. (CE)
Born July 22, 1959 – Greg Costikyan, 61.  Among us he published the New York Conspiracy's Hymnal.  Later, while staying with SF, he grew famous as a game designer and critic.  Many SF reviews in Ares.  Four novels (First Contract translated into French), sixteen shorter stories.  Five Origins awards.  Academy of Adventure Gaming Arts & Design Hall of Fame.  Much about his gaming in his Wikipedia entry.  [JH]
Born July 22, 1965 – Lee Ann Setzer, 55.  Editor (or if you prefer, editrix) for a while of The Leading Edge.  Short stories as Lee Ann Layton.  Children's books; Biblical-fiction novels Gathered about Ruth, Hidden about Esther.  Her husband said "I had to marry you.  You're the only one who truly understands about the US space program." While in Japan ate nattô (fermented soybeans), hurrah!  [JH]
Born July 22, 1972 — Colin Ferguson, 48. Best known for being Sheriff Jack Carter on Eureka. Damn I miss that series which amazingly won no Hugos. He's also been in Are You Afraid of the Dark, The Hunger, The X-Files, The Outer Limits, the Eureka "Hide and Seek" webisodes (anyone seen these?) and The Vampire Diaries. (CE)
(10) TWO PLEASE. In Episode 32 of Two Chairs Talking former Aussie Worldcon chairs Perry Middlemiss and David Grigg talk about movies and TV. Which one is the tougher audience?
After discussing the current state of COVID-19 restrictions, Perry pans the movie Ad Astra, but cheers The Mandalorian series on Disney+, and the Netflix movie The Old Guard. David waxes enthusiastic about the Amazon series Tales from the Loop, and the movie Yesterday.
(11) ELEMENTARY, MY DEAR SALESPERSON. Need a little heavy metal? "Rare and Exotic Elements To Collect Including Uranium for Sale at Luciteria Science!"
For the academic, scientist, collector, or hobbyist with an interest in the building blocks of the natural world, obtaining pure, representative samples of elements can be a challenge. Since our inception, we started off as an oddball but fun sideline as the Lucite furniture company which then became, Luciteria Science. Today, we serve the discerning collector with Lucite acrylic displays of the elements in their raw forms, functional calibration reference cubes, hand- and machine-polished mirror cubes, and much more!
(12) URBAN SPACEMAN. "Hazmat Suits for Air Travel Are Here" – Bloomberg has the story.
…Yezin Al-Qaysi says haute hazmats are just the thing to make flying feel safe again. In mid-April the co-founder of VYZR Technologies, a Toronto-based company specializing in personal protective gear, launched a new product called the BioVYZR via crowdfunding site Indiegogo. The $250, futuristic-looking outer layer resembles the top half of an astronaut's uniform, with anti-fogging "windows" and a built-in hospital-grade air-purifying device. Paranoid flyers were quick to scoop it up, pre-ordering about 50,000 suits and raising $400,000 for the nascent company. The first batch is set to be delivered by the end of July.
Andrew Porter points out that sff got there first! Photo from 1936 film Things to Come:
(13) BEST OF FIENDS. Io9 says "Marvel Villainous Is Perfect for Those Who Thought the Disney Version Was Too Nice".
If playing Disney Villainous is like being in the fifth grade, Marvel Villainous is the first day of middle school. It feels the same, but it's totally not. There are rules and norms you had no idea existed but are now the most important things in the world—and there's a chance the classmates you came along with may not be your friends by the end of it. But that kinda makes Ravensburger's board game a blast.

The latest board and card game release from Ravensburger (in a partnership with Prospero Hall) is a departure from the Disney Villainous series, which pitted different Disney villains against each other in a race to complete goals from their movies. This version ventures into the Marvel Universe to focus on the exploits of classic comic book baddies (they're technically not the MCU versions but they have very similar designs and goals, so they're pretty much the same thing).

The starting edition of this game, Marvel Villainous: Infinite Power, features five villains: Hela, Killmonger, Ultron, Thanos, and Taskmaster. 
(14) THIS IS THE CITY. Andrew Porter passed along links to two overviews of Los Angeles right after City Hall was built – terrain that will look familiar to those of you who have seen the Fifties monster movie THEM! (Or the original Dragnet series.)
(15) VIDEO OF THE DAY. In "Sharknado Pitch Meeting" on ScreenRant, Ryan George explains that all the "science" in Sharknado was "pier-reviewed" because "some drunk guy on the pier reviewed it."
[Thanks to Cat Eldridge, Mike Kennedy, JJ, John King Tarpinian, Martin Morse Wooster, Chip Hitchcock, Michael Toman, Andrew Porter, Daniel Dern, Jennifer Hawthorne, and John Hertz for some of these stories. Title credit goes to File 770 contributing editor of the day Patrick Morris Miller.]