(1) BLACK MALE HEROES MIA. The Wakanda Forever trailer debuted at Comic-Con. Steven Barnes offered this reaction on Facebook.
There are three different, easily observable facts that I cross reference for my comments on WAKANDA FOREVER:

1) At this point in the MCU (movies and Disney+) they killed the only fully functional black male hero. Leaving ZIPPO. In comparison, every white hero has had relationships and sexual chemistry with a woman.

2) No dramatic network hourlong series had ever lasted more than two seasons with a black lead (name coming first in the credits) until about 2006, THE UNIT.

3) No film that earned over 100 million domestic ever had a black male star in a love scene until 2015, CREED.

##

Yes, I connect these. Yes, I connect this with core human tribalism: there is nothing special, positively or negatively, about white people. But yes, they are the dominant group and therefore their money and decisions have disproportional impact.

And those white people, forced to admit I'm right about 2 or 3, tend to deny that any specific film was influenced by these factors. Unless they can, I conclude that they have a convenient blindness, and discount their opinions.

That's it, right there. Unless one can disprove one of these three, you have nothing.
Barnes followed up with this analogy:
Imagine if Gal Gadot had died right after making WW, and they decided not to recast, and made the sequel about Steve Trevor and his male friends. Precisely how happy do you think women would be about this?
(2) CLIP JOINT. Gizmodo says this is a list of "All The Trailers Released At Comic Con 2022". I probably don't need to fill the Scroll with even more trailers than I already have, however, if you're interested you can check for the ones I missed.
The 2022 San Diego Comic-Con was held in person last week for the first time since 2019, and exhibitors made up for the long time away with a huge number of new movie and TV show trailers. The big comic book movie news came when Marvel returned to Hall H and debuted trailers for Black Panther: Wakanda Forever and She Hulk: Attorney at Law; A Guardians of the Galaxy 3 and Ant-Man and the Wasp: Quantamania trailer were also shown, but only those at Hall H were able to see it. DC struck back with new trailers for Shazam! Fury of the Gods and Black Adam.

But of course, Comic Con has gotten a lot bigger than just comic books: By our current count, more than 35 trailers were released during the four day festival from studios including Universal, Paramount, Amazon, Fox and Disney….
(3) TANGLED UP IN BLUE. DreamHaven Books showed Facebook readers how much progress has been made on their new wall mural.
(4) THE VIEW FROM SPACE. In "There Is No Final Frontier" Publishers Weekly talks with William Shatner about his memoir Boldly Go: Reflections on a Life of Awe and Wonder coming in October.
You write that when you went to space, "there was no mystery, no majestic awe to behold… all I saw was death. I saw a cold, dark, black emptiness." How surprised were you by that?

I was struck dumb. I was absolutely gobsmacked because I've been amazed by the miracles of space for a long time. And I saw none of that in that blackness. All I saw was what I described in that quote. And it came as a shock because I had just been looking at Earth as we were leaving it, and I was thinking, my God, look how beautiful it is….
(5) US IN FLUX. Last month ASU's Center for Science and the Imagination launched the 2022 summer season of Us in Flux, a series of short fiction and virtual events about reimagining and reorganizing communities in the face of transformative change.
Today CSI published the second story in the series: "University, Speaking," by Phoebe Wagner, "a lyrical piece about how we might reimagine universities as radically open to their communities, better attuned to addressing local challenges."
On Thursday, July 28, at 12:00 p.m. Pacific, they will host a virtual conversation with Phoebe and Punya Mishra, director of Arizona State University's Learning Futures initiative, about the story and the task of redesigning educational institutions in the midst of crisis. Learn more and register here.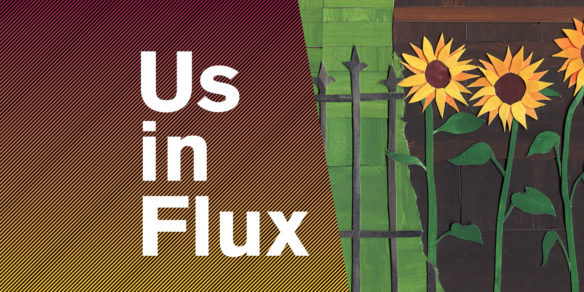 (6) DOES MOORCOCK NEED THE MEDAL? Christopher Neely has created a petition at Change.org calling for a "Michael Moorcock Nobel Prize IN Literature".
There's a kind, old English man that did everything the hard way and has given our culture iconic fiction, journalism, fantasy, and the foundation for a whole school of thought for both an entire branch of theoretical physics and one of the most successful entertainment franchises of the last two centuries.  And he's still alive. He coined the word Multiverse almost 60 years ago. His characters are Iconic to the point that these attributes of humanity, story arc, and plot have become tropes in several genres of the literary world. He did it first, from steampunk, to his influence on cyberpunk with JerryCornelius. His alternate history writings alone are worthy of required reading for every thinking adult. He is an international treasure that transcends time and genres.  His contributions to music, art, and literature can hardly be overstated. He may very well be the most prolific original creator who's works have ever been recorded. 
(7) A NAME TO CONJURE WITH. The Ringer explains how he's building his brand in "Jordan Peele Exists in a Space of His Own".
…Just three movies into his directing career and a mere five years since moving from one side of the camera to the other, Peele has become the rarest of Hollywood anomalies: a filmmaker whose byline alone puts asses in seats. The Nope trailer—and in fact the entire marketing campaign for the movie, including the first poster, an intriguingly cryptic tease in its own right—is built around the assumption that audiences will not only recognize Peele's name but be instantly enticed by it. His credit in big white letters is an invitation to step once more into the mind behind Get Out and Us—though, in a true testament to Peele's fame, neither of those movies is even mentioned in the trailer. "From Jordan Peele" is enough.

There are plenty of directors who qualify as household names, recognizable to the average moviegoer. But in contemporary Hollywood, how many of them are treated like the actual draw of a project, more crucial to its appeal than the stars, the IP, or the premise? Even Steven Spielberg, probably the most famous filmmaker alive, isn't assumed to be an attendance magnet….
(8) DAVID WARNER (1941-2022). Actor David Warner died July 24 at the age of 80. He performed many genre roles among his over 200 movie and TV appearances, including Time After Time, Tron, A Midsummer Night's Dream, Time Bandits, The Man With Two Brains, Star Trek V: The Final Frontier, Twin Peaks, Teenage Mutant Ninja Turtles II: The Secret of the Ooze, Star Trek VI: The Undiscovered Country, The Lost World, Star Trek: The Next Generation, Lois & Clark, Babylon 5, Pooh's Grand Adventure, Planet of the Apes, Doctor Who, and Mary Poppins Returns. He also was Ra's-Al-Ghul in three series.
(9) MATT KING OBIT. Meow Wolf Co-Founder and Senior Creative Director Matt King died two weeks ago according to the Santa Fe Reporter, which did not specify the date. He was 37 years old. The Meow Wolf "art collective" in Santa Fe got their start with a $3.5 million investment from George R.R. Martin, and many of their "immersive installations" are sf related.
…King was present at the first-ever Meow Wolf planning meeting in 2008 and throughout its earliest immersive installations and dance parties that took place in the shabby old warehouse on Hopewell Street, where the company began. At one point, Kadlubek reminisces, King worked three jobs to help keep the rent paid at a time when community donations were scant.

King was also pivotal in the 2016 opening of Meow Wolf's flagship Santa Fe location, House of Eternal Return, as well as Las Vegas, Nevada's Omega Mart and Denver's Convergence Station. At the latter, Kadlubek says, King's vision led to the much-ballyhooed Cathedral room, another room-sized piece dubbed Gremlin Symphony and other projects….
(10) MEDIA BIRTHDAY.
1972 – [By Cat Eldridge.] At the very first L.A. Con which was held fifty years ago at the International Hotel in Los Angeles with Charles Crayne and Bruce Pelz being Chairs, A Clockwork Orange wins the Hugo for Best Dramatic Presentation. I know Mike was there. I believe it was his first Con.
It was the overwhelming choice for that honor, garnering two hundred and eighty-five final ballots to the one hundred and forty-eight that the second-place finisher, Andromeda Strain, received.  
I recognized the entire ballot (which also included THX 1138, and I Think We're All Bozos on This Bus — serious drug vibes there, eh?) with exception of Name of the Game: Los Angeles: A.D. 2017. When I asked Mike about that one, he said, "You mean that you don't recognize it? Yeah, it was a TV show. I watched it (and as you know, in those days if you didn't see it when it aired, you didn't see it!) I suppose it was only nominated because it was sf and people ran out of better ideas to put on their ballots."
(11) TODAY'S BIRTHDAYS.
[Compiled by Cat Eldridge.]
Born July 25, 1907 — Cyril Luckham. He played the White Guardian first in the Fourth Doctor story, "The Ribos Opperation", part one, and then twice more in the two-part Fifth Doctor story, "Enlightenment".  He was also Dr. Moe in the Fifties pulp film Stranger from Venus, and also showed up in The Omega Factor, A Midsummer Night's Dream, Randall and Hopkirk (Deceased) and Tales of The Unexpected. (Died 1989.)
Born July 25, 1910 — Kendell Foster Crossen. He was the creator and writer of the Green Lama stories.  The character was a Buddhist crime fighter whose powers were activated upon the recitation of the Tibetan chant om mani padme hum. He also wrote Manning Draco series, an intergalactic insurance investigator, four of which can be found in Once Upon a Star: A Novel of the Future. The usual suspects have a really deep catalog of his genre work, and the Green Lama stories have been made into audio works as well. (Died 1981.)
Born July 25, 1921 — Kevin Stoney. He appeared in three serials of the science fiction series Doctor Who over a period of ten years, playing Mavic Chen in The Daleks' Master Plan during the time of the First Doctor, Tobias Vaughn in The Invasion during the time of the Second Doctor and Tyrum in Revenge of the Cybermen during the time of the Fourth Doctor. Other genre credits include: The Adventures of Robin Hood, Danger Man, The Avengers, The Prisoner, Doomwatch, The Tomorrow People, Space: 1999, The New Avengers, Quatermass, and Hammer House of Horror. (Died 2008.)
Born July 25, 1922 — Evelyn E. Smith. She has the delightful bio being of a writer of sf and mysteries, as well as a compiler of crossword puzzles. During the 1950s, she published both short stories and novelettes in Galaxy Science Fiction, Fantastic Universe and The Magazine of Fantasy & Science Fiction. Her SF novels include The Perfect Planet and The Copy Shop. A look at the usual suspects shows two story collections but none of her novels. Interestingly, there are myriad stories by her offered up separately for sale. (Died 2000.)
Born July 25, 1937 — Todd Armstrong. He's best known for playing Jason in Jason and the Argonauts. A film of course made excellent by special effects from Ray Harryhausen. His only other genre appearance was on The Greatest American Hero as Ted McSherry In "A Chicken in Every Plot". (Died 1992.)
Born July 25, 1948 — Brian Stableford, 74. I am reasonably sure that I read and enjoyed all of the Hooded Swan series a long time ago which I see has been since been collected as Swan Songs: The Complete Hooded Swan Collection. And I've certainly read a fair amount of his short fiction down the years. His latest novel, Beyond the Mountains of Madness, just came out.
Born July 25, 1971 — Chloë Annett, 51. She played Holly Turner in the Crime Traveller series and Kristine Kochanski in the Red Dwarf series. She was in the "Klingons vs. Vulcans" episode of the Space Cadets, a sort of game show. 
Born July 25, 1973 — Mur Lafferty, 49. Podcaster and writer. Co-editor of the Escape Pod podcast with Divya Breed. She is also the host and creator of the podcast I Should Be Writing which won a Parsec Award for Best Writing Podcast. She is also the Editor-in-Chief of the Escape Artists short fiction magazine Mothership Zeta. And then there's the Ditch Diggers podcast she started with Matt Wallace which is supposed to show the brutal, honest side of writing. For that, it won the Hugo Award for Best Fancast at Worldcon 76 (2018), having been a finalist the year before.  Fiction wise, I loved both The Shambling Guide to New York City and A Ghost Train to New Orleans with I think the second being a better novel. She has two nominations at Chicon 8, first for Best Semi Prozine as part of the Escape Pod team, second for Best Editor, Short Form with S.B. Divya. 
(12) ENJOY COMIC-CON'S SOUVENIR BOOK. Comic-Con International's 2022 Souvenir Book is available as a free download should you be so inclined.
This year's Souvenir Book is a downloadable pdf, filled with lots of full-color articles, including: centennial tributes to Charles Schulz, Stan Lee, Jerry Robinson, and William S. Gaines; a celebration of the 60th anniversary of Spider-Man; 50th anniversary articles on Funky Winkerbean, Ghost Rider, Kamandi, Swamp Thing, and Luke Cage; and 40th anniversary pieces on The Rocketeer, Groo, and Love and Rockets. Plus: a special look back at Comic-Con's 1970s El Cortez years!

The cover, a salute to Dave Stevens' Rocketeer, is by Comic-Con Special Guest Bill Morrison.
(13) FLIGHT PLAN. "Vibrators, Weed, Plants: What Can You Take on a Plane?" – the New York Times checked in with TSA.
Is my Harry Potter wand OK?

…Cremated human remains get a little more complicated, while cricket bats and cutting boards are best left in checked luggage. Musical instruments like violins are allowed after they undergo a T.S.A. screening, but for brass instruments, the suggestion is to check them. And if you're a Harry Potter fan, fear not — wands are allowed on flights.

Despite the T.S.A.'s rules, there's one item in particular that Ms. Farbstein said she still sees confiscated far too often: knives. "We see knives every day," she said.

As many as four tons of different kinds of knives and large tools get confiscated at Newark Liberty International Airport in an average year, according to Ms. Farbstein. The T.S.A. then sends them off in bulk to the State of Pennsylvania, she said, which sells them for profit at a surplus store in Harrisburg.

Travelers should remember that knives of all kinds are not allowed on flights, said Ms. Farbstein.
(14) THEY KNOW HOW TO TWANG THEIR MAGIC PLONKERS. CBR.com presents its list of the "10 Strongest Students At Hogwarts, Ranked".
Hogwarts School of Witchcraft and Wizardry is one of the most acclaimed educational establishments in Harry Potter. Like Beauxbatons Academy and Durmstrang Institute, it forges young pupils into formidable witches and wizards. Hogwarts alumni include some of the greatest magic-users of the 20th century — Albus Dumbledore, Minerva McGonagall, Severus Snape, and Lord Voldemort, to name a few.
Starting at the bottom:
10. Vincent Crabbe Learns To Cast The Devastating Fiendfyre Curse

Along with Gregory Goyle, Vincent Crabbe spends most of his time as Draco Malfoy's boneheaded minion. He fails his Fifth Year O.W.L. exams, indicating that he's exactly as intelligent as he sounds. Crabbe may not exhibit the stereotypical Slytherin shrewdness, but he's certainly capable of casting the darkest magic known to Wizardkind.

He learns a variety of jinxes and hexes from Alecto and Amycus Carrow, although it's still not clear how he knows the devastating Fiendfyre curse. The very fact that Crabbe uses Fiendfyre sets him apart from the rest of his cohort, regardless of what happens to him in the end.
(15) CANNED ENGINEER. "Google Fires Engineer Who Claims Its A.I. Is Conscious" reports the New York Times. The decision was a no-brainer.
Google fired one of its engineers, Blake Lemoine, on Friday, more than a month after he raised ethical concerns about how the company was testing an artificial intelligence chatbot that he believes has achieved consciousness.

A Google spokesman, Chris Pappas, said Mr. Lemoine, a senior software engineer in its Responsible A.I. organization, "chose to persistently violate clear employment and data security policies that include the need to safeguard product information."

The company, which denies that its chatbot language model is sentient, had placed Mr. Lemoine on paid leave in June. Mr. Lemoine confirmed his dismissal in a text message on Friday, and said he was meeting with lawyers to review his options. The firing was first reported by the newsletter Big Technology….
(16) A NOT ENTIRELY UNEXPECTED PARTY. [Item by Dann.] No idea about the veracity of the image but it did make me laugh. Found it on Facebook with all of the cautions that implies.
(17) SAY THE MAGIC WORD. Shazam! Fury Of The Gods opens in theaters internationally beginning December 15 and in North America on December 21.
From New Line Cinema comes "Shazam! Fury of the Gods," which continues the story of teenage Billy Batson who, upon reciting the magic word "SHAZAM!," is transformed into his adult Super Hero alter ego, Shazam.
(18) FLAME ON. [Item by Martin Morse Wooster.] Tom Scott goes to a 400-year-old dragon-slaying festival in a small German village where the dragon is the world's largest walking robot, built for 2.3 million euros. "A 400-year-old festival has the world's largest walking robot".
[Thanks to Andrew Porter, Chris Barkley, Michael Toman, Joey Eschrich, Dann, Cat Eldridge, Mike Kennedy, Martin Morse Wooster, JJ, and John King Tarpinian for some of these stories. Title credit belongs to File 770 contributing editor of the day Andrew (not Werdna).]