(1) David G. Hartwell posted his photo with the comment, "Signs of the cultural times: NYC subway cars entirely decorated in PKD."
(2) "Red, Reich and Blue: Building the World of 'The Man in the High Castle'", a New York Times article:
Early production art for the Times Square sequence included billboards for beer and sausages, but Mr. Spotnitz had them changed to signs promoting the value of work and duty. A scene in the home of a Nazi Party boss emblematically named Obergruppenführer John Smith (Rufus Sewell) was shot as if it were a vintage family sitcom, the son complaining over the breakfast table about a self-promoting Hitler Youth chum at school. His father patiently explains that his son will be a greater credit to his country, because selfishness is what ruined America before the war.

"If you squint and ignore the fact that the guy has a swastika on his arm," Mr. Spotnitz said, "it looks a lot like 'Father Knows Best.'"
(3) John King Tarpinian shot this photo at an exhibit of Michael C. Gross' work a few days before the artist died.
(4) WIRED's "Geek's Guide To The Galaxy" podcast  is talking about the new anthology of best American science fiction and fantasy with commentary by Joe Hill and John Joseph Adams. Also brief comments by Jess Row, Seanan McGuire, and Carmen Maria Machado.
The prestigious anthology series The Best American Short Stories tends to eschew science fiction and fantasy, except at the behest of unusually sympathetic guest editors like Michael Chabon or Stephen King.

But things are changing fast. The genre took a major step toward respectability this year with the release of the first-ever Best American Science Fiction and Fantasy, edited by John Joseph Adams. Adams feels the book is long overdue.

"The instruments of science fiction and fantasy—the tools in that genre toolbox—have been out there in the literary world and being explored for at least a decade now, in work by people like Jonathan Lethem, Michael Chabon, Margaret Atwood, and Cormac McCarthy," [John Joseph Adams] says. "Science fiction and fantasy is part of the literary mainstream, and has been for a while now."

Adams hopes The Best American Science Fiction and Fantasy will prove that readers don't have to choose between wild concepts and literary quality. Good sci-fi and fantasy deliver both, which is what makes them so hard to write.

"You have to create the compelling characters and have the beautiful prose and everything, but a science fiction story has to do all that and also build an entire world for you, or come up with some mind-blowing idea on top of all that," he says.
(5) David Gerrold on Facebook:
I was reading an article about "the battle for the soul of science fiction" and I had to laugh.

Science fiction has no soul. We sold it a long time ago. About the time we started worrying about shelf space in the bookstores, share-cropping in other people's universes, writing for franchises because they were guaranteed NY-times bestsellers, and campaigning for awards like a high-school popularity contest. Not to mention all those who talked about breaking out of the "ghetto" so they could have mainstream credibility.

If science fiction still has anything resembling a soul — it's not going to be found in arguments about the soul of science fiction.

As I have said elsewhere, there is no single definition for science fiction. Every author who sits down at the keyboard defines it for himself or herself. Every author is his/her own definition of SF — and the genre continues to reinvent itself with every new author who arrives on the scene.

The idea that there is a specific definition for SF … well, we've been having that argument since Jules Verne and H.G. Wells got into a bitch fight at the 1902 Philcon. Okay, I exaggerate. Neither one of them were there. But they did hate each other because Verne's view of science was optimistic and Wells' view was dystopic — he didn't think the human species was ready for high tech. He might have been right, but we're here anyway….
(6) Winter is coming – on Titan
Gigantic Ice Cloud Spotted on Saturn Moon Titan (Photos) https://t.co/6SUVWomx7u

— SPACE.com (@SPACEdotcom) November 19, 2015
(7) Steve Davidson of Amazing Stories calls it "Kim Stanley Robinson's Mistake".
Kim Stanley Robinson published a major buzzkill on BoingBoing this week, essentially declaring that all of us science fiction nerds ought to give up on our dreams of visiting other stars (colonizing the galaxy…galactic empire…space marines…space pirates…discoveries of long dead highly advanced alien civilizations…discoveries of technological alien civilizations that want to be our friends…or eat us…incomprehensible artifacts…intriguingly bizarre ecosystems…) and instead focus our attentions on Earth and solar system centric futures.

There's been a fair amount of pushback on this (we do love our space pirates after all), with the primary arguments being that –

KSR is being too pessimistic

KSR is making the cliched mistake of assuming that future technological growth won't include unforseen breakthrus

KSR is not projecting far enough into the future

Those may all be true, but I have one other "mistake" to add to his thoughtful but bitter article:

KSR is making the mistake of trying to predict what will NOT happen in the future, as opposed to trying to predict what WILL happen in the future.
(8) Billy Dee Williams tells Parade that his Star Wars role keeps him in the spotlight – but it's not always easy!
Fans have always wanted to talk about who Lando is and why he did what he did. Back when my daughter was in elementary school, I would go pick her up—this was right after The Empire Strikes Back came out—and I'd find myself in the middle of the schoolyard justifying Lando's actions to a bunch of little kids. They're all yelling at me saying I betrayed Han Solo. (By the way, I never auditioned for the Han Solo part and I've never not gotten along with Harrison Ford, who is a dear friend. Those rumors are completely false.)

Over the years, I'd be on airplanes and a flight attendant would accuse me of betraying Han Solo. I would just say, "Look, I—er, Lando—was just trying to prevent everyone's complete demise and had to come up with a plan. Lando ended up losing and he had a lot to lose."  Then I'd say, "Well, nobody died."  That's how I'd finalize it.
(9) Well, my eyes sure weren't dry after watching this ad…
(10) Diana Pavlac Glyer is now in the author database at Worlds Without End, as is her forthcoming book about the Inklings, Bandersnatch, which you should unhesitatingly rush out and order.
(11) "Gal Gadot is adding to her fans' building anticipation for the 2017 release of Warner Bros.' superhero movie Wonder Woman," says The Hollywood Reporter.
Almost 75 years in the making… #WonderWoman is underway. pic.twitter.com/jCa0qRzuW8

— Gal Gadot (@GalGadot) November 21, 2015
(12) Peter Finocchiaro, in an article about the Lovecraft controversy for Salon, volunteers an answer for the question "of what to do with rejected or discarded 'Howard' trophies:"
Send them to Providence, Rhode Island. Providence – founded in 1636; 2010 population: 178,038 – was Lovecraft's hometown, and it's where I'm currently teaching a semester-long class on the author at the Rhode Island School of Design. And no object better embodies the complexity of his legacy than these now-outdated trophies. They are the perfect teaching tool.

After all, Providence plays a major role in the Lovecraft story. It's where he spent all but a couple years of his life. It's a playground for the slithering, malevolent creatures he imagined. (See "The Shunned House" and "The Haunter of the Dark.") And it's a place that he loved with such fervency that he once declared in a letter "I Am Providence" – a quote now etched on his tombstone, in the city's Swan Point Cemetery.

Lovecraft's racial views are not irrelevant to his civic pride. In one letter, he wrote "New England is by far the best place for a white man to live." In another, he added, "America has lost New York to the mongrels, but the sun shines just as brightly over Providence."

For decades after his death, Lovecraft's hometown love was mostly unrequited. But recent years have brought a long-delayed love-fest. Drive through Providence today and you'll see "H.P. Lovecraft Memorial Square," two plaques in his honor, and a Lovecraft bust in the city's famed Athenaeum library. The city has Lovecraft-themed read-a-thons, walking tours, research fellowships, apps, writing contests, and bars that serve Lovecraft-inspired drinks like the "Bittersweet Tears of Cthulhu" and "Lovecraft's Lament."
(13) We have met the aliens, and they is us. Certainly some of the time.
There are a few known cosmic objects capable of producing bursts of radio waves. For instance, dense remnant stars called pulsars produce them, just not with such regularity or with as much power as observed in FRBs. Still, perhaps there are some undiscovered superdense stars that operate according to an underlying physics we don't yet understand, which are spitting these radio waves across the cosmos. That's one possible natural explanation, though mere conjecture at this point.

Some other scientists have theorized that FRBs could come from what is known as a "contact" binary star system, two stars orbiting each other at an extremely close distance.

It's also possible that the signals are coming from something human. Perhaps an unmapped spy satellite is hovering about, appearing to send signals from deep space.

Human sources can be difficult to rule out. For instance, back in 2010 the Parkes Observatory picked up 16 pulses with similar characteristics to FRBs that turned out to be signals generated from microwave ovens operated at the Parkes facility. Though these signals were clearly of terrestrial origin, unlike FRBs, it goes to show that there may well be a simpler, human explanation for FRBs that has yet to be identified.
(14) "Reason enough to buy a Harley," John King Tarpinian says about these Star Wars –themed motorcycle helmets described by BoldRide's Jonathon Klein.
Currently, a host of DOT-approved and other motorcycle helmets are being sold on eBay for all your cosplaying and motorcycling needs. You have everything from an almost perfect Darth Vader helmet to the all-new First Order Storm Trooper.
(15) Robert Altbauer, Fantasy Cartographer, has a series called "The Crusades and Lovecraft's Monsters".
This is a series of illustrations that imitates the style of old medieval paintings and adds a macabre flavour by incorporating some of H.P. Lovecraft's famous monsters. The text is mostly medieval Middle High German.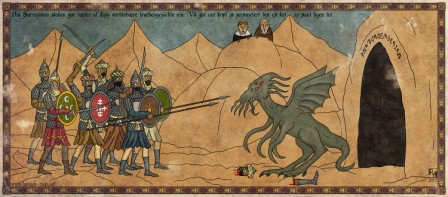 (16) Phil Nichols of the Center for Ray Bradbury Studies noted on Facebook:
R Is For Rocket (Doubleday hardcover, 1962) was a compilation of previously-collected Bradbury short stories put together for a young adult audience.

The cover art by Joe Mugnaini relates to the story "Icarus Montgolfier Wright." If you look at the body of the spaceship, you will see the Montgolfier's balloon, the Wright brothers' plane, and a winged Icarus.

Curiously, "Icarus Montgolfier Wright" isn't included in the book!
(17) Ray Bradbury wrote in Fahrenheit 451:
If you don't want a man unhappy politically, don't give him two sides to a question to worry him; give him one. Better yet, give him none. Let him forget there is such a thing as war. If the government is inefficient, top-heavy, and tax-mad, better it be all those than that people worry over it. Peace, Montag. Give the people contests they win by remembering the words to more popular songs or the names of state capitals or how much corn Iowa grew last year. Cram them full of noncombustible data, chock them so damned full of 'facts' they feel stuffed, but absolutely 'brilliant' with information. Then they'll feel they're thinking, they'll get a sense of motion without moving. And they'll be happy, because facts of that sort don't change.
(18) Uh-oh! [SPOILER WARNING!] This is the week they bumped her off!
Why Does Clara Face The Raven?

Peter Capaldi and Steven Moffat talk about that big moment in the latest episode.
[Thanks to John King Tarpinian, and Andrew Porter for some of these stories. Title credit goes to File 770 contributing editor of the day Josh Jasper. ]