(1) "BIGOLAS DICKOLAS WOLFWOOD ENERGY"? [Item by Soon Lee.] Four years after release, This Is How You Lose the Time War by Amal El-Mohtar and Max Gladstone rocketed up to number 6 in the Amazon overall book rankings (it's number one in a number of categories). And it is all thanks to a recommendation tweet from an account named "Bigolas Dickolas", a fan account for the "Trigun" anime. Amal El-Mohtar tweeted a link.
This Is How You Lose the Time War is a Hugo, Nebula, and BSFA winner so it's not like it wasn't critically acclaimed. I loved it. But for a book to climb into the Amazon Top 10 four years after release is not something that happens. Let alone it happening because an anime fan account tweeted about it. Stunned and delighted reactions all round.
My TL;DR
Bigolas Dickolas has done for "This is How You Lose the Time War" what "Stranger Things" did for "Running Up That Hill".
Several more write-ups here:
DongWon Song (Amal El-Mohtar's agent) commented:
(2) THIS IS THE WINTER OF OUR DISCONTENT MODERATION. Charlie Jane Anders' Happy Dancing newsletter offers "Some (Probably) Worthless Thoughts About Content Moderation". Spoiler: They are far from worthless.
… Twitter has long had a feature where you can choose to see notifications only from people you follow, which is great in theory. If you have that box checked on Twitter, you'll only see replies and quote-tweets from the people you've decided to trust — but in practice, if your tweet gets a ton of hostile replies and quote-tweets, you will absolutely know about it. It'll show up if you look at the permalink for your actual tweet, but also your trusted followers will inevitably start arguing with the folks you don't follow. Plus, it requires a lot of willpower to avoid looking at a swarm of replies or quote-tweets when you know they're there.

Plus as I've said above, even if you decide you don't want to see hate group posts, you'll still find out about it if they target you. It's impossible to ignore at a certain point.

Here's a good place to mention that I'm enjoying Bluesky a lot so far — a ton of Black Twitter folks who were turned off by Mastodon's well-documented racism problem are hanging out there, along with many other folks I enjoyed chatting with on Twitter. But I'm also very aware that I'm enjoying it, in part, because it's still a small community and we're at the start, rather than the end, of the "enshittification" process*….
(3) AI IS MY COPILOT. [Item by Anne Marble.] If you see people getting upset with publishers asking for AI submissions, here is one example. In a Special Submissions Call, Space and Time Magazine is asking authors to collaborate with AI for a unique issue. This submissions call did not go over well…
Here are the first two of many tweeted responses:
(4) GREMLINS PREQUEL ARRIVES. Animation World Network has the story: "Max Shares 'Gremlins: Secrets of The Mogwai' Official Trailer".
Max (formerly HBO Max) has dropped an official trailer and poster for Gremlins: Secrets of the Mogwai, the highly anticipated 3DCG animated prequel series to the iconic Gremlins film franchise. The show debuts May 23, followed by two new episodes released weekly on Thursdays.

The new series takes viewers back to 1920s Shanghai, where the Wing family first meets the young Mogwai called Gizmo. Sam Wing (future shop owner Mr. Wing in the 1984 Gremlins film) accepts the dangerous task of taking Gizmo home and embarks on a journey through the Chinese countryside. Sam and Gizmo are joined by a teenage street thief named Elle, and together, they encounter—and sometimes battle—colorful monsters and spirits from Chinese folklore. Along their quest, they are pursued by a power-hungry industrialist and his growing army of evil Gremlins….
Gremlins: Secrets of the Mogwai, from executive producers Steven Spielberg and Tze Chun premieres May 23 on Max.
(5) J.M. COSTER MEMOIR. "Your Tongue Remembers" is introduced by Sarah Gailey as "Jen Coster's reflections on language, food, and what it means to be loved."
…During my childhood, my parents were learning English while I was forgetting the little bit of Chinese that I knew. We spoke to each other in fits and starts, each of us hurt (in the exact same but also completely different ways) by the lack of understanding. With my grandmother, I barely spoke at all. She didn't know English, and I was eventually too ashamed of my broken Chinese to try.

And yet, China was my first home, and Chinese was my first language. At some point in my early life, it was all I knew. Even though I don't remember what it was like to have those musical words fall from my mouth at the speed of thought, there are certain shapes my mouth still knows how to make, certain tones my ears still know how to hear—things my mind and body have held on to as a record of my past.

The words that my tongue remembers, though it's clumsy in the shaping of them, are mostly related to food.

It always comes back to food.

I don't know what it's like to have to make concessions related to cultural identity, for success to require the rejection of things that make up the fabric of you, for victory to feel like surrender. But I do know what it feels like to grieve the loss of something I never really had in the first place….
(6) EKPEKI TAKES ON IAFA ROLE. International Association for the Fantastic in the Arts (IAFA) announced on Facebook they have appointed Oghenechovwe Donald Ekpeki as their Virtual Conference Coordinator.
(7) CSSF WORKSHOP OPPORTUNITY. Applications are being taken for the online CSSF Speculative Fiction Writing Workshop.
This intensive, 2-week creative writing course will be taught online by RB Lemberg, author of the acclaimed novellas The Four Profound Weaves (2020) and The Unbalancing (2022) and finalist for the prestigious Nebula Award for best science fiction or fantasy published in the United States.

Lemberg will bring their expertise in writing and publishing speculative fiction—an umbrella category that includes science fiction, horror, fantasy narratives, magical realism, and the like—to instruct students in the creation and polishing of their own imaginative work. Students will read an assortment of SFF short stories for discussions of craft and stylistic choices, and participate in writing exercises and peer review workshops. Each class member should come prepared with at least one short story they are prepared to share and revise.
June 12 – June 23, 2023 (Monday – Friday)

4:30 – 7:30 pm (Central US/Canada), with synchronous and asynchronous elements.

Cost and Enrollment:

NON-CREDIT-SEEKING STUDENTS: $500 for 2-wk session – Register here

CREDIT-SEEKING KU STUDENTS: Enroll via https://classes.ku.edu/ – ENGL 757 (Summer 2023)

Small scholarships available – 1st come, 1st served. Email us with your name, contact information, institution (if applicable), connection to the Gunn Center (if any).
(8) 2024 STURGEON SYMPOSIUM DESIGN CONTEST. If you have an inspiration for next year's Sturgeon Symposium t-shirt design it could be worth $250 to you.
The J. Wayne & Elsie M. Gunn Center for the Study of Science Fiction (CSSF) is dedicated to research and education in science fiction and other speculative forms, such as fantasy, horror, Afrofuturism, fanfiction, and neo-Gothic narratives. We believe that through our encounters with different worlds, we come to know the one we all share; we also become better equipped to create new possibilities within it. Our ongoing mission is to foster a global community of students, scholars, artists, educators, and enthusiasts who are interested in exploring the limitless potential of the human imagination, whether that be to question, to play, or to dream about the future.

The Theodore Sturgeon Memorial Award, offered annually for the best published science fiction short story of the previous year, will be presented at the Sturgeon Symposium, where scholars, artists, educators, students, and enthusiasts come together to discuss and learn about new work in the field. The winning design will be featured on T-shirts sold to generate funds for the 2024 symposium and on flyers used to promote the event. Help us showcase the limitless potential of the human imagination!

The 2024 Sturgeon Symposium will be honoring the foundational work of Samuel R. Delaney to the field and study of Science Fiction. Inspired by his 1984 science fiction novel, Stars in My Pocket Like Grains of Sand, the theme of this year Design contest is "Stars in Our Pockets."

To Enter:
Submit your original design(s) by 11:59 pm on 18 August 2023 to [email protected]. Include name, email address, and phone number with entry.
File(s) should be submitted as a .pdf, .jpb, .png, .ai, or .eps with dimensions of 1500px by 1500px.
Designs should be front of t-shirt only and can include up to 4 colors.
Transparent artwork preferred. Avoid gradients.
Judges will consider:
how well each design celebrates the concepts of science fiction and/or the speculative
how well each design represents KU's Gunn Center for the Study of SF
how well each design builds energy for the 2024 Sturgeon Symposium
By entering the contest, you agree and acknowledge that:
You have read, understood, and will abide by the contest rules, terms, and conditions.
If your design is selected as the winning entry, you grant the Center for the Study of Science Fiction a non-exclusive license to reproduce, distribute, display, and create derivative works of your submitted design (the "Work") on promotional materials and marketing materials such as t-shirts, posters, brochures, and digital media.
You warrant that you are the original creator of the Work and that it does not infringe upon the rights of any third parties, including, but not limited to, copyright, trademark, and rights of publicity or privacy.
Winner will be announced at the Sturgeon Award ceremony, Date and Time TBD Questions? Contact The Gunn Center for the Study of SF – [email protected] https://sfcenter.ku.edu/
This is last year's winning design: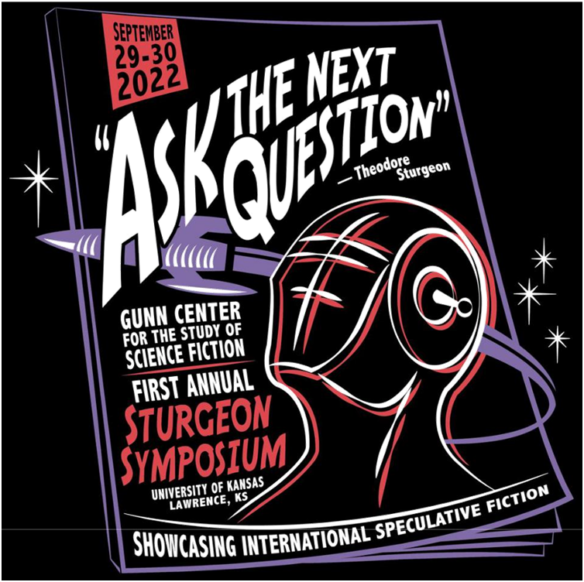 (9) MEMORY LANE.
2019 – [Compiled by Cat Eldridge.]
Sarah Pinsker's A Song for a New Day was her Nebula-winning debut novel. It was also nominated for a Compton Crook Award. Those folk in Baltimore have stellar taste in SF novels, don't they?
It is a wonderful read (no spoilers there) and I surprised to learn that she wrote but one more novel to date. I've read this novel but haven't read We Are Satellites, so am very interested in what y'all think of it.
A Song for a New Day was published by Berkley Books.
And here is her splendid Beginning. Warning: fatal violence involving Muppets occurs here. It really does.
172 Ways
There were, to my knowledge, one hundred and seventy-two ways to wreck a hotel room. We had brainstormed them all in the van over the last eight months on the road. As a game, I'd thought: 61, turn all the furniture upside down; 83, release a pack of feral cats; 92, fill all the drawers with beer, or, 93, marbles; 114, line the floor with soapy plastic and turn it into a slip 'n' slide; etc., etc.
In my absence, my band had come up with the one hundred and seventy-third, and had for the first time added in a test run. I was not proud.
What would Gemma do if she were here? I stepped all the way into their room instead of gawking from the hallway and closed the door before any hotel employees could walk past, pressing the button to illuminate the DO NOT DISTURB sign for good measure. "Dammit, guys. This is a nice hotel. What the hell did you do?"
"We found some paint." Hewitt's breath smelled like a distillery's dumpster. He lingered beside me in the vestibule."
"You're a master of understatement."
All their bags and instruments were crammed into the closet by the entrance. The room itself was painted a garish neon pink, which it definitely hadn't been when I'd left that morning. Not only the walls, either: the headboards, the nightstand, the dresser. The spatter on the carpet suggested somebody had knifed a Muppet and let it crawl away to die. For all the paint, Hewitt's breath was still the overwhelming odor.
"Even the TV?" I asked. "Really?"
The television, frame and screen. Cable news blared behind a drippy film of pink, discussing the new highway only for self-driving cars. We'd be avoiding that one.
JD lounged on the far bed, holding a glass of something caramel colored. His shoes were pink. The bedspread, the site of another Muppet Murder.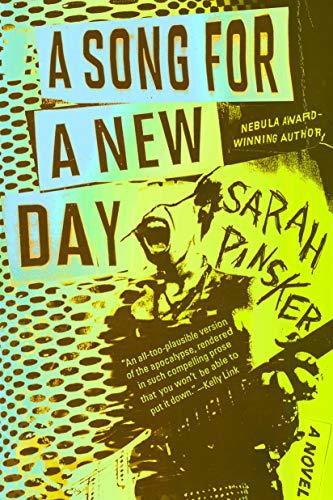 (10) TODAY'S BIRTHDAYS.
[Compiled by Cat Eldridge.]
Born May 10, 1863 — Cornelius Shea. As SFE puts it, "author for the silent screen and author of dime novels (see Dime-Novel SF), prolific in many categories but best remembered for marvel stories using a fairly consistent 'mythology' of dwarfs, subterranean eruptions, and stage illusion masquerading as supernatural magic." To my surprise, only two of his novels are in the Internet Archive. (Died 1920.)
Born May 10, 1886 — Olaf Stapledon. Original and almost unimaginable, Last and First Men, his first novel (!) written in 1930 extends over two billion years. Who could follow that? He did, with Star Maker, over 100 billion years. Their range, imagination, and grandeur may still be unequaled. He was, however – or to his credit – depending on how you see things – an avowed atheist. Odd John, about a spiritual-intellectual superman, may be tragic, or heroic, or both. Darkness and the Light was nominated for a Retro-Hugo At WorldCon 76 as was Sirius: A Fantasy of Love and Discord at CoNZealand. He was the first recipient of the Cordwainer Smith Rediscovery Award in 2001 and voted into the Science Fiction Hall of Fame in 2014. (Died 1950.)
Born May 10, 1891 — Earl Askam. He played Officer Torch, the captain of Ming the Merciless's guards, in the 1936 Flash Gordon serial. It's his only genre appearance though he did have an uncredited role in a Perry Mason film where the SJW credential was the defendant in a Perry Mason murder case, The Case of Black Cat. I haven't seen the film but it's got cool poster. (Died 1940.)
Born May 10, 1899 — Fred Astaire. Yes, that actor. He showed up on the original Battlestar Galactica as Chameleon / Captain Dimitri In "The Man with Nine Lives" episode. Stunt casting I assume. He had only two other genre roles as near as I can tell which were voicing The Wasp in the English-language adaptation of the Japanese Wasp anime series, and being in a film called Ghost Story. They came nearly twenty years apart and were the last acting roles that he did. (Died 1987.)
Born May 10, 1963 — Rich Moore, 60. He directed Wreck-It Ralph and co-directed Zootopia and Ralph Breaks the Internet; he has worked on Futurama. Might be stretching the definition of genre (or possibly not), but he did the animation for "Spy vs. Spy" for MADtv. You can see the first one here.
Born May 10, 1969 — John Scalzi, 54. Bane of Puppies everywhere. Really he is — successful, white and writing SF very much that is in the mode of writers like Heinlein. How dare he? And yes, I've enjoyed everything I've ever read by him. What would I recommend if you hadn't read him? The Old Man's War series certainly is fantastic, with Zoe's Tale bringing tears to my eyes. The Interdependency series is excellent as well. I really have mixed feelings about Redshirts in that it's too jokey for my taste. I will note that his blog is one of a very few which I read every post of.
(11) COMIC SECTION.
(12) KAIJU AND OTHERS. The birthday boy and Michi Trota featured today in episode 142 of the AMW Author Talks podcast: "John Scalzi & Michi Trota".
Acclaimed science fiction author John Scalzi discusses his recent book The Kaiju Preservation Society and the science fiction genre with fellow award-winning science fiction writer Michi Trota.

This conversation originally took place May 15, 2022 and was recorded live at the American Writers Festival.
(13) APPLY FOR LEONARDO. Applications are being taken for the "Leonardo Imagination Fellowship", hosted by Arizona State University, through June 2.
Leonardo and the Center for Science and the Imagination are proud to announce our second Imagination Fellowship, starting in August 2023. In this virtual, global program, fellows will develop experimental media projects exploring diverse aspects of Planetary Health Futures, including but not limited to issues of climate, human well-being, interspecies relationships, democracy, emerging social structures, and safeguarding the Earth's habitability for humans and other life forms. Applications are due on June 2, 2023 at 11:59pm MST.

Fellows will reflect on how their projects support, align with and add new complexity and nuance to the United Nations Sustainable Development Goals (SDGs). They should also substantively engage with the notion of experimental media, charting new territory in areas like expanded reality, immersive storytelling, worldbuilding, and more. Projects should embrace global perspectives and invite global participation, and demonstrate commitment to justice and equity.
Each fellow will produce a discrete media artifact, and will be supported in collaborative, cross-disciplinary experimentation with practice and process throughout the fellowship period. Examples of outputs or deliverables include, but are not limited to experimental publishing projects, from books and novellas to zines and networked texts; expanded reality projects, from virtual and augmented reality to mixed reality; games and interactive experiences; films and video installations; sonic environments and acoustic experiences.

We invite fellowship applications focusing on a range of themes. Each fellow will connect their work with one of the following themes at Leonardo-ASU or the Center for Science and the Imagination. In the first phase of their fellowship the fellows will identify a specific existing CSI or Leonardo project to focus on, building on its networks, communities, and creative outputs. Some exemplar projects are listed for each theme below.
ACCESS
PLANETARY FUTURES
LEARNING FUTURES BRAIN/MIND/CONSCIOUSNESS
*While several of these existing projects are rooted in Arizona, we welcome global connections, extensions, and expansions in fellowship projects that connect to these regional efforts.
Fellowship Details
The Imagination Fellowship Program will offer up to 3 virtual fellowships, beginning in August 2023, and running through April 2024.
Fellows will receive $6,000 per fellow for the period of 9 months. There is no separate production budget. Fellows are free to use their stipend to support production needs.
Applications are due Friday, June 2, by 11:59 pm Arizona time (UTC-7).
For further questions, please reach out to [email protected].
(14) VIDEO OF THE DAY. When my daughter was very young we used to watch The Wiggles. So it didn't take much to rouse my curiosity about Defunctland's YouTube video, "The Awful Wiggles Dark Ride".
In Defunctland, Kevin and company return with stories of defunct rides, parks, and themed entertainment experiences. Whether it's Disney, Universal, Six Flags, or a hastily built World's Fair, Defunctland looks at the stories behind their incredible failures.
[Thanks to Cat Eldridge, Mike Kennedy, Andrew Porter, Soon Lee, Anne Marble, Kathy Sullivan, John King Tarpinian, Chris Barkley, and Michael Toman for some of these stories. Title credit belongs to File 770 contributing editor of the day Kip Williams.]