(1) CULTIVATING HYBRIDS. Paul Kraus' article on "Hybrid Conventions" begins with a statement of philosophy wrapped in the definitions of major terms. Then Kraus lists what's needed to make a hybrid convention successful.
When the COVID-19 Pandemic hit, all of the Sci-Fi conventions I volunteer with had to cancel or switch to an online format. Since the Pandemic has stabilized, it is not over, we have just learned more or less how to live with it, conventions have gone back to in-person events. But, we realized that there is a demand for online Sci-Fi convention activities. There are people who cannot attend in-person for a variety of very good reasons, from health and age related to cost and time. There is a market for online Sci-Fi convention activities.

A couple notes on terminology before I go on. Many people refer to these online activities as 'virtual', as in 'virtual convention', 'virtual panel', 'virtual attendees'. I realized this is disrespectful to those involved. The people are not 'virtual', so they are not 'virtual attendees', they are real people who are online or remote attendees. I avoid the use of the term 'virtual' for this reason.

The other term I want to define is 'hybrid'. I have heard that term used to describe a whole variety of things related to in-person and online activities. In my view a true 'hybrid activity', be it a convention, panel discussion, reading, or anything else is an activity with both an in-person component and an online component where the goal is for the experience to be as similar as possible between the in-person and online activity. So a 'hybrid panel discussion' would support both in-person panelists as well as online panelists on an equal footing, the audience would also consist of both in-person and online people on an equal footing. Hybrid is not running a couple online tracks of programming at the same time as an in-person convention. Hybrid is not streaming a couple tracks of programming (or events) from an in-person convention. Hybrid is about creating, to the best of our ability, the same experience for people whether they are in-person or online.

You will notice that I use the term 'activity' in many places below where you might think I should be using 'convention'. I do this on purpose as a convention may be in-person but still have aspects or activities that are hybrid.

Should All Conventions Be Hybrid?

The answer to this an an unequivocal no! There are many different factors that should determine whether a convention should attempt to be hybrid. Beyond the obvious factors of staffing (hybrid does require more staff with different skill sets) there are factors such as cost (can the convention get good enough Internet at their hotel / facility at a cost they can afford) and impact on in-person attendance (will an online offering draw from the in-person attendance and the convention risks missing a hotel block commitment). Each convention is unique and needs to examine their individual situation to decide if they can successfully be hybrid. Some may think they can, and try for a year or two, only to decide they cannot. Others my know themselves well enough to know they cannot do a good job with a hybrid convention. Others may decide to not hold a hybrid activity but to hold, at different times, both an in-person activity as well as an online activity. I expect that a small percentage of SciFi conventions will be able to successful transition to being a hybrid convention. This is OK. Every convention needs to do what they can do well, without overtaxing staff….
(2) KGB PHOTOS. Ellen Datlow has posted her photos from the July 12 Fantastic Fiction at KGB Reading Series where Farah Rose Smith and Michael Cisco were the guests.
(3) SHORE THING. "Mystery object: Australian police warn public away from huge cylinder found washed up on WA beach". The Guardian has educated guesses about what it is.
A giant metal cylinder has washed up on a beach in Western Australia, baffling locals and posing a mystery to police.

The huge copper-coloured cylinder was reported to police by local residents on Sunday, having washed up on a beach near Jurien Bay sometime earlier.

The cylinder looks to be substantially damaged and was found leaning on its side….

…Dr Alice Gorman, an expert in the field of space archaeology, said she believes the object is a fuel cylinder that came from the the third stage of India's polar satellite launch vehicle rocket, as many have suggested on social media.

"It's surprising because it's such a large fragment," she said. "And it makes you wonder what was going on at the time, if maybe a marine weather event dislodged it and brought it ashore….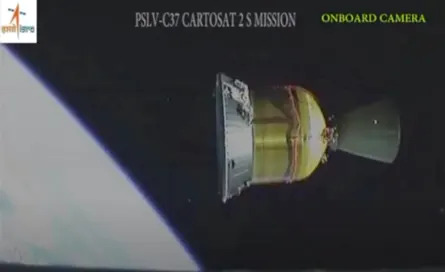 (4) NERDS IN TRANSLATION. 2023 Best Fanzine finalist Nerds of a Feather has launched a GoFundMe appeal to pay for translating their Hugo Voter Packet selections into Chinese, understandably titled "Help translate Nerds of a Feather into Chinese!" (It's already online, in English, here.) Co-editor Joe Sherry says:
We're hoping to be able translate as much of our voter's packet into Chinese but apparently hiring a translator costs money (and time) and we've got a short novel worth of content in our voter's packet.

Every dollar raised goes to translation with the goal of having the packet done by the beginning of September. We have a translator lined up to start early August. If for some reason we raise more than we need, we'll donate the extra to charity.
(5) MAUREEN KINCAID SPELLER COLLECTION. A Traveller in Time: The Critical Practice of Maureen Kincaid Speller edited by Nina Allan will be released by Luna Press Publishing on September 12 and is available for preorder. The cover is by Iain Clark.
MAUREEN KINCAID SPELLER [1959-2022] was a reviewer, critic and lifelong science fiction fan. Active in SF fandom from the early 1980s, Maureen started reviewing for the BSFA magazine Vector in 1986. She served on the jury of the Arthur C. Clarke Award, chaired the Tiptree Award and taught the SF Foundation Critical Masterclass in 2016. Her criticism has appeared in a wide variety of venues, and her extended critical analysis of the 2012 BSFA and Clarke Awards was shortlisted for the BSFA Award for Best Related Work.
In 1999 she was nominated for a Hugo in the Best Fan Writer category. Her passionate advocacy of new critical voices saw her appointed Senior Reviews Editor of the groundbreaking speculative fiction magazine Strange Horizons in 2015.

Editor Nina Allan says, "When Maureen fell ill in the spring of 2022, my first reaction, like that of many, was one of profound shock. Her untimely death has robbed us all, not only of her presence, but of the work she was yet to do. Maureen had long spoken of her desire to put together a collection of her criticism, and the original intention for this volume was that she would personally be involved in the selection and curation of her favourite pieces. Time was sadly against us, but the desire to preserve Maureen's work, to have it readily available to audiences old and new, has never felt more urgent. A Traveller in Time is by no means a complete collection – there is lots more out there to discover – but my hope is that it presents a faithful snapshot of Maureen as she was in life: spirited, passionate, knowledgeable and endlessly curious."
(6) HE KNOWS OPPENHEIMER. Christopher Nolan's summer blockbuster Oppenheimer will be released this week and Robert J. Sawyer is primed to give expert commentary to members of the media, having done two years of full-time research before writing his 2020 novel The Oppenheimer Alternative. He shared that knowledge in a File 770 interview, and other experts agree he knows what he's talking about:
Martin Sherwin, co-author of the Pulitzer Prize-winning biography American Prometheus: The Triumph and Tragedy of J. Robert Oppenheimer (the basis for Christopher Nolan's biopic Oppenheimer), says "Oppenheimer fans will be intrigued by Sawyer's novel."
Gregory Benford, physicist at University of California Irvine, says: "The feel and detail of the Manhattan Project figures is deep and well done. I knew many of these physicists, and Sawyer nails them accurately."
Perimeter Institute physicist Lee Smolin, the author of The Trouble with Physics, agrees: "I know the history of this period well and I'm one or two degrees of separation from many of these people. Sawyer's portrayals ring true to me. I loved it!"
For interviews, please contact publicist Mickey Mikkelson: [email protected] or 403-464-6925.
(6) NO FIGHTING IN THE WAR ROOM, PLEASE. "Stanley Kubrick Estate Approves 'Dr. Strangelove' Stage Adaptation" — IndieWire tells how it happened.
Amid the "Oppenheimer" anticipation, another bomb has been dropped: Stanley Kubrick's "Dr. Strangelove or: How I Learned to Stop Worrying and Love the Bomb" will be adapted as a stage production on the West End.

The project, led by "Veep" and "Avenue 5" creator Armando Iannucci, is the first-ever adaptation of a Kubrick property. Kubrick's widow, Christiane Kubrick, confirmed the upcoming play based on the 1964 political satire film starring Peter Sellers.

"We have always been reluctant to let anyone adapt any of Stanley's work, and we never have. It was so important to him that it wasn't changed from how he finished it," Christiane told the BBC. "But we could not resist authorizing this project: the time is right, the people doing it are fantastic, and 'Strangelove' should be brought to a new and younger audience. I am sure Stanley would have approved it too."…
(7) BEN KINGSLEY PHONES HOME. Jules opens August 11.
Jules follows Milton (Kingsley) who lives a quiet life of routine in a small western Pennsylvania town, but finds his day upended when a UFO and its extra-terrestrial passenger crash land in his backyard. Before long, Milton develops a close relationship with the extra-terrestrial he calls "Jules." Things become complicated when two neighbors (Harris and Curtin) discover Jules and the government quickly closes in. What follows is a funny, wildly inventive ride as the three neighbors find meaning and connection later in life – thanks to this unlikely stranger.
(8) ALLAN SCOTT (1952-2023). UK author Allan Scott died July 17 reports Andrew Porter. The SF Encyclopedia notes his first pro genre publication was "Guess Who's Coming to Dinner" in Peter Davison's Book of Alien Monsters (1982). He co-authored books The Ice King (1986) with Michael Scott Rohan, and also the fantasy novel A Spell of Empire: The Horns of Tartarus (1992) On his own, Scott wrote The Dragon in the Stone (1991).
(9) MEMORY LANE.
2007 – [Written by Cat Eldridge from a choice by Mike Glyer.]
Michael Chabon is the source of our Beginning. A fantastic writer, I'm going to also single out his work as writer and showrunner on Picard, and he has been working on a series adaptation of Kavalier and Clay for at least four years.
So the novel that is the source of our Beginning is The Yiddish Policeman's Union which Mike says it is very good. It was published sixteen years ago by Harper Collins.
It won a Hugo at Devention 3 and a Sidewise Award along with being nominated for a John W. Campbell Memorial Award.
So let's see how this novel begin…
Nine months Landsman's been flopping at the Hotel Zamenhof without any of his fellow residents managing to get themselves murdered. Now somebody has put a bullet in the brain of the occupant of 208, a yid who was calling himself Emanuel Lasker.
"He didn't answer the phone, he wouldn't open his door," says Tenenboym the night manager when he comes to roust Landsman. Landsman lives in 505, with a view of the neon sign on the hotel across Max Nordau Street. That one is called the Blackpool, a word that figures in Landsman's nightmares. "I had to let myself into his room.
The night manager is a former U.S. Marine who kicked a heroin habit of his own back in the sixties, after coming home from the shambles of the Cuban war. He takes a motherly interest in the user population of the Zamenhof. He extends credit to them and sees that they are left alone when that is what they need.
"Did you touch anything in the room?" Landsman says.
Tenenboym says, "Only the cash and jewelry."
Landsman puts on his trousers and shoes and hitches up his suspenders. Then he and Tenenboym turn to look at the doorknob, where a necktie hangs, red with a fat maroon stripe, already knotted to save time. Landsman has eight hours to go until his next shift. Eight rat hours, sucking at his bottle, in his glass tank lined with wood shavings. Landsman sighs and goes for the tie. He slides it over his head and pushes up the knot to his collar. He puts on his jacket, feels for the wallet and shield in the breast pocket, pats the sholem he wears in a holster under his arm, a chopped Smith & Wesson Model 39….
(10) TODAY'S BIRTHDAYS.
[Compiled by Cat Eldridge.]
Born July 17, 1889 — Erle Stanley Gardner. Though best remembered for the Perry Mason detective stories, he did write a handful of SF stories, all of which are collected in The Human Zero: The Science Fiction Stories of Erle Stanley Gardner. They were originally published in Argosy from 1928 to 1932: "The Human Zero", "Monkey Eyes", "New Worlds", "Rain Magic", "A Year in a Day", "The Man with Pin-Point Eyes" and "The Sky's the Limit". It is not available from the usual digital suspects but Amazon has copies of the original Morrow 1981 hardcover edition at reasonable prices. (Died 1970.)
Born July 17, 1944 — Thomas A. Easton, 79. SF critic and author who wrote the book review column in Analog from 1979 – 2009. His Organic Future series is quite entertaining and I'm reasonably certain I read Sparrowhawk when it was serialized in Analog.
Born July 17, 1954 — J. Michael Straczynski, 69. Best known rather obviously for creating and writing most of Babylon 5 and its short-lived sequel Crusade. He's also responsible for as well as the Jeremiah and Sense8 series. On the comics side, he's written The Amazing Spider-Man, Thor and Fantastic Four. Over at DC, he did the Superman: Earth One trilogy of graphic novels, and has also written Superman, Wonder Woman, and Before Watchmen titles. There's an animated Babylon 5 film soon, but the fate of the rebooted series, who knows?
Born July 17, 1965 — Alex Winter, 58. Bill in Bill & Ted's Excellent Adventure and its sequels Bill & Ted's Bogus Journey and Bill & Ted Face the Music. And though I didn't realize it, he was Marko in The Lost Boys. He directed two Ben 10 films, Ben 10: Race Against Time and Ben 10: Alien Swarm. He also directed Stephen Hawking + Zoe Saldana: Quantum is Calling, a short film that has cast members Keanu Reeves, Simon Pegg, John Cho, and Paul Rudd.
Born July 17, 1967 — Kelly Robson, 56. I just got done reading her brilliant "Gods, Monsters and the Lucky Peach". Her collection Alias Space and Other Stories has all of her short fiction up to 2020, so go feast up upon them. These and the "High Times in the Low Parliament" and "A Human Stain" novellas are to be had the usual suspects.
Born July 17, 1976 — Brian K. Vaughan, 47. Wow. Author of Ex Machina, Pride of Baghdad, Runaways, Saga, Y: The Last Man, and his newest affair, Paper Girls. And yes, he's won Hugo Awards. You could spend an entire summer just reading those series. In his spare time, he was a writer, story editor and producer of the television series Lost during seasons three through five. And was the showrunner and executive producer of the Under the Dome series.
(11) DOCTOROW WRITE-IN FOR CLARION. In support of Clarion's summer fundraising drive they're hosting a series of Write-Ins, or hour-long writing sprints, with favorite SFFH authors and Clarion alums. These events will be free to any who are interested.
Tomorrow, Tuesday 7/18 we kick things off with the inimitable CORY DOCTOROW!

Join Cory and a group of your peers this Tuesday, July 18th 5PM PDT (8PM EDT), for a Write-In! We'll engage in some timed writing sprints and, if we're lucky, we'll get a brief update on Cory's WIP, "The Bezzle."

Participation is FREE! Just register by 3PM PDT on Tuesday. Click the link to register.
(12) BY ALL MEANS. Last week Neil Gaiman was asked whether people should go see movies while the writers and actors are striking. His answer went viral.
(13) FROM TOY STORE TO SCREEN. JustWatch compiled a list of top 10 films based on toys, and compared the popularity of these productions finding out that the clear leader is the Toy Story franchise. Four movies of the series made the list, collecting a total of 35.6%. Its close competitor turned out to be Transformers franchise, with Transformers taking first place, followed by Bumblebee in 6th, and Transformers: The Last Knight in last place.
The following graphic contains the top 10 Barbie movies, with Barbie's first ever movie: Barbie in the Nutcracker taking up third place and surpassing Barbie: Princess Charm School by only 1%. Barbie of Swan Lake and Barbie as Rapunzel go head to head, landing at 5th and 6th place with a difference of only 0.1%
(14) A NEW YORK DRAGONFLY MINUTE. [Item by Michael Toman.] A comparison of 138 species finds that dragonflies perceive changes in their environment five times faster than humans and 400 times faster than starfish. "Small and speedy animals perceive time faster than big, slow creatures" reports New Scientist.
Fast-moving animals – especially small ones, creatures that fly and top ocean predators – perceive time more quickly than others. That is, they can process more frames per second than slow-moving animals lower in the food chain, such as starfish, according to a comparison of more than 100 species.

"We already know that different animals perceive time differently from us," says Kevin Healy at the University of Galway in Ireland, who presented the results at a meeting of the British Ecological Society on 20 December. But he wanted to find out, "If you're a predator, do you have faster eyes than if you're an herbivore?"

He and his colleagues began by reviewing previously published research on the flicker fusion test, a common measure of the rate at which animals perceive the passage of time. During the test, researchers increase the frequency of a flashing light until an animal sees it as a continuous glow, indicated by the reaction of light receptors in the animal's retina.

"It's kind of like measuring the frame rate of your eyes," says Healy. Humans, for example, can detect light flickers at speeds up to 65 flashes per second. That means they can perceive changes in their environment 65 times per second….
(15) VIDEO OF THE DAY. Ryan George revisits the "Indiana Jones and the Kingdom of the Crystal Skull Pitch Meeting".
Step back into the pitch meeting and revisit the completely factual accurate conversation that led to Indiana Jones and the Kingdom of the Crystal Skull! Complete with commentary from Ryan George who is now several years older!
[Thanks to Michael Toman, Cat Eldridge, Daniel Dern, SF Concatenation's Jonathan Cowie, Paul Weimer, Mike Kennedy, Andrew Porter, John King Tarpinian, and Chris Barkley for some of these stories. Title credit belongs to File 770 contributing editor of the day Daniel Dern.]